Puerto Vallarta, Mexico Resort
Located on a lush, 10-acre oceanfront site on the Bay of Banderas in beautiful Puerto Vallarta, Mexico, Velas Vallarta Suite Resort is surrounded by the tropical landscape, magical culture, and tranquility of the Mexican Riviera. Our breathtaking resort is across the street from the championship, 18-hole Marina Vallarta Golf Course and walking distance from the most modern marina in Mexico with more than 500 yacht-sized slips. You'll find Velas Vallarta just 5 minutes from Puerto Vallarta's International Airport, Gustavo Diaz Ordaz.
Explore Downtown Puerto Vallarta. A verdant tropical oasis bordered by the emerald Bay of Banderas and miles of pristine beach, Velas Vallarta is a few miles from Downtown Puerto Vallarta, a vibrant city lined with restaurants, bars, cafés, shops and boutiques, unique art galleries, and colorful markets. Stroll along El Malecon, Puerto Vallarta's mile-long boardwalk, and discover the famous sculptures and landmarks, such as the Virgin of Guadalupe Church and Los Arcos Amphitheater, which offers nightly performances, street vendors, and local artisans overlooking the Bay. In the Plaza, you'll enjoy bands, theater performances and a festive market.

Puerto Vallarta, Mexico's Malecon. One of the most beautiful miles on Earth, El Malecon is an oceanfront boardwalk that follows the beach and main street in downtown Puerto Vallarta. Savor spectacular views and sunsets on the azure waters of Banderas Bay. On the city side, El Malecon is lined with trendy boutiques, downtown shops, cafés, bars, clubs and hundreds of restaurants.
Puerto Vallarta, Mexico Beaches. Puerto Vallarta features many beautiful beaches nearby such as Yelapa, Los Muertos, Los Arcos, Bucerias, Los Marietas Islands, Punta de Mita, the Cuale River Island and many stunning sandy stretches for sunbathing, swimming, surfing, diving or dining.

Puerto Vallarta Mexico Adventures. With miles of spectacular shoreline and gorgeous sandy beaches, Puerto Vallarta offers endless outdoor activities just beyond our resort. Indulge in deep sea fishing, scuba diving, snorkeling, kayaking, surfing, sailing, hiking, biking, eco-tours, whale watching, parasailing, golf, horseback riding, canopy tours, dinner cruises and plane rides over mountain villages.
Puerto Vallarta, Mexico Attractions
Marina Vallarta Golf Course – .3 mile (Walking)
Marina Vallarta – 1.4 miles
Shopping Center Plaza Marina – 2 miles
Puerto Vallarta's International Airport – 2.5 miles
Downtown Puerto Vallarta – 3.2 miles
Old Town Vallarta – 5 miles
Virgin Guadalupe Church – 5 miles
El Malecon – 5 miles
Vista Vallarta Golf Club – 5.8 miles
Sierra Madre Mountains – 10 miles
Los Arcos – 10 miles
Helicopter Tours to Huichol Indians in Mountains – 15 miles
Vallarta Adventure Tours – 15 miles
Canopy Tours – 15 miles
Las Marietas Islands – 40 miles
Las Caletas – 15 miles
Yelapa – 15 miles
Conchas Chinas – 15 miles
Majahuitas – 15 miles
Bucerias – 15 miles
Mismaloya – 15 miles
Punta de Mita – 40 miles
San Pancho – 55 miles
San Sebastian – 70 miles
Puerto Vallarta, Mexico Area Beaches
Situated on Banderas Bay, Costa Vallarta boasts 34 miles of gorgeous coastline and Mexico's most spectacular beaches. Bordered by the Sierra Madre foothills, Puerto Vallarta's 40 tropical, pristine beaches are a favorite destination for beach lovers. From soft, sandy beaches to rocky cliffs that kiss the sea and rock surrounded coves or tropical forests with palm trees that reach the shoreline, the beaches of Puerto Vallarta offer scenery and activity – from surfing to parasailing. Bungee jumping over the Pacific, windsurfing, snorkeling, scuba diving, jet skiing or fishing await you. On the rugged beaches to the south, where the mountains tumble into the sea, you will discover coves and intimate sandy stretches. The peaceful northern beaches on the road to Punta de Mita are lined with beach side restaurants with fresh seafood and offer great surfing or relaxing.
Playa de Oro.
Playa de Oro is a wide, sandy beach with a few rocky areas interspersed. This beautiful Puerto Vallarta beach is very popular with tourists and locals alike because of its diversity of water sports.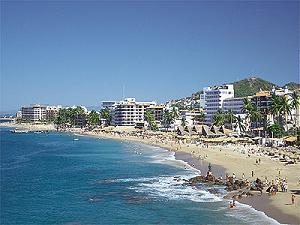 Los Muertos.
Puerto Vallarta's most popular and lively beach, Playa de los Muertos is a long sandy beach on the South Side. Located just south of the Rio Cuale in Old Town, this funky and wildly popular beach is lined with shops, restaurants and bars where you can grab a chair and table, and is popular for parasailing. In the evenings, mariachi and other musicians play along the beach. From Los Muertos, many pangas depart for beaches further south. Weekends are bustling with activity, sun worshipers by day and the dining and nightlife crowd after dark. The beachfront bars and restaurants in this area are a great place to catch one of the incredible Vallarta sunsets. Los Muertos Beach is considered the most popular beach of Puerto Vallarta, located along the picturesque "Bahia de Banderas," or Banderas Bay on the Central Pacific Coast. Up until the 1960s, Los Muertos Beach was a popular place for families from Puerto Vallarta who came to enjoy Sunday picnics. It has undergone many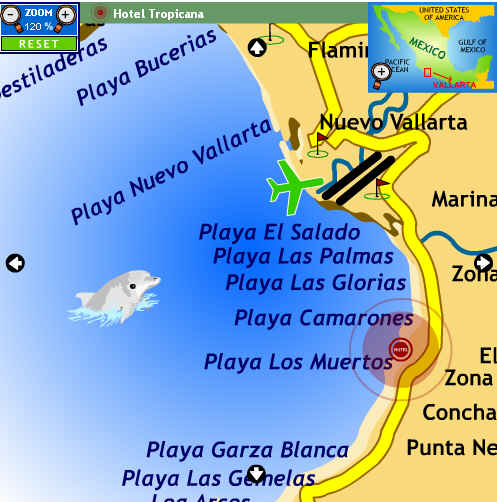 changes since then, but continues to be a favorite. Its location on the huge Bay of Banderas makes it a great spot for outdoor recreation. The Bay has over forty miles of coast, and its' depth and calmness make it the perfect location for some of the best snorkeling, diving and fishing in the world. Also, to the delight of visitors, Banderas Bay is full of dolphins, sea turtles and giant manta rays from December through April of each year. Gray and Humpback whales also visit the during winter months. Other activities on or near Los Muertos Beach include swimming, water-skiing, paragliding, surfing, harbor cruises, golf, tennis, hiking, horseback riding and bird watching. Along with spectacular scenery and outdoor activities, one reason Los Muertos Beach is so popular is its' close proximity to the city of Puerto Vallarta, with its blend of traditional "Old Mexico" charm and modern amenities. Cobblestone streets and old Spanish style, red tile roof buildings with colorful flowers combine with first-class hotels and restaurants, upscale shops and an exciting nightlife.
Marina Vallarta.
Catering to those staying at the resort hotels, the wide, sandy beach of Marina Vallarta offers beautiful views of Puerto Vallarta and its undulating mountain backdrop. Check out Nikki Beach, a sexy and cool restaurant/bar/beach club where you can eat and drink right in bed!
Velas Vallarta Family Vacation Packages in Puerto Vallarta, Mexico.
Located just minutes from Puerto Vallarta's popular beaches, Velas Vallarta Suite Resort is a magnificent,
all-inclusive
family resort with a private beach and gardens, three swimming pools, daily activities, tours and getaway vacation packages. The Velas Kid's Club - for children between 4 and 12 years old – provides fun activities and sports that keep the young ones entertained and engaged while parents can lounge by the crystal-clear pool with a tropical drink.
Find out about our Velas Vallarta family getaway packages
Nuevo Vallarta.
Lined with sprawling resort hotels, this gorgeous, wide sandy beach hugs Banderas Bay for as far as the eye can see. This peaceful beach is a beautiful spot to soak up the sun, swim and relax. Nuevo Vallarta also offers a wealth of diversion from the sun and sand, including three professional golf courses, a water park, a yacht club, marinas, shopping and many excellent restaurants.
Puerto Vallarta Hotel Zone.
Lined with resort hotels, this beautiful, wide sandy beach stretching from Marina Vallarta to the Sheraton is a tourist playground. The beach offers every amenity and water sport – from parasailing to whale watching – you desire. It's easy to have an adventure on this beach, simply by strolling and stepping into whichever beach-front bar, restaurant or venue that catches your eye.
Bucerias.
Golden sands stretching for miles and gentle waves make this an ideal family beach - with oceanfront palapa restaurants and an interesting small town to explore. Boasting the longest beach on the bay, "The Place of the Divers" is known for its freshly shucked giant oysters and sublime seafood. Catch some rays in front of the beach restaurants and enjoy the constant breeze that makes the beach feel fresher and cooler. The town offers many waterfront restaurants and a colorful outdoor market by the main plaza, which is a fun way to absorb the local flavor.
San Francisco/San Pancho.
Just a few miles outside the bay, this pristine beach on open sea is gorgeous, windswept, primitive and long and wide, with deep creamy sand and rougher waters than inside the Bay. A long-established adventure resort attracts outdoor enthusiasts from around the world, offering every activity you can imagine, including surfing, kayaking, sport fishing, horseback riding, mountain biking and hiking, and tours to Matachen Bay, which boasts the world's longest surfable wave. The town's main street is really cool, with an Internet Café and great restaurants.
Sayulita.
A surfing mecca of international renown, the shoreline of this picturesque village is dotted with coves and beaches where surfers hang ten. Riding the gentle breakers to shore, most of the action happens off the main town beach, with lessons and board rentals available. Well known in the surfing world, the long, wide beach boasts a women only surfing school. Those looking for privacy will likely find it in one of the area's small coves, each conveying the sense that is yours alone. After a day of swimming and sunning, you'll find palapa restaurants on the beach, comida-corrida spots, as well as gourmet dining. A funky fishing village with dramatic wild beauty, Sayulita offers an appealing town square, as well as trendy shops and businesses.
Playa de Conchas Chinas.
Located 3 minutes from Puerto Vallarta's downtown just south of Los Muertos Beach, Conchas Chinas starts at the water's edge and stretches up to the top of the Sierra Madre Mountains. This beautiful, exclusive beach community is one of Puerto Vallarta's most prestigious areas where luxury homes and villas are nestled on the mountainside along Mexico's Pacific coast, offering tremendous views of the bay, the mountains and the town of Vallarta. Called Vallarta's ultimate luxury escape, Conchas Chinas offers peace, tranquility and enchanting vistas. Playa de Conchos Chinas offers gorgeous sandy strands for relaxing, ocean breezes and incomparable sunsets with a myriad of beautiful colors.
Destiladeras.
A local favorite with families and surfers, Destiladeras offers a wide and white sand beach, large waves and fresh seafood at outdoor palapa-shaded restaurants at the water's edge. Surfers and boogie boarders flock to its long, five-foot swells, while beachcombers enjoy strolling along the long, sandy stretch. This is a wonderful beach for relaxing and savoring beautiful sunsets. The large flat rocks at Destiladeras can be used as picnic tables.
Boca de Tomates.
A half hour north of Puerto Vallarta, Boca de Tomates is a peaceful, long sandy retreat where you'll see more crocodiles, sea turtles and exotic birds than sun worshippers. An ecologist's paradise, the Tomates estuary is one of this area's most important refuges for wildlife. The beach is popular with boogie boarders and offers funky palapa restaurants.
Garza Blanca.
Located off the Barra de Navidad road on the way to Mismaloya, this small, tranquil white sand, city beach is framed with palms and crystal clear water that laps the shoreline. Garza Blanca is popular with the locals on weekends and the perfect spot for a picnic and enjoying the sand and surf.
Gemelas.
"Twin" beach is comprised of two small crescent-shaped beaches at the foot of the Sierra Madre Mountains. At Gemelas the surf is gentle for swimming, surfing and all kinds of water sports. A nice restaurant is located at the beach hotel.
Mismaloya.
A small sandy beach on a beautiful jungle-fringed cove south of Puerto Vallarta, where the Mismaloya creek meets the ocean, Mismaloya is the beautiful remote strand where the "The Night of the Iguana" was filmed in 1963. Mismaloya features a beautiful white sand beach, several restaurants, little palapa bars, and a major resort - a perfect place to relax. You can even walk around what remains of the old movie set.
Boca de Tomatlán.
With a primitive feel, this small sandy cove at the edge of the jungle three miles south of Mismaloya is where the mouth of the Tomatlan River meets Banderas Bay. The last beach that is accessible by road, Boca de Tomatlan is very quiet and peaceful and is a great swimming beach. The beach offers Palapa restaurants, small seafood restaurants and taco stands that serve fresh-caught fish and Mexican fare. You can hire local pangas here to take you to Yepala, Las Animas or Quimixto.
Punta de Mita.
Punta de Mita is a magical destination located 40 minutes north of Puerto Vallarta - on the northwest peninsula of Banderas Bay. Puerto Vallarta's point of simple pleasures, Punta de Mita offers an unrivaled Mexican vacation experience with magical islands and peaceful, enchanting beaches. The gorgeous, pristine beaches of Punta de Mita are considered the most beautiful on the Bay and possibly all of Mexico. Punta de Mita Beach on the northern tip of the Bay is the ideal beach for strolling and absorbing the incredible beauty and tangy sea air. The second public beach, El Anclote, is a bustling beach and seaside community with great swimming and surfing. Since the strong waves break in front of the shallow, shelving beach, these beaches are excellent surfing and windsurfing spots. A favorite weekend getaway, this soft sand beach offers nice restaurants, activities such as kayaking, catamaraning, and snorkeling and kayak/boogie board rentals. Rent a boat to Las Marietas Islands nature preserve where snorkeling and diving are excellent. Hire a panga to take you whale watching in the Bay.
Puerto Vallarta, Mexico Attractions
Downtown Puerto Vallarta, Mexico. Downtown Puerto Vallarta offers many attractions and landmarks highlighted by El Malecon, a gorgeous beachfront boardwalk that is lined with shops and restaurants. Stroll along El Malecon or relax on wrought-iron benches or in a café and enjoy incredible views of the emerald waters of Banderas Bay. Find yourself strolling back in time as you meander down the streets of the historic part of town, or follow the rhythms of the Mariachi. Several historic churches, bronze statues, the Seahorse and Dolphin sculptures, a bustling market, authentic restaurants and art galleries enhance your Puerto Vallarta sightseeing experience.
Puerto Vallarta, Mexico Plaza.
Plaza Principal, or El Jardin Principal (The Main Garden), is the main downtown square of Puerto Vallarta. The Plaza features a gazebo and a statue of the Don Ignacio L. Vallarta, the renowned Jalisco jurist for whom the city was named. The Plaza features live bands, special theater performances, an open artist market, and food stands. Free concerts are given each weekend and it is the focal point of many holiday celebrations.
Marina Vallarta.
Mexico's most sophisticated marina and one of the most popular in the country, Marina Vallarta features a modern 500-slip boat marina, boat facilities, an 18-hole championship golf course, a waterpark, and a beautiful beach. Lining the Marina's boardwalk are numerous shops, boutiques, galleries, cafés and seafood restaurants. The Marina's famous landmark, El Faro (the Lighthouse), offers spectacular views of the Marina and Banderas Bay.
Los Arcos in Puerto Vallarta, Mexico.
Los Arcos Amphitheater, or Aquiles Serdan Theater, is known for its four stone arches which have become a symbol of Puerto Vallarta. At this beautiful open-air theater, you can enjoy festive nightly performances, street venders that offer an array of native food and artisans. It is the perfect spot to watch the sun set behind the natural arches of Los Arcos and beyond to the horizon of Banderas Bay.
Banderas Bay in Puerto Vallarta, Mexico.
The largest and deepest natural bay in Mexico, Banderas Bay (Bay of Flags) is a horseshoe-shaped bay with gentle, emerald waters. Measureing 20 miles across with over 40 miles of coastline, the Bay is one of the deepest bays in the world with depths up to two miles. Framed by the Sierra Madre Mountains, the waters of Bahia de Banderas are protected from the open seas. With its deep, calm waters, Banderas Bay offers some of the best sport fishing in the world. Cruise out into the waters to encounter humpback whales, dolphins, giant sea turtles and manta rays that inhabit the beautiful Bay.
El Malecon in Puerto Vallarta, Mexico.
One of the most beautiful miles on Earth, Puerto Vallarta's famous Malecon is a mile-long oceanfront boardwalk that follows the beach and runs along the main street in downtown Puerto Vallarta. Malecon begins at Hotel Rosita – the first hotel in Vallarta - and ends at a beautiful open-air theater known as Los Arcos, or The Arches. Puerto Vallarta's Malecon is a wonderful strolling, sightseeing and shopping destination, where art, culture, shopping, and dining are at your fingertips. On the city side of the boardwalk, Malecon is lined with trendy boutiques, downtown stores, gift shops, cafés, bars and wonderful restaurants that offer stunning views and gorgeous sunsets over Banderas Bay. Watch the rolling surf from the wrought-iron benches, take pictures of the famous Dolphin and Seahorse sculptures, and relax in a café overlooking the sea.
Las Marietas Islands.
Originally made famous by Jacques Cousteau in the 1970's, the Marietas Islands Marine Reserve is one of the most popular scuba diving areas in Western Mexico, with a great variety of caves, reefs, and drop-offs for exploring. This beautiful destination features a variety of tropical fish, mantas, turtles and whales (December to April). Las Marietas Islands, which have been preserved by the Mexican government as a bird sanctuary, is also an incredible spot for snorkeling and windsurfing. These islands are accessible by boats that can be rented on most of PV's northern beaches.
Yelapa.
Nestled in an enchanting cove off the southern coast of Banderas Bay, the peaceful village of Yelapa, Mexico - within the foothills of the Sierra Madre Occidental - is a peaceful fishing village that is most accessible by boat from Puerto Vallarta. Yelapa's tranquility is ideal for a laid-back vacation. Covered in a blanket of golden sand, the beautiful beach is a superb place to swim, snorkel, or parasail. Relax in one of the numerous beach chairs and soak up the sun, or hang out at a palapa bar. Horseback ride through the colorful village, then walk to the 65-ft waterfall and take a refreshing dip in the crystal-clear water pool. Yelapa also boasts a thriving art community.
Las Caletas.
Situated on Puerto Vallarta's Banderas Bay, Las Caletas is an exclusive tropical beach hideaway. Enjoy the most fantastic coastal scenery that Vallarta has to offer while cruising to a private cove where you will discover the wonders of the bay while kayaking, snorkeling, surfing or scuba diving. On land, you can explore the surrounding forest, meet a colorful parrot or relax in a hammock on the golden beach.
San Sebastian de Oeste. Situated in the majestic Sierra Madre Mountains, a 15-minute flight away, San Sebastian de Oeste is a beautiful 17th-century silver mining village with many cultural and historic landmarks. At 4,500 feet, with tall pine trees, the historic town offers a pristine retreat in the peaceful mountains with a unique atmosphere and colonial treasures, such as the Plaza and Bandstand. Founded in 1605, San Sebastian was one of the gold and silver mining centers of Mexico and a thriving provincial capital. Enjoy an informative tour of this deserted village, including ruins of the mines, the town's matriarch-run museum, the charming 1600's pastel-colored church, the restored Hacienda Jalisco – once headquarters of the mining company - the old Town Hall, a scenic park, and charming stores in the Colonial-style Plaza. Observe Mexican traditions first hand on this fun and informative tour, including authentic Mexican recipes in a quaint atmosphere at lunch. As you fly over the verdant valley, you'll see cattle, corn and a coffee plantation.


Sierra Madre Mountains. The chief mountain system of Mexico, the Sierra Madre Mountains consist of the Sierra Madre Oriental, the Sierra Madre Occidental, and the Sierra Madre del Sur. Extending from northwest to southeast through Mexico from the U.S. border, the rugged Sierra Madres are 6,000–12,000 feet high, with deep, steep-sided canyons. The terrain ranges from snow-covered peaks to hot, tropical valleys, and from the humid, vegetated seaward slopes to the dry, barren interior-facing slopes. Stretching across Western Mexico, and surrounding Puerto Vallarta, the lush, verdant Sierra Madre Occidental range tumbles into the southern part of Banderas Bay. A few miles from the shore, the mountains are an incredible place to explore. Hike along crystal clear rivers and waterfalls, and through canyons surrounded by palm trees and ponds where you can swim. Tour guides can teach you about the wildlife and culture of this beautiful mountain region. The mountains are home to several indigenous nations, including the Huichol Indians in the southern part and the Tarahumara of the central range.
Virgin de Guadalupe Church.
Located in Puerto Vallarta's downtown El Centro district, Our Lady of Guadalupe Church, completed in 1951, is the most endearing of all Puerto Vallarta's landmarks. The gilded crown that tops the magnificent church is a replica of the crown worn by Carlota, empress of Mexico in the 1860s, the base of which is decorated with eight angels holding hands. The original crown was made of concrete and was unfortunately damaged in the 1995 earthquake, but has since been replaced by one done by the famous sculpture Octavio Gonzales.
Old Town Vallarta.
Built up to the sand of the sea, Old Town is the older section of Puerto Vallarta. Very relaxed and artsy, Old Town gives way to some of the most romantic restaurants, cafes, clubs and sights you can find in Mexico. The local citizens refer to it as Zone Romantica, and it truly lives up to its name. The community is home to many unique art galleries and local artists.
Huichol Indian Art.
One hour from Velas Vallarta, a remote mountain village in the high reaches of the Sierra Madre Occidental is home to the Huichol Indians - descendants from the Aztecs and one of the last indigenous peoples of Mexico. Retaining their traditions, customs, art and language, the secluded Huichol Indians have escaped outside influences and are the last tribe in North America living as it did in pre-Columbian times. Journey back in time to their remote mountain village and experience the beauty of their culture and people. Their spiritually driven yarn paintings, breathtaking arts and crafts and colorful beadwork can be found in Puerto Vallarta markets and high up in the Mountains behind the town. The yarn paintings depict visions that the Indians have, and tell a story, which will usually be written on a piece of paper in Huichol and Spanish and attached to the back of the work. Pictures of wolves, snakes, scorpions and deer depict traditional elements of Huichol lore. The beaded works are usually wooden shapes that have beads attached to them with wax, and represent the shape of an animal.
Sea Life Water Park.
At Puerto Vallarta's Sea Life Water Park, you'll discover 15 acres of wet and wild family fun, action, adventure and entertainment - with pools, rivers and slides to challenge and delight the entire family. Experience speed and excitement on 10 water toboggans, or enjoy relaxing and exotic rides down the river. Smaller kids will have a great time at the children's area, and the older ones will be able to enjoy the pool area. You may swim with dolphins and be amazed with the shows of these incredible creatures, as well as the talented sea lions and birds.