http://villadelarcocabo.com/villa_del_arco_suites.htm
Cabo Villa - This location is for rent!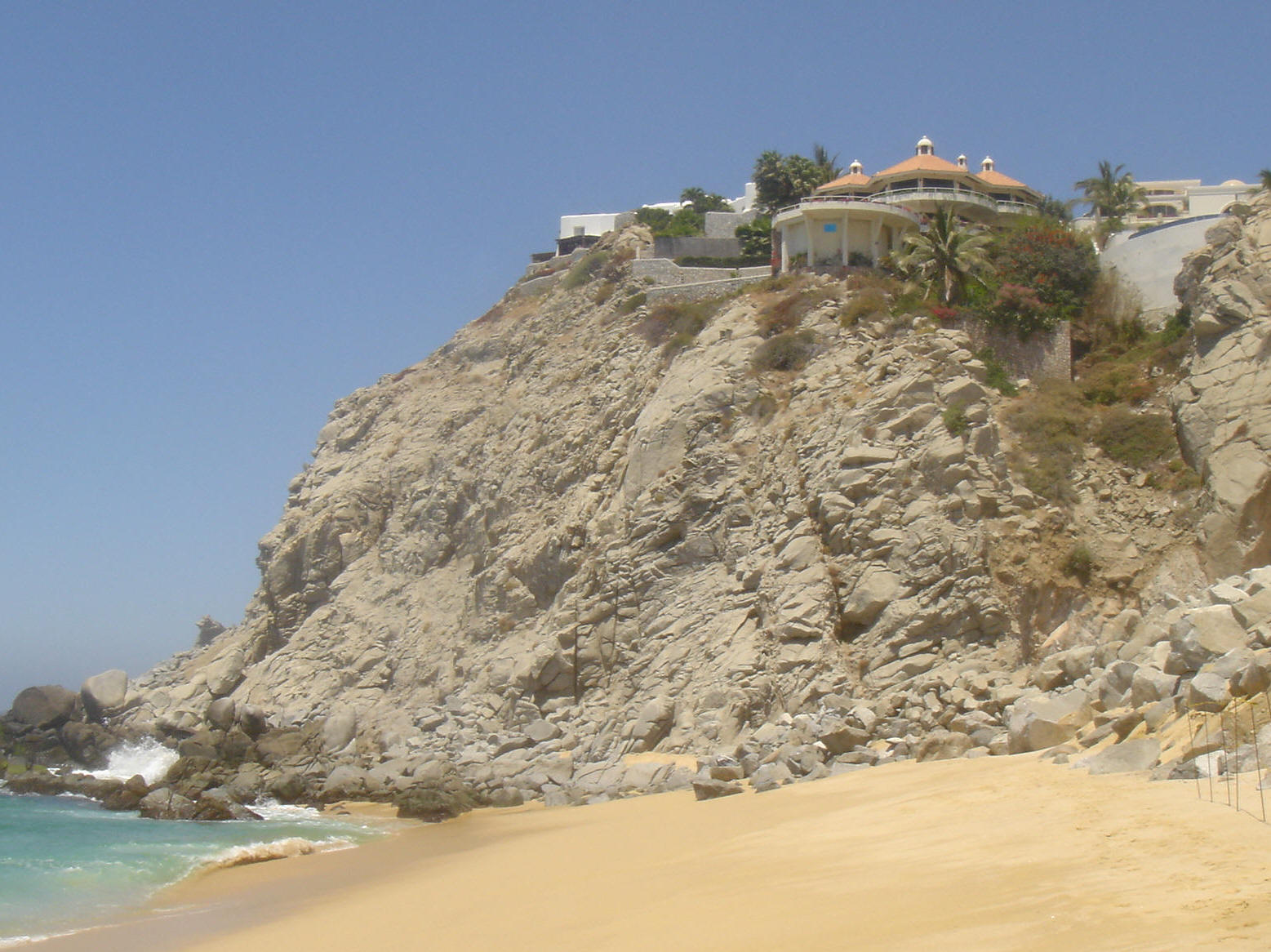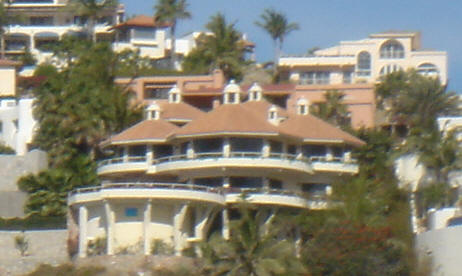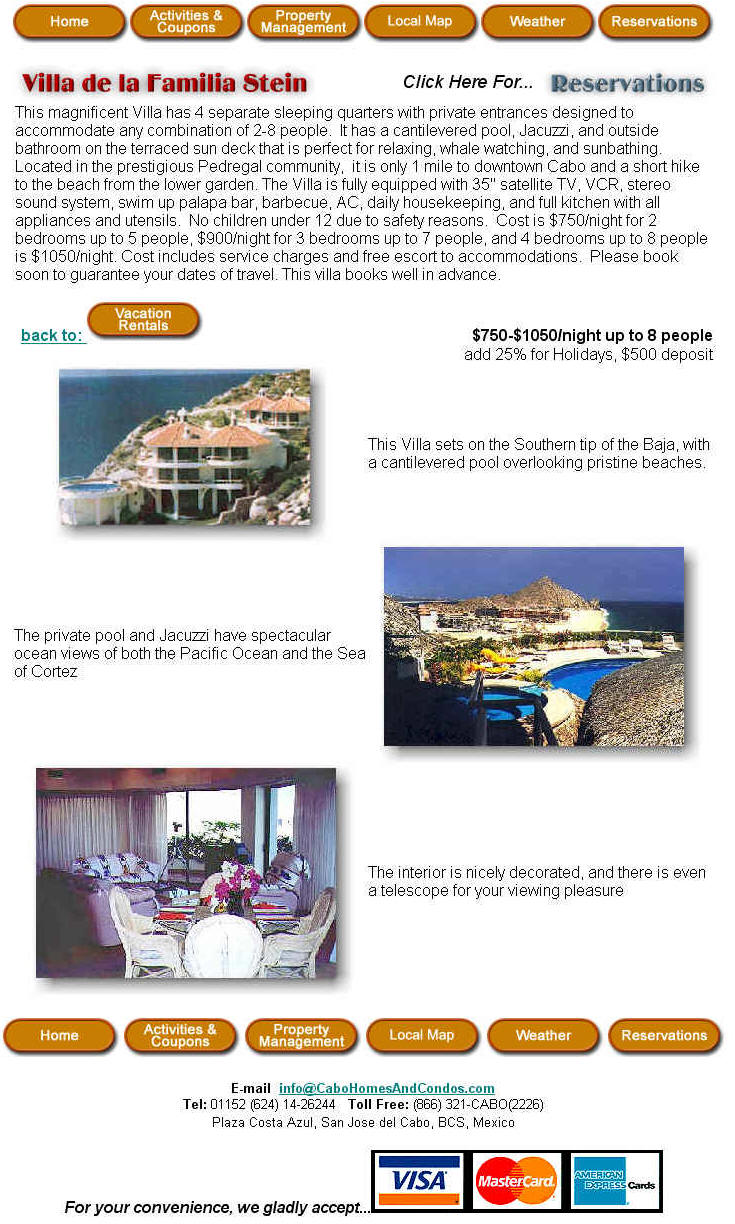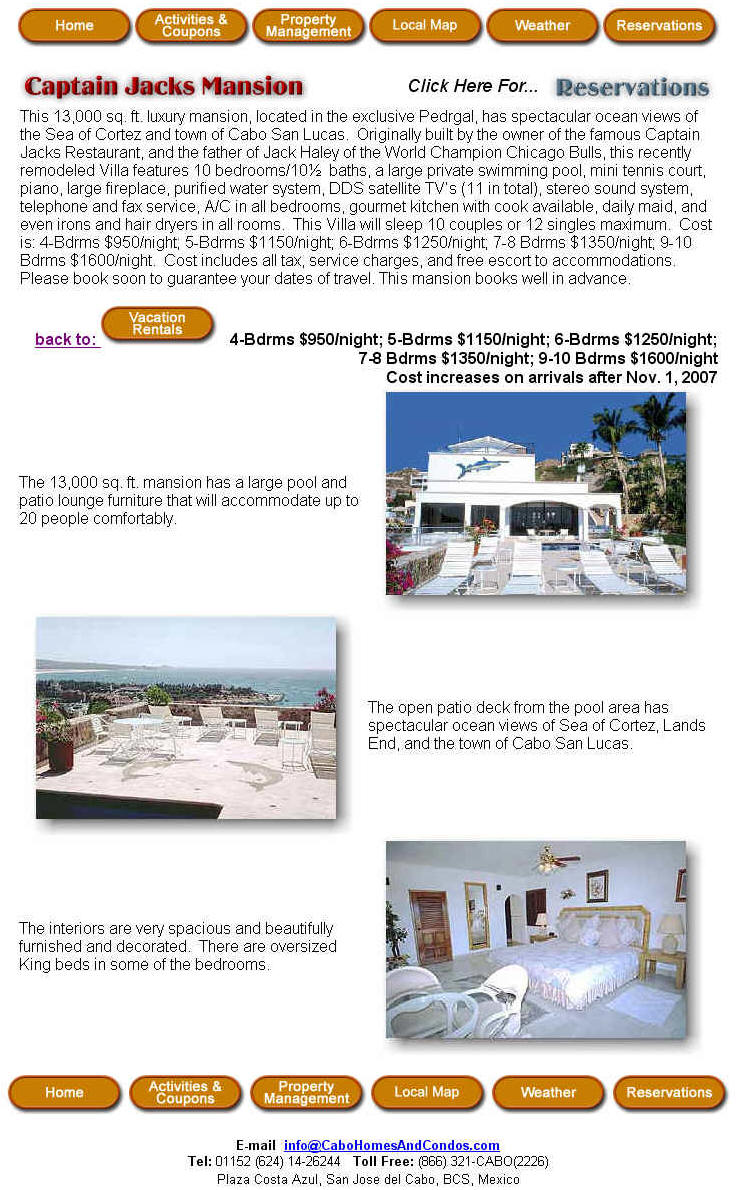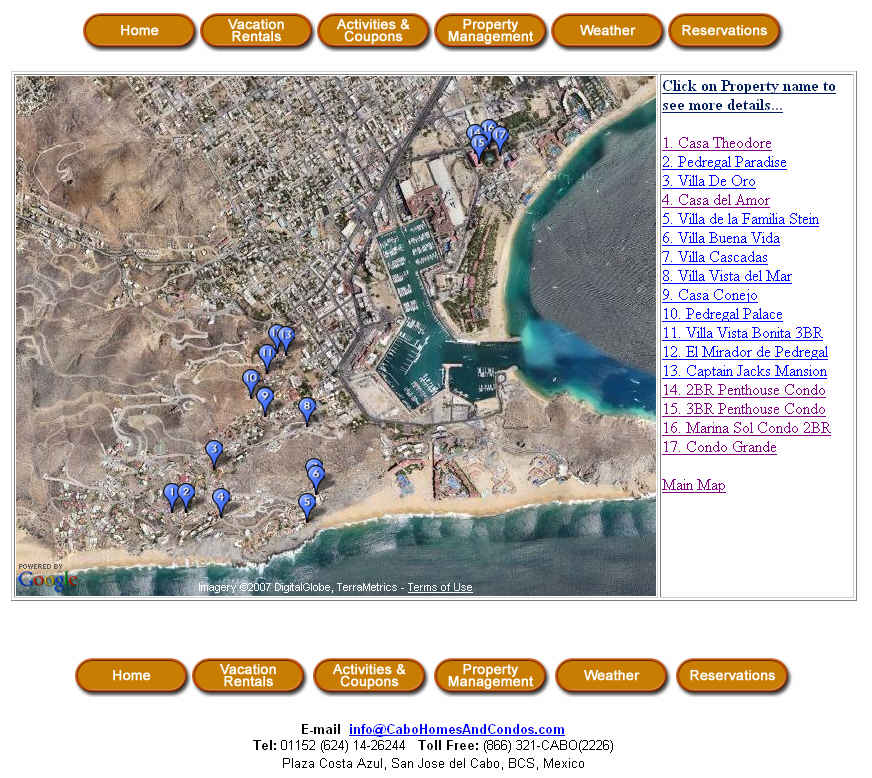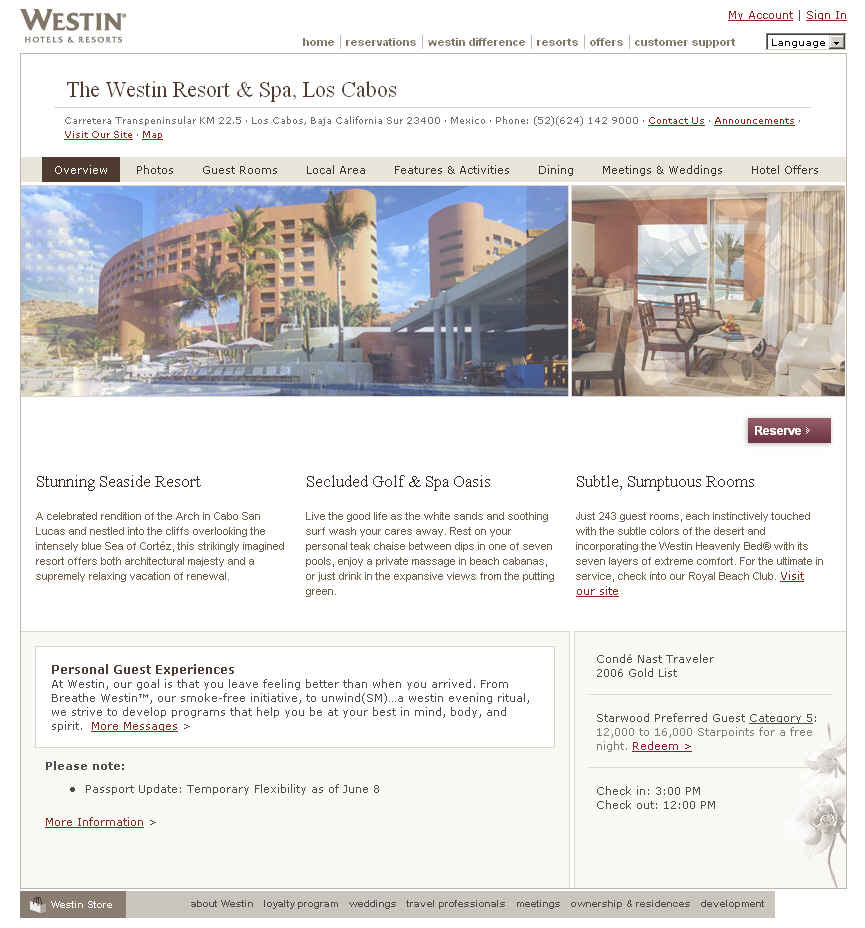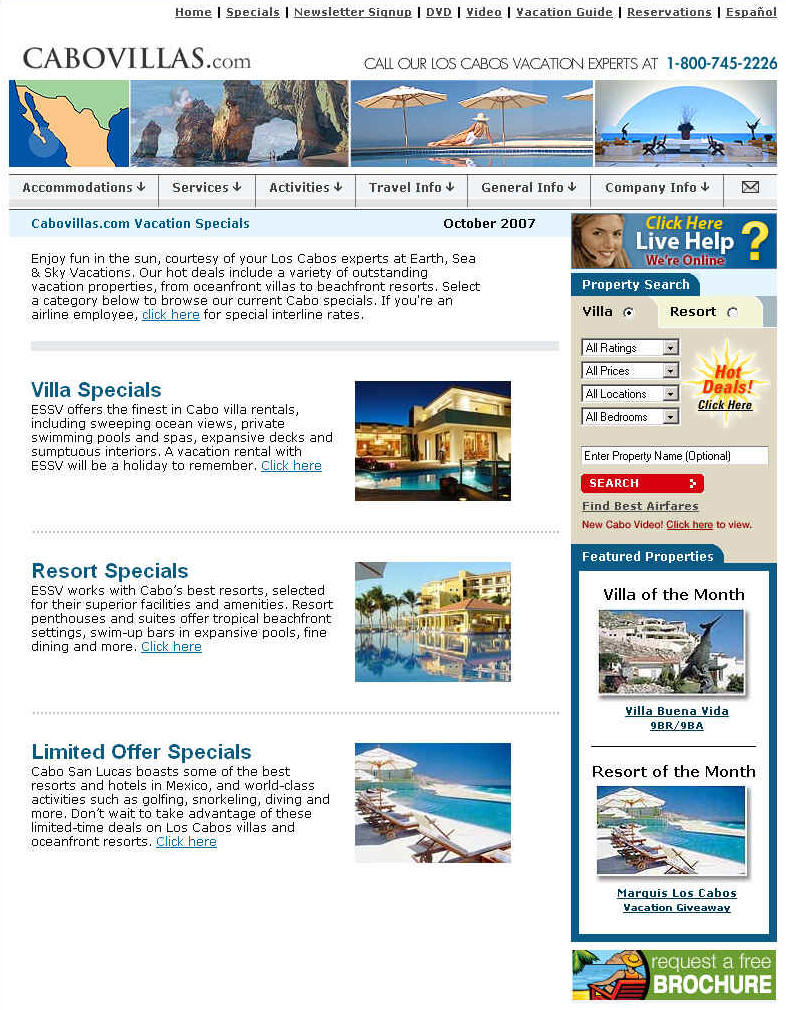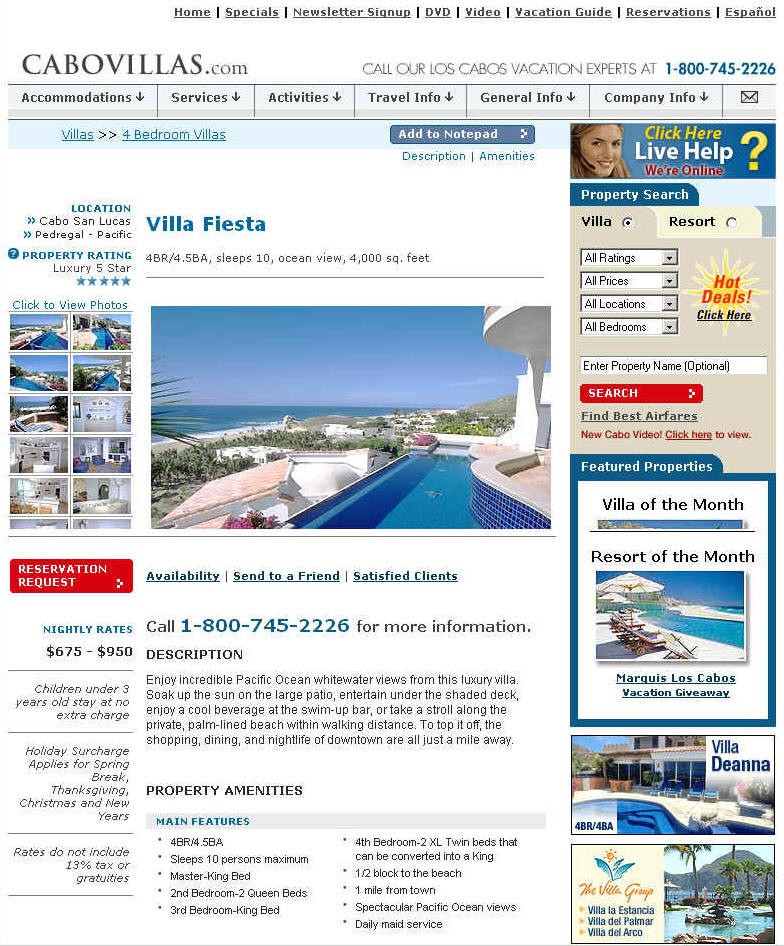 Cabo San Lucas has become one of Mexico's most popular coastal getaways, with deluxe hotels, championship golf courses, and some of the best sport fishing in the world. The population is growing faster than in any other part of Mexico. Yet, Los Cabos retains an air of mystery and of pristine beauty.
At the southern tip of the Baja California peninsula, the Pacific Ocean and the Gulf of (also known as the Sea of Cortés), meet, and the land ends in a rocky point called El Arco (The Arch). It is a place of rugged beauty. In the late 16th and 17th centuries, the Gulf side of the area was a favorite hiding place for pirates who plundered Spanish galleons stopping there to take on fresh water. Later in its history, it was the mooring spot for the yachts of wealthy, vacationing Americans who came to the warm waters of the Sea of Cortés to relax and to the Pacific Ocean to fish for the marlin and sailfish that leap out of the waves of the pounding surf.
Once solitary, sleepy villages, and now joined to create one of Mexico's fastest growing resorts are the two Capes. Located 1050 miles from the US border, Cabo San Lucas and San José del Cabo, are 18 miles apart via a four lane, divided highway. The view along the road is spectacular! In the 1970's the Mexican government decided to combine the two towns into one resort area, called Los Cabos (the Capes). This was the beginning of what is now a major resort consisting of Cabo San Lucas, San José del Cabo, and the stretch of highway that connects them, called the Corridor.
The area is readily accessible through the local airport which is serviced by major airlines. Plan ahead and bring your favorite fishing rod and golf clubs, or rent them locally. The waters of the Gulf abound with hundreds of species of game fish including marlin, amberjack, bonito, black sea bass, mahi mahi, roosterfish, sailfish, snapper, wahoo, yellowfin tuna and yellowtail. There are many excellent fishing charters, and all of the major hotels arrange daily fishing expeditions. A catch and release policy is an option observed in order to perpetuate the sport for years to come.
The many beaches offer opportunities for snorkeling, surfing, water skiing, and windsurfing. Diving, kayaking, and sailing can also be arranged. Whale watching is popular along the mid-Baja coastline and tours depart regularly from Los Cabos. Golf is a major sport thanks to a process that recycles purified waste water and uses it to irrigate the greens and fairways. There are at least six courses between the two Cabos. Golfers play against a backdrop of rugged seaside scenes and desert terrain. The tee shot at the Jack Nicklaus-designed Palmilla course, must carry over a cactus filled arroyo. The same canyon wraps around the front of the green as well.
Cabo San Lucas Nightlife Nightlife in Cabo San Lucas is full of youthful vitality and a rock beat. The nightly entertainment in the slightly more staid San José del Cabo consists of live bands playing a combination of international pop and Latino music; disco and folk music. On most Saturday evenings during the December - March tourist season there is a fiesta in Plaza Mijares in San José del Cabo. The fiesta features folk dances, mariachi performances, cockfight demonstrations, and piñata breaking. Food vendors and artisans present their wares. Profits from food and beverage sales go to local charities.
The weather in Los Cabos is sunny and mild year round. The Gulf is calm and warm; the Pacific surging with energy, to the delight of surfers and photographers. Many great beaches extend between the two Capes. In addition to the many sports offerings, there is an underwater nature preserve and endless miles of natural rock formations that defy description of their beauty. Standing on the beach and looking out at the Pacific or at the Sea of Cortés is like being in another world.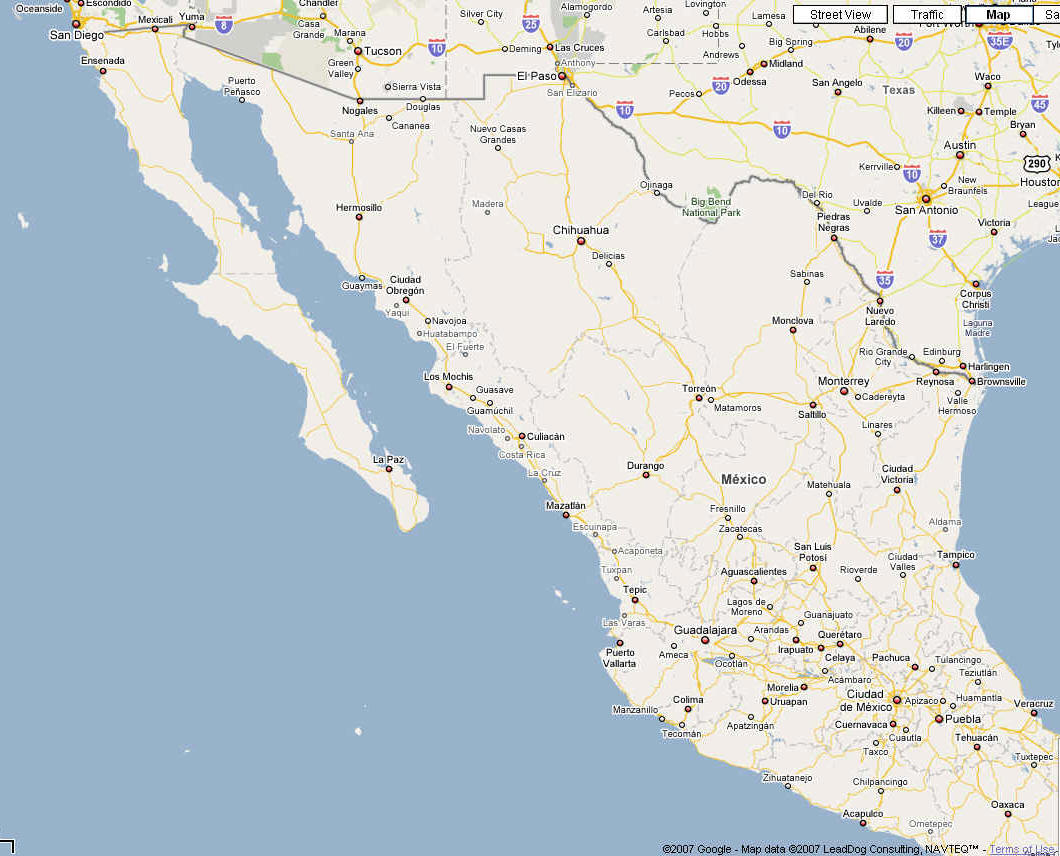 Acapulco Cabo Cancun Ensenada Ixtapa Manzanillo Mazatlan Puerto Vallarta
Finisterra Resort Lover's Beach Parasailing
The Office & Medano Beach Pueblo Bonito Sunset Beach Resort & Spa


FRENCH RIVIERA BAKERY
Morelos/Blvd. Marina y Niños Heroes
Cabo San Lucas Baja California Sur 23410, Mexico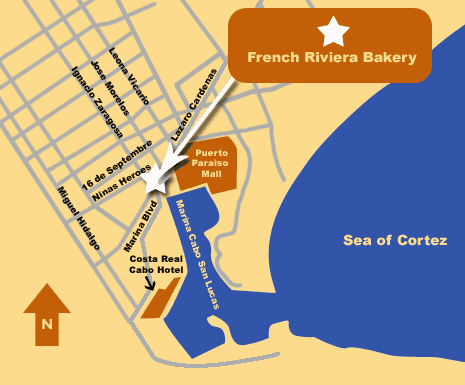 -------------------------------------------------------------------------------------------------

Camino a Playa El Medano
Cabo San Lucas, Baja California Sur Mexico 23410
Phone: 011 52 (624) 143-0801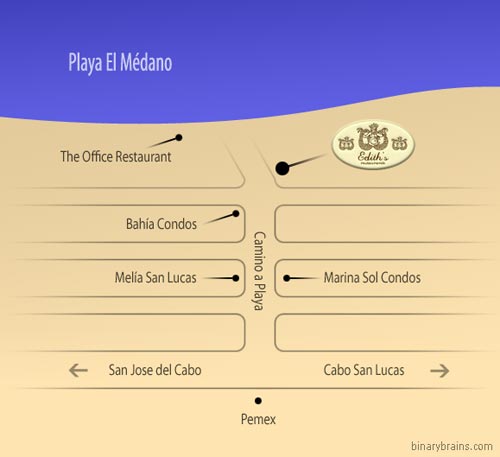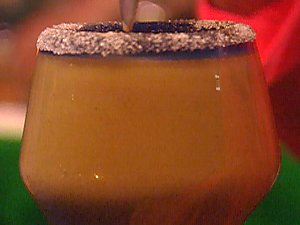 Mexican Coffee - Recipe from Edith's
2 teaspoons sugar, divided
3 ounces tequila, divided
3 ounces coffee liqueur (recommended: Kalhua), divided
Ground cinnamon, to dust
2 cups prepared coffee, divided
2 scoops vanilla ice cream, divided
2 cherries
Frost rims of 2 cups with sugar.
Pass it through the fire, gilding the edge little by little.
Add the tequila and the coffee liqueur to them tilting the cup a little towards the fire so that the liqueur begins to flame.
Dust with cinnamon. Immediately add hot coffee and a scoop of vanilla ice cream.
Top with a cherry.
This recipe was provided by professional chefs and has been scaled down from a bulk recipe provided by a restaurant.
The Food Network Kitchens chefs have not tested this recipe, in the proportions indicated,
and therefore, we cannot make any representation as to the results.
-------------------------------------------------------------------------------
Captain Tony's Bar and Grill
The Marina on Plaza Las Glorias Dock
Cabo San Lucas Baja California Sur Mexico
Tel: 011 52 (624) 143-679
-------------------------------------------------------------------------------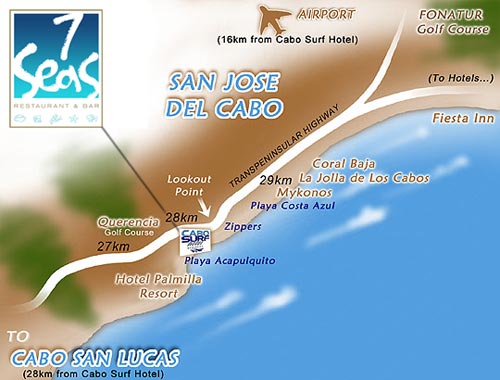 San Jose del Cabo, B.C.S.
Playa Acapulquito, Km. 28
Telephone: 011 52 (624) 142 2666
-------------------------------------------------------------------------------
http://www.tequilarestaurant.com/home.htm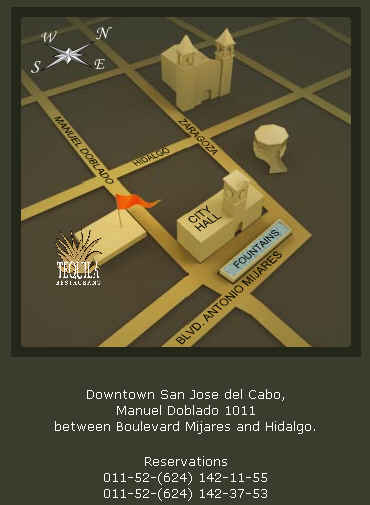 Tuesday Morning Coffee & Walk
Every Tuesday morning start with coffee at the San Jose Cafe behind the church at the beginning of
the historic Art District of San Jose del Cabo, then tour the Art Galleries. The Old Town Gallery
is one of the top fine art galleries in Los Cabos featuring fine art by local and international artists.
Thursday Art Night
Every Thursday evening, November through May, visitors and residents enjoy strolling the historic
Art District of San Jose del Cabo sipping wine and viewing the fine art. The Old Town Gallery is open
Thursday evenings until 9:00 p.m. for everyones viewing pleasure. New art is introduced into the gallery every week.
20 Obregon Street
San Jose del Cabo
23400 B.C.S.
MEXICO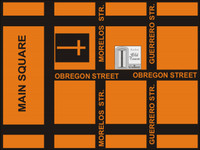 -------------------------------------------------------------------------------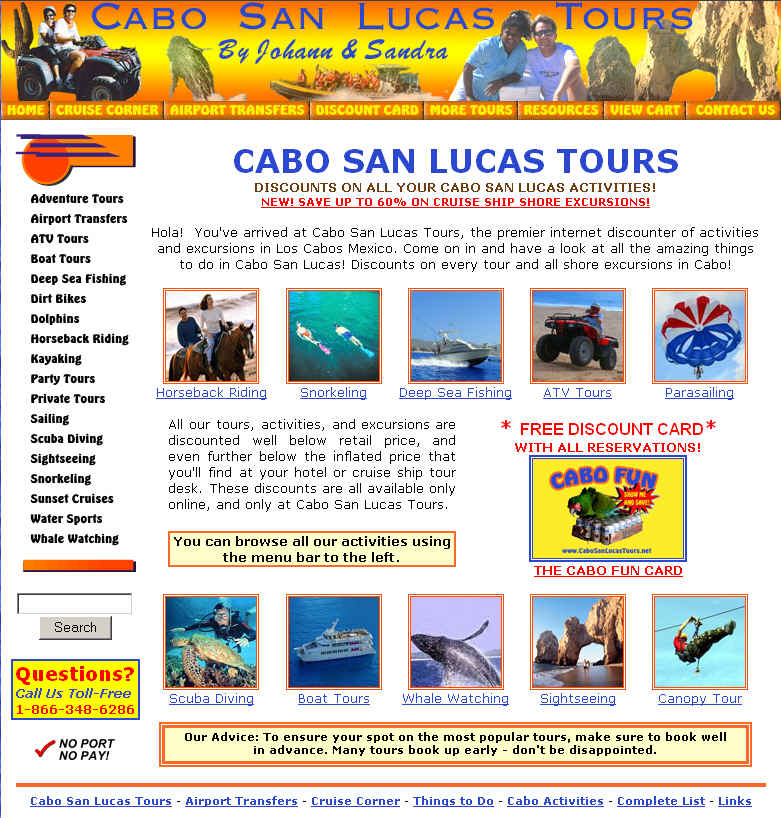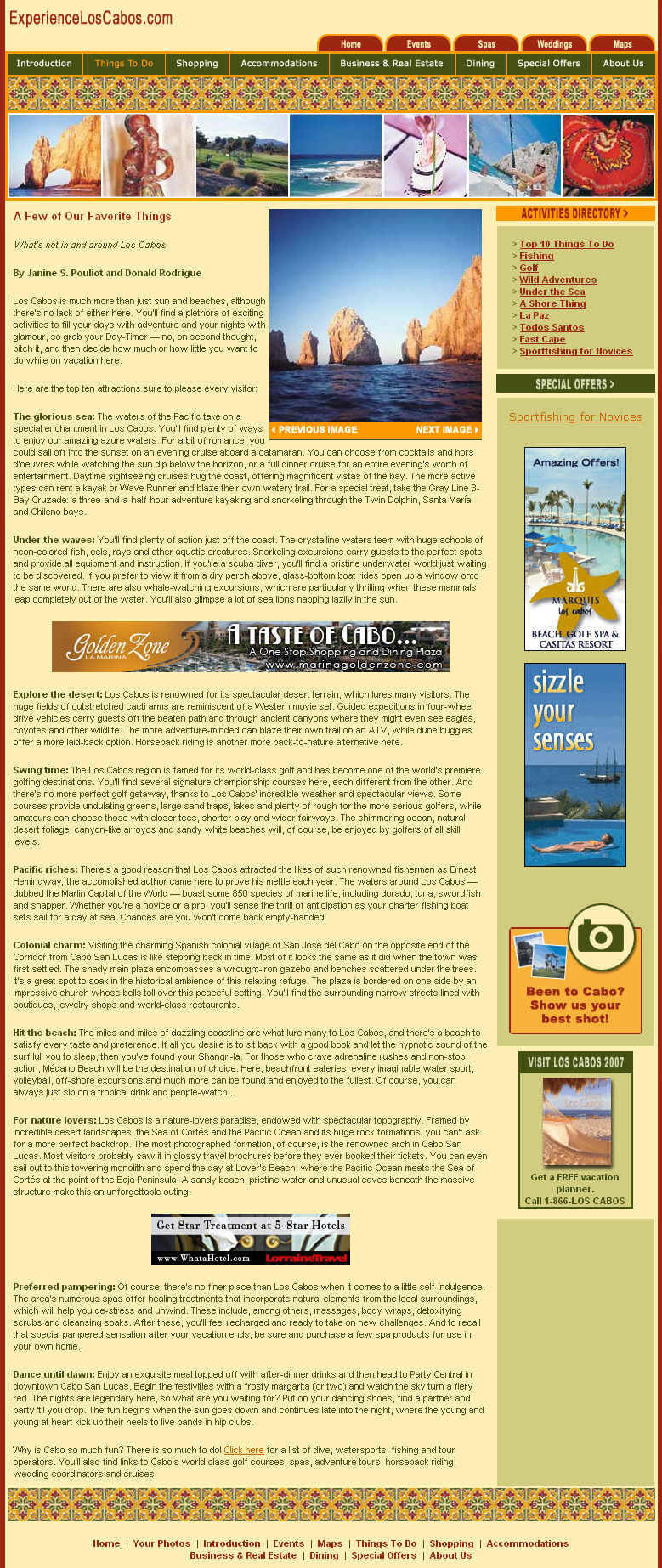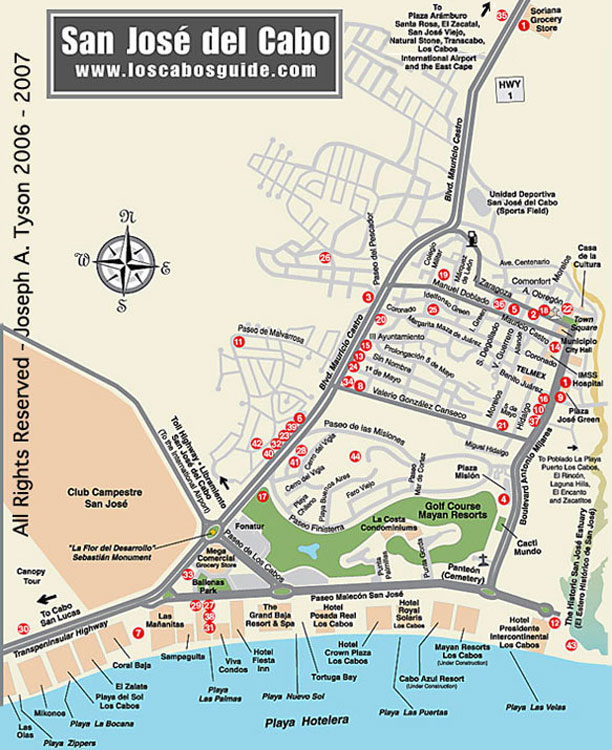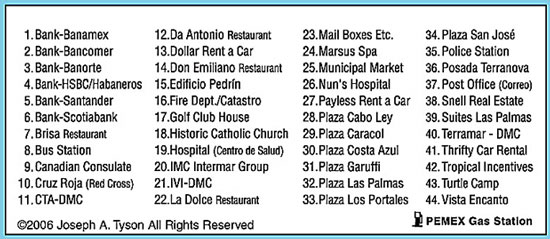 Magdalena Whale Watching
WHALE WATCHING TOURS CABO SAN LUCAS
The Gentle Giants of the Sea of Cortez - By Sabrina Lear
If you're fortunate to be visiting Los Cabos in the months of January through March, it's likely that at some point during your stay you'll be treated to the sight of whales spouting off shore. Many whales that feed in northern waters migrate south each year. From mid to late fall, gray whales make the longest migration of any mammal, a 6,000 mile journey from their summer homes in the Bering and Chukchi Seas between Alaska and Siberia, to winter in the warm waters of Baja California and the Sea of Cortez. Averaging a speed of four to five knots, they arrive in late December seeking both shelter from the frigid northern waters and refuge to birth their young. Gray whales (also known as the Pacific gray, California gray or grayback) calve in the protected, shallow lagoons of San Ignacio, Scammon's, Ojo de Liebre and Magdalena Bay. Bottom-feeding grays are placid shore lovers who spend most of their lives traveling. Once found in Europe and Asia, the gray population is now confined to the North Pacific, from Siberia and Alaska south to Mexico.
Like all mammals, the gray whale is warm blooded, breathes air and nurses its young. Moderately large in size, they range in length from 40 to 50 feet and can weigh up to 73,000 pounds, with males smaller than females. Gray in color, hence the name, they are classified as Cetacea, marine mammals that include whales, porpoises and dolphins and belong to Mysticeti, one of the three families of great baleen whales. Grays have no close relatives; they are the single species of the family Eschrichtidae.
Grays, right whales and the family of fin, blue, sei, Bryde's, minke and humpback whales (balaenopterids) have baleen fringes, made of whalebone, instead of teeth. The baleen lines the upper jaw and works like a large comb, filtering plankton from salt water and, in the grays' case, sediment. When the whale's mouth is full it closes and forces the water out, catching the plankton in the baleen. When all of the residue is filtered, the whale swallows. Unlike other baleen whales, grays are the only whale to bottom feed, staying down for 3 to 5 minutes to eat; leaving a trail of grooves in the ocean floor behind them. They can remain under water for fifteen minutes before running out of air. Grays are characterized by a long snout and double blowhole on top of their head. In place of a dorsal fin, the gray has a hump with dorsal ridges running to it's flukes (tail).

The lagoons frequented by the grays are mid-way to three-quarters of the way down the Baja peninsula and offer optimal conditions for female grays to give birth. After a gestation period of thirteen months, newborns enter the world about 15 feet long and weigh around 1,500 pounds. Whale milk is more than 50% fat and 10 times richer than cow's milk, allowing the calf to build up blubber for the long return trip north in the spring. Mother grays are extremely affectionate, playing constantly and bracing the calf on her back when it needs to rest. In the sheltered lagoons, the calves learn survival skills and build their muscles by swimming against the ocean currents flowing into the calmer waters. The calves weigh around 3,000 pounds and are about 19 feet long when they are ready to leave the lagoon. The grays natural predators are sharks and orcas (killer whales) and mother grays are always on guard for the enemy.
Although each of the lagoons is hundreds of miles or more up the peninsula, whale watching around Los Cabos can be very fruitful. While the gray whale is not the only species you will see (blue, humpback, sperm, Bryde's, sei, fin, and the occasional orca ply these waters) it is the most commonly sighted whale around Los Cabos. Many male grays travel into the Sea of Cortez, as well as females, once their calves are mature enough to leave the sanctuary of the lagoon.
Simply watching these incredible creatures frolicking amongst themselves is an awe-inspiring treat. Spouting, the visible exhaling of air by the whale, is usually your first indication of whale activity, however, you may see breaching, too. Breaching, when the whale leaps almost completely out of the water and falls back with a large splash, is a spectacular sight. Remember that the whales are moving and will stay under for two to five minutes, so try to anticipate what direction they are taking so you are able to focus on the location of their next breach or spout. You'll also see the whales showing their flukes, which is known as sounding. If you're in a small boat, Zodiac or kayak, you will be able to move in much closer and may get an eye-to-eye close-up with a new friend. Called spyhopping, this is where the whale pushes itself up out of the water until he can see his surroundings (and you), and for first time whale watchers this is especially thrilling.
If you want to see mothers and their calves first hand, whale-watching trips to Magdalena Bay (the closest calving area to Los Cabos) are best made with daytrip fly-in tours. Aereo Calafia offers tours during the whale watching season. This is a completely different experience than whale watching off the coast of Los Cabos as you are in a protected area of extremely calm, shallow water. Here you will be able to interact with the whales and get much closer to them than in the open ocean. The opportunity to pet whales is not uncommon. If you have more time to spend a few days in Magdalena Bay, there are several tour companies that operate from Loreto as a base camp.
You will find that there are several local, top notch-whale watching tours that will bring you as close as possible to the grays and other whales off the coast of Los Cabos and they generally conduct daily excursions from January to March.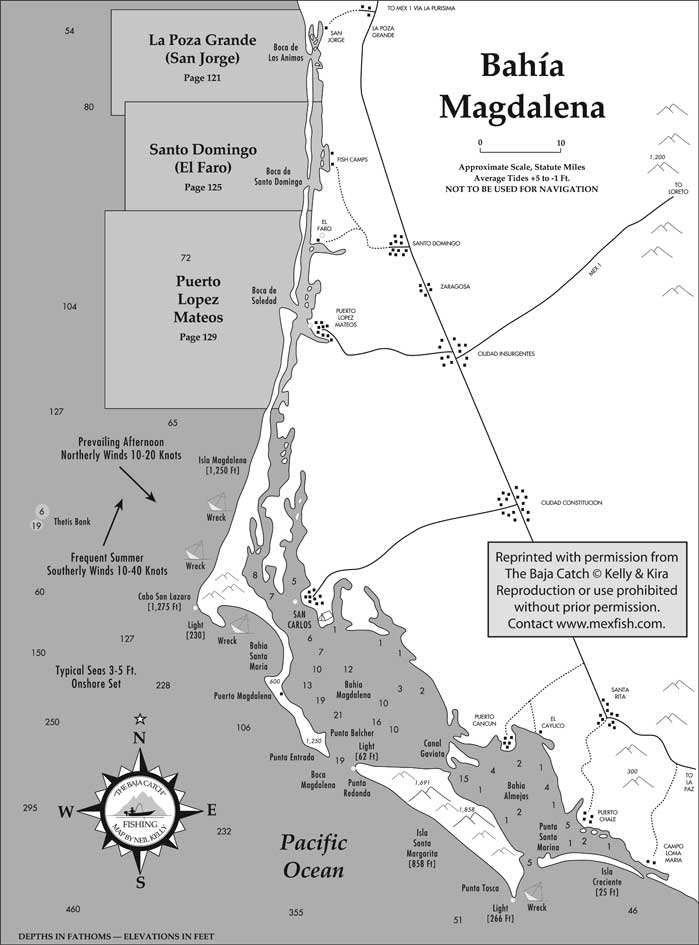 La Paz
Location: Baja California Sur, Baja California Peninsula
Distance from Cabo San Lucas: 95 miles north
Baja California Sur is one of the least populous states in Mexico with less than 450,000 inhabitants. Originally occupied by nomadic groups, the area was named a state in 1974 when tourist resorts like Cabo San Lucas and San José del Cabo were developed in the area. Today, the state's diverse landscape is one of its major attractions, with stunning narrow canyons, hot spring lakes, the majestic mountain range of Sierra de la Giganta and the Sierra de la Laguna Biosphere Reserve, with lush vegetation and endemic fauna.
The state's capital, La Paz, is a world-class tourist destination offering a wealth of natural resources nestled in an authentic small town ambiance. The unspoiled and inviting city is home to a variety of activities including sport fishing, snorkeling with playful sea lions, diving with hammerhead sharks and giant manta rays, kayaking next to the dolphins and whales or just lounging in the peaceful bays of Espiritu Santo Island. Visitors can also explore its many historic museums and authentic handicraft shops throughout the city.
Los Cabos, on the other hand, is one of Mexico's most breathtaking beach destinations, which include Cabo San Lucas, San José del Cabo and the stretch of beach in between. As one of the country's most popular tourist attractions, the area features world-class lodging and recreational facilities, including five-star hotels, luxury condominiums, impressive golf courses, charismatic marinas and exquisite restaurants. The city's location and functionality is ideal for a variety of water sports and outdoor activities including fishing, swimming, sailing, diving in Playa Chileno and surfing in Cabo San Lucas and Cabo Pulmo.
Just north of La Paz is the fishing village of Loreto, located along the Sea of Cortez. While Loreto is still a quiet fishing village, a sustainable development project is underway to develop this area. Loreto is located near Magdalena Bay, one of the most highly recommended lagoons for spotting gray whales and their calves between the months of January and March. Loreto also offers a variety of outdoor activities, everything from water sports to exploring magnificent cave paintings and colonial missions. Its major attractions are undoubtedly its beautiful beaches, preserved marine life and semi-desert niches that shelter numerous endangered species.
The laid back town of Todos Santos, just north of Cabo on the Pacific coast, is another up-and-coming spot that's becoming a popular destination for visitors seeking a low profile, relaxed vacation. But contrary to popular legend, the Hotel California in this sleepy town has nothing to do with the Eagle's song.
Baja California Sur is an ideal place for travelers interested in discovering ancient cave paintings, venturing into challenging mountain bike terrains, or just relaxing on an unspoiled beach.

http://www.visitmexicopress.com/destinations.asp
-------------------------------------------------------
Todos Santos, Baja, California Sur, Mexico
LAS POCITAS

Northwest of town.
Take Topete north through the palm valley, follow the dirt road. Beautiful beach, but watch for the waves and undertow when there is a big swell. A better beach for surfing than swimming.

LA PASTORA

North of town, take Topete (mid town) to the north.
The paved road turns to dirt...keep going...past the Agua Blanca campground signs.
Good beach for surfing, body surfing, boogie boards!

PLAYA PUNTA LOBOS

Located south of town at Km. 54, then west 1.5 miles to the beach.
The closest beach to 'downtown' Todos Santos. A beautiful beach used by the local fisherman, usually departing through early in the morning, and returning between 1 and 3 p.m. Watching the fishermen negotiate the waves in and out is quite a show!

PLAYA LAS PALMAS

South of town at Km. 57, then west for 1.5 miles.
One of the most spectacular beaches in southern Baja, and also a good swimming beach! This property surrounding the beach is privately owned, so easy access is limited to the hours of 6 a.m. to 9 p.m., and camping is not permitted.

PLAYA SAN PEDRITO

South of town, west at Km. 59, then 1.5 miles to the beach.


PLAYA LOS CERRITOS

Located well south of Todos Santos at Km. 64. Then take the dirt road 1.5 miles to the beach. Now has a beach bar ,restaurant, toilets and showers.
Miles of open beaches, and some of the safest beaches near Todos Santos for swimming. A great place for shell collecting, or just walking in the sand.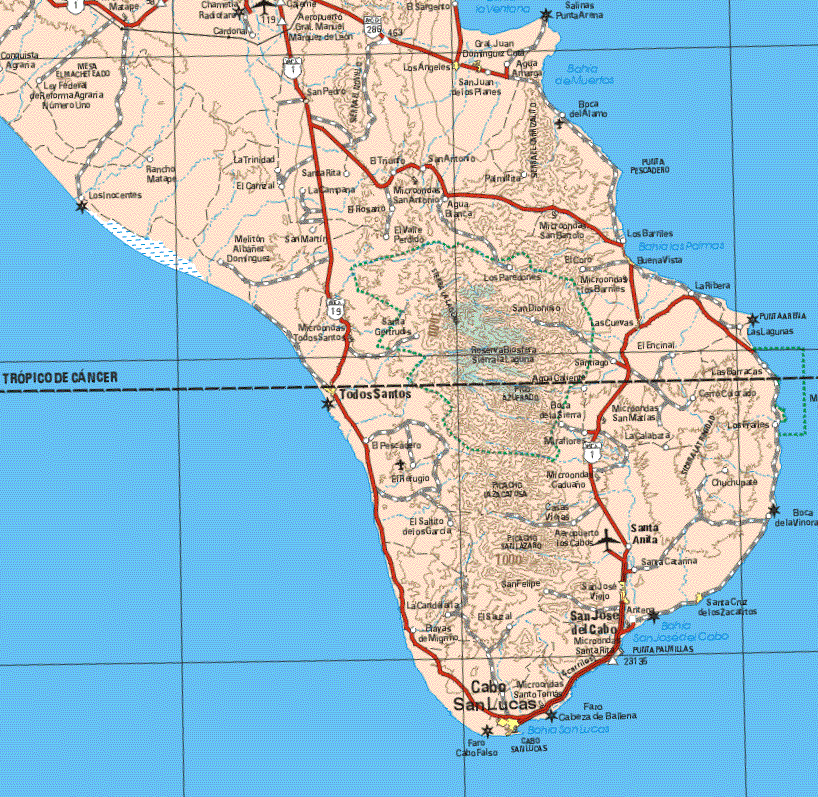 -------------------------------------------------------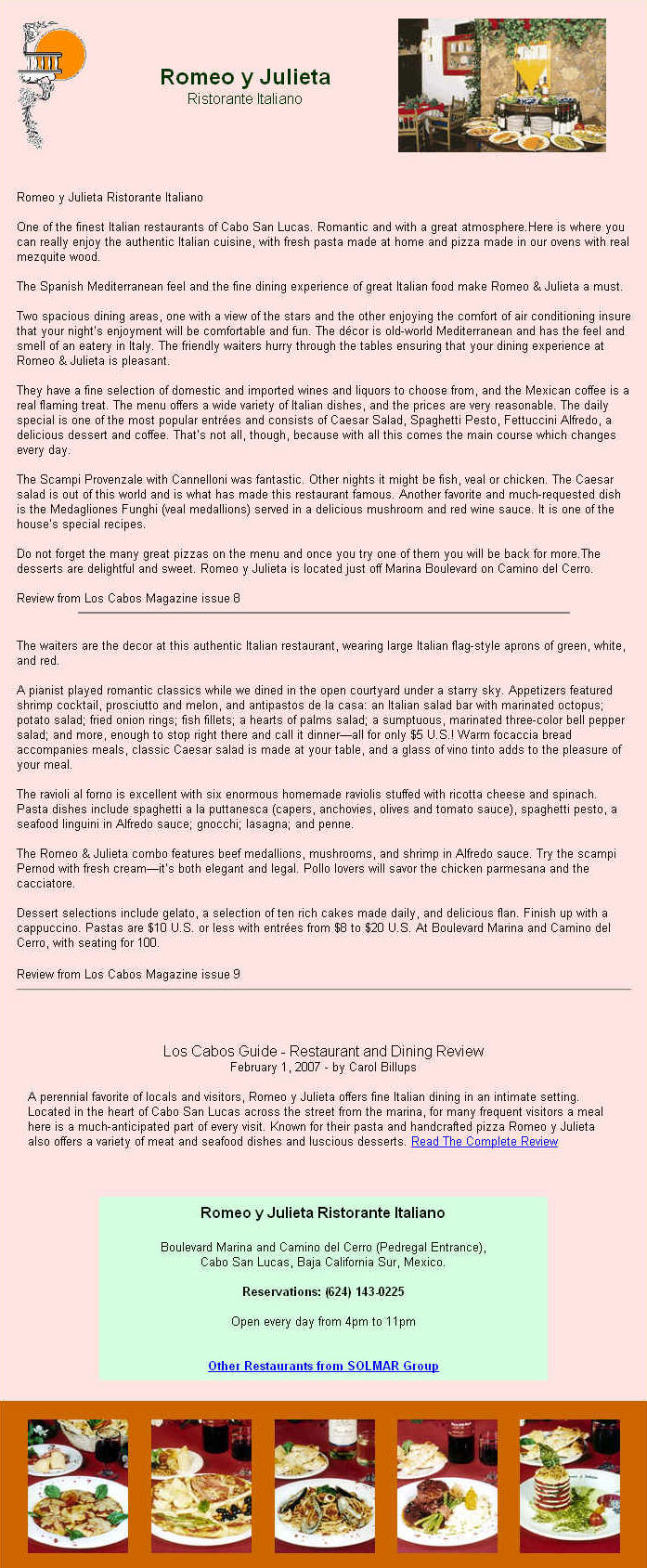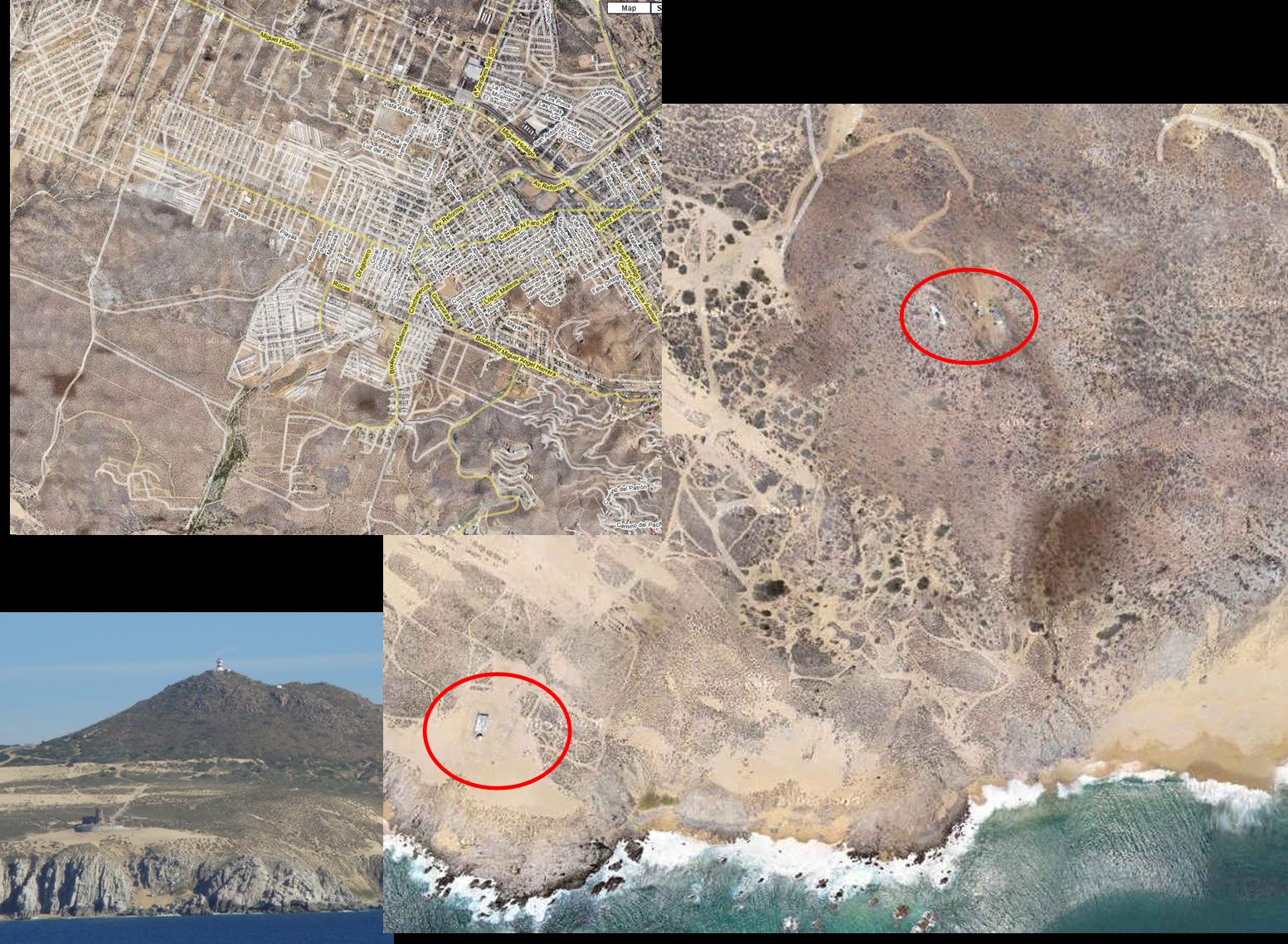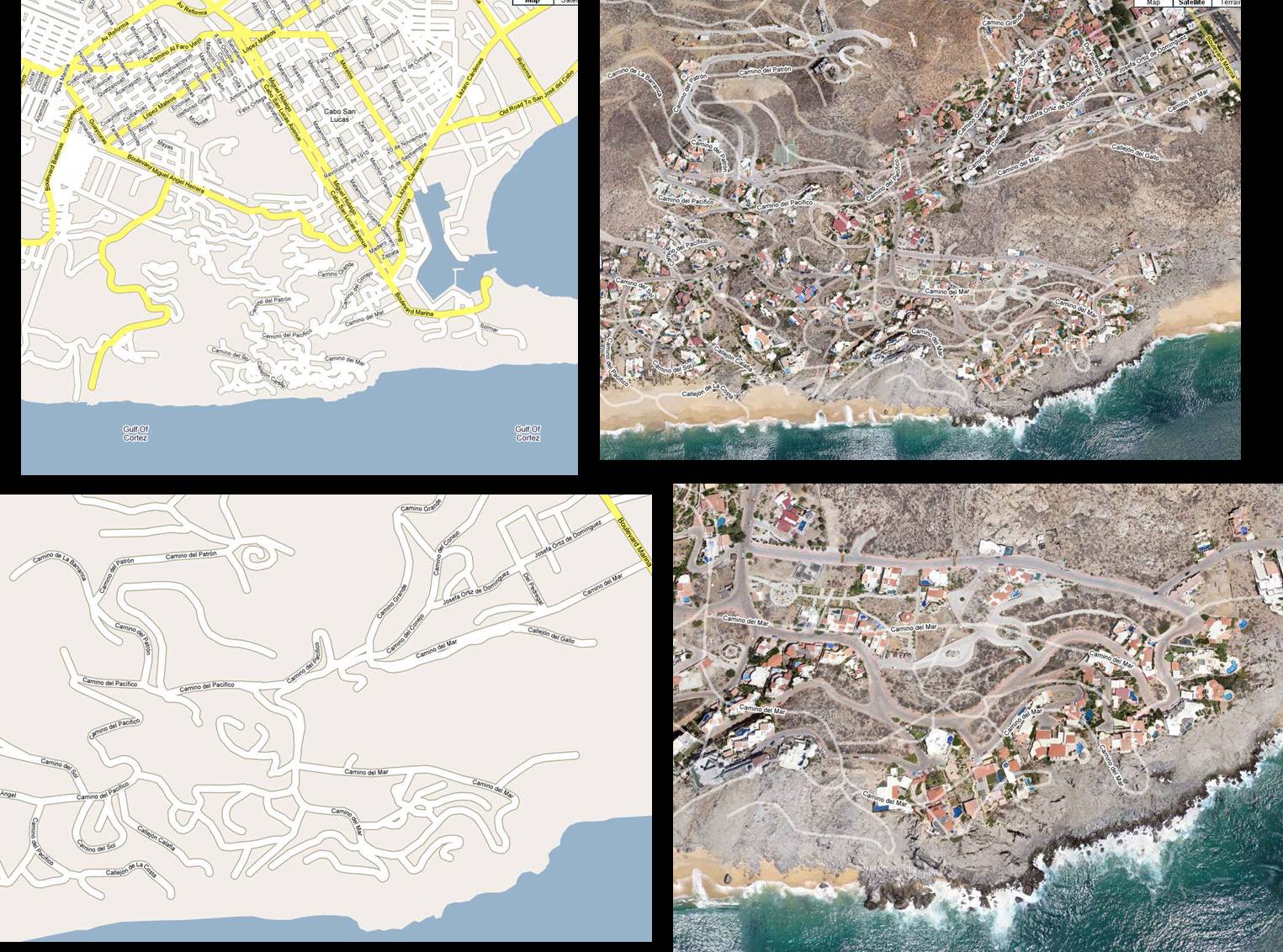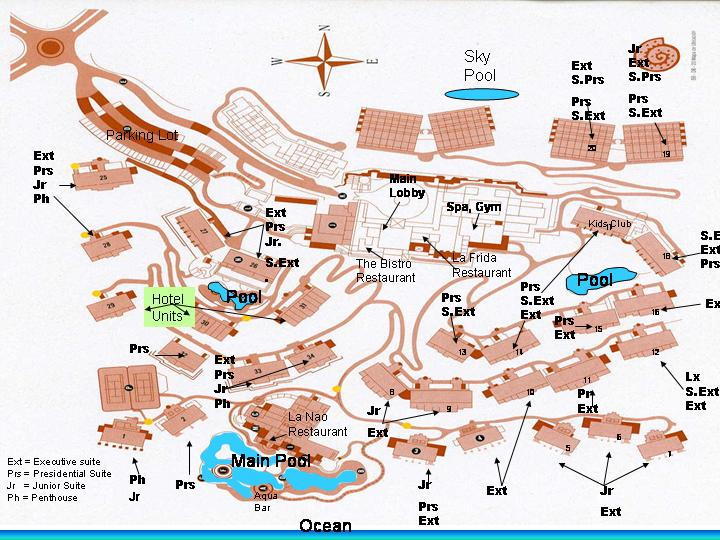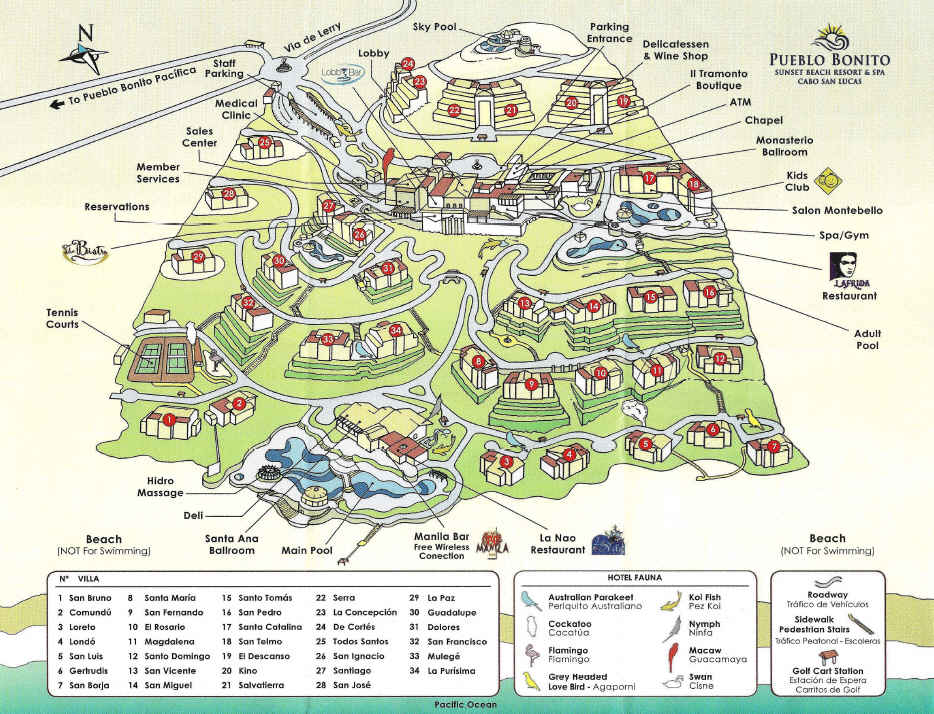 .
.
.