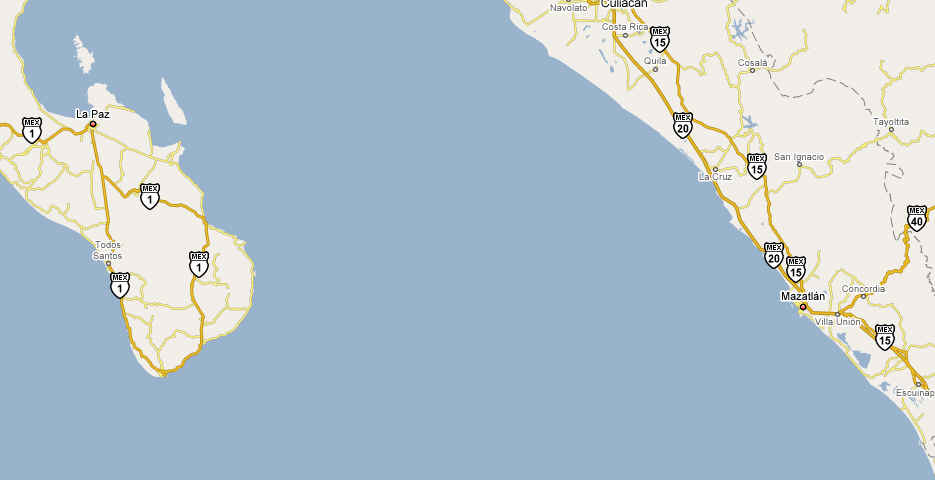 http://www.pueblobonito-mazatlan.com/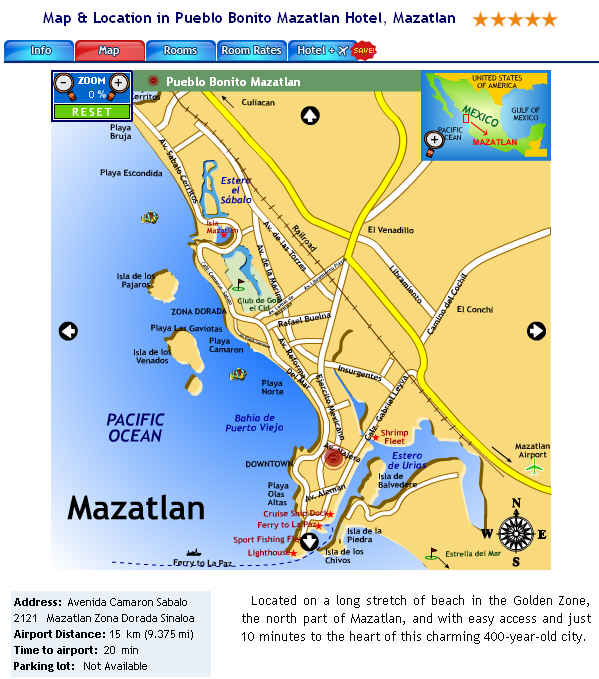 http://www.pueblobonitoemeraldbay.com/

Mazatlan Vacations
This booming resort town is rapidly expanding along the coast of the Mexican state of Sinaloa. As a major commercial fishing port it boasts Mexico's largest shrimp fleet and superlative sports-fishing. Mazatlan, "The Pacific Pearl", has a life of its own, with an old town atmosphere sitting by a headland which firmly separates harbor and tourist activities. Its position due east of the southern tip of Baja California, at the confluence of the Sea of Cortez and the Pacific Ocean, endows it with warm waters, a constantly balmy climate and abundant year-round shoals of marlin and sailfish.
Description
The first settlers in Mazatlan werent permanent but nomadic Amerindian tribes that traded with the Aztecs at some point. The Aztecs were the ones who gave the place its name Mazatl, meaning place of deer. The Spanish settled some years after the conquest and founded a port from where trading ships were dispatched to and from Asia and Europe. The 19th century brought German and French immigrants attracted by the gold fever in the Californias. After the Mexican Revolution the port activity grew and it wasnt till the early 60s when the tourist activity started.
Mazatlan distinguishes itself from the rest of the Mexican beach destinations because of its rich history, and because it is a city concerned about itself and its culture. This extraordinary combination of beautiful beaches, awesome natural attractions and luxurious hotels, together with a truly preserved historical center, a variety of cultural events and the warm hospitality of its people gives Mazatlan a unique balance of colonial-like atmosphere and golden beaches.
The Pacific Pearl has a modern and progressive face: it is the second port city in Mexico because of its size, after Acapulco, and the second because of its port activity, after Veracruz. It also bears the biggest shrimp fleet in Mexico, thus acquiring its second nickname, the Shrimp Capital.
Traditions
Mazatlans inhabitants life pleasantly goes by among great celebrations such as the Mazatlan Carnival, considered the third one in the hemisphere, the local baseball team Venados matches (deer) and their passionate fans, the bullfights and the callejoneadas, public parties on the streets to which everyone is invited. More than a tourist, in your Mazatlan vacations you will be an endeared neighbor during your stay.
So if you want to find all the best of Mexico in one place, get to know the history and culture of a colonial-style city, and at the same time spend a matchless vacation in the beach, you just have to visit Mazatlan, because Mazatlan has it all!
Attractions and Sightseeing in Mazatlan, Mexico
This Mexican harbor is a perfect spot for fishing, since its located right next to the Sea of Cortez in the Golf of California, which is the home of countless animal species. In regards to ecological tourism, it is possible to take a whole many excursions to natural Mazatlan attractions besides enjoying its beautiful beaches, food and nightlife.
Mazatlan has everything you expect in a beach resort: waves, sand and sun where you can relax or get into action. There are many sun and sea Mazatlan attractions such as a large array of activities inside or outside the water. Wave runners, parasailing and horseback riding are available in all of them. Here are some places in Playa Norte where you can practice beach football or volleyball.
But there is so much to do in the city as well and you can not miss a ride on a pulmonia, which besides being an excellent transportation way is an excellent idea to take a cooling off tour while you observe monuments and buildings which are interesting places of Mazatlan sightseeing.
If you like exploring nature or practicing an open air alternative sport you will find many options in Mazatlan. These include mountain bicycling, hiking, kayaking, SCUBA diving and snorkeling, bird watching and participating in ecological rescue programs.
Angela Peralta Theater
The foremost cultural venue of the city is also a beautiful architectural jewel, built late in the 19th century. Many plays, shows, opera productions and even sport events have been performed inside this theater with capacity for up to 850 people. After a period when the theater was abandoned, the City Council remodeled it and gave it its current appearance, thus becoming one of the most active and attractive cultural centers in the city.
Archeological Museum and Art Museum
Those who want to satisfy their cultural hungry will find in these museums a great incentive. The Archeological Museum of Mazatlan features some pieces dating from 2000 years ago, making a journey through the main historical eras of the state of Sinaloa, which will surely be interesting for you.
On the other hand, the Art Museum of Mazatlan, located across the Archeological Museum, stands out because of the great variety of activities performed in it. In this museum you will find several works of art by important Mexican artists such as Rufino Tamayo and Jose Luis Cuevas, and also pieces by remarkable international artists. It is likely that in any of your visits you may coincide with a group of theater students preparing a play, or find a classic guitar duet improving their techniques in order to participate in a fest, and enjoy the masterly performance of those young artists.
Fisherman's Monument
Among the array of sculptures and monuments located through the seawalk, probably the most famous, and also the most liked one by locals, is the Fisherman's Monument, also known as "Monos Bichis" (regarding the nudeness of the man and woman). The main reason why the Mazatlan people became fond of this sculpture is because they restored it by themselves, after a period when it stuck in a state of neglect. The sculpture represents the daily effort of fishermen, and also evokes the origin of Mazatlan , when it was nothing but a fishing town.
Fishing and Shooting
Mazatlans privileged geographical situation in relation to the rich waters of the Sea of Cortez and the Pacific Ocean, make sport fishing a very popular activity. There are dozens of marinas where you can hire a charter or a group fishing trip. Due to its placement in the middle of the Central and Pacific bird migration route, Sinaloa State offers a good duck and dove hunt option.
Golf
In Mazatlan attractions are 3 golf courses and many hotels feature tennis courts. Some even offer night tennis service since they have very well lit. Some private clubs are open for tourists as long as they pay a minimal fee. These clubs have tennis clinics for adults and children.
Plazuela Machado
Located a few blocks away from the Cathedral, and surrounded by several restaurants and coffee shops, the traditional Plazuela Machado square is by far the most charming place in Mazatlan to share either a beer or a cup of coffee. It is also the ideal venue to start an exciting night, or simply to have a pleasant chat with friends. Its variety of eating facilities, its traditional and evocative atmosphere, as well as its location near the Angela Peralta Theater turn this plaza into an authentic getaway for all the Mazatlan people. If you want to spend a relaxing and peaceful afternoon with your family or friends, just come around the Plazuela Machado and let yourself be surrounded by the historical charm of this marvelous city.
Pulmonias and Urigas
Whenever you want a way of transportation in Mazatlan , think about the city's traditional vehicle, the "Pulmonia", which is similar to those small golf carts, allowing you to behold the city's highlights and feel the ocean breeze. If you are traveling with all your family the best option is to take the "Urigas", some small light trucks that can take you with your family to any place in Mazatlan while cooling off and admiring the tourist attractions of the city. Enjoy the view!
Stone Island
The Isla de la Piedra (Stone Island) is one of the well known highlights in Mazatlan. Since it is located away from the hustle and bustle of the Golden Zone, the island is an excellent place to enjoy beautiful, quiet beaches, and spend a relaxing day. You will also find in the island a variety of food stations where you can try fresh seafood, and you can also participate in several leisure activities such as horseback riding and water sports. Everything you need to spend a different and special day is waiting for you in this paradise located south of Mazatlan!
The Carnival
Mazatlan's Carnival is considered one of the three most important in the world, and it is celebrated since 1898. With music of "La Tambora Sinaloense", the city turns into a huge folk party, the parade takes place in an ambiance of excitement, music, "comparsas"(a crowd dancing with joy), floats perfectly decorated, costumes, fireworks and a multitude of animated people with the great and renown enthusiasm and fun of this exciting celebration of International level.
Before the big Carnival party begins, the famous and traditional "Papaquis" (people in cars playing lively music) are carried out to liven up the people and get ready for the big party. The "Quema del Mal Humor" (Bad Temper Burning), the election of the Queen and a great variety of cultural events gather in this famous festivity. During six days, in the month of February are enjoyed moments of talent, creation, fantasy, enthusiasm and plentiful energy of the people from Mazatlan, and those from all over the world that get together with the aim of have excessive fun in the Mazatlan's Carnival.
The Immaculate Conception's Cathedral
The Cathedral is located in the very heart of downtown Mazatlan, its construction began in 1875 and was finished in 1899, it was dedicated to Mary's Immaculate Conception in 1937. It is considered the most beautiful cathedral in the northwest of Mexico; featuring magnificent sculptures in its atrium. The building has a remarkable Gothic style, and its decoration is mainly Baroque with a neoclassical feel, thus featuring a variety of styles. When you visit the cathedral you will be surprised at its many works of art, which include not only magnificent sculptures but also inspiring paintings. Hopefully you will be able to listen to the wonderful organ of the cathedral, which was built in Paris in the 19th century.
Restaurants and Dining in Mazatlan, Mexico
Mazatlan is considered the Shrimp Capital, so it is not a surprise to find this delicious crustacean in almost every popular dish of the Mazatlan Restaurants. Whether it is in a cocktail or cooked with secret recipes, you can not leave without savoring the shrimp specialties found in The Pacific Pearl.
Not everything is shrimp thou, dishes are varied, ambiences in restaurants in Mazatlan are just as diverse and menus fit every taste and pocket. We should mention that Mazatlan has long been host to hundreds of immigrants from all over throughout history; therefore you will find every kind of food from famous fast food chains to specialties from China, Italy, Japan, Spain, etc.
Anyone forgets about time when enjoying a fabulous meal, in good company in a beautiful place. In Mazatlan, mealtime is very important, come and enjoy it with us!
Mazatlan dining will be a fabulous experience!
Cafe Pacifico
Cafe Pacifico is a real tradition in downtown Mazatlan. It is located on the opposite corner of the famous Canobbio's Arcade, in front of the Plazuela Machado square. Cafe Pacifico is a favorite among locals, especially those with deeper roots in Mazatlan. Don't forget to stop by the Cafe Pacifico any evening and try the house specialty, the "Pacifico Sunset".
El Shrimp Bucket
Mazatlan was El Shrimp Bucket birthplace in 1963, which is still in its original place and, only if you didnt know, it is the first restaurant of the Andersons chain, owner and creator of famous franchises such as Carlosn Charlies and Seņor Frogs. Undoubtedly the best Mazatlan dining experience in the Pacific coast.
Egyptian Cafe
The exotic-food lovers will be fascinated with Egyptian Cafe, where both locals and visitors meet to try the authentic Egyptian cuisine. You may want to taste the Turkish coffee, and perhaps after eating try the "shishas", a traditional water pipe to smoke fruit-flavored tobacco. These pipes will allow you to taste tobacco without the disadvantages of tar and with very little nicotine, since these substances are naturally filtered by the water contained in the pipe.
Guadalajara Grill
Guadalajara Grill is an excellent option to enjoy authentic Mexican cuisine in a colorful atmosphere, full of folklore and fun as typical of the Anderson's chain, owner of this picturesque restaurant. We recommend you to order the "Camarones Mango" (mango shrimps), or the traditional "Pollo relleno en mole" (stuffed chicken with mole sauce).
Gus Gus
The liveliest atmosphere of the Golden Zone is without a doubt in Gus Gus, a place where dining is always a great experience. Gus Gus is truly a show, and you soon will be enjoying the live music, the scrumptious food and the company of your friends. You all will spend a great night in this restaurant that has become one of the most popular restaurants in Mazatlan among the international visitors.
Il Mosto
Il Mosto is a traditional Italian restaurant that offers delicious Mediterranean cuisine in an elegant, cozy atmosphere. Offering mainly pasta and pizza, Il Mosto features also an outdoor area where you can enjoy the breezy sunsets while savoring your meals.
La Casa Country
If you are looking for an exclusive Mexican atmosphere, the finest meat cuts, and the best of the regional cuisine, along with live music, then you must visit La Casa Country (the Country House). This restaurant located in the Golden Zone features everything you need to spend a wonderful night.
La Cebolla Morada
Another favorite restaurant of visitors is La Cebolla Morada (the Purple Onion), which combines a traditional atmosphere with excellent flavor, superb service and an ample schedule from early in the morning to the late night. Besides, the Purple Onion offers daily live music, and features a complete bar service, along with an extensive menu that includes meat and seafood. Considering additionally its lively atmosphere and its karaoke nights, it is not very difficult to understand why this is one of the most-liked restaurants by visitors.
Los Zarapes
A truly Mexican atmosphere, traditional flavors of the regional and national cuisine, modern TV screens and a superb location in the Golden Zone are the best reasons to visit one of the best places to eat in Mazatlan.
Regional Cuisine
Even though seafood is central to the Sinaloa State gastronomy, its culinary specialties are varied in their origin and ingredients. Another platter that has won popularity locally and nationwide is Chilorio without a doubt: shredded pork marinated with a special kind of chile and spices salsa with a unique flavor, very popular during breakfast. Grilled chicken Sinaloa style is another specialty that has won fame outside the State because of its delicious flavor. Mazatlan restaurants offer also the mochomo, which is a spiced beef loin, baked pigeons and shrimp marinated in lemon juice, stuffed with cheese and covered with bacon or grilled.
Sr. Pepper
Sr. Pepper features a refined and exclusive atmosphere, succulent fine cuts and professional service. Its wine list and its sophisticated specialties turn it into a perfect choice for a romantic dinner. If you look for the juiciness, tenderness and flavor characteristics of a specially seasoned fine cut, or want to savor succulent jumbo shrimps or gourmet lobster, this is the right place.
Shopping in Mazatlan, Mexico
In many places around the city vendors display their products in a clever, eye-catchy way to attract your attention. Colors, tastes and smells fill the air and souvenirs are as abundant as bargain opportunities.
You can buy almost anything in Mazatlan, from precious stones to seashells going through large amounts of t-shirts. Most stores are open from 9 or 10 a.m. to 6 or 8 p.m. Few Mazatlan shops close during the day and some are open even on Sunday afternoon.
One of the most special stores is NidArt, where you will find literally every kind of handicrafts. Maybe you will go sightseeing but you will surely find something you won't want to leave.
A shopping in Mazatlan could turn into a fulfilling adventure. Welcome!
Casa Etnika
This handcraft store is one of the best options to acquire authentic Mexican works of art. The store presents all the strikingly expressive colors of the Mexican craftsmanship, with some typical pieces of the national traditions, clay objects and jewelry. You can also find fully hand made hammocks and different kinds of utensils and house ornaments. In Casa Etnika you won't be able to find two pieces that look exactly the same, because each one is created individually, and they all are actually one of a kind. In the store there is also an exhibition of wildlife photography with wonderful pictures by a renowned local photographer.
Casa Etnika is a totally different shop, an excellent place to find real Mexican works of art. Even if you don't think to purchase a lot of handicrafts and souvenirs, this is a charming must-see place to visit.
La Gran Plaza
La Gran Plaza is the perfect place for those who love to go shopping, look around many shops and try clothes on or buy the trendiest shoes. With the style of those big shopping malls, but still keeping the traditional feel of Mazatlan, La Gran Plaza shopping mall boasts a movie theater, food court, boutiques and everything you need to spend a great time with your family.
NidArt
NidArt is one of the most unique places to buy handicrafts in Mazatlan. The name means Nest of Artisans, and is a studio, showcase and showroom of jewelry, photographs, artworks and crafts. You will be able to appreciate a myriad of figurines and works of art created by six families that exhibit their pieces in NidArt. Hopefully you will see some of them in the process of creating crafts. You will surely be astonished at the great variety and beauty of pieces you will find in NidArt, from clay figurines to leather masks, house ornaments, sculptures, engravings and drawings.
Markets
For a change of ambience in Mazatlan shopping we invite you to visit the Flower Market, in the place where a bus station was, offering a color burst and delicate perfumes. Now, if you decided to be active, Mictlan offers you a great variety of sport equipment from kayaking to snorkeling.
Sea Shell City Museum
Sea Shell City Museum features a huge variety of souvenirs, crafts and pieces elaborated with sea shells. You will discover all kinds of nice things; some are truly special and amazing. For that reason you will surely find a little something for that special person, or simply you will be able to acquire a beautiful souvenir from your vacation in Mazatlan.
Acapulco Cabo Cancun Ensenada Ixtapa Manzanillo Mazatlan Puerto Vallarta
Finisterra Resort Lover's Beach Parasailing
The Office & Medano Beach Pueblo Bonito Sunset Beach Resort & Spa