Las Vegas - Reno: 335 miles
Reno - Mariposa: 141 miles
Mariposa - Bakersfield: 153 miles
Bakersfield - Las Vegas: 218 miles
Bakersfield - Fresno: 110 miles
Fresno to Oakhurst: 45 miles
So Las Vegas to Oakhurst is about 360 miles
Yosemite links
Mariposa Grove of Giant Sequoias Guide and Map
The Best Time To Visit Yosemite National Park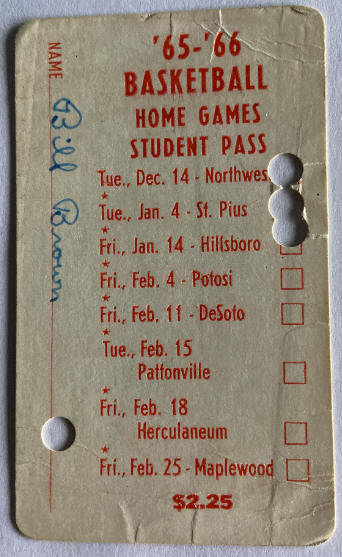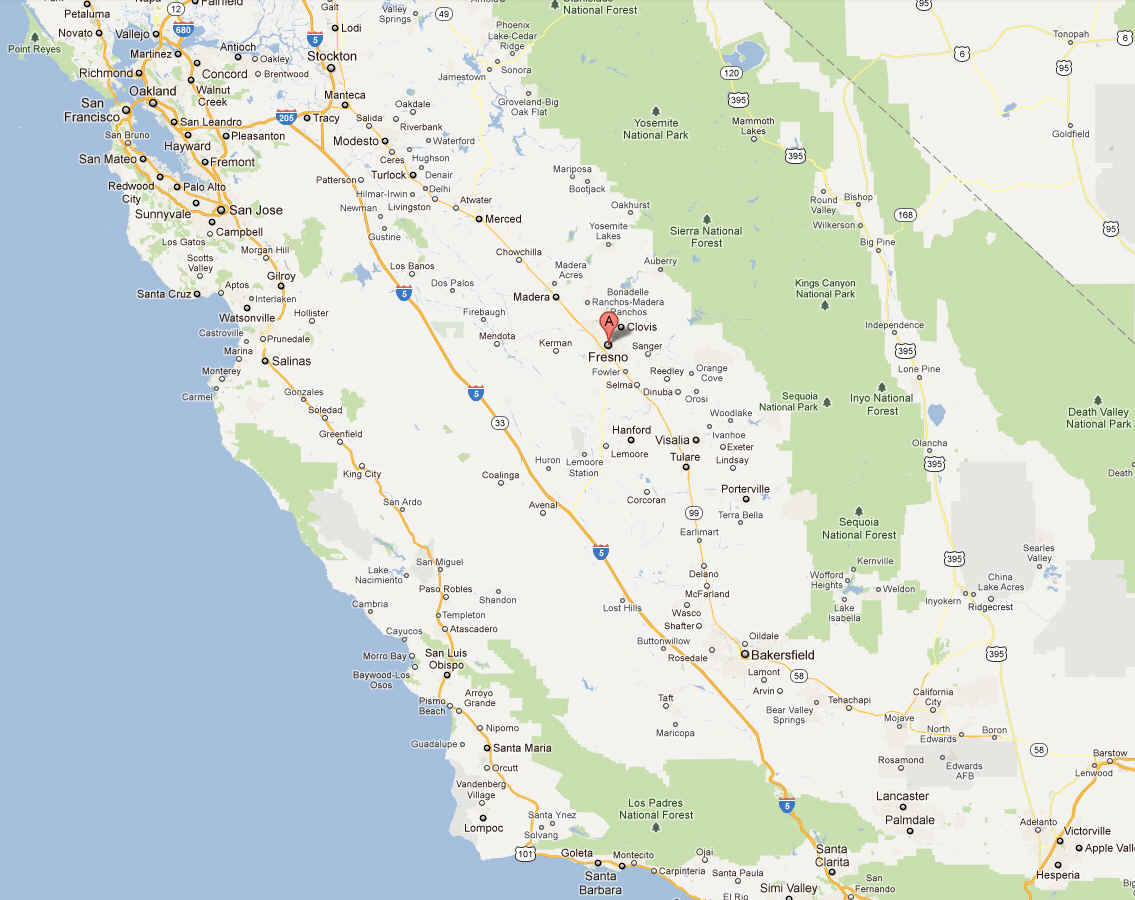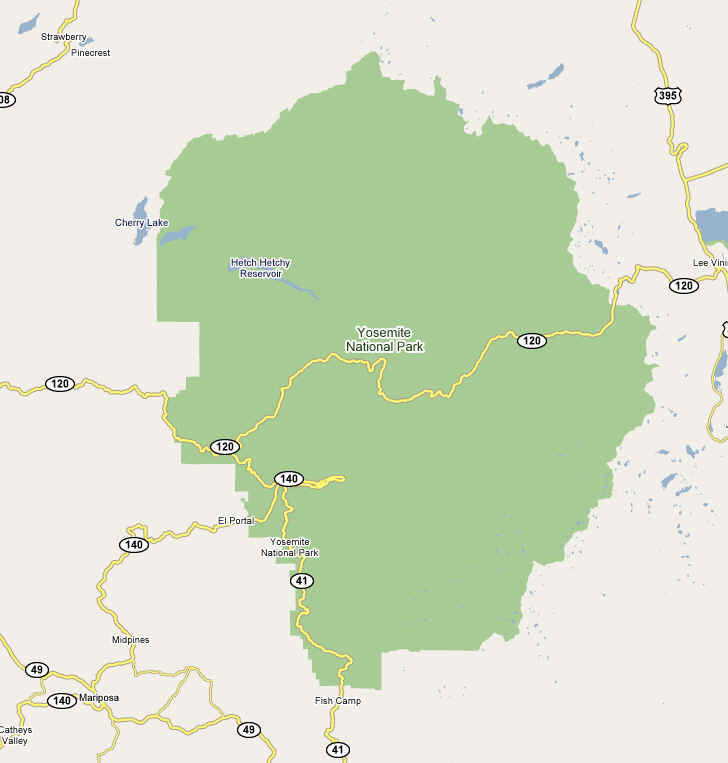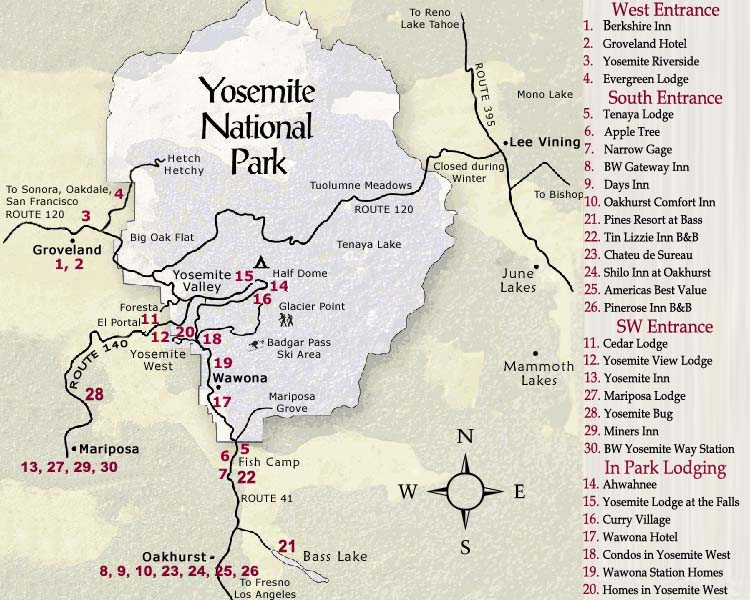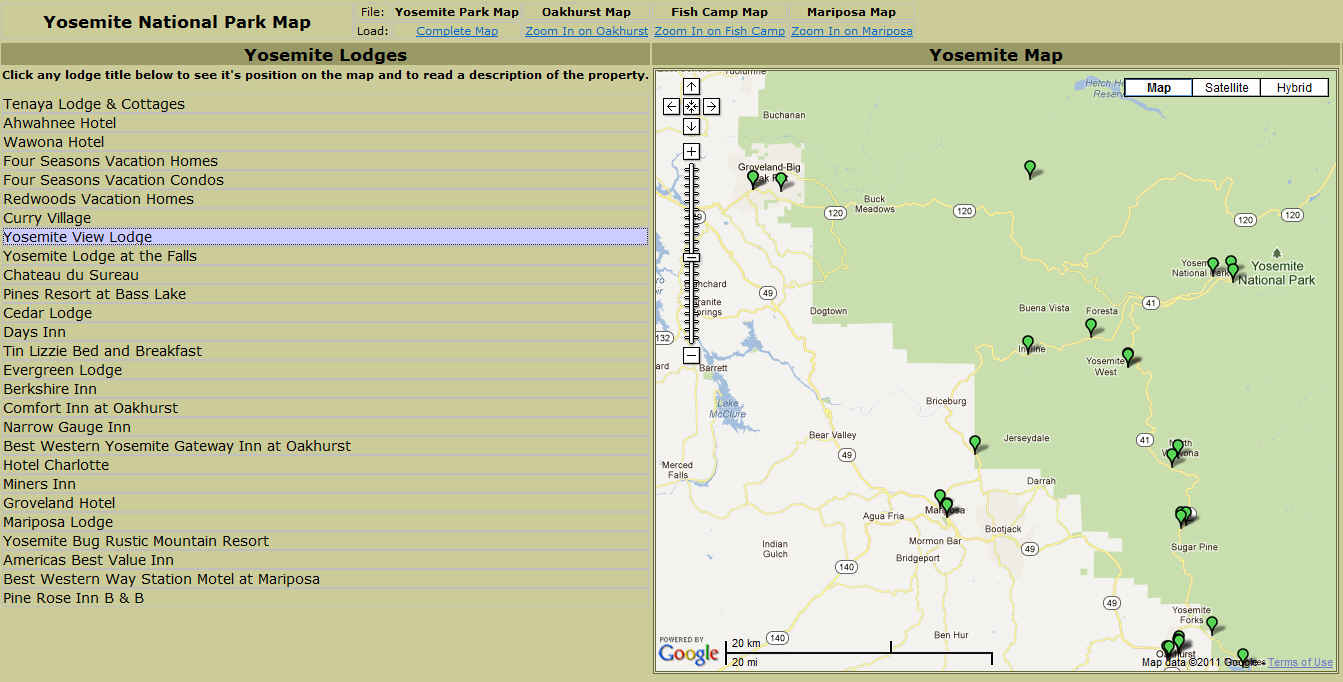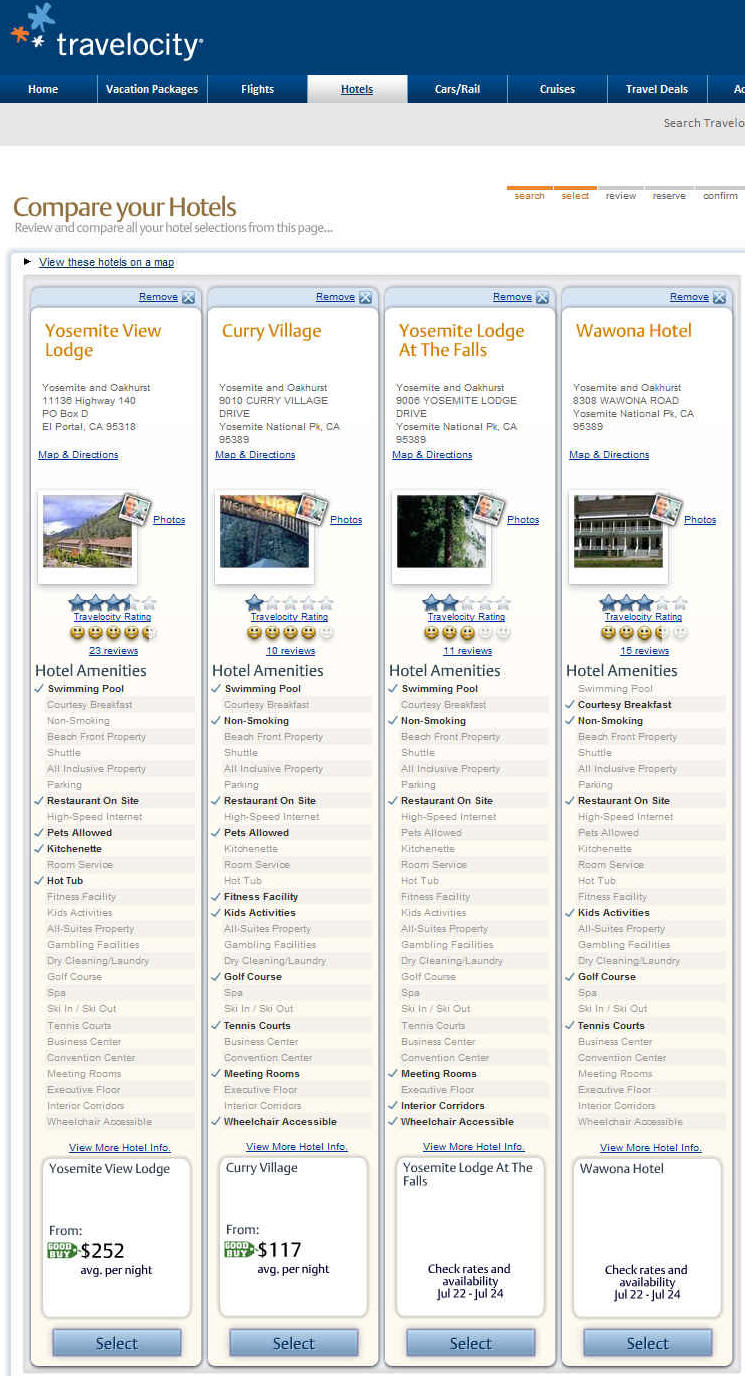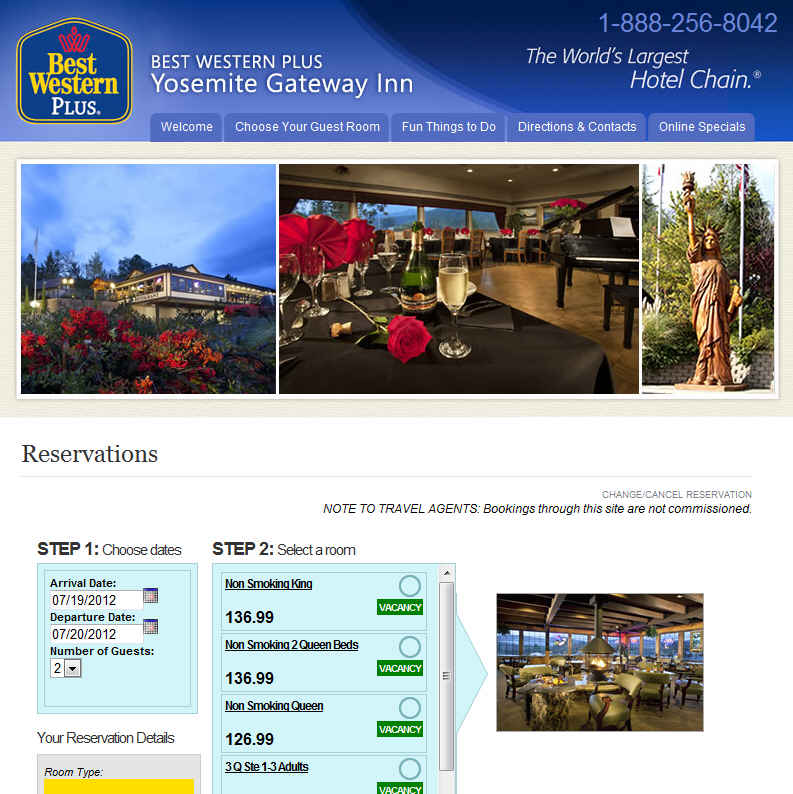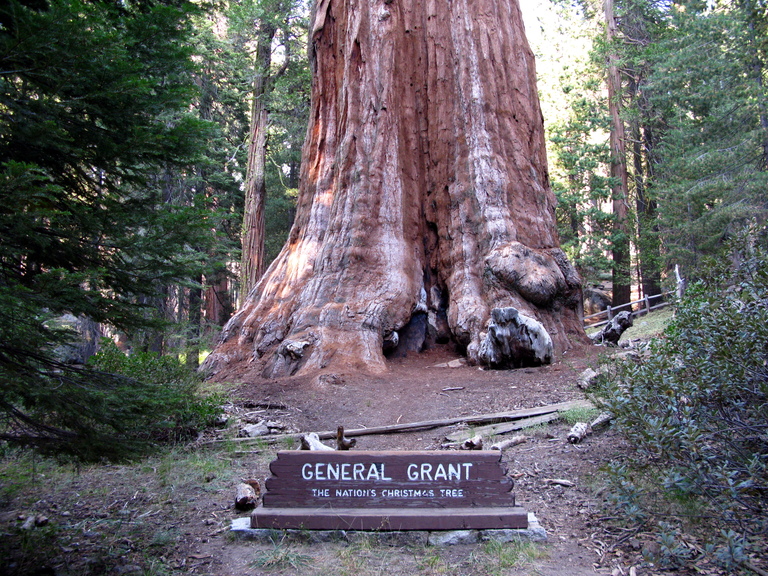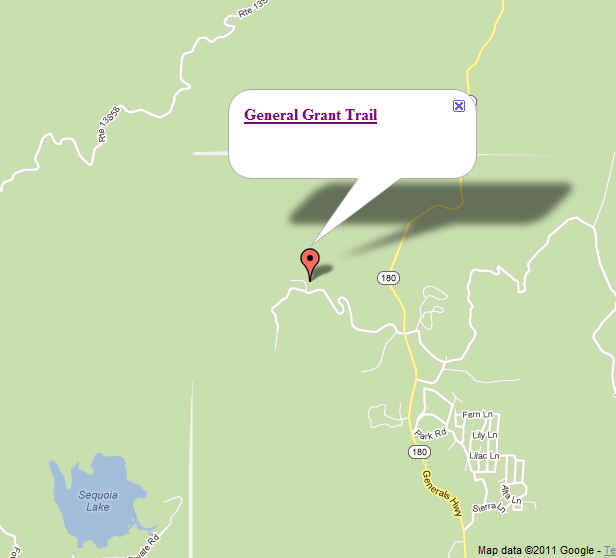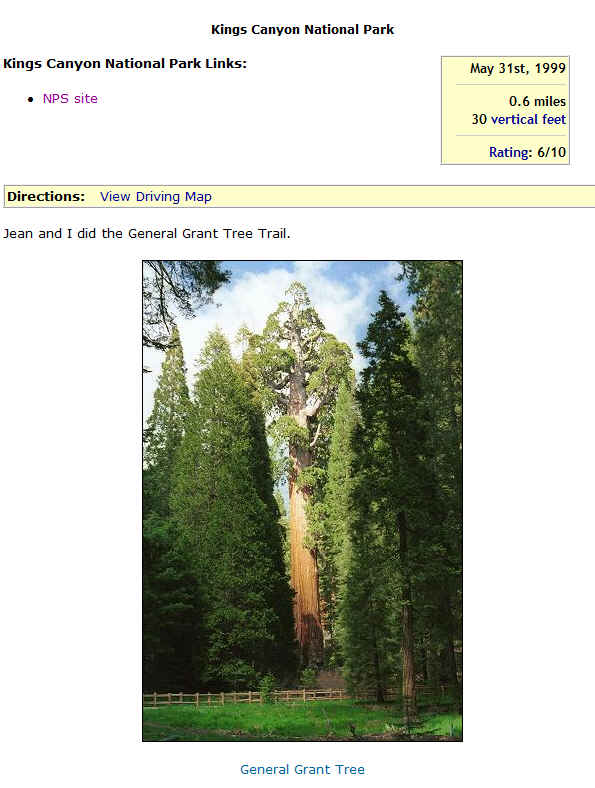 http://www.visitmariposa.net/lodging.htm

Distance between Mariposa and:
Las Vegas, Nevada is 466 miles (750 km)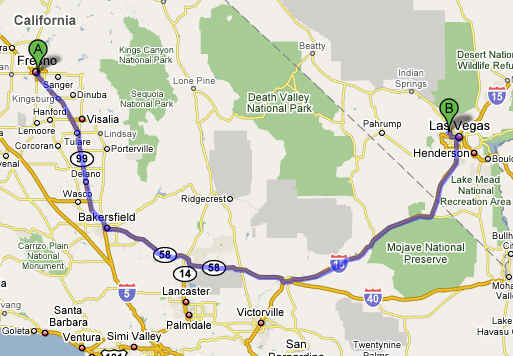 Donner's Pass State Park
Located in the beautiful Sierra Nevada, Donner Memorial State Park offers the summer vacationer opportunities for camping, picnicking, boating, fishing, water-skiing, and hiking. In winter, visitors can cross-country ski and snowshoe on trails and enjoy the season's beauty. Visitors are welcome year-round at the Emigrant Trail Museum and at the Pioneer Monument, built to commemorate those who emigrated to California from the east in the mid-1800's. Included in the museum are displays and information about one of the earliest pioneer wagon trains, the Donner Party, forced by circumstances to camp at the east end of Donner Lake in the winter of 1846-47, resulting in human suffering and loss of life.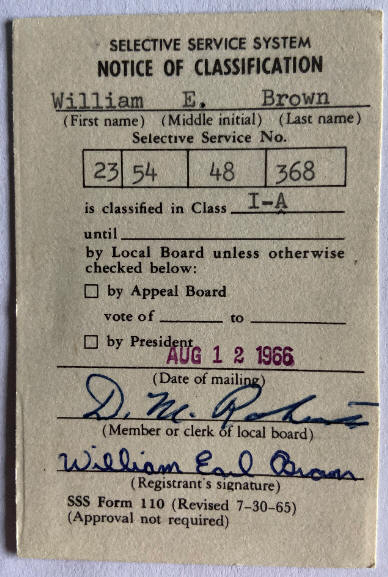 Mariposa
California State Mining and Mineral Museum - Mariposa
From: Fresno, CA to Vegas
Drive: 404 mi – about 6 hours 6 mins

Yosemite
May
Average Temperature: 43 to 73 degrees Fahrenheit
PROS: BEST TWO MONTHS (June) TO VISIT YOSEMITE!! You can put away your chains as of May 1st. Snow is melting big time; waterfalls are nearing their peak high flows and are spectacular. Valley is greening up; trees are blooming, wildflowers are out. High country trails are accessible below 7,000 feet; higher toward the end of the month. In most years the Glacier Point and Tioga Roads are open by Memorial Day Weekend. Half Dome cables go up the week before Memorial Day weekend.
Rain is very unlikely but not impossible. Temperatures are warm, but mosquitoes are not out yet.
CONS: Can't think of any. Really, this is the prime time in Yosemite. The last two weeks in May and the first two weeks in June are TOP, PRIME Yosemite time! Crowds are picking up, but they're not so oppressive that they are a distraction. If you're planning any backcountry hiking be aware the rivers are high, fast and deep.
Mariposa Grove of Giant Sequoias Guide and Map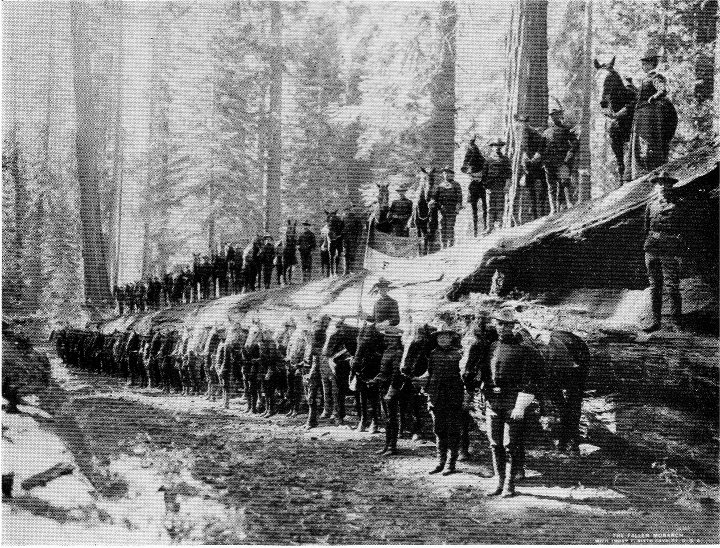 The sequoia, or sierra redwood, is the biggest living thing on earth (some weighing up to one thousand tons).
In Mariposa Grove there are five hundred sequoias, some 3,000 years old. The Grizzly Giant is the largest tree
in the grove and fifth largest in the world. The Batchelor and Three Graces stand near the path, while the Fallen Giant's
claim to fame stems from a photo taken in 1899 of cavalry officers and their horses standing on top of the fallen tree.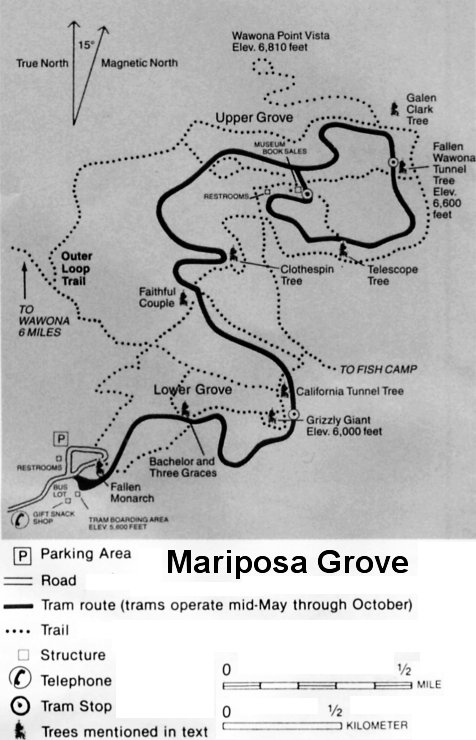 Welcome to the Mariposa Grove of Giant Sequoias. If you're impressed with these trees in the parking area, you'll be awed by the larger trees farther ahead
These trees, Sequoiadendron giganteum, aren't the oldest living things. Some individual living specimens of the ancient bristlecone pine, Pinus aristata, are more than 4,600 years old! The oldest Giant Sequoias may exceed 3,000 years.
And Giant Sequoias aren't the tallest living things, either. The related coastal redwoods, Sequoia sempervirens, grow higher, up to 368 feet (112 meters). These "Sierra redwoods" top out around 310 feet (94 meters), the tallest in the Mariposa Grove is about 290 feet (88 meters).
Giant Sequoias don't even have the greatest basal diameters. The Montezuma cypress, Taxodium mucronutum, of Mexico may exceed 50 feet (15 meters). The largest known Giant Sequoia is just over 40 feet (12 meters) in basal diameter.
So why did these trees capture the attention of the world when discovered by western Europeans in the early 1850's? Simply stated, in total volume the Giant Sequoias are the largest living things known to humans.
On your right as you start into the grove on the main trail is the Fallen Monarch. Perhaps you've seen this tree before—in the famous 1899 photograph of U. S Cavalry officers on their horses up on top! Tannic acid in the wood suppresses the initial growth of fungi and bacteria, essentially arresting decay. Only when rain and melting snow have leached the tannin from the wood can decay begin. Biologists suspect that this tree had been down several hundred years before the Cavalry photograph was taken! For your safety and to help preserve what remains of the Fallen Monarch, please do not climb on it.
Notice the roots of this tree. Sequoias don't have deep tap roots; instead, the roots spread out near the surface to capture water. While the roots are usually no deeper than six feet (2 meters), they fan out more than 150 feet (45 meters), providing a stable base to balance the massive trunk. Staying on the road and trails minimizes soil compaction that damages these surface roots.
Numerous young Sequoias line the road above the Fallen Monarch, distinguished by their foliage of round, overlapping scales; distinctive conical profiles and soft, spongy bark. Strangely, there are few young Sequoias back in the forest.
This dependency on natural fires for Sequoia reproduction was not understood until the early 1960's. By then, 100 years of unburned forest litter and young evergreens had accumulated, producing a massive fuel load. Had lightning ignited a fire under these unnatural conditions, an intense crown fire could have occurred, possibly killing even the largest trees. To reduce this abnormal fuel supply and promote Giant Sequoia reproduction, the National Park Service began a series of "prescribed burns," deliberately set and closely monitored by rangers during spring and fall. When the forest returns to a more natural state, these management fires will probably be discontinued. Then nature can resume its cycle of lightning-caused ground fires every seven to 20 years.
At the Bachelor and Three Graces up ahead you can often find the egg-shaped Sequoia cones. The crown of a mature Giant Sequoia may bear thousands of green cones at any one time. Each cone contains about 200 tiny flat seeds, roughly 1/4-inch (1 cm.) in length and resembling a rolled oak flake. These female cones grow on the upper branches. Given this vertical separation, how do the trees reproduce?
Like most conifers, Giant Sequoias depend on the wind. Late winter storms bring strong winds that carry the pollen from the lower branches of one tree to the upper branches of others, continuing the genetic mixing necessary for healthy reproduction. This vertical separation reduces the likelihood that the tree could pollinate itself. Please remember to leave all cones where you find them for other visitors to enjoy.
Before you round the curve and see the Grizzly Giant, stop for a minute and drift back in time. The year was 1852, and a Mr. Dowd was employed as a professional hunter, supplying meat to a mining camp some 75 miles north of Yosemite. One day while hunting, he stumbled upon a grove of giant cinnamon-colored trees that we know today as Calaveras Big Trees State Park. Mr. Dowd rushed back to camp, exclaiming that he had just found giant orange trees easily four times larger than any trees he had seen before! Mr. Dowd's announcement was undoubtedly greeted by a hail of unkind comments about his mental stability. He left the camp but was not deterred. After an appropriate absence, he returned, announcing that he had just show an enormous grizzly bear and needed five strong men to help carry the meat back to camp. When the five men confirmed Dowd's incredible story, the word was out.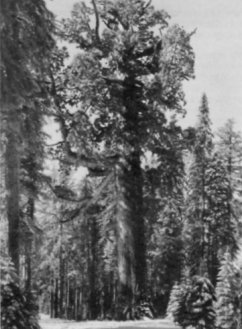 Grizzly Giant

The Grizzly Giant is one of the largest trees in the Mariposa Grove and, at an estimated age of 2,700 years, one of the oldest living Sequoias. As you wander around its base, look up. That huge limb on the south side is almost seven feet (2 meters) in diameter, and that mere branch is larger than the trunk of any non-Sequoia in the grove!
Some 50 yards beyond the Grizzly Giant is the California Tunnel Tree, cut in 1895 for stagecoaches. Most visitors don't know that two trees in this grove were tunneled, one of which is still standing. Walk down and stroll through a tree!
Only an occasional large Sequoia occurs along this dry slope between the lower and upper groves. About 1/2 mile (0.8 km.) up form the Grizzly Giant, in a level area with more ground moisture, is the Faithful Couple. Here two large trees have fused together at their base but remain clearly separated above. On the opposite side of the road stand two smaller trees which may form the next "faithful couple" 500 years from now.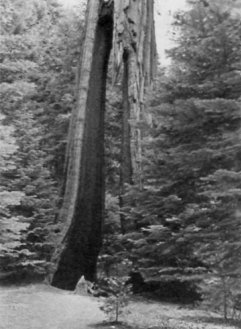 Clothespin Tree
A 1/4 mile further is the Clothespin Tree. Numerous fires have excavated a natural tunnel wide enough for a car. Size is deceptive here, so walk up and stand in the opening.
The Spanish named this region Mariposa for the many butterflies they observed in the foothills. One of the most perfectly shaped Sequoias, the Mariposa Tree, carries the name of this county. Notice the almost completely healed fire scar near the base of this magnificent tree
Another 1/4 mile (0.4 km.) will take you to the Mariposa Grove Museum. This fine cabin, built in 1930 and restored in 1983, occupies the site where Galen Clark built a small cabin in 1861. Inside are exhibits on the ecology and history of Giant Sequoias.
Another 1/2 mile (0.8 km.) straight ahead from the museum junction is the top of the upper grove. Directly in front stands the Galen Clark Tree, named for the man who did so much to protect these trees. In 1861 Clark first entered this grove, probably up the draw ahead of you. He was so impressed that he spent the rest of his life guiding visitors among these wonders and urging their protection.
In 1864 Abraham Lincoln paused during the Civil War to set aside the Mariposa Grove and Yosemite Valley as a protected state reserve "for the pleasuring of the people." Mr. Clark lived to see Yosemite National Park established in 1890 and this grove incorporated into the park in 1906. Along with John Muir, Galen Clark was instrumental in Yosemite's preservation, and it is fitting that this beautiful tree bears his name as a living memorial.
To your left an easy side road leads 1/4 mile (0.4 km.) to Wawona Point, offering an ideal lunch stop with a stunning view.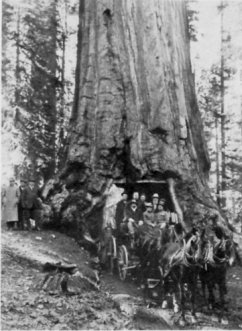 Wawona Tunnel Tree
Turning right from the Galen Clark Tree soon brings you to perhaps the most famous tree in the world, the fallen Wawona Tunnel Tree. Who knows how many millions of visitors drove through this tree between 1881 when the tunnel was cut and 1969 when it finally collapsed under a record snowpack. Weakened by the massive hole in its base, it may have died 1,000 years prematurely. But the stories and pictures of this gentle giant traveled around the world and undoubtedly contributed to the preservation of its breathren.
Returning along the upper grove loop road, you'll find a real sleeper, the Telescope Tree. Close your eyes and walk inside. With your eyes still closed, lean your head back and slowly open your eyes. Incredible! And this amazing tree is still alive and producing viable seeds. It's these trees' resistance to fire, disease, insects and decay that allows them to live through the centuries. Only by toppling do they finally succumb. The Telescope Tree is a notable example of their endurance.
A wise man once said, "A culture is measured by what it preserves." Although Yellowstone became our first designated national park in 1872, the idea budded here in this grove at least eight years earlier. Perhaps America's national park idea is our noteworthy contribution to the spiritual wealth of mankind.
Glacier Point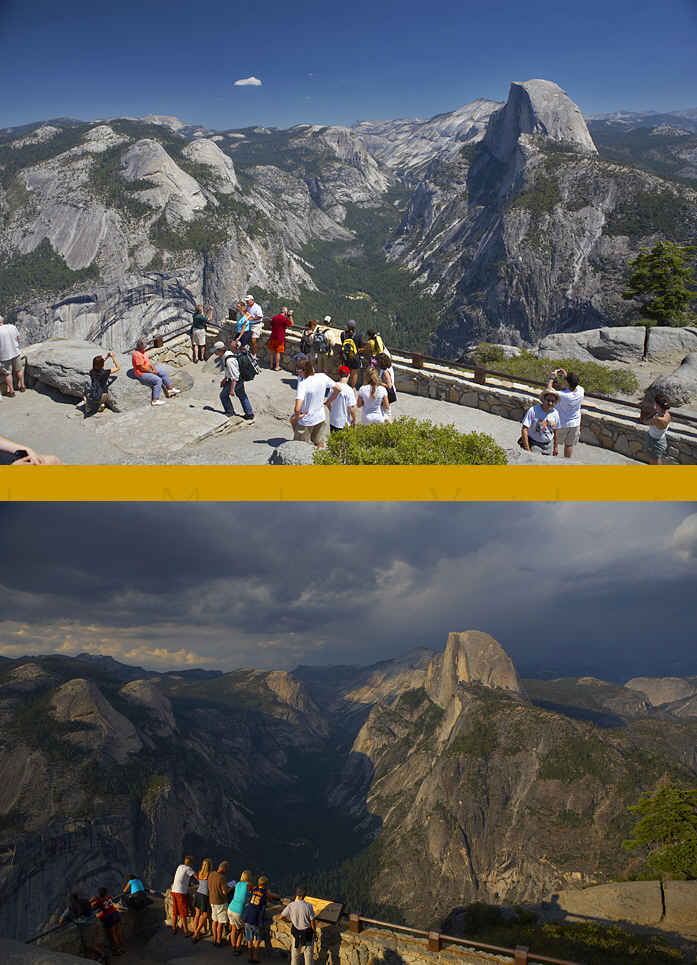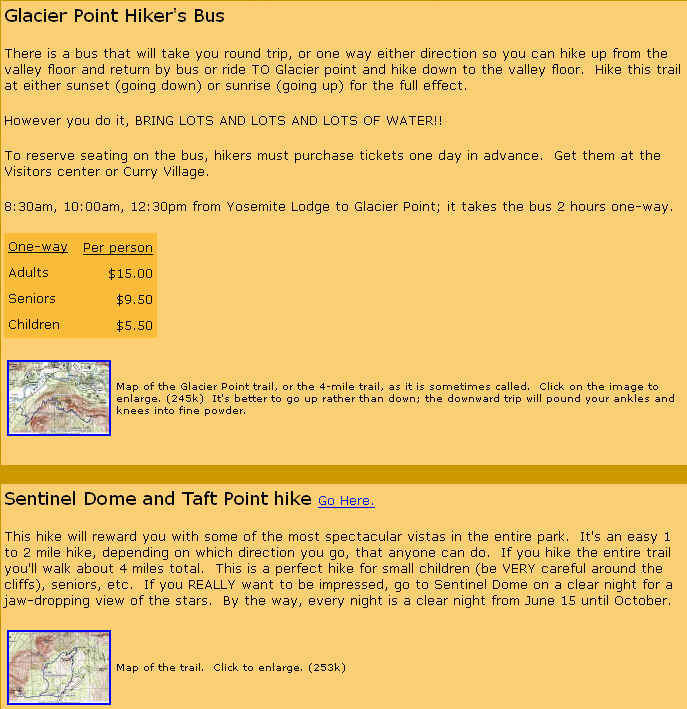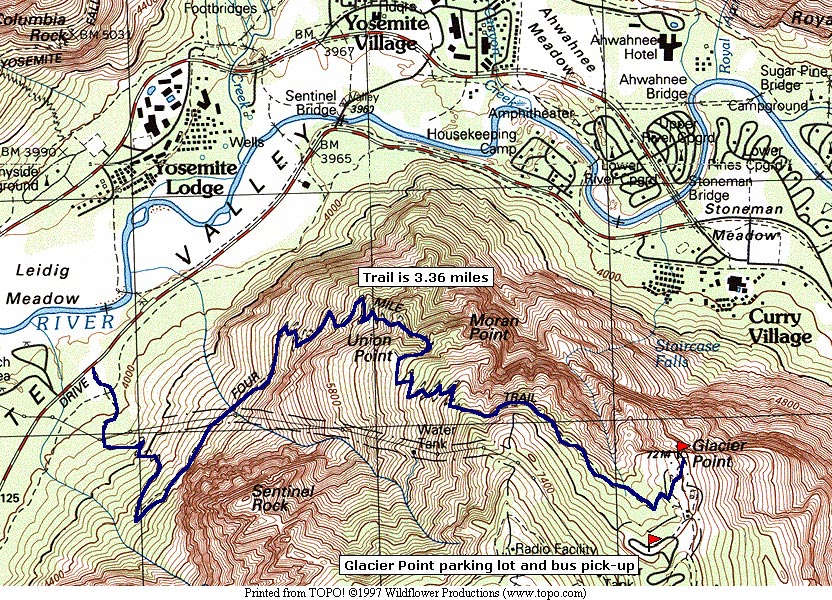 Hotels
Sequoia National Park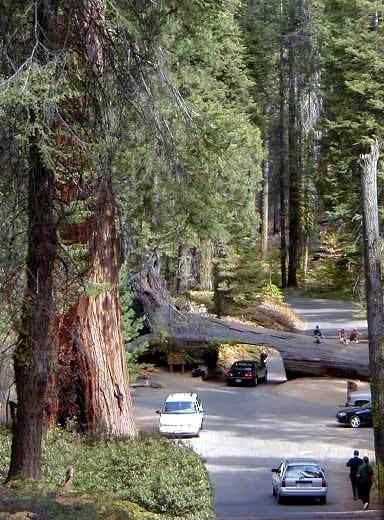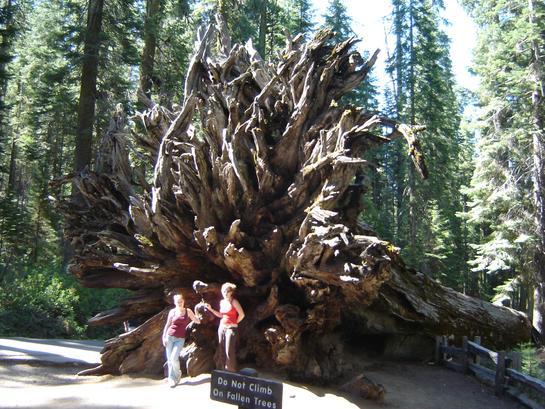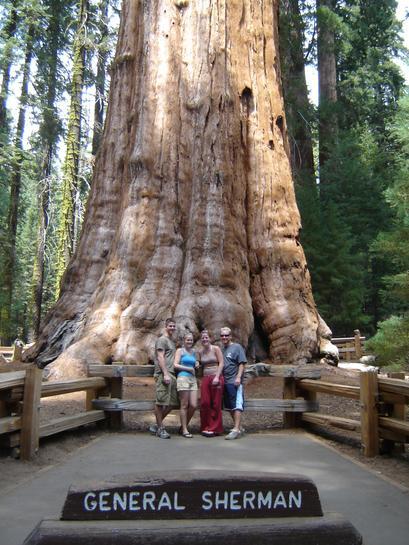 http://www.nps.gov/yose/planyourvisit/spring.htm

list of things - boots, jacket, ear cap, video cam, binoculars
make sure to buy pictures
add 3305 map to web sites and more
add distance calculator
mileage reimbursed from Betsy

hetch hetchy dam project

el capitan
half dome
yosemite falls - tallest in north america
bridal falls???
lookouts
mist falls
nevada falls?
spotted owl
wawona? center of the park; covered bridge
http://www.yosemitepark.com/Accommodations_WawonaHotel.aspx