Cabo and our timeshare location
January 8-15 and April 10-17
Click here for a link to our Cabo pictures from 2009
Click here for a link to our Mexican Riviera cruise pictures from 2007 (same route as your cruise)
Cabo is the best location for any activities, such as jet skiing, parasailing, ultralite flight, etc. (links underlined) from Medano Beach
In Puerto Vallarta and Mazatlan, all we did was cab/shuttle to the main shopping and restaurant areas.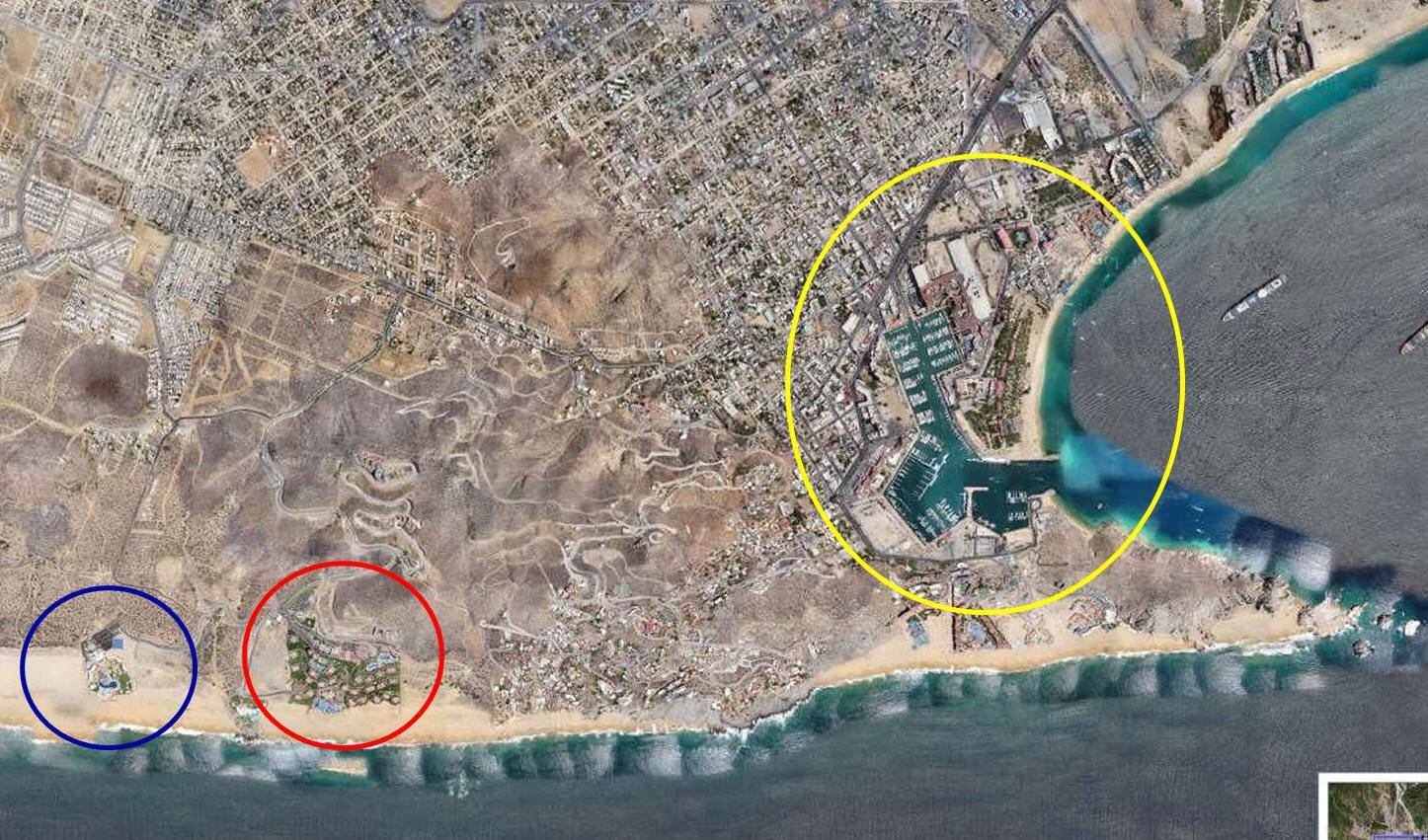 Our timeshare is in red. Every unit overlooks the ocean (Pacific side...rough waves). This satellite picture is a few years old
and doesn't show theexpansion to the left and up the hill. They are currently putting in 36 holes of golf just above and
left of the blue circle. After our week in 2009, we spent two days at the location in blue, Pueblo Bonito Pacifica. This
is a property also owned by our Pueblo Bonito timeshare group, but is a smaller, spa type location.
Downtown Cabo and the tourists area is in yellow. This is the "party area" and the area where you can swim in the ocean,
utilize recreation activities, drink, eat at the beach. The picture below is one I took on a cruise going into Cabo and shows
a bit more of the expansion. The units at the very top of the hill are three bedroom "houses" with private pool, parking, etc.
that are the very, very high end timeshare units.
Click here for the link to the new Jack Nicklaus golf courses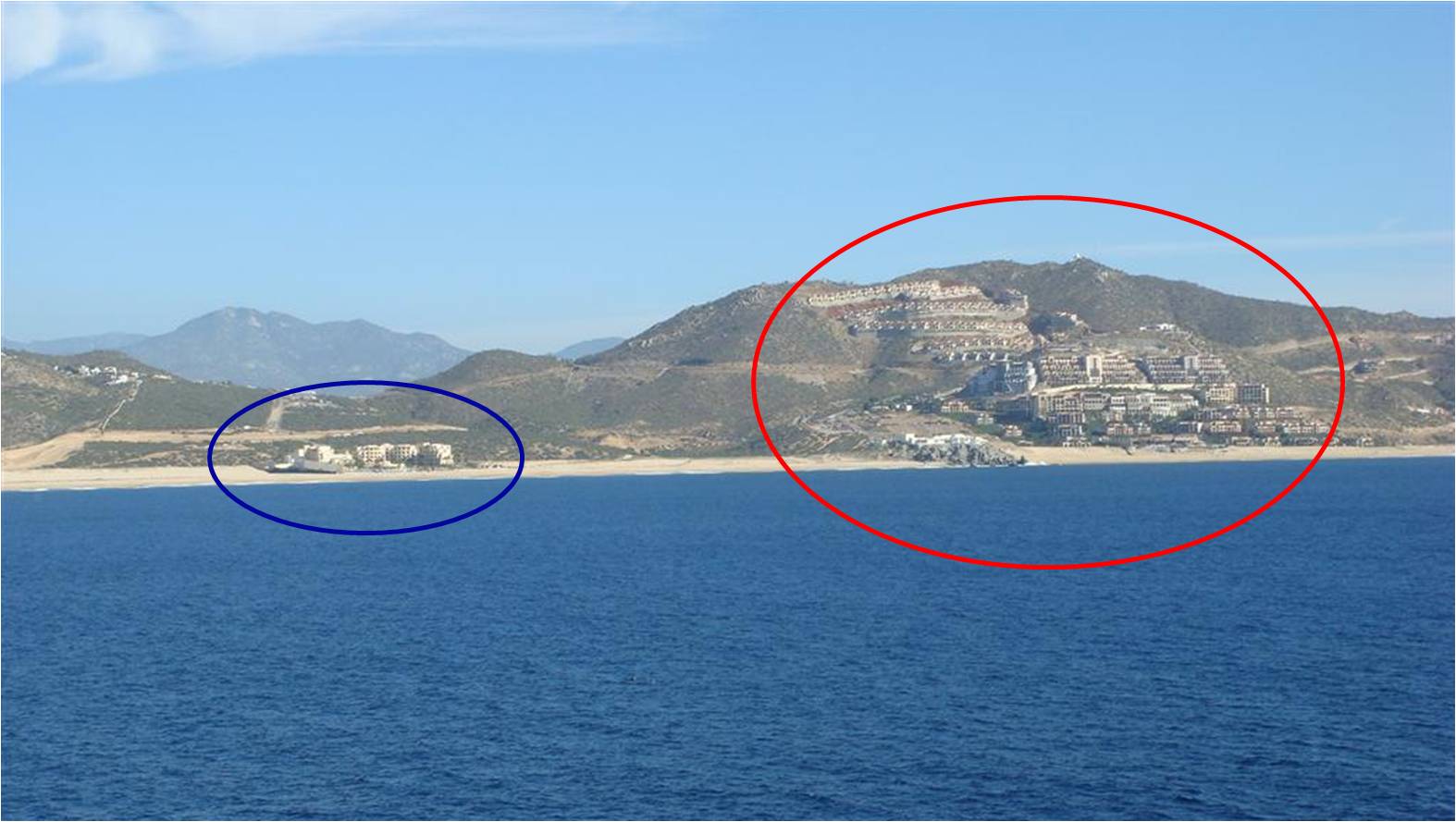 This is something I put together for someone else awhile back. Forget the Italian restaurant (one of our favorites).
It is only open after 4:00. You can walk everywhere from the tender location, but it might be worth a $5 cab ride back
to the tender location. Pretty much everything in souvenirs that you might find in the downtown area can be found
at the Marina Mercado stores right near the tender drop off point. As a matter of fact, that is where the cab will drop you off.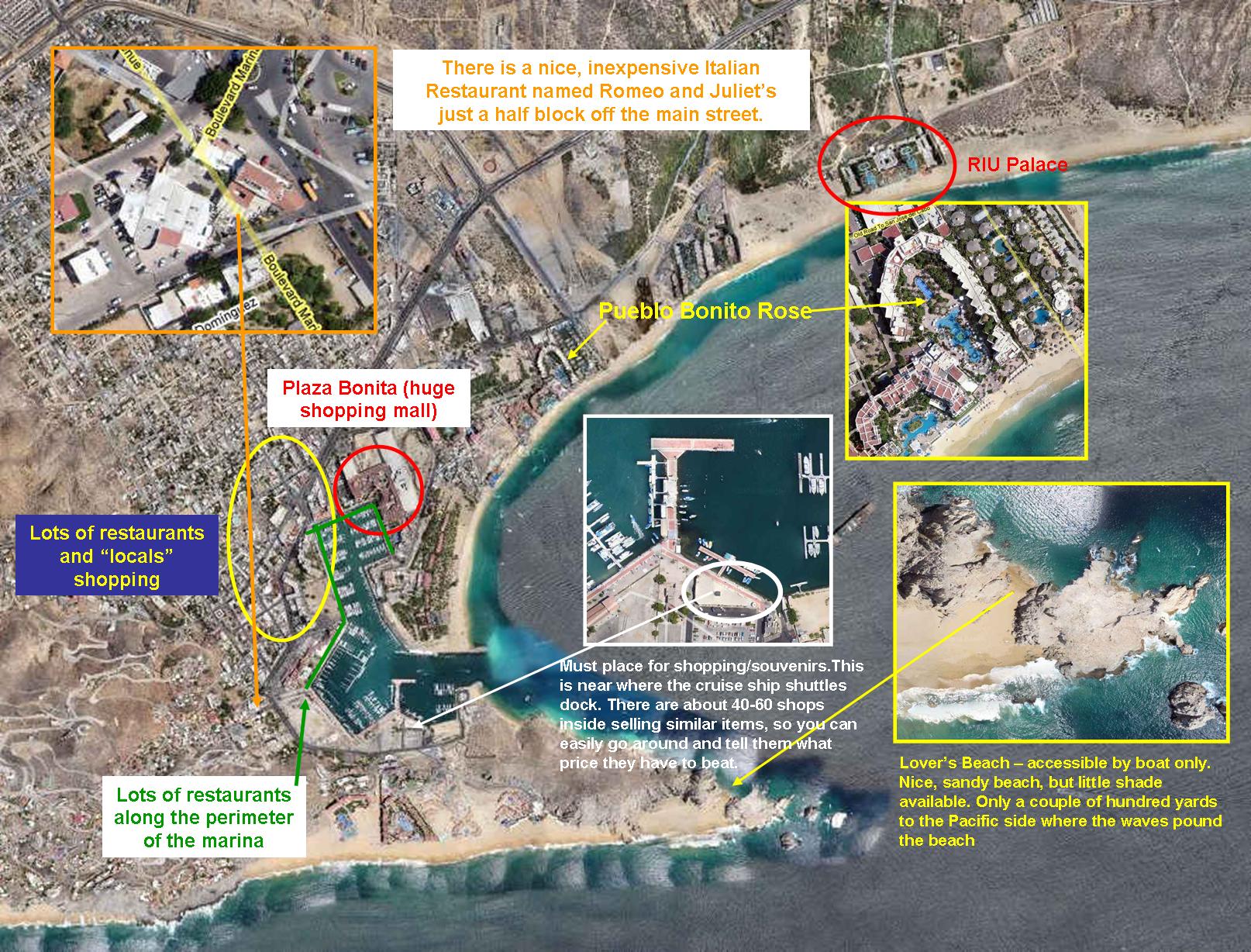 More maps made at different times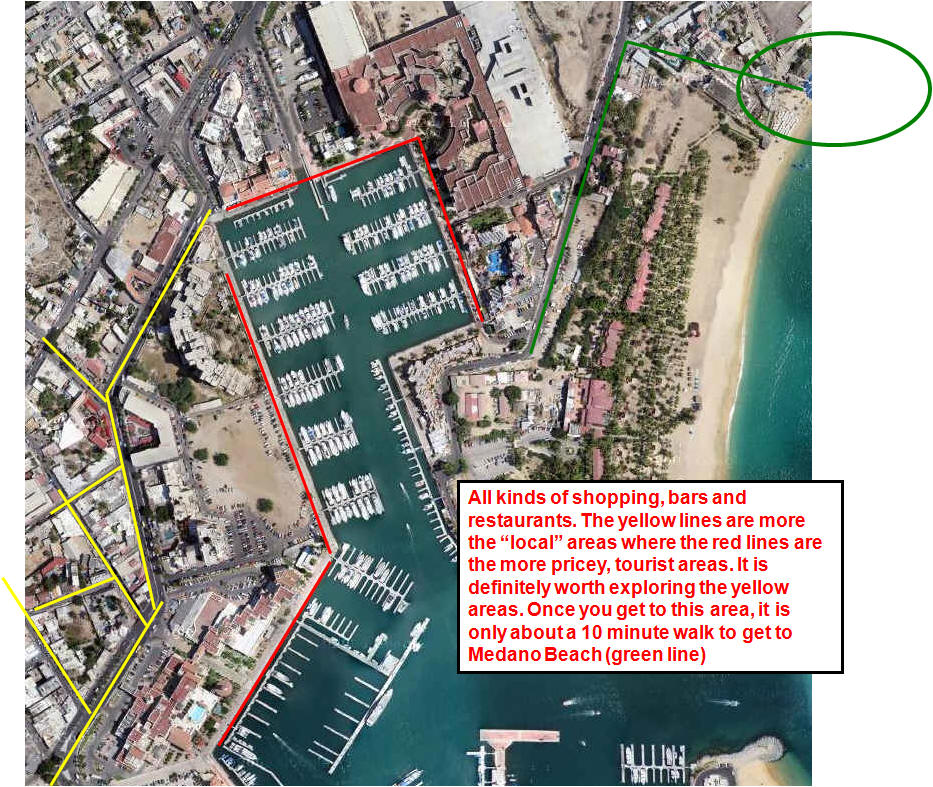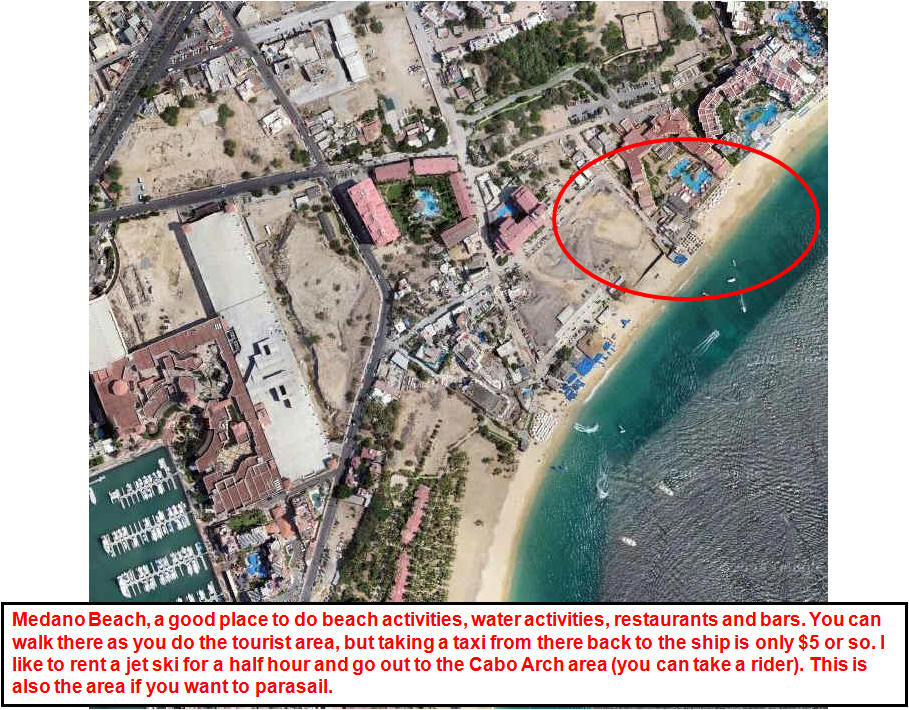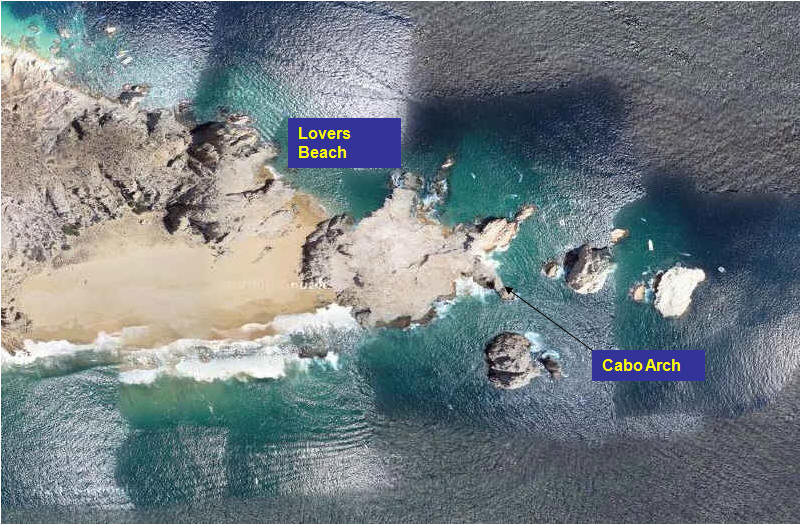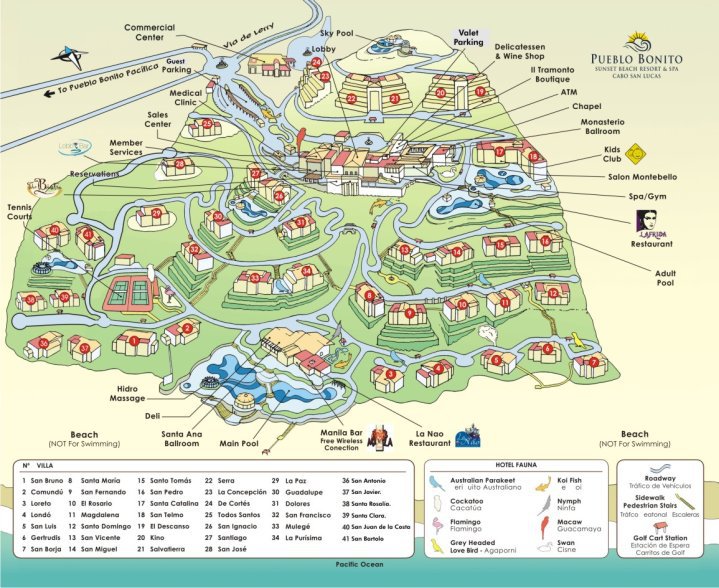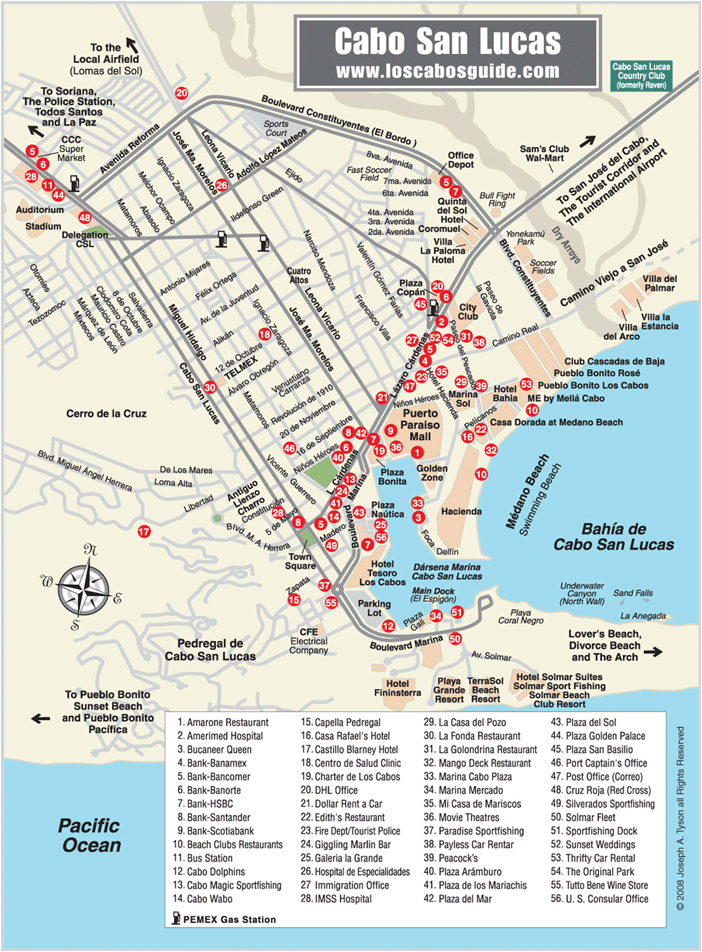 Landmark references