St. Louis
Outer Width - Outside North Leg to Outer South Leg
630' (192m)

Maximum Height
630' (192m)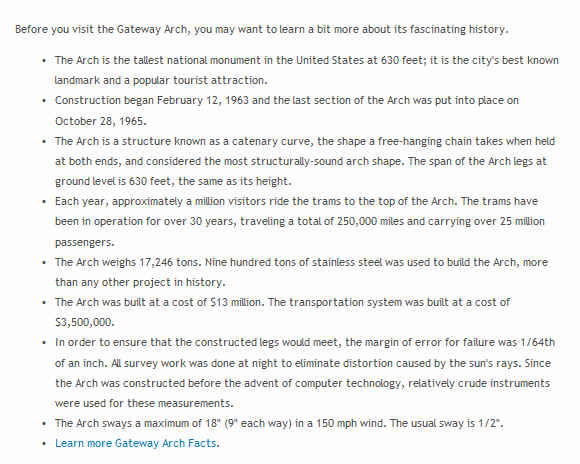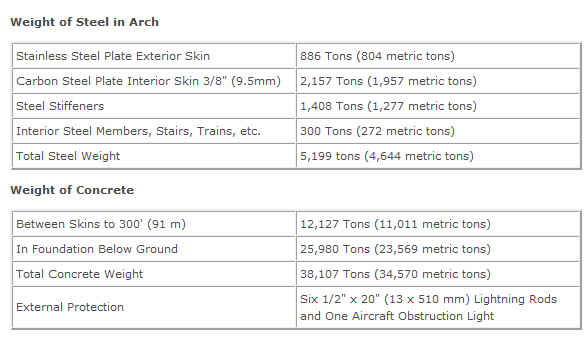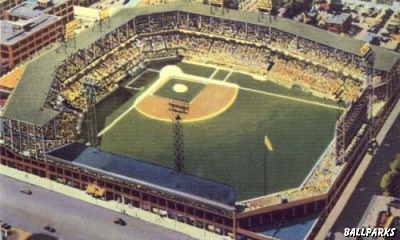 Renovations: Sportsman's Park in 1909 featured a roofed double-deck grandstand that wrapped behind home plate from first base to third, a covered single-deck grandstand that extended down the left field line and single-deck bleachers that bordered the entire outfield, with lines that measured 353 feet (left) and 320 (right) and a center field distance of 430. A renovation after the 1925 season nearly doubled the capacity to 34,000 and gave the park what sportswriter Red Smith called "a garish, county fair sort of layout" - a look it would retain over the next four decades.
The covered double-deck grandstand was extended down both lines to the foul poles, the wooden bleachers were replaced by concrete and the right field stands were roofed, creating a pavilion that would become the park's signature feature. Because the right field line was reduced to 310 feet, the 11 1/2-foot fence was topped by a 33-foot screen that extended 156 feet toward center - a Green Monster-like barrier that would stand from mid-1929 through the life of the park, with only a one-year respite in 1955.
The pavilion, with its screened view, was the last vestige of segregation in major league baseball - the area to which blacks were restricted into the 1944 season. Overall, fans not obstructed by steel support beams were close to the field and interaction was encouraged. The players' clubhouse walkway traveled through the home dugout and an inside corridor that was open to the fans-at first with no restriction, later with only a chain-link fence providing seclusion.