Santa Barbara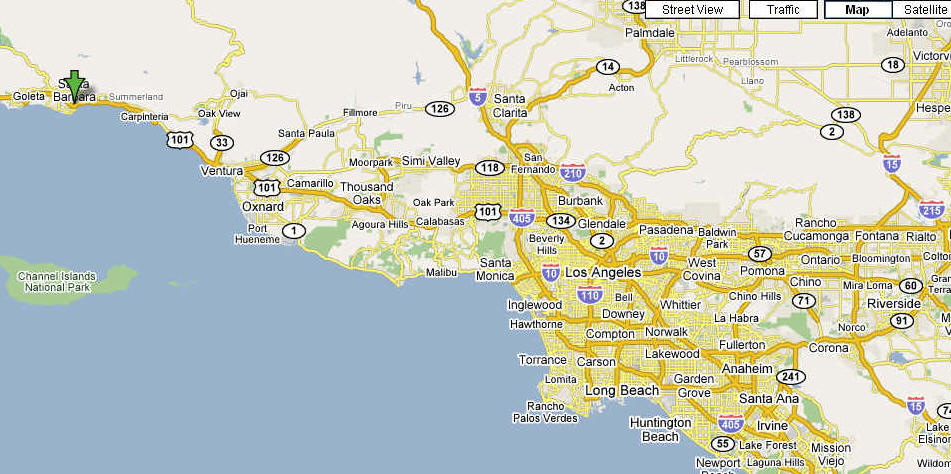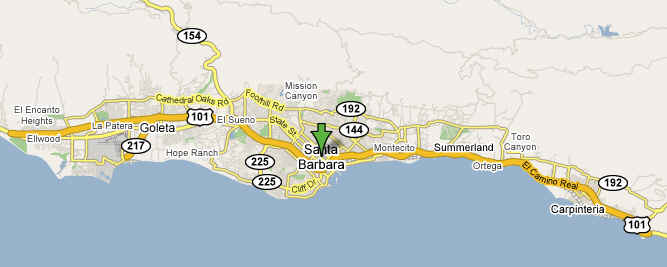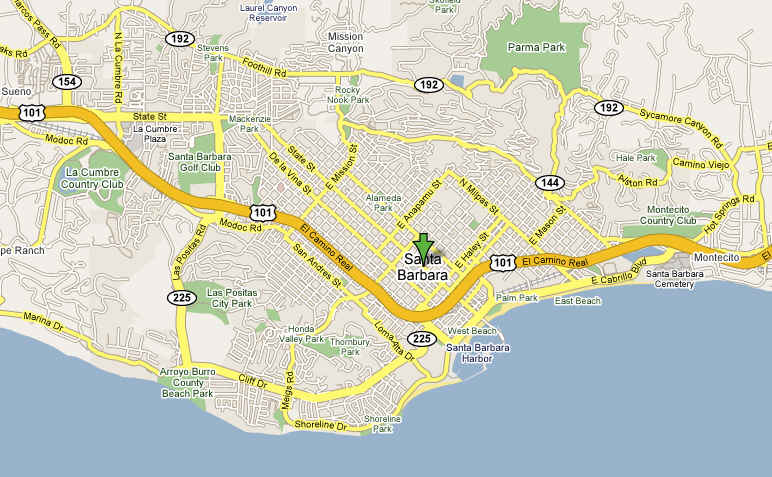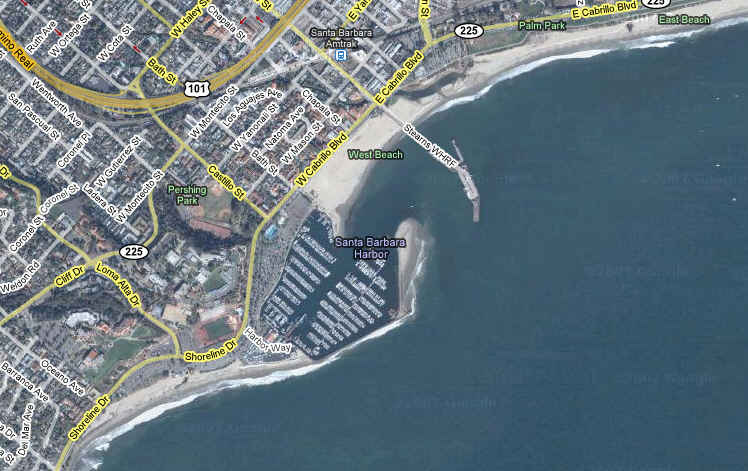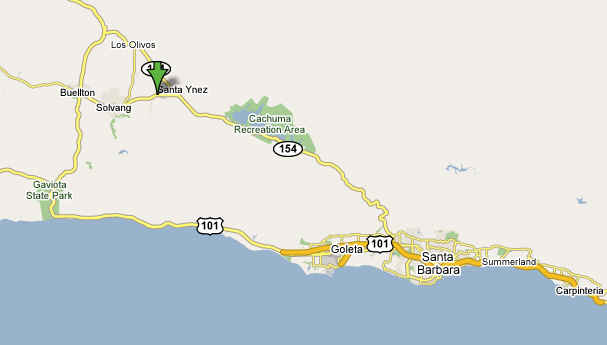 Ventura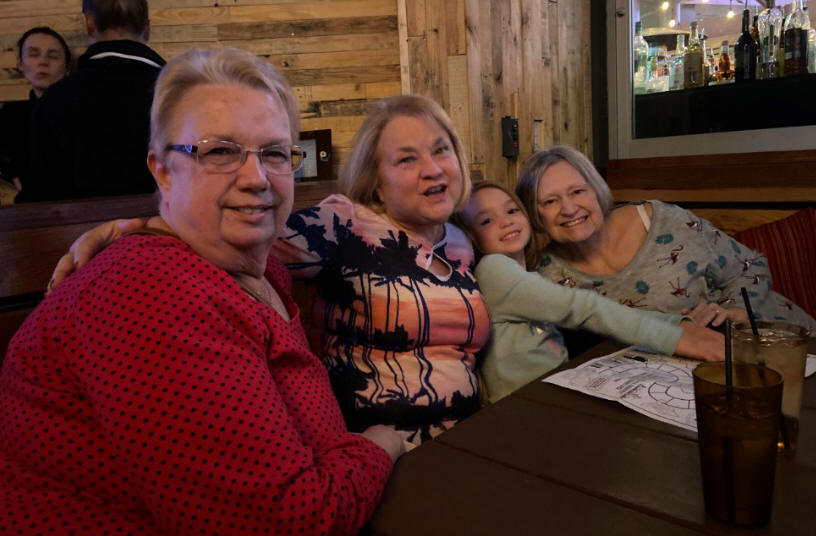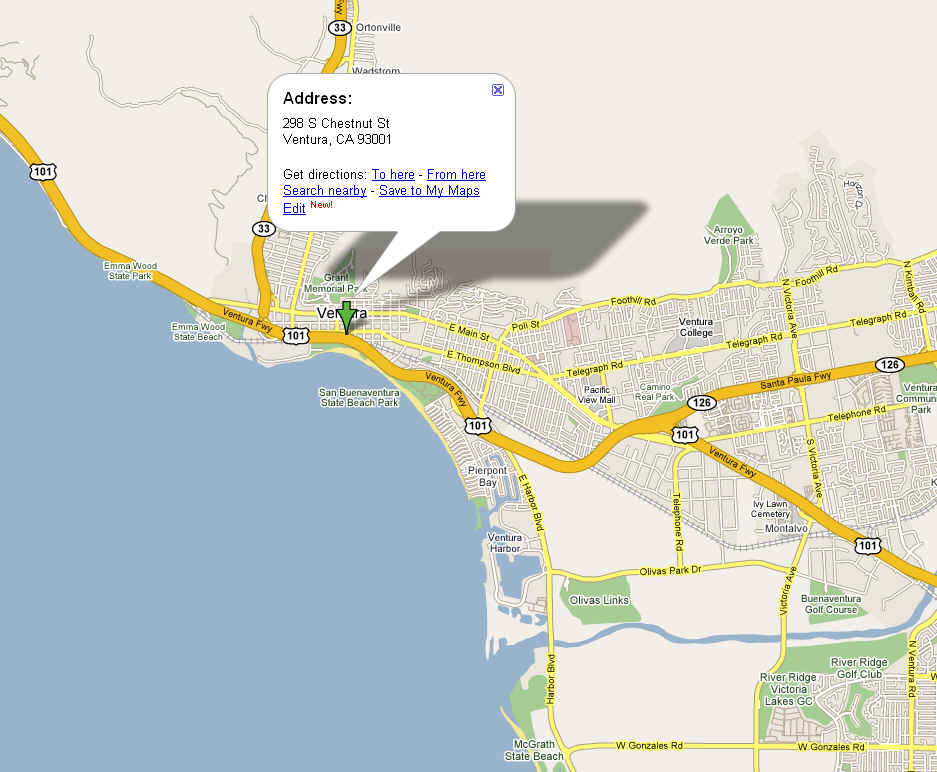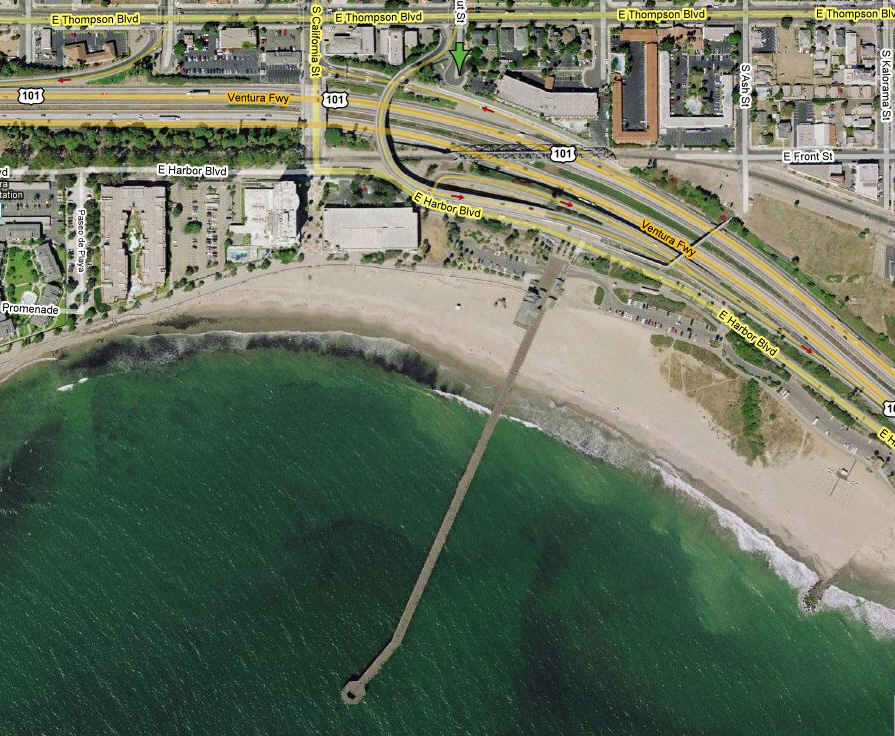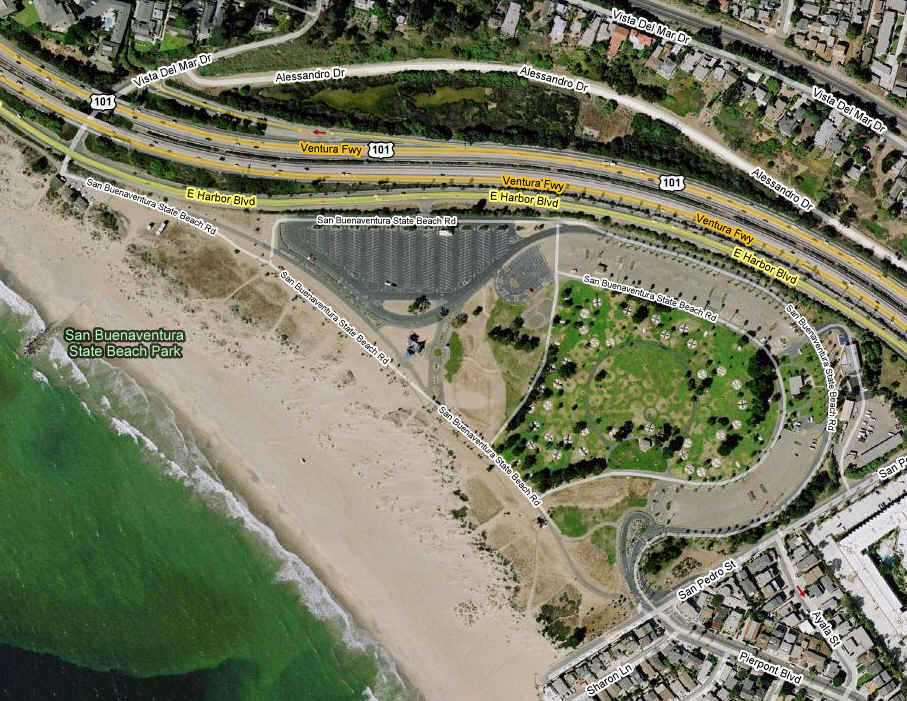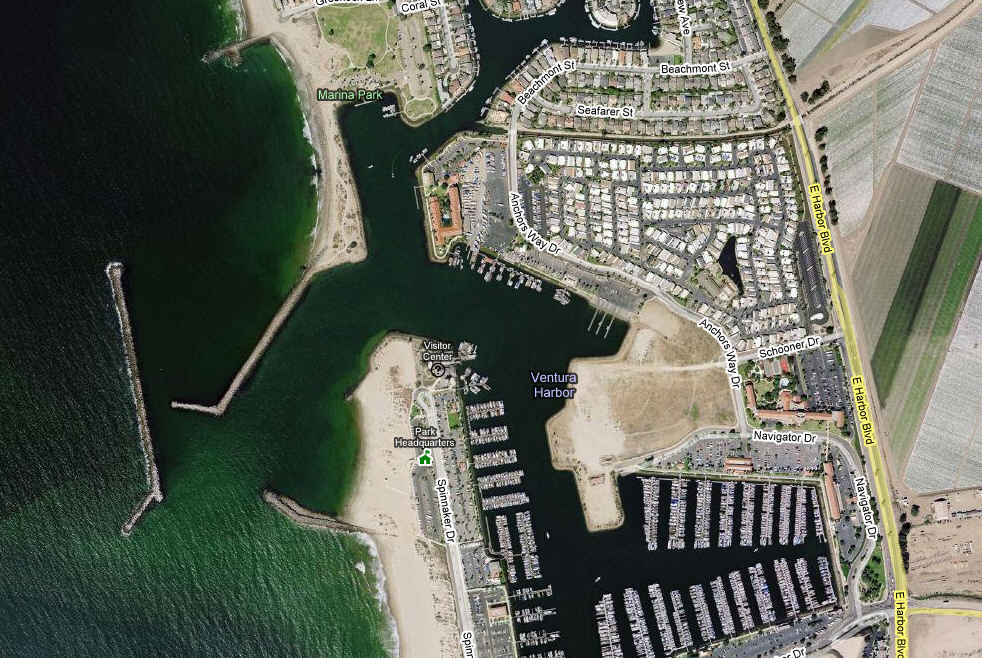 Ventura Harbor Village is 33 acres of authentic Southern California exactly how you've imagined it.
So make your vacation what you dreamed it would be - even if it's only for a weekend.
Enjoy Waterfront Views… Stroll the Promenade-If relaxation is what you're dreaming of, Ventura Harbor
Village is the perfect weekend retreat. Rejuvenate yourself with our breathtaking coastline views, four-star
hotel, fine or casual dining, and distinctive specialty shops and boutiques.
Local Attractions:
0.28 mile(s) from Pacific Ocean
0.3 mile(s) from beach and the longest wooden pier in California
0.3 mile(s) from city hall, a marble and stone masterpiece, the scene of many a movie
0.4 mile(s) from Albinger Archaeological Museum, (artifacts dating back 3,500 years)
0.6 mile(s) from historic Buenaventura Mission, established in 1782 by Father Juniperro Serra
0.6 mile(s) from County Museum of Art and Local History
0.7 mile(s) from Ventura County Fairgrounds, off-track betting, and auto raceway
6 mile(s) from A.J. Comstock Fire Museum
3 mile(s) from Olivas Adobe Ranch and Hacienda, (built in 1840's)
3 mile(s) from Ventura County Government Center
3 mile(s) from Ivy Lawn Memorial Park
4.5 mile(s) from Lazarstar Amusement Park (arcade games)
5 mile(s) from Channel Islands National Park, Aviation Concessionaire, and Marina (whale watching, flights to Santa Rosa Island)
5 mile(s) from Leeward Winery, (tours and tasting)
15 mile(s) from Ojai, (town where there is horseback riding)
16 mile(s) from Lake Casitas, (boating, camping, watersports)
30 mile(s) from Angeles National Forest, (camping available)
30 mile(s) from Santa Barbara Winery
45 mile(s) from Magic Mountain Amusement Park
Shopping:
0.2 mile(s) from art galleries and antique shops
Recreation:
0.28 mile(s) from Ventura State Beach Bike Path, bicycles for rent
0.4 mile(s) from tennis courts and golf courses
3 mile(s) from Golf N' Stuff (miniature golf)
5 mile(s) from Harbor Village Sportfishing (charters)
5 mile(s) from Ventura Harbor, (cruises, fishing, dining, comedy club, dive boats, hockey)
5 mile(s) from Bay Queen Harbor Cruises, (harbor cruises, kayak and electric boat rentals, dinner and sail charters)
30 mile(s) from Ranch Oso, (horseback riding)
30 mile(s) from Lake Piru, (boating, skiing, camping)
Nearby Cities:
7 mile(s) from Oxnard
15 mile(s) from Carpenteria
35 mile(s) from Santa Barbara
55 mile(s) from Burbank
60 mile(s) from Los Angeles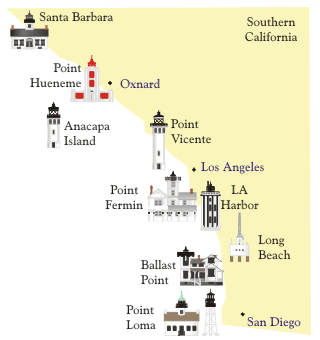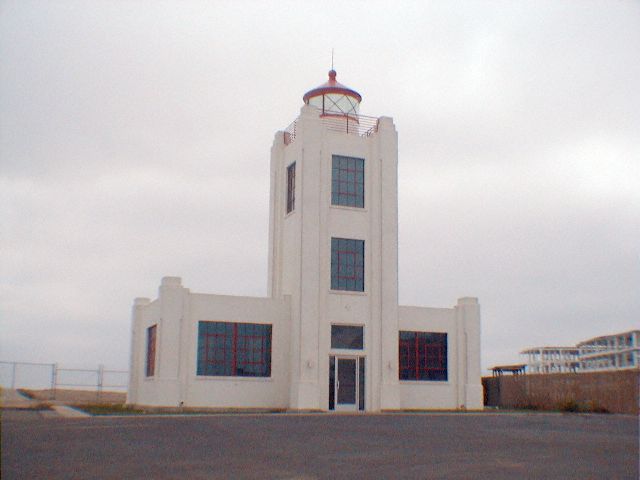 The City of Port Hueneme is approximately fifty miles north of Los Angeles. In 1874 a lighthouse was established to
guide shipping through the Santa Barbara Channel which runs between the California coast and the Channel Islands.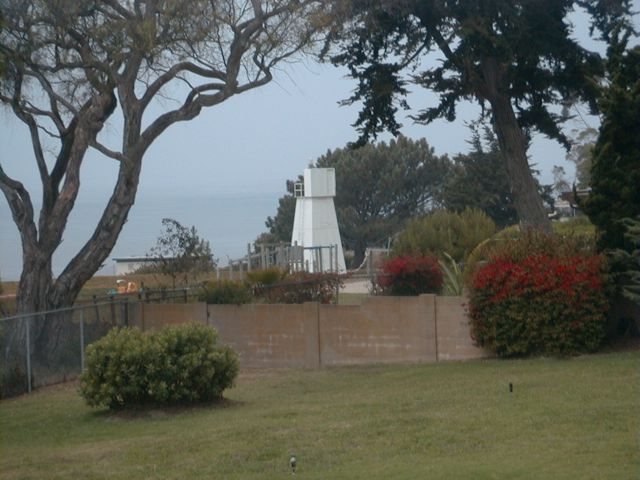 On June 29, 1925, an earthquake shook Santa Barbara, and destroyed the lighthouse. Fortunately, no one was injured at
the lighthouse. However, the lens and structure were a total loss. The light was eventually replaced by a minor optic on
a steel tower. A steel tower still marks the site today.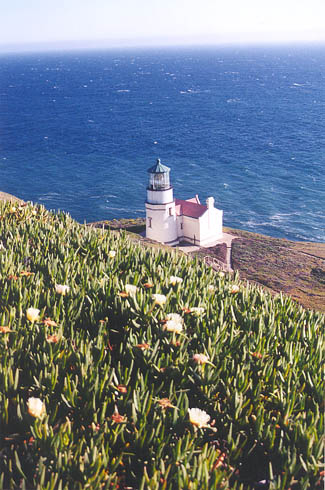 Point Conception Lighthouse - It is 70 miles between Lompoc, CA and Ventura, CA
Travel Instructions: The land surrounding the Point Conception Lighthouse is part of the huge, privately-owned Cojo Jalama Ranch, and is thus not accessible to the public. The closest publicly accessible point is reached by taking Jalama Road from Highway 1, approximately three miles south of Lompoc. Jalama Road ends at Jalama Beach County Park. From there, the lighthouse is over five miles down the dirt road which starts behind a padlocked gate.
Directions: Point Conception is still operational, and is neither accessible nor open to the public. (September 2006)
What to do
Channel Islands National Park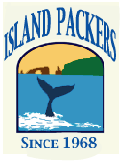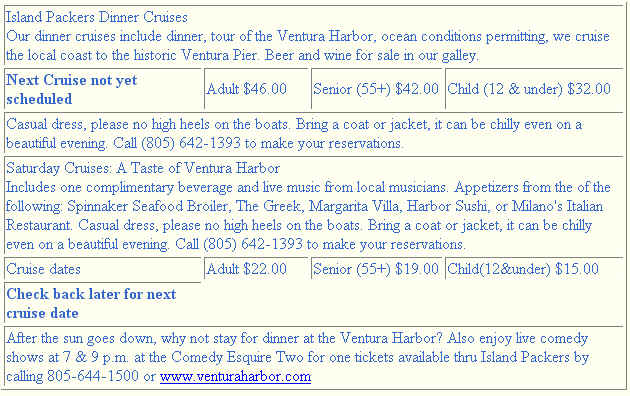 Cruising the California Channel Islands for education, recreation, and research since 1968.
Let your island adventure begin with the experienced crew from Island Packers.
Providing first rate transportation services for island hiking, camping, kayaking, whale watching,
school field trips, sightseeing and harbor cruises. We travel to all five islands in the Channel Islands National Park.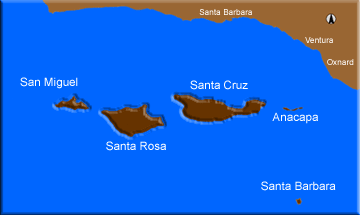 There are five islands, and seven destinations available for you to visit in the Channel Islands National Park. Island Packers lands at Anacapa Island's Landing Cove, and two destinations on Santa Cruz Island, Scorpion Anchorage and Prisoners' Harbor, year round. During certain days of the year with very low tides, Frenchy's Cove at Anacapa Island can be visited for tidepool exploration. We also offer trips to the more remote islands, referred to as the outer islands due to their increased distance from the mainland, these trips are seasonal. Trips to the outer islands, Santa Barbara, Santa Rosa and San Miguel, are scheduled when ocean conditions on the outer waters are likely to be optimal for traveling.
Trips to Santa Barbara Island operate from April to October, landings at San Miguel are scheduled May to October, and on Santa Rosa from April to November. Whale watching trips are scheduled for two different seasons, gray whales January through early April, and blue and humpback whales July to September.
North shore cruises where you can view the scenic coastline of Anacapa or Santa Cruz Island without going ashore are also available on a seasonal basis.
There are no services on the islands, please pack in what you will need for the day, including food and water, and pack out all trash. Dress in layers for outdoor activity, and wear sturdy shoes for safety and comfort.
Certain sea conditions can prohibit landing at any time of the year. Our experienced captains will make these decisions with your safety in mind.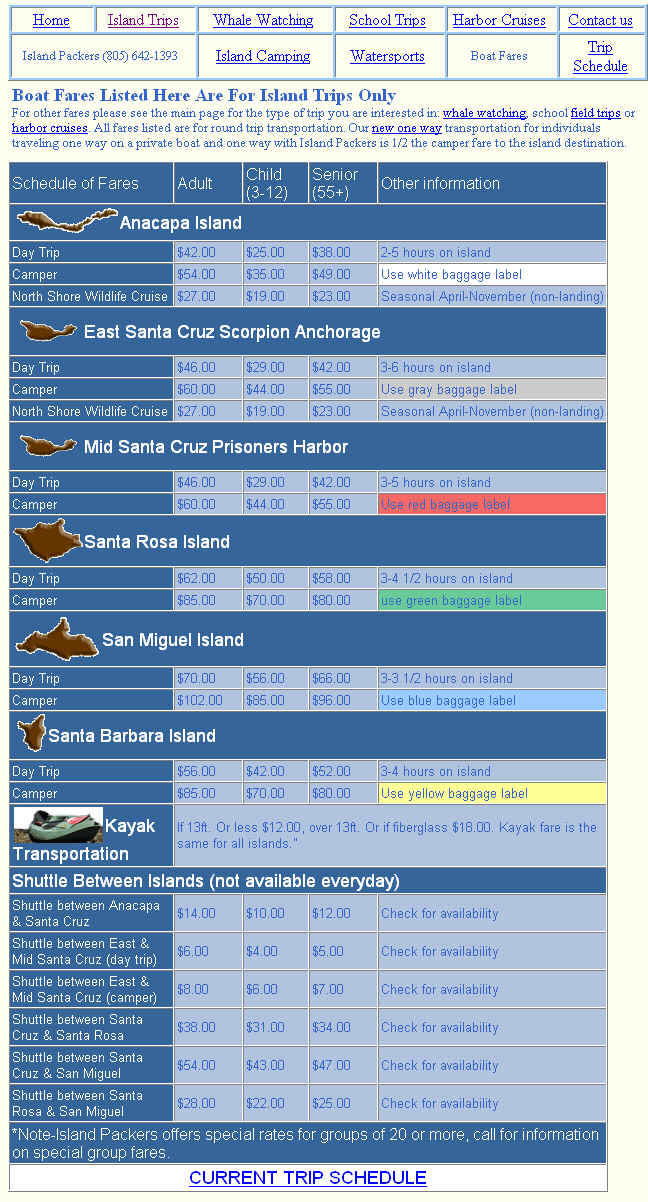 Important Note: Our boats depart out of two different harbors located about five miles apart. In this trip schedule
VTA indicates a departure from Ventura Harbor. OX indicates a departure from the Channel Islands Harbor in Oxnard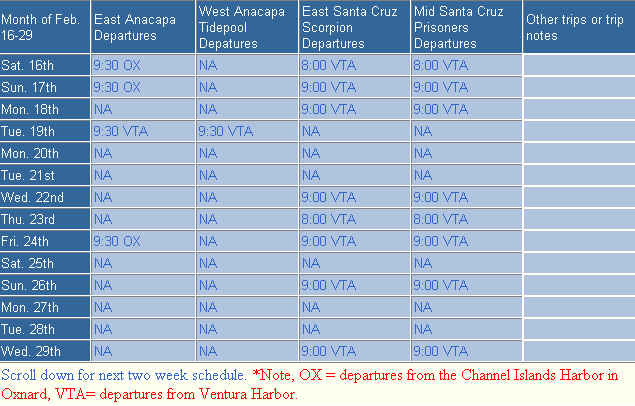 The Robert J. Lagomarsino Visitor Center at Channel Islands National Park 1901 Spinnaker Drive Ventura, CA 93001 (805) 658-5730
The visitor center is located in the Ventura Harbor in Ventura, California. Ventura is located 70 miles north of Los Angeles and 30 miles south of Santa Barbara. Plane, train, and bus service are all available to Los Angeles and Santa Barbara. Only train, bus, and private car transportation are available from Los Angeles and Santa Barbara to Ventura.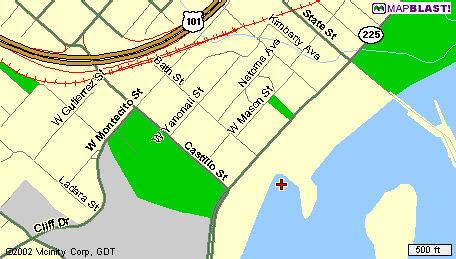 http://www.santabarbara.com/points_of_interest/the_waterfront/
http://www.sandyland.com/restaurants.htm
http://www.sandyland.com/activities.htm
The Brown Pelican - 2981Cliff Drive Santa Barbara , CA 93109
McConnell's Ice Cream 201 West Mission Street Santa Barbara, Ca 93101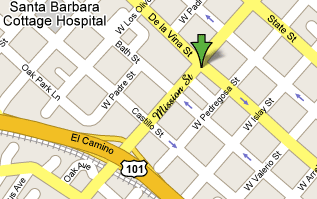 3687 Sagunto St., Santa Ynez, California
Lunch: Tuesday - Sunday, 11:30-2:30
Dinner: Monday - Sunday, 5:00-10:00
3569 Sagunto St., Santa Ynez, CA
Tasting Studio hours are: 11:00 am to 5:00 pm Daily.
Santa Barbara's Farmer's Market
Weekly Schedule
Saturday DOWNTOWN SANTA BARBARA 8:30AM- 12:30PM YEAR ROUND Corner of Santa Barbara & Cota Streets
Sunday CAMINO REAL MARKETPLACE 10:00AM- 2PM YEAR ROUND In Goleta - corner of Storke & Hollister
Arroyo Burro Beach Park AKA Hendry's Beach