Rome Pizza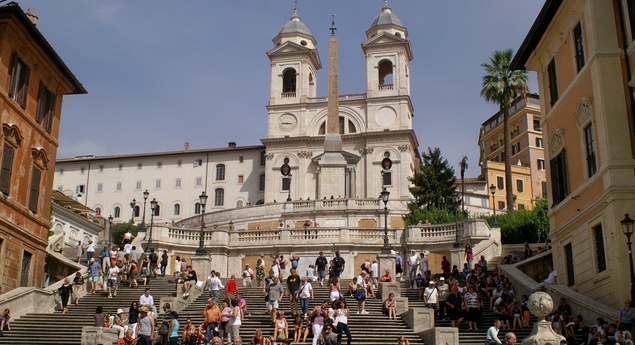 Read more:
http://www.budgettravel.com/blog/best-pizza-in-rome,13629/#ixzz2hhy5HVrr
You asked for it, you got it. A list of where to eat pizza in Rome. It's a bit of a mixed bag. Some old school places and some quite new. There are a LOT of pizzerias in Rome, and I obviously can't include them all. These are just the short list of places that I know, and love.
Rather than write extended descriptions/reviews here, I've kept it short and sweet. You'll find the full story on my app, Eat Rome. And where I've already written a blog post about a particular restaurant, I've included the link to that as well.

FYI: In case you don't know, when talking pizza in Rome there are basically three kinds:
Pizza a taglio: This is sheet pizza, sold mostly in small store fronts that specialize in this type, but also sold in some bakeries. It is sold by the weight and has various toppings. You can either buy it to take away, or (usually) eat it standing up at a counter.

Pizza: When most people say 'pizza' in Rome they mean small, round single serving pizzas. These are made to order at pizzerias, usually in a wood burning oven. Almost always pizzerias are only open at night, so this is a dinner kind of thing (there are some notable and recent exceptions).

Pizza Bianca: This is white pizza dough that has been baked in a sheet. It is sold in bakeries and is a true 'street food' in that it is meant to be eaten while hot, right away.

(A note about Roman pizza vs. Neopolitan pizza: Roman pizza is made with a very thin crust, and barely any rim around the edge. Neopolitan pizza is thicker, doughier, and has a thick puffy crust along the edge. There are also variations that are some where between the two.)

Pizzerie
Pizzeria Leoncino
Via del Leoncino 28 (Spanish Steps)
06.686.7757
Lunch & Dinner. Closed Wednesday.
It's hard to find a good pizzeria that is open for lunch. Also, the area in the center of Rome (Spanish Steps) makes this even more of a challenge. This place is both centrally located and open at lunch. Very much an old fashioned neighborhood place. Speciality: Pizza with onions, beans and sausage. See my post.

Gatta Mangiona
Via Ozanam 30-32 (Monteverde)
06.534.6702
Tues - Sun, Dinner.
Considered by many to be the best pizzeria in Rome. A Roman take on Neopolitan. Inventive toppings. See Eat Rome and this post for full description.

La Fucina
Via Giuseppe Lunati 25/31 (Portuense)
06.559.3368
Sunday - Friday, dinner only. Closed Saturday.
Extraordinary dough and toppings. Very expensive (but worth it) See my blog post.

Pizzeria alle Carrette
Via Madonna dei Monti 95
06.679.2770
Daily for dinner.
Just our local pizza place, which is very, very good. Thin Roman crust. Every neighborhood has a good pizza place, this is ours. See my blog post.

Sforno
Via Statilio Ottato 114 (Tuscolana, Metro: Subagusta)
06.715.46118
Out of the way, fantastic pizzeria, Neopolitan style. See my blog post.

Ai Marmi
Viale Trastevere 53 (Trastevere)
06.580.0919
Dinner only. Closed Wednesday.
If you want to feel like you are in a Fellini movie, head here. Hasn't changed in about 60 years. Rough and ready service. Don't worry if there is a line, tables turn fast.

Porto Fluviale
Via del Porto Fluviale 22 (Ostiense)
06.574.3199
One of the few places where you can reserve a table for a pizza, and that also is open at lunch. You can choose between either Roman or Neopolitan style. There are certainly better pizza places on this list, but this one is convenient, a nice setting and is good. See my blog post and video.
Pizza a Taglio

Pizzarium
Via della Meloria 43 (near Vatican, metro Cipro)
06.397.45416
Most famous pizza place in Italy? Possibly. See my posts here, and here, and here. And Eat Rome as well.
00100

Via Giovanni Branca 88 (Testaccio)
06.434.19627
Daily 12 - 11pm.
Fantastic pizza by the slice from the same owner as Sforno. Also the home of the trapizzini, a triangular pizza pouch filled with things like meatballs and tripe. See this blog post.

Panella
Via Merulana 54
Open daily
Better known as a bakery they have extraordinary pizza by the slice.

Forno La Renella
Via del Moro 15 (Trastevere)
Daily, 9am - 1am.
Known for it's large loaves of rustic bread, they are also the makers of some of the best loved pizza by the slice in Trastevere. Almost always open.

Roscioli Bakery
Via dei Chiavari 34
06.686.4045
Most famous bakery in Rome? Many say so. Yes, fantastic bread, but also amazing pizza by the slice.

Bakeries (pizza bianca, etc)
Forno di Campo di Fiori
Piazza Campo dei Fiori 22
Open daily, 7:30-2; 4:45 - 8. Closed Sunday.
One of the oldest bakeries in town. Fresh, hot pizza bianca all day long.

Roscioli
See above.
Is their pizza bianca better than Forno di Campo dei Fiori? Try both, and you decide.

Renella
See above.

Panella
See above.

Antico Forno Urbani
Piazza Costaguti 30 (Ghetto)
Old fashioned bakery that has the best pizza rossa in town. This is thin crusted pizza that is spread with the thinnest layer of tomato sauce, imaginable. No cheese.

Extra: Pizza places that are famous but that I've never been to Da Remo
Piazza di Santa Maria Liberatrice 44 (Testaccio)
Dinner only, closed Sunday.
Very thin crusted Roman pizza. A real scene, there is always a line. Which is probably why I've never been.

Tonda
Via Valle Corteno 31 (Montesacro)
06.818.0960
Located in a suburban neighborhood, and owned by the same owner as Sforno and 00100.

Gluten Free
Mama! Eat
Via di San Cosimato 9
06.580.6222
I've actually been here, but have never ordered pizza. The pasta was great. Seriously gluten free, with two separate kitchens.


Read more: http://www.budgettravel.com/blog/best-pizza-in-rome,13629/#ixzz2hhwmOBNx