Day Trips and Missouri Best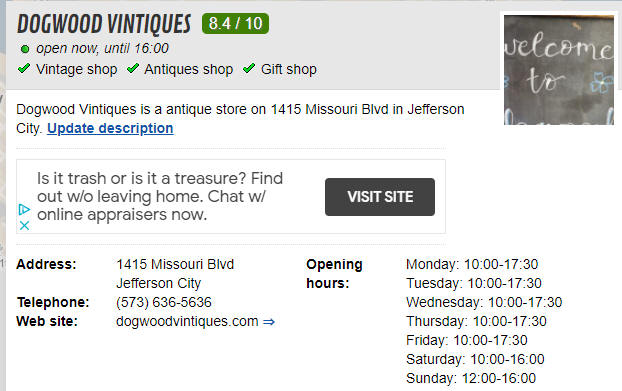 __________________________________________________________________________________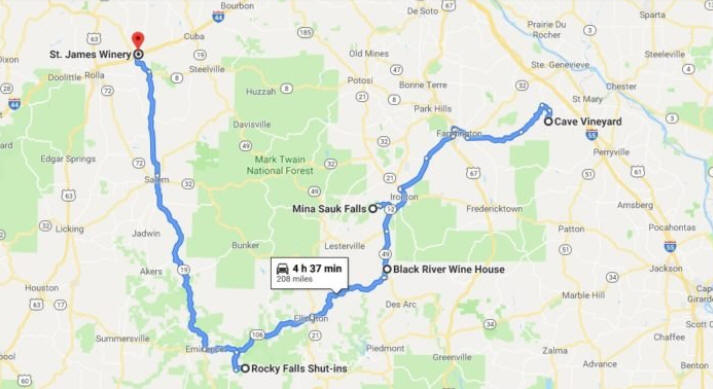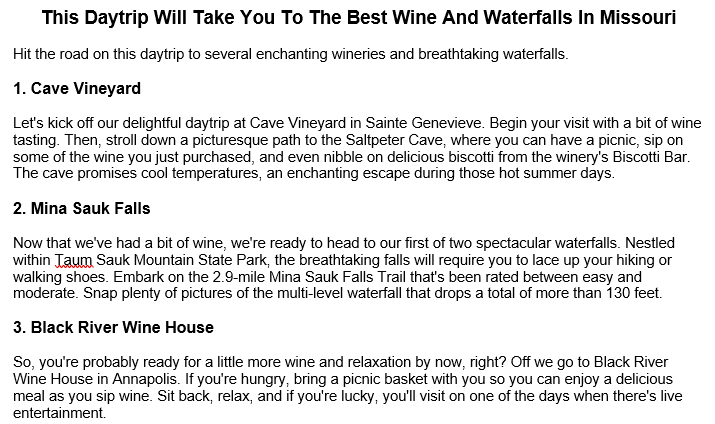 In Rural Missouri That Are Downright Delightful
Just about half of Missouri's population lives within the St. Louis and Kansas City metro areas. So, the other half of Missouri's population can be found in small towns scattered throughout the rural countryside. Drive across the state and you'll find diverse landscapes and charming small towns that are downright delightful. Check out 10 of the Show Me States most impressive little communities.
1. Steelville, Crawford County
Steelville is a tiny little river town of just over 1,600 residents. The town is a popular summertime destinations with many camping and floating resorts near by. If you find yourself in Steelville be sure to stop by Missouri Hick Barbecue for a great meal.
2. Richmond, Ray County
With nearly 5,600 residents, Richmond is a bustling little town just north of Kansas City. Visit the quaint downtown area where you can find the historic Ferris Theater or the Gallery and Museum for Fine Arts.
3. Chillicothe, Livingston County
Chillicothe is Shawnee for "big town" and with nearly 10,000 residents it certainly is one of the larger small towns in Missouri. Chillicothe is best known for being the birthplace of sliced bread! Try Boji Stone Cafe while you're in Chillicothe for a good meal at a classic small town diner.
4, Higginsville, Lafayette County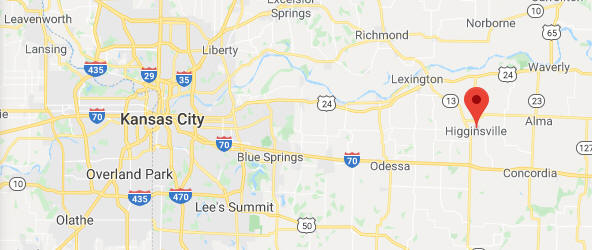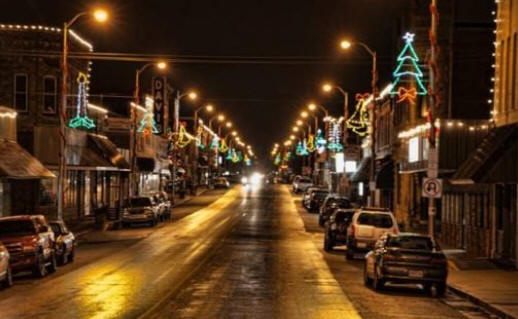 Located just a few miles north of Interstate 70 about an hour outside of Kansas City is the small town of Higginsville. Follow the yellow pointed finger all the way to this quaint town of nearly 5,000 residents. Higginsville was once the site for the Missouri Confederate Soliders' Home. After the last Civil War veteran had passed the lands were converted into a Confederate Memorial Cemetery which still remains today.
5. Louisiana, Pike County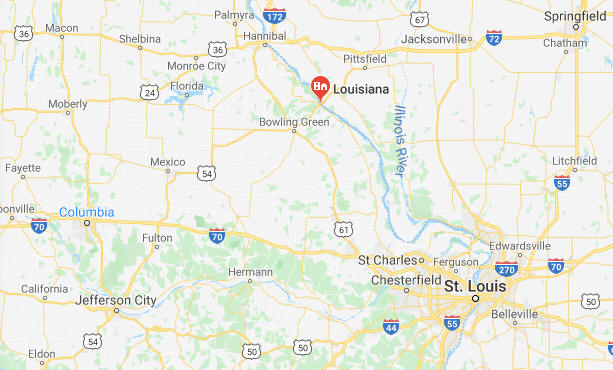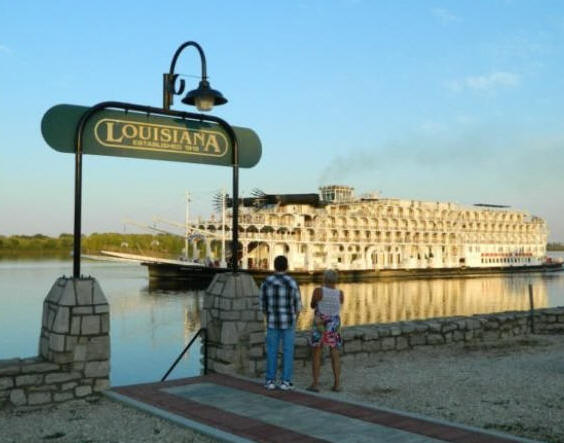 Louisiana is a small Mississippi River town of just 3,000 residents. During the mid to llate 1800's Louisiana was a successful shipping town and many wealthy residents built large Antebellum homes that still remain today. This beautiful town is full of history, nature, and art making it well worth a visit!
6. Caruthersville, Pemiscot County
Follow the Mississippi River south and you'll find the town of Cruthersville in the Missouri Bootheel. With just over 6,000 residents, this little town has a lot to offer despite its size. While agriculture makes up 60% of the revenue in Caruthersville, tourisim is now an important aspect to the local economy since the opening of the river boat casino.
7. West Plains, Howell County
Down near the Missouri/Arkansas boarder is a growing small town of 11,000 residents. During the Civil War, West Plains and most of Howell County was destroyed due to constant guerrilla warfare. By the time the war was over 90% of the residents from Howell County had fled. Eventually, West Pains was rebuilt and is now a bustling town with many parks, great schools, and a large civic center. Its likely you've heard about the unique mascot adopted by West Plains High School known as the Zizzer.
8. Hollister, Taney County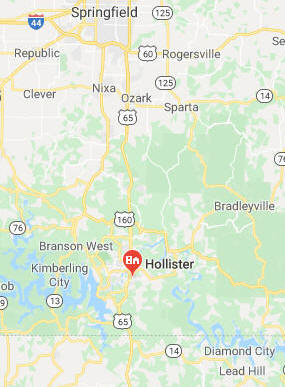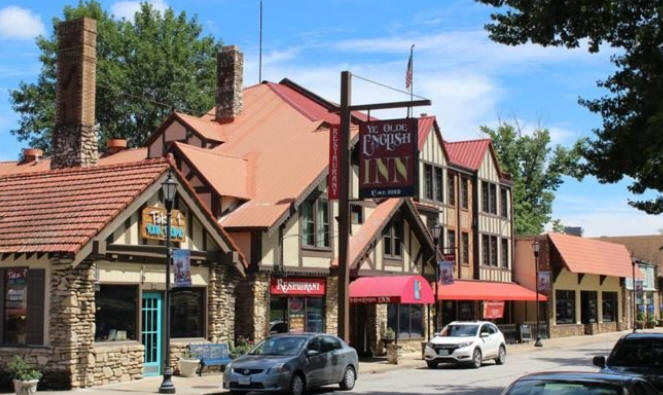 Just outside of Branson is the small town of Hollister (4,420 residents). One of the most popular places to visit in Hollister is the Downing Street Historic District. This little area is modeled after Tudor style English villages constructed between 1909 and 1920. The buildings were added to the National Register of Historic Places in 1978.
9. Neosho, Newton County
Known as the Springs City Neosho is home to about 12 known springs. Big Spring is the largest in Neosho and now runs through the city's largest park. Neosho is home to just over 11,000 people and the town has a lot to offer. Head to the historic downtown district for a meal at Sam's Cellar. Be sure to keep your eyes peeled when heading north out of Neosho for the spook light. This supernatural phenomenon has been frightening locals for many generations.
10. Fredericktown, Madison County
Surrounded by the Mark Twain National Forest, Fredericktown is a great place to visit if you love the great outdoors. WIth just over 3,000 residents this sleepy little town was once a major mining community. More types of minerals and metals have been commercially mined in this area than in any other place in the United States. Before setting out on a hike in the nearby national forest grab a bite to eat at The Depot Cafe.