Fishing Below the Dam
bb fish 17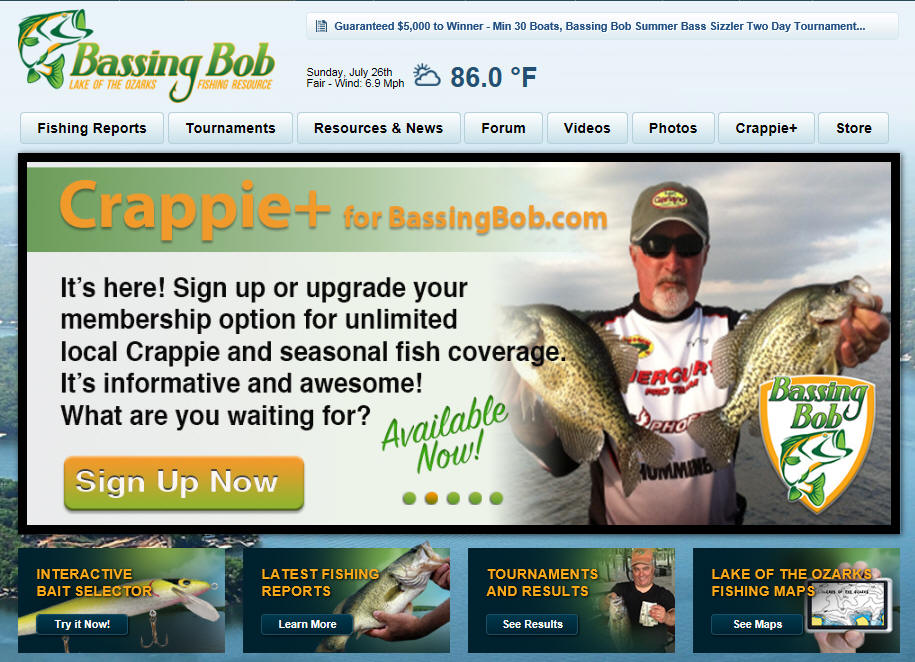 Fishing at the Bagnell Dam in Missouri
Originally constructed in 1929, the Bagnell Dam holds back Missouri's Osage River, creating Lake of the Ozarks. Fishing author John Neporadny Jr. calls the lake itself one of the best bass lakes in the country, but the area below the dam also offers some surprising -- if unappreciated -- fishing opportunities.
Access
Public access to the Osage River directly below the Bagnell Dam is available on Osage River Bridge Road, off Highway 54. The area provides ample shore fishing access, a two-lane paved boat ramp, picnic area and parking for up to 50 vehicles. The Osage River is also a destination for canoeists, and the Bagnell Dam access area is a common starting point for float trips down the river.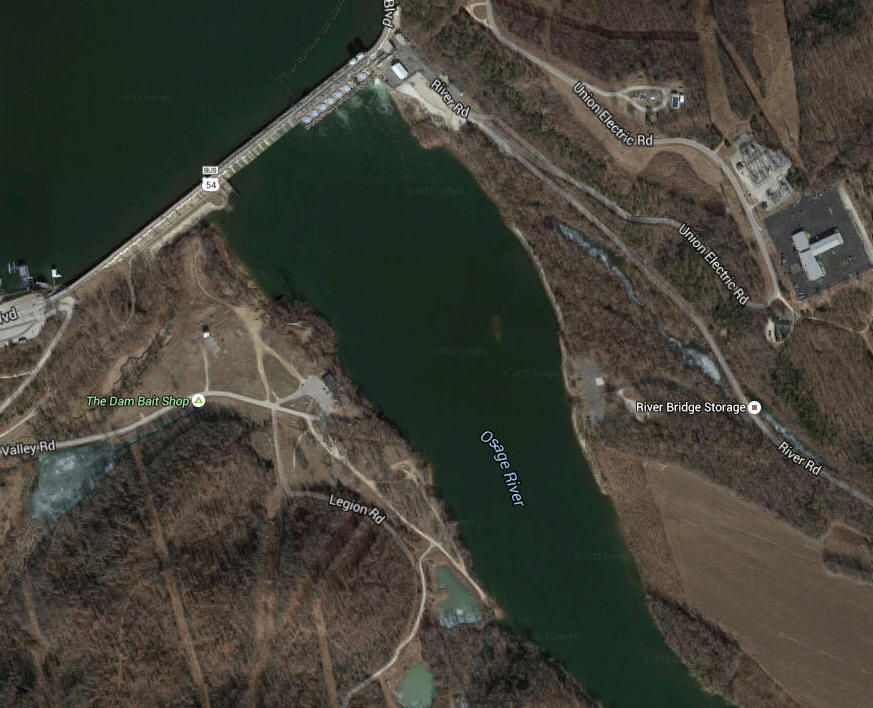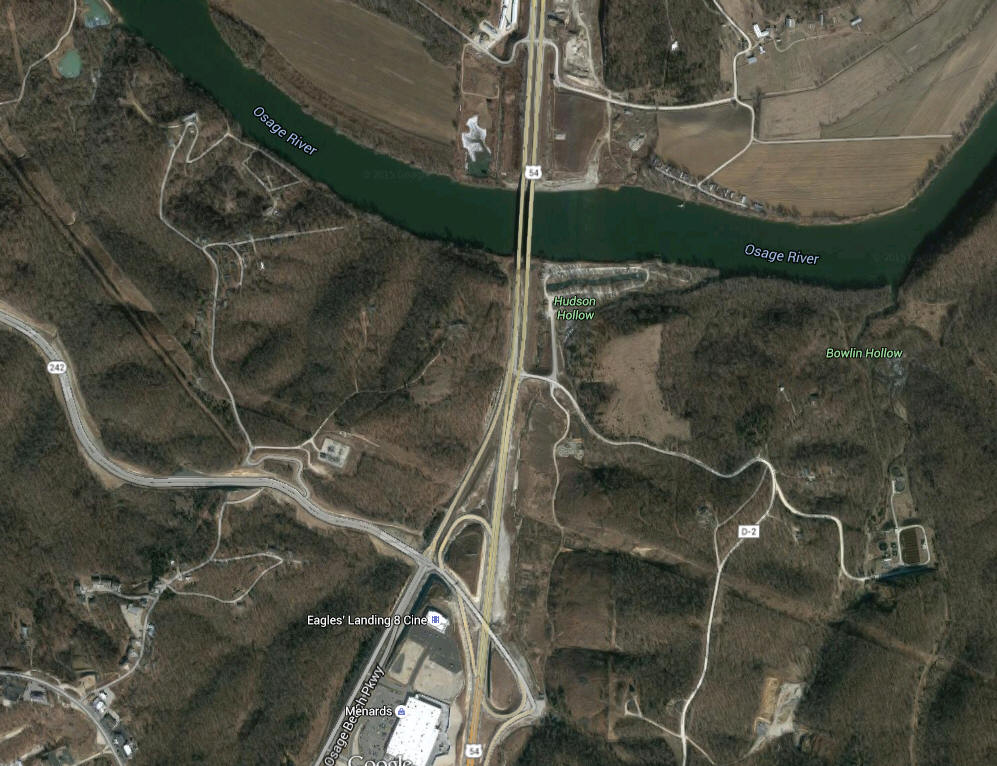 Fish Species
The Osage River is a true multispecies fishery, and anglers below the Bagnell Dam can expect to catch a wide variety of game fish. Both largemouth and smallmouth bass are available, as well as crappie, sunfish, catfish, white bass, hybrid stripers and walleye. Paddlefish also live in the Osage River and are open to fishing for a brief period during spring.

Fishing Tips and Tactics
Walleye move upstream toward the dam to spawn in early spring. This is the best time of year to pursue these fish, and they will strike live minnows and worms, or jigs tipped with brightly colored soft plastics. Fishing for white bass and crappie is at its best in April and May. Bass fishing is possible through summer. Look for smallmouth bass in rocky areas just outside heavy current; largemouths prefer still backwater areas. You can catch catfish in deep areas, especially in May and June when the water is on the rise.

Licenses and Regulations
Acquaint yourself with Missouri's fishing seasons, daily limits and other regulations before you start fishing. A complete guide to the state's fishing regulations is available on the Missouri Conservation Department website. You will also need a current Missouri fishing license. Licenses are available online or at most bait and tackle shops across the state.
___________________________________________
Fishing the Bagnell Dam Spillway

The Bagnell Dam spillway below Lake of the Ozarks harbors a variety of fish throughout the year and offers plenty of angling opportunities for anglers in a boat or on the bank.

Bank fishing is permitted on both sides of the spillway. The banks on both sides of the tailrace are open to the public, but anglers pay a nominal fee to fish the south shore, which is owned by American Legion Post 229. An access area maintained by the Missouri Department of Conservation is available at the dam for anglers who want to fish the tailrace from a boat. Fishing is prohibited in the marked restricted zone within 225 feet below Bagnell Dam.

Spring is the prime season to fish below the dam since walleye, white bass, hybrid stripers, catfish and paddlefish congregate at various times to spawn in the spillway. However fish can be caught year-round from the river as long as some current exists. Since fishing is usually best during periods of water flow from the dam, anglers should call the AmerenUE lake level information telephone number (573) 365-9205 for updates on the spillway's discharge rates.

Here's a look at how to catch crappie, white bass and catfish lurking below Bagnell Dam.

White bass

Fishing is slow for whites in the spillway during the winter but the action picks up in March when some males move up into the tailrace to begin the spawning run. However the peak of the spawning run is usually from the first week of April to mid-May when massive schools of white bass congregate in the spillway.

Areas where water is being released from the turbines hold the greatest concentrations of whites, discloses Rich Duncan, a long-time Osage River fisherman and former owner of Riverview Campground. The most productive lures for fishing the spillway include crankbaits, such as Shad Raps and Rat-L-Traps in shad patterns or 3-inch Sassy Shads in blue-and-white or argent-and-white color combinations. The size of the Sassy Shad jigheads varies depending on the water conditions. When all eight generators are running, anglers use 3/8- to 1/ 2-ounce jigs on 10- to 15-pound line. If the spillway has minimal or no flow, whites can be taken on Tiny Torpedoes and Zara Spook Puppies or Zara Spook Juniors.

Fishing before sunrise is the best time to catch spillway whites in the summer. Duncan suggests throwing 1/8-ounce white marabou jigs into the current. A few whites can be taken on jigs or Sassy Shads in the fall, but the fishing is usually slow due to minimal water discharges then.

Catfish

Guiding kept him pretty busy on the lake, but Keith Enloe still found some time for catching blue and channel catfish below the dam. Catfish in the 3- to 5-pound range are common catches in the river and tailrace area. "I've had times where I've caught nothing less than 10 pounds and I've caught them as big as 30 or 40 pounds," claims Enloe.

The former guide catches some catfish in the winter in channel swings cluttered with piles of brush. He uses shad guts for bait all year long.

His catfish rig consists of a main line of 25- to 30-pound test line and a heavy-duty three-way swivel with an 18-inch leader for the bottom-bouncing sinker ranging in size from 3/ 4 to 2 ounces. Also attached to the rig is another leader line of about 1 foot for a 2/0 or 3/0 baitholder hook. "That hook has barbs up on the shank that holds the shad guts which you wind on the hook, then put the gizzard on the hook last and it should stay on there," recommends Enloe.

Enloe fishes the same rig in the spring but drifts the bait along the bottom of shoots, which are washed-out areas created by the heavy flow from the flood gates. He fishes either the shoots from the dam to the boat ramp or a channel shoot that runs from the boat ramp to the Highway 54 Bridge.

The best action occurs during periods of medium to high generation and the river level is steady or on the rise. "If it's falling they don't bite very well," says Enloe. "You catch the majority of blues in May and June if they run the water pretty hard."

During summer, Enloe heads back to the channel drops and fishes the front of the brush again. He also tries some of the dikes and levies farther down river if there is minimal water flow from the dam.

Tight-lining in the brush also produces catfish in the fall for Enloe if the river runs slow. However if rains create heavy flow, he resorts to bouncing shad guts along the bottom again.

Crappie

When AmerenUE starts dropping the lake for winter drawdown, fishing can be good for crappie below the dam.

Enloe recommends trying the north bank where the water eddies into the first pocket below the dam. "The crappie will stack up in there especially if they are running water," he says. The local expert opts for a tandem rig of a 1/32- and 1/8-ounce jig in pearl-and-white or pearl-and-chartreuse. He ties the jigs on 4- or 8-pound test depending on speed of the flow.

The local angler relies on a slow presentation for his jig fishing. "I'll throw out there and count to about 10 and then I'll start barely turning the reel handle just enough to where I can feel the lure hitting the rocks," he says.

Spring fishing can also be good on the AmerenUE side with the tandem jigs or on the American Legion side by fishing with a bobber and jig or minnow around the iron dikes.

If some water is running from the dam during the summer or fall, Enloe catches crappie from the stretch of river between the launch ramp and the Highway 54 Bridge. He targets the tops of trees at depths of 8 to 10 feet deep and uses a bobber and jig tipped with a minnow or a minnow attached to a number 6 or 8 Aberdeen hook.

For information on lodging at the Lake of the Ozarks or to receive a free 152-page vacation guide, call the Lake of the Ozarks Convention & Visitors Bureau at 1-800-FUN-LAKE or visit the Lake of the Ozarks Convention and Visitors Bureau web site at funlake.com.

Copies of John Neporadny's book, "THE Lake of the Ozarks Fishing Guide" are available by calling 573/365-4296 or visiting the web site www.jnoutdoors.com.

_____________________________________
http://bassfishingmidwest.com/bagnell-dam-cold-water-hot-spot/
Winter Fishing Below Bagnell Dam

Freezing temperatures, blustery winds and a vast body of water in which fish congregate in a small area can leave anglers feeling cold and frustrated after a day on their favorite lake.

Reservoirs do have an area that offers some shelter from the wind and contains plenty of active fish. When the fishing shuts down on the lake, anglers should concentrate on the downhill side of the dam.

A favorite wintertime spot of Eldon, Mo., angler Harold Stark is the Osage River below Lake of the Ozarks' Bagnell Dam. Stark, a veteran tournament angler, has been fishing the river for more than two decades and has discovered certain patterns for catching bass below the dam during the winter.

The Missouri angler notes that spillway water tends to remain warmer throughout most of the winter. From November to mid-January, the water temperature below the dam stays in the 45- to 50-degree range. The area finally loses its warm water in late January when the lake and spillway water temperatures drop to the 39-degree mark. The spillway area also keeps anglers warmer because the dam and the hills alongside the structure serve as windbreaks.

Stark lists November, December and January as the best winter months to fish below the dam. Stable water conditions during this time create an excellent opportunity for any anglers willing to brave the cold weather and still catch plenty of bass.

Two stable conditions needed during this time are clear water and a constant water level. Water clarity is crucial, since cold, murky water can completely shut down fishing. But the lack of rain during a normal winter keeps the river clear. The lake's winter drawdown also helps the fishing by producing a steady flow in the spillway area, which positions the fish in certain areas and keeps the water level stable.

The wintery weather has little effect on spillway bass. Current has more of an influence on their daily routine. "When the water's up and moving, anything that blocks the current has the probability of holding fish," Stark says. "The current has everything to do with finding fish. It positions everything the fish do, whether they're resting, feeding or moving from one place to another."

The stronger the current, the easier it is to find bass. "It can stack every fish of a certain area in one spot," Stark says. During heavy flow, Stark looks for bass in eddies close to the bank. "They'll really stack up in those places."
Stark catches most of his fish 1 to 10 feet deep from structure next to the bank. Prime structure includes rock dikes, bridge pilings, boat docks, flooded timber or laydowns.

The most productive methods for taking these cold-water bass are slow-rolling a spinnerbait and flipping a jig and plastic chunk. Stark lets the water flow determine which size lure he'll use.

During a heavy flow, Stark will throw a white or white and chartreuse 1/2-ounce spinnerbait with a nickel-colored number 5 willow leaf blade to catch active fish. He selects a 1/2-ounce jig with a Zoom Super Chunk Junior for a strong current.
His favorite colors are a brown jig with black and chartreuse chunk or a black-and-blue combination.

The heavier lures help him maintain contact with the bottom where the fish will be concentrated. The Missouri angler also uses lighter line with his spinnerbait to make the lure sink better. "Whenever there's a lot of current, you almost have to go down to 10- or 12-pound test line with a spinnerbait so it can actually get down," Stark says. Heavier line has a tendency to drag the lure along with the current.

When fishing a 1/2-ounce jig, Stark chooses lines up to 17-pound test. He can use the heavier line because jigs fall quicker than spinnerbaits and stay down in the rocks better. Since the lure bangs around in the rocks which nick the line, a heavier monofilament receives less damage when bumped along the bottom.

Maintaining boat control in a strong current can be difficult. Stark usually points his boat upstream and drifts with the current rather than trying to move upstream.

Since river bass face the current to pick off any morsels that drift by, the most natural way to present a lure is to cast it upstream from the structure and let the current push it into the ambush area. The bass position themselves on the outermost part of the structure, such as the farthest point of a log, where they can nab baitfish. In the eddies, they will hang right behind a rock and right at the edge of it. "They'll be positioned right at the edge of any kind of break in the eddy itself," Stark says.

Stark slow rolls his spinnerbait along with the current. He tries to pull the lure along the bottom, letting it nick the rocks every once in a while. He also works his jigs in a slow manner. "I throw it up against the bank, swim it back and just skim the bottom."

When the current weakens, the bass tend to move to new locations. "You need one of the two extremes to catch bass, either a lot of running water or none at all," Stark says. "When there's no current, the bass will scatter out and find the deeper holes to lay in. They'll also bury up into the thickest part of the cover."

Lure sizes should be scaled down as the current loses velocity. Stark switches to a 1/4-ounce spinnerbait with a number 4 willow leaf blade during a light flow. When the current ceases, Stark switches to tube baits and single or double-tail 3-inch plastic grubs in blue or chartreuse hues. He'll throw the tubes on a 1/16-ounce jig head and the plastic grubs on a 1/8-ounce jig.

While working a deeper hole or thick cover, Stark presents the bait in a subtle manner. He lets the bait flutter into the bass' lair and avoids moving the lure more than an inch at a time. Even inactive bass can be taunted into sucking up a slow-falling plastic tube or plastic grub.

Although more bass can be caught in the lake, Stark catches heftier limits in the spillway waters. "I can catch more limits of 3-, 4- and 5-pounders out of the Osage River than I can out of the Lake of the Ozarks." He says he has taken six-fish limits up to 20 pounds from the river. Stark has also caught bass weighing up to 7 pounds below the dam. Anglers can expect to catch an equal share of largemouths and spotted bass from the spillway area.

While the fishing can be great during the winter below a dam, it can also be hazardous to your bass boat.
Stark warns that anglers should watch out for trees that wash off the bank and become lodged in gravel bars in the middle of the river.
Anyone navigating below a dam should also be aware of constantly changing jetties, wing dams and gravel bars, all menaces to your boat's lower unit. According to Stark, the ideal rig for fishing spillway areas is a john boat with a jet-drive motor because of its capability to run in extremely shallow water.

Despite the navigational hazards and frigid weather, fishing the lee side of a dam can satisfy an angler's craving for some wintertime bass action.

For information on lodging and other facilities at the Lake of the Ozarks or to receive a free 162-page vacation guide, call the Lake of the Ozarks Convention & Visitors Bureau at 1-800-FUN-LAKE or visit the Lake of the Ozarks Convention and Visitors Bureau web site at funlake.com.
_______________________________________________
January 25, 2015
Middle of winter here at the Lake of the Ozarks and things are nice and quiet.
The lake gets so busy on the weekends in the summer that many people have a hard time believing how calm things are the rest of the year. Right now water temps are around 37 to 42 depending on where you are on the lake.
Up around TanTara I have a couple honey holes that have been producing crappie consistently most of the winter. Fresh crappie out of the cold water this time of the year is hard to beat. On the lower end of the lake the jerkbait bite has been the most consistent pattern.
Finesse jigs all also working on some secondary points and creek channel banks. You can still catch fish throughout the winter if you're in the right spots.
Some days you can actually do pretty well. We're in the middle of a nice mid winter warm up with several days in the upper 40's and 50's. So give me a call and let's go fishing! Yesterday we brought back 30 keeper crappie!

May 1, 2014
Several fish species are spawning right now. Crappie and bass are on beds right now throughout the lake.
Some coves and areas are going to be better than others but it is a great time to come to Lake of the Ozarks. Look for this to continue for a couple more weeks. A variety of patterns and lures will work for bass. On cloudy days keep a topwater handy.
Plastic worms on Crock O Gator shaky heads have been working great. Carolina Rigs have also been working. Crappie have been shallow in the afternoons and suspended 5-15 feet deep the rest of the time. It's not too late to get in on some of this great crappie fishing.
Most years the crappie are finished by now but since we had such a harsh winter we should be able to catch them for a bit longer. Catfish have been biting well also. Several blue catfish eat the remains of cleaned crappie.
So catfish outside of fish cleaning areas for big blue catfish. Gar are just starting to show themselves and look for them to be active as the month continues.
Gar are under appreciated as a sport fish and I have taken several customers in the past to catch big gar. Rope jigs tossed immediately in front of a toothy gar is a fun way to catch a big fish. Good Luck Fishing.
Go to my new website www.LakeoftheOzarksFishingGuide.com for new pictures and information.
My old website will remain up but get updated less and less.

April 2, 2014
Overall it has been a cold winter and cool early spring this year.
We are seeing several spring like days here lately with highs in the 60's and a few in the 70's. Main Lake water temperatures are hanging in the mid 40's.
Most of all my guide trips have been in the river sections of the lake.
Areas like the Gravois arm, Grand Glaize, upper Osage and big and little Niangua have been significantly warmer. Water temps in these sections of the lake range from 50-57. Bass fishing has been good some days and difficult if not impossible other days.
The traditional late winter/early spring baits have been working like jerkbaits and jigs. Look for coves with a mixture of rock with some small gravel in areas. Sunshine for part of the day has helped activate the ecosystem thus making the bass more active.
Crankbaits, spinnerbaits, and chatterbaits can work too. Especially if anyone is fishing the Big Bass Bash this coming weekend try a big swimbait.

Crappie fishing has been excellent. This year we are seeing some of the healthiest big black crappie I've ever seen.
Black crappie can be more moody than regular white crappie and can turn on and off depending on the weather and conditions. It's so worth it though and these big stingers full of 12 inch crappie is something that never gets old.
These crappie are really better not fired but grilled because they are so big. Look for this April to continue to be a stellar crappie fishing month.

Look for some fish to start spawning here in a few weeks but I'd say the majority of fish to spawn in May.
The weather will really warm up here soon and there will be a rush or wave of spawning crappie with in a couple weeks. I believe the full moon is around the 20th or so. We'll have some great but inconsistent fishing for the next couple weeks.
Late April and May will be hot and heavy with lots of action. Traditionally I am a main lake guy due to that is where the majority of my business comes from but the river fish will warm up faster and the main lake fish will come later.
The spawn will be spread out this year due to the low lake temperatures compared to the warm river temperatures.
Lake level is still low which is pretty typical for right now. Look for a gradually rising lake level over the next 6 weeks. This will help the fish move shallow and hold to the banks.
Several boat ramps are inoperable right now so be careful if you have a nice trailer.

January 27th, 2014
Brrrr I hate January. Why can't it be warm year round? At least I don't live any further north where it just stays cold for weeks and weeks. At least here it'll be cold for a few days and then it'll jump back up into the 50's for a day or two. Eh, spring's coming soon enough. Few more long weeks and things will really be changing here.
The day light hours have already been getting longer and longer. The lake has been really cold this winter. Shad kill has been pretty significant.
Fishing for bass has been about as slow as I've ever seen. Actually most of my fishing for the last few weeks has been for crappie cause they've been biting decent to good and the bass have been slow to very slow.
Most of the tournament competitors have been getting skunked the last few weeks.
Typical for what is traditionally the toughest time of the year. Those big females will be biting here real soon. The fish are really grouping up in big wintering schools now. The lake has dropped due to the winter draw down.
Water temperature is 36-39 for the most part but the upper ends of the creeks frozen. The north shore/Bagnel dam area is about 40 degrees. The mid lake area has been the best for me crappie fishing.
Straight vertical with a tube or a drop shot have been the best techniques around brushpiles in the 30 foot range. Been pretty productive too with each spot producing several crappie. The lower end of the lake has been producing some bigger crappie and more black crappie.
That's where dock shooting has been so good this year. Big slab crappie that fight like a bass have been hiding under that dock thinking that we can't get to them. Until this dock shooting technique came along we couldn't. It's a real fun method to cast to the hard to reach spots.
My buddy Eric Prey came up here last week to do a video on it. It should be on his website soon www.bransonTV.com check it out, it's all free.
I've got several sport shows and appearances scheduled this year.

December 6, 2013
I bought a new boat!! Wahoo, I'm loving it, it's smoking hot! It's a Nitro Z9 with a big Mercury 250 ProXS on the back, tricked out with the best electronics Humminbird has!
Thanks to Bass Pro Shops, Nitro boats and Mecury Marine for all chipping in and coming on board as new sponsors of Jack's Guide Service. Any body interested in seeing it or doing a test drive let me know.
As far as I'm concerned it's the best boat on the water, and I'll show you why on the water. I looked and test drove a lot of boats, before I decided which boat to get. I'll put a couple pics up of my new work boat on the client picture page.
Fishing has been up and down again.
Me and Bassing Bob did great in this big tournament a couple weeks ago then only to have a crappy guide trip earlier this week, some days they're biting some days they're not.
Been catching some big ole bass on black buzzbaits the last few weeks but I'm afraid with this snow storm moving through right now that might be the end of any kind of topwater action.
That's fine I'm ready for some good traditional winter time fishing. I've got my jerkbaits all ready, my finesse jigs all tied up, and the cold weather has moved in.
Pretty soon the dam operators will begin to draw down the lake (usually this has already started) and that will actually help fishing quite a bit. It will make the bass and crappie school up more in predictable locations.
Channel swings, points, steep banks are the typical winter time hang outs.
The fish don't roam around as much when the lake is lower. If you get lucky you can catch the biggest sack of bass you'll ever catch this time of the year.
Look up last year's top tournament weights, they were well over 22 pounds a piece, several almost 25 pounds. Some fish have been biting the jerkbait pretty well for a while now.
I went our yesterday (high temp was 26 degrees! brrr) and the first rocky bank we hit we caught them. After that we got away from the wind and the bite slowed but I know what we need to do.
Jigs are working well too and usually December is a great month to throw a jig, maybe my favorite.
Alabama rigs will soon be part of the equation also. I'm not a big fan of them but hey they've got their place.

Crappie fishing for big black crappie has been pretty good too.
Cloudy days head for the clear water sections and fish the corners of docks down a few feet with a slow retrieve.
Sunny days head towards the mid lake section and look for the deepest brush you can find and vertical fish. Both patterns are working fine and should be even better here shortly.
Both patterns require a certain touch too so stay on your game.
Good electronics will help you a lot in crappie fishing.

November 12, 2013
Fishing has picked up considerably since my last report. October is always a tough month. November is much better for fishing, always has been.
The largemouth never come easy but right now we are talking spinnerbaits and buzzbait. Those baits are pretty easy compared to most lures. It's about covering water quickly picking off the aggressive fish. Points have been good.
The coves have been less important as the fish begin to move out to deeper water. The lake has been really quite lately because everyone is in the woods hunting. I love deer hunting but a good buzzbait bite is hard to pass up.
The lack of fishing pressure is already making a difference and I'm really enjoying the mild weather before it starts to get really cold in January.

The black crappie are really starting to bite in the Glaize arm. Black crappie are a little more like bass in the winter and can be pretty predictable on the cloudy days. We cleaned a mess yesterday that were some of the most consistent and best quality I've seen in a long time. Berkley 2 inch curl tail grubs seemed to be the best bait yesterday. White pearl is my best color.

October 2, then updated Oct 9
Fishing has been up and down lately particularly for largemouth bass. One good day followed by one bad day is pretty typical of the fall transition mixed with parts of the lake starting to turn over.
Fishing for bass can still be successful it just depends on the day. The Big Bass Bash is this weekend so someone will win $61,000 by Sunday afternoon! That's a lot of Money! I'm sure it'll take a big 6 or maybe a 7 pound bass to win it all.
Topwaters have been working great in the morning and after the sun really starts to shine pitching docks has been the ticket. Crappie will be less effected by the turnover along with white bass.
In fact we've had a few very good days for white bass lately on the windy afternoons. That's certainly one of my favorite bites of the whole year. Strong winds are a must to really catch whites.
This past Saturday while white bass fishing we had 3 walleye on the line up to the boat.
Unfortunately we lost two of them at the boat but we landed the biggest walleye in the afternoon as the rain was coming down. But you need to get out there on the windy days to catch these whites, they are absolute blast.
Crappie fishing has been really good lately too. They're moving shallower too. Fall is a great time to get out on the water. The trees and turning pretty colors, cool temperatures and the fish are feeding as the water cools. Wind is the most important factor right now.

September 13, 2013
Wow what a pretty day here on Lake of the Ozarks! 70 degrees, sunny, a light wind and the fish are biting. The fall is a great time to get on the water and enjoy the lake with out the heavy recreational boat traffic.
Several tournament are getting underway every weekend now and for the next couple of months. I fished the FLW BFL last weekend and won the Big Bass award with a monster fish that weighed almost 7 pounds!
I was using a Berkley swimbait and somebody was smiling down on me. I was fishing docks and catching a lot of average sized bass when that big fish bit. Docks are key for this time of the year. Wind is another big factor, and shad.
hose three key ingredients are what you need to look for. The crappie have started biting really well too. The cooler nights and shad getting active are sparking the fish to follow their typical fall patterns.
Also I have to brag a little more I was just recently asked to be on the local news for KY3 on their sports segment with Ned Reynolds to do a piece on fishing Lake of the Ozarks. It was really cool, and I helped Ned reel in a big old Bass!

August 19, 2013
The heavy boat traffic is now a thing of the past now that the kids have gone back to school.
The weekends will still see considerable traffic through the next few weeks into the fall but the weekdays will is surprisingly quite will very few boats seen or heard. The lake Shootout is next weekend and Labor day weekend is around the corner, after that the fall tournaments will be in full swing. Water temps are around 80 degrees with a variety of patterns working right now.
Generally speaking fishing has been tough for a variety of reason but some days they just turn on and bite like crazy.
Topwaters have been my most consistent bait followed by jerkbaits and plastic worms. The shad have been easy to fish and spread out through out the lake. Shad are almost always an important ingredient in good fishing as we slowly progress into fall.
The river bite has been fair but unstable due to water in flow and level fluctuations. The main lake has been slightly more consistent but will more smaller average sized bass being caught.
There are some better quality fish out deep on points biting particularly well when the dam is generating water. For the next few weeks I would assume for things to get better as the water begins to slowly cool.
Shad will become more and more important as will baitfish imitating baits and patterns. The water levels and clarity are both normal even though we had several inches of rain recently it did not effect the lake for very long. However you can expect current and a slightly lowering lake level.

Crappie fishing has been Ok. The current has them spread out feeding on the baby shad all over the lake. Large crappie can be caught but the average 10 inch fish have been so spread out that we're not seeing the high numbers we normally see this time of year. 20-30 fish days are still possible and most years are pretty typical for this time of the year. I imagine they will start biting very well any day.

Catfish have been more or less on the slow side also. We nailed a couple giant blues recently that we measured against out legs and the catfish reached all the way up to out belly buttons. Drifting cut bait is working good and a relaxing way to get bit even in the middle of the day. We're just drifting coves in no wake areas to hide from the boat traffic.

Everyone check out BassingBob.com It's a new website here on the lake that's all about bass fishing Lake of the Ozarks. I've been working with Bob for a while now helping out here and there to do my part for this great bass fishing resource on the web. Bob is a great guy, good friend and smart business man that recently retired from his real job to start this website. BassingBob.com has everything like forums, videos, pictures, daily fishing reports, tournament reports, articles, and all of the best fisherman here on the lake are involved with Bassing Bob in some way shape or form. Check it out! You'll like it.

July 15, 2013
The Lake of the Ozarks is still producing even in the middle of summer. Right now I'm running most of my guide trips out of TanTara Resort in the middle of the lake and having good success.
The water temps are in the low 80's and slowing climbing. Fishing success can be had right now with a few things must be kept in mind:
Fish early in the morning,
Fish around Baitfish, Fish deep, or fish the shade around docks.
Fishing in the summer can still be very productive and even great if you follow some of those basic rules. Crappie fishing has been fine with decent numbers of eater size crappie right now around docks with brush.
Bass can be caught on topwaters first thing in the mornings or latter with plastic worms. Catfish can be caught trolling or jug fishing with fresh bait.
There is a ton of tiny shad in the lake right now and they are easy pickings for all of the predator fish.

June 29th, 2013
Bass fishing remains good through the heat. I just had another great guide trip fishing offshore structure with heavy jigs.
It's a hard way to fish if you've not done much bass fishing before but it's one of the best ways to catch fish in the summer. Long points, or humps next to the old river channel are the best spots.
Some days the fish are on top of the points in 6-15 feet of water, other days they're deeper in the 25-35 feet of water. Scattered rock and brush on the spot makes it all that much better. After dark look for your bigger brush piles to fish big texas rigs through.
Crappie can be found on the main lake next to docks with current on them. Numbers have been good but this past week the size has gone down. Plus everyone has been stealing my spots lately which isn't helping.
Catfish have been good but the jug fishing has been producing better than trolling. I prefer the trolling method but can't deny the effectiveness of the jugs, it's so easy it should be illegal! There is still certain things that have to be done to produce the most fish.
And please people don't leave your jugs out over night! it's illegal and you just lose them. Trotlines are fine as long as you run them on a regular basis. The problem come in with the trot lines that have been out there for years that never get moved.
Other fisherman eventually snag into them because they are essentially trash left behind by lazy catfisherman. In closing the fishing remains great you just have to adjust for the summer patterns.

June 6, 2013
The bass fishing remains pretty good. Several patterns are working right now. Usually by now the off shore bite is dominating however this year with the late spawn there are several quality bass still shallow. There are some fish on the points and there will be more showing up soon. Football jigs and 10 inch worms are working great out there. Bluffs have been working also throughout the lake. Plastic worms and shaky heads have been working the best there. For the shallow fish buzzbaits, topwaters, frogs, senkos, flukes are all working. The river bite has been the best. The lake is full right now helping a lot of the fish remain shallow. Catfish are going good with several blues being caught as they prepare to spawn. Crappie are also doing well as they have settled into their summer pattern.

May 16
The best bass fishing of the year is going on right now! Lots of bass are locked on beds and protecting their nests.
Topwaters, spinnerbaits, Berkley SickFish swimbaits, sinking worms, just about any lure is working right now. Look for protected pockets to find the spawning bass. Water temp has jumped into the low 70's. I caught a big 5 pounder yesterday on a frog.
Several areas have thick pollen collecting on the surface creating a mat of floating debris, throw your frog in that nasty stuff. It's a blast!

The crappie fishing is nothing like it was a few weeks ago. There is a few stragglers up shallow still but by and large they are small males.
There are a few groups here and there still spawning on the main lake. The key has been to keep covering water until you find them. Fish fast with a 2 inch Berkley grub on windy banks or points. You almost never fish fast for crappie so take advantage of it while you can.
Some fish are starting to show back up out deeper again.
My calendar is booked solid for the next two weeks, after that there is a few opening in June but not a lot. July is mostly open.
Fishing will remain good through the summer months however the heat/boat traffic will cause us to fish early in the morning and late in the evening. Overall people are surprised how productive our fishing is in the summer.
Many people think the spring and fall is the best but those seasons are consistently changing. Summer and winter are actually great fishing time. Late spring (like right now) is the best, and early fall is really good but before the turnover.

April 26
Quick report here: The crappie are going nuts, Get down here ASAP! The past few trips have been crazy good.
Anywhere from the Niangua's, Hurricane deck, Linn Creek, the TanTara area, Glaize, to the Lodge has been outstanding.
Only area not doing great is the dam area. That area will heat up with a little more sunshine, maybe by next weekend. Get down here and fill your freezer!

April 15
Sorry for the lack of fishing reports but I've got a good excuse, me and my wife had our first baby! A little baby girl has been taking up a lot of my time lately.
Fishing has been slow to warm up this year due to the cool weather the last couple of months. The lower end of the lake is still about 50 degrees with your typical winter patterns dominating like jerkbaits.
Alabama rigs doing well and still winning tournaments down there. The rest of the lake is warming into the upper 50's with some pretty stained water. Fishing went through a real tough spell more or less but is starting to get better.
A major shad kill has been going on that has negatively affected fishing for the last few weeks. Heavy current and muddy water also played a role in sub par fishing. Look for the peak of the spawn for bass and crappie to be in May this year.
While some bass and crappie are starting to move up to the banks this past weekend more unsettled weather is predicted this week and up coming Big Bass Bash.

Anyone looking to book a fishing trips April is already booked solid. May has several days available during the week.

February 22, 2013
Everyone interested in fishing Lake of the Ozarks needs to pay special attention to this year's Bass Master Classic. It's being held right now on Grand Lake in North Eastern Oklahoma.
Of all the lakes in the world Grand is the most similar to Lake of the Ozarks. The majority of Classic competitors are using jerkbaits which is a Lake of the Ozarks staple in the winter time.
Grand is a highland type of reservoir in the Ozark mountains with docks everywhere. It's water clarity is pretty similar to our lake and the water temperature is about 5-7 degrees warmer than our lake.
Jigs are another bait that is going to play a big role in the tournament. For those of you guys that are hard core tournament fisherman you should study everything you can about this tournament.
With all of the GPS tracking, media guys, and everything they are doing down there to show you some inside secrets of exactly where these guys are fishing. It'll be on TV next weekend but right now you can follow it on the internet. Ike is leading it so far, but it's really early.

Our lake hasn't changed to much lately. We started to warm things up only to have another strong front come in and cool things down again. T
he tournaments have been taking some absolutely staggering weights to win all winter. The guys have been bringing in bags of over 24 pounds to win for a while now, it's incredible! Alabama rigs, A-Rigs, Schooling Rigs, whatever you call them are catching some big fish. My most consistent bait has been the jerkbait still. I'm not catching 25lbs a day but I an doing just fine with the occasional big fish in the 5-6lb range along with a limit of bass most days.
Crappie are biting fine, some days are lights out if you've got some warm weather to pull them shallow. I've been fishing on the lower end of the lake, toll bridge, Lodge, mouth of the Gravois area. I've been shooting a lot of docks to catch some real quality slab crappie. It's a pretty cool technique, but be careful if you've never done it before because you can get a hook in your finger.

January 27, 2013
Water temp is about as low as it gets around here. I've seen skim ice a few times in large sections after some cold and calm nights. Lately I've spent a few days up around Hurricane Deck bridge to Purvis Creek on guide trips.
Both times we were able to put together nice buddy bass limits on Jerkbaits, primarily fishing steep rock banks inside of coves. Finding our fish in groups was the norm.
Some nice Kentucky bass one day; I think we had 4 Kentucky bass all around 3 pounds or more. The next day we had several solid Largemouth. Jerkbait colors changed because the sky conditions changed. Water temps were around 41.
Next I fished a few days down at Bagnel Dam, primarily fishing secondary points with wind and throwing a jerkbait. Water temps were around 44. I had one spot, a little secondary with brush below, I caught 4 good keepers on. The bass are really bunching up right now.
One of those bass was a really big fish. It came on a jig after I had fished it several times with a jerkbait. The water is very clear down there. The customers also wanted to concentrate on winter time Crappie fishing.
We caught about two dozen, mostly around docks, fishing slowly and vertically. It was hard to get bit fishing brush and they almost all came from docks. I have recently spent a few days on the lower Glaize.
We primarily crappie fished but also did chase some blue cats and caught a real nice one while drift fishing though some shad. There is a very large population of shad in this region, mostly around deep water and bluffs. We put my boat in at PB2 and never went too much past the 5mm or so of the Glaize.
The water temp in this area is very low and some shad are starting to die off. This is usually a good thing. Some of the schools of shad were large and even coming up to the surface.
Crappie fishing up there was fine but we never found a big group of them. The fish were on brush piles in deep water, typically around 20 feet or more if we could find it. Plus with the lake level dropping due to this time of year, deep brush is getting harder and harder to find.
We had 25 and could have finished our limits but got distracted fishing for those big winter blues. I recently hit two different warm water springs with two drastically different results. I fished Ha Ha Tonka with a customer with very few fish caught.
Water temp was all the way up to 56 degrees by the spring, and yet very little action. That area of the upper Niangua is very shallow and the fish are usually either on or off and they where off that day. The other spring I took a customer to was very much "on"! We boated several nice smallmouth on jerkbaits and jigs. I estimate we landed almost 30 bass that day with about 6 of them above 16 inches.
Fishing is best there when the weather is cold; the colder the better. It condenses the fish more to be right by the spring. This is special spot that I can't divulge on the internet. Yesterday I went out fishing by myself around the Lodge of Four Seasons area. I struggled for a while but worked at it and finally put together a nice day. Found a big pile of crappie suspended around this dock and I limited very quickly with some real slabs! I was using a 3 inch crappie bait which has a pretty slow fall with a 1/16 oz jig (which is lighter than what I normally use).
The water clarity is pretty dingy on the main lake but once I figured out that the big coves had some clearer water then that is where I concentrated my efforts. I also caught an absolute HOG bass on an Berkley Schooling Rig with 4 inch Hollow Bellies. (see pic below) Winter time has a unique set of challenges. It's a puzzle that some days even I don't figure out.
There are some days when the challenges met and the rewards are even greater! When you put together a pattern during the coldest month of the year you've done something that most fisherman can't do. Give me a call if you're up for a real challenge. There are several days available with high temps that are very tolerable to any fisherman.

____________________________________________