Death Valley Feb. 21-22, 2010
It is 102 miles between Death Valley, CA and Las Vegas, NV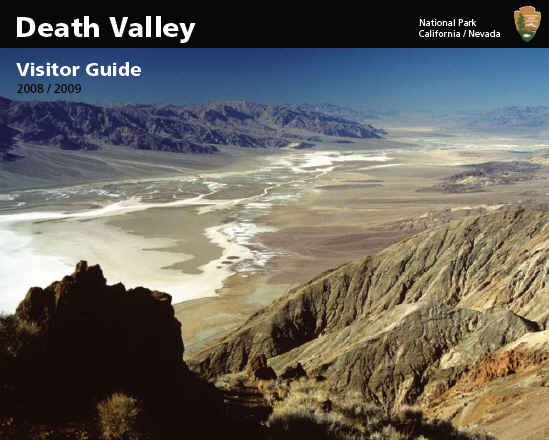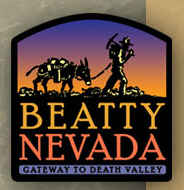 Beatty is located about 115 miles north of Las Vegas on US Highway 95 at the junction of US Highway 95 and State Route 374.
Beatty is the Eastern Gateway to Death Valley National Park. Furnace Creek is only 33 miles from Beatty on SR 374.
RHYOLITE—(four miles West of Beatty on Hwy 374)
mosaic canyon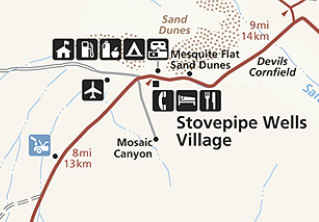 Furnace creek - devils golf course - Dante's View - Borax - Artists Drive - Zabriskie Point (Badlands)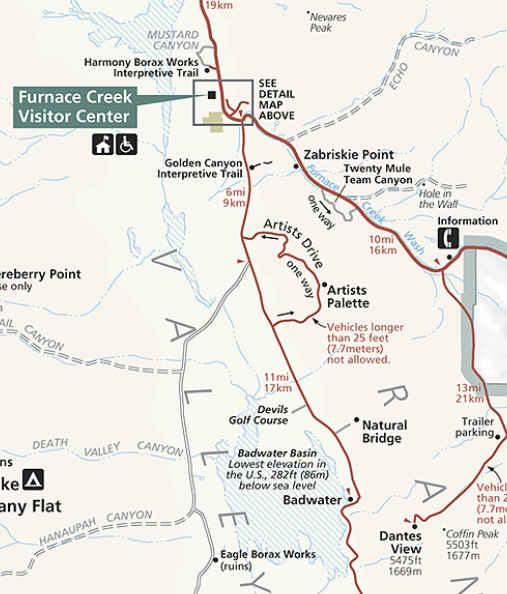 badlands
Death Valley geology field trip
Zabriskie Point
Looking out from Zabriskie Point, you are surrounded by yet another of Death Valley's forbidding, almost unearthly,
desert landscapes. These are badlands. Everywhere you look, you see bone-dry, finely-sculpted, golden brown rock.
Only the sparsest vegetation can survive in this intricately carved terrain.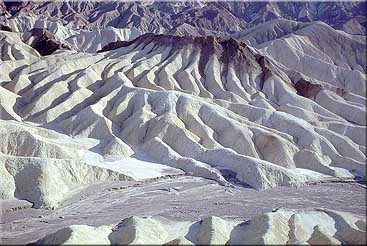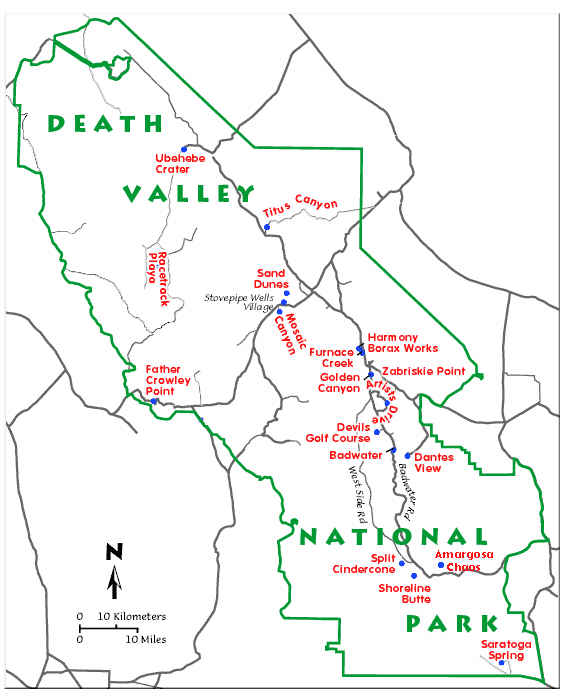 Scotty's Castle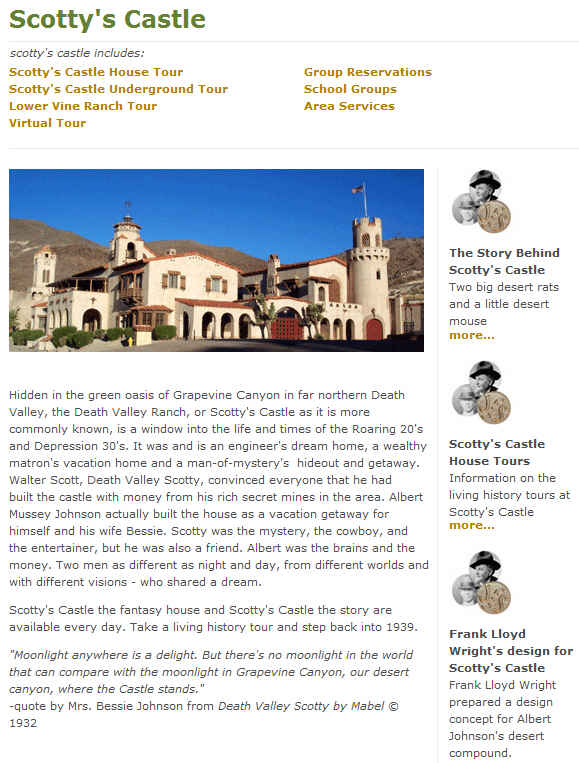 the racetrack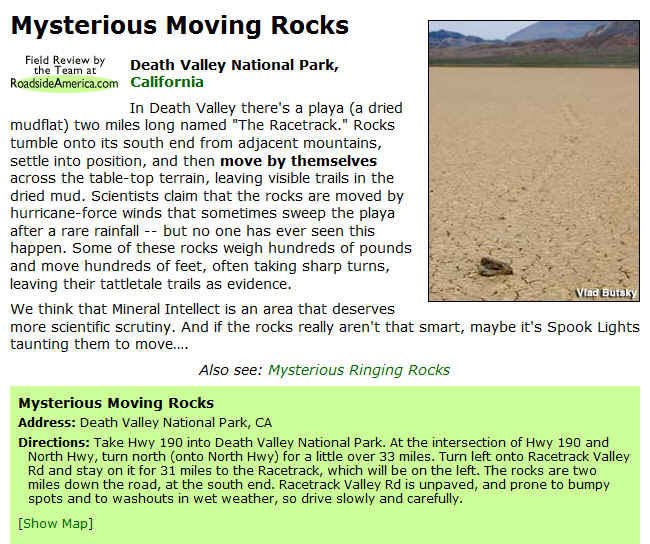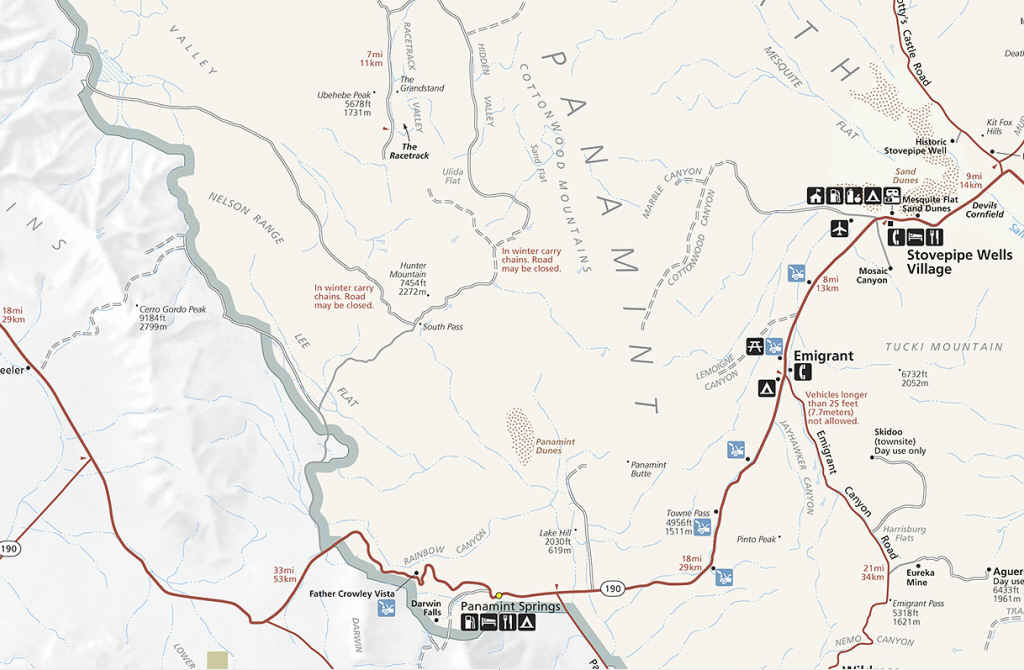 Ubehebe Crater
Over a dozen volcanoes dot the landscape of Ubehebe volcanic field. Ubehebe Crater is the largest and
youngest volcanic feature, Little Hebe crater is at lower right.
At the edge of Ubehebe Crater, you'll be greeted by an eerie, surreal landscape. All is quiet now,
but imagine yourself transported to a time just over two thousand years ago...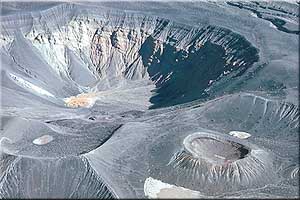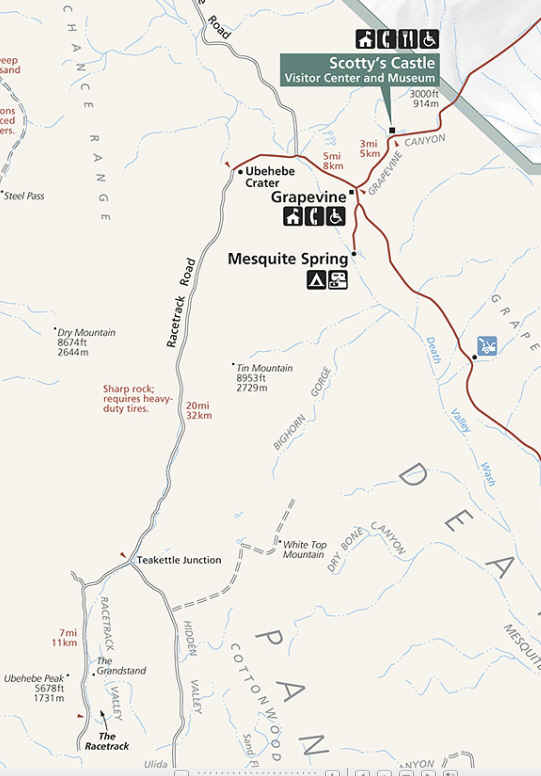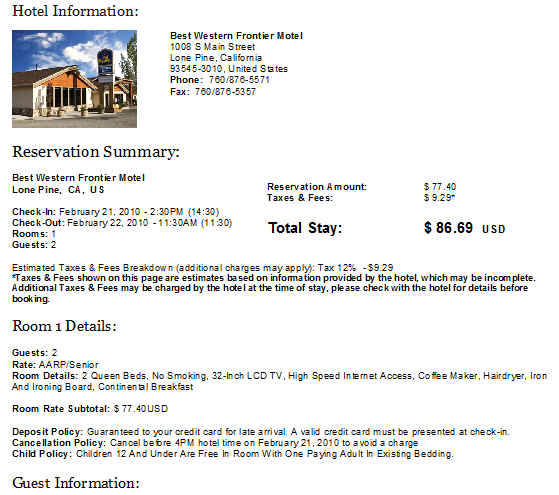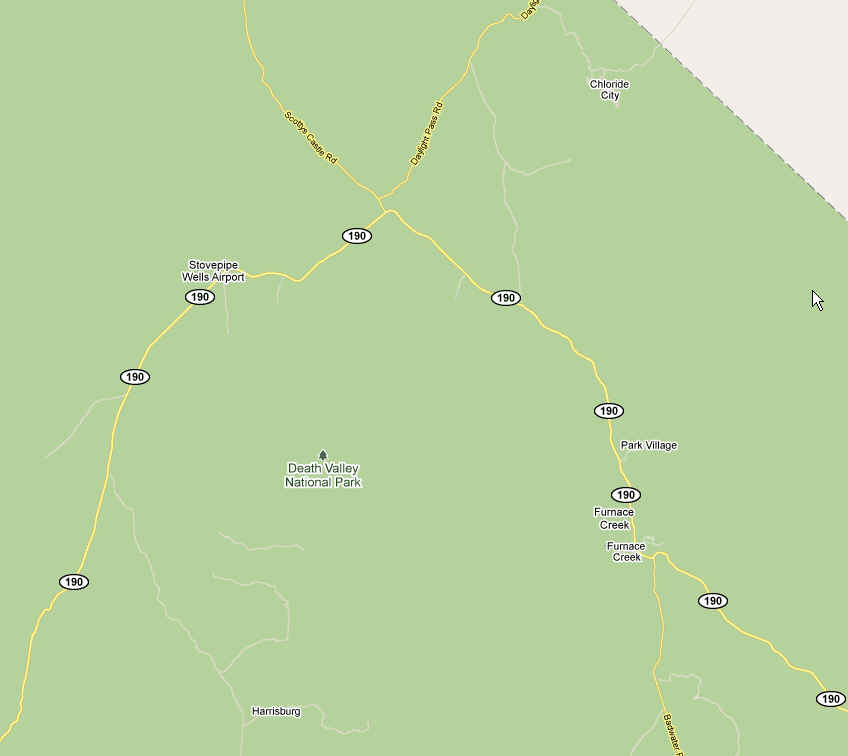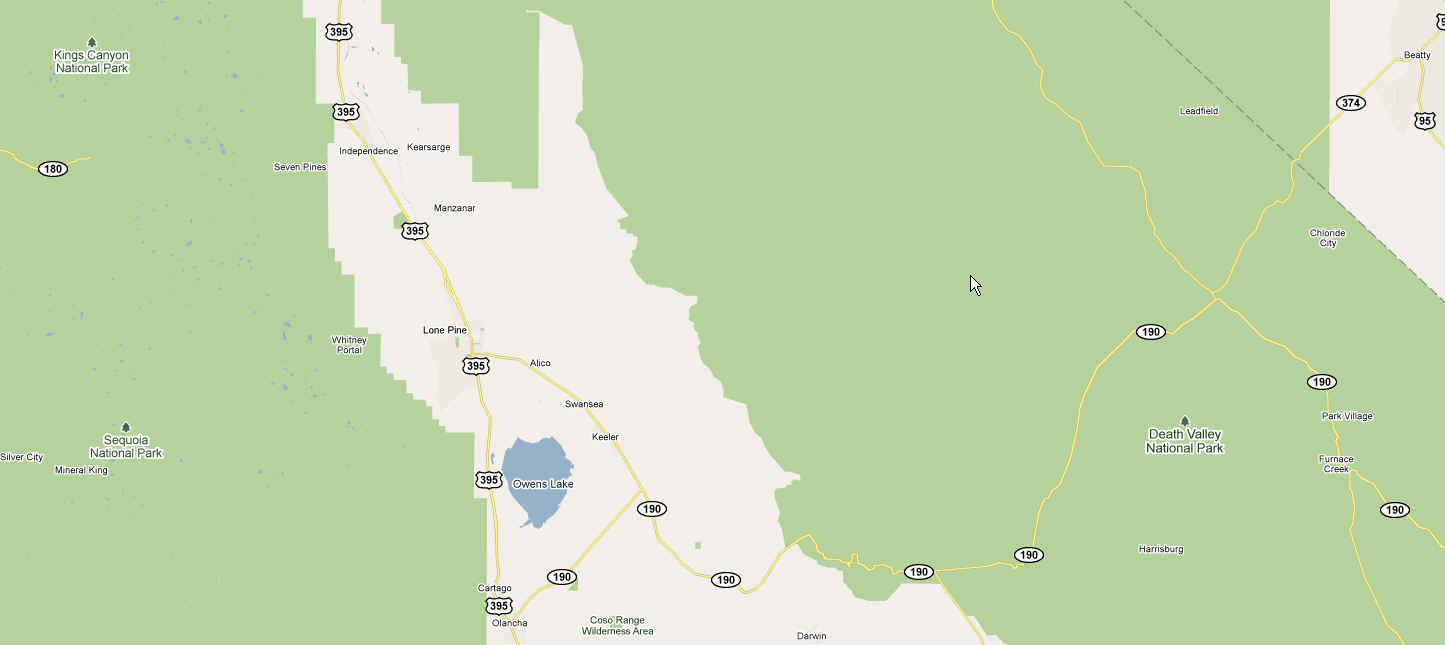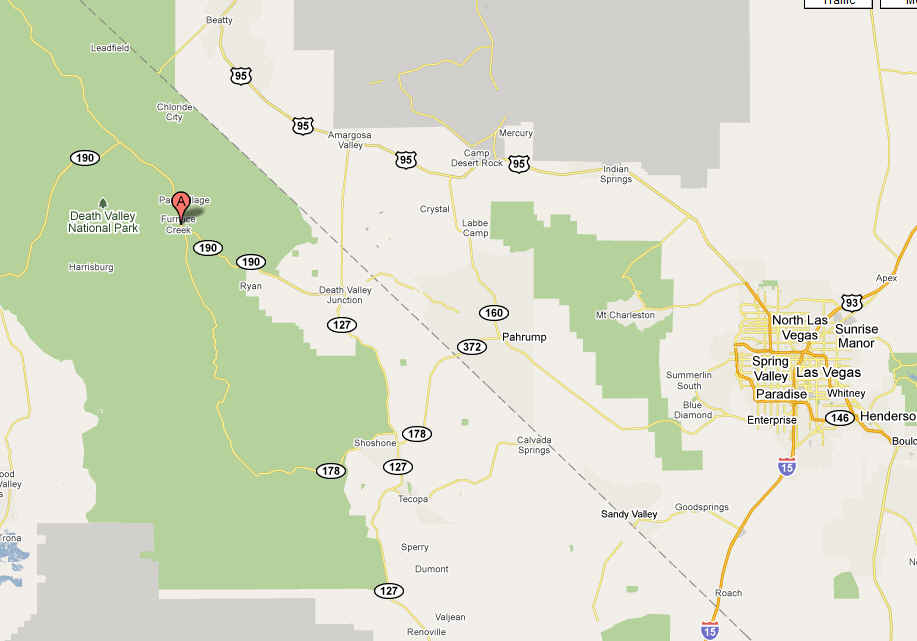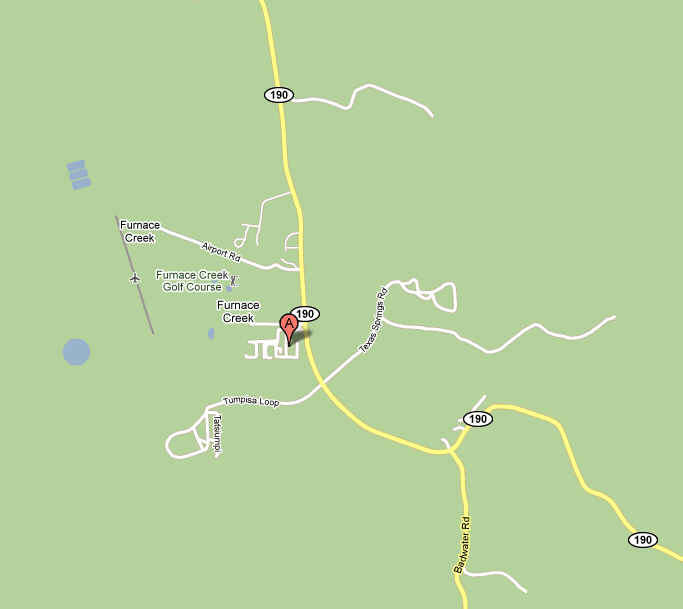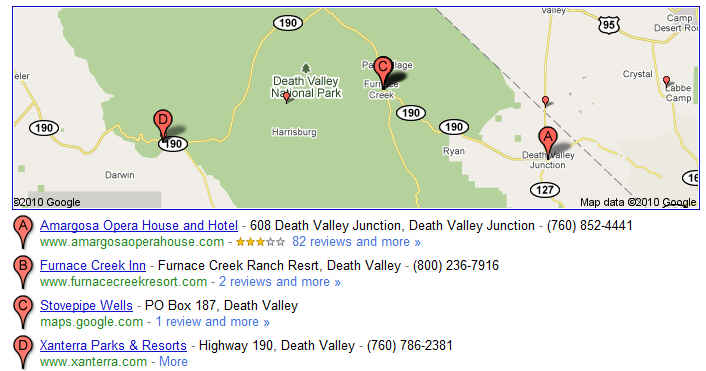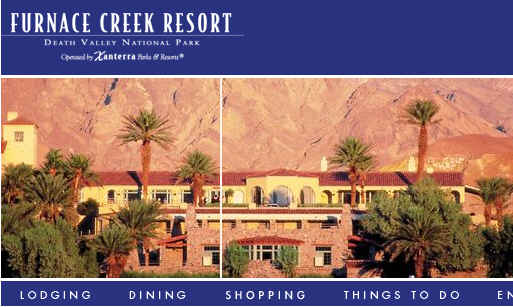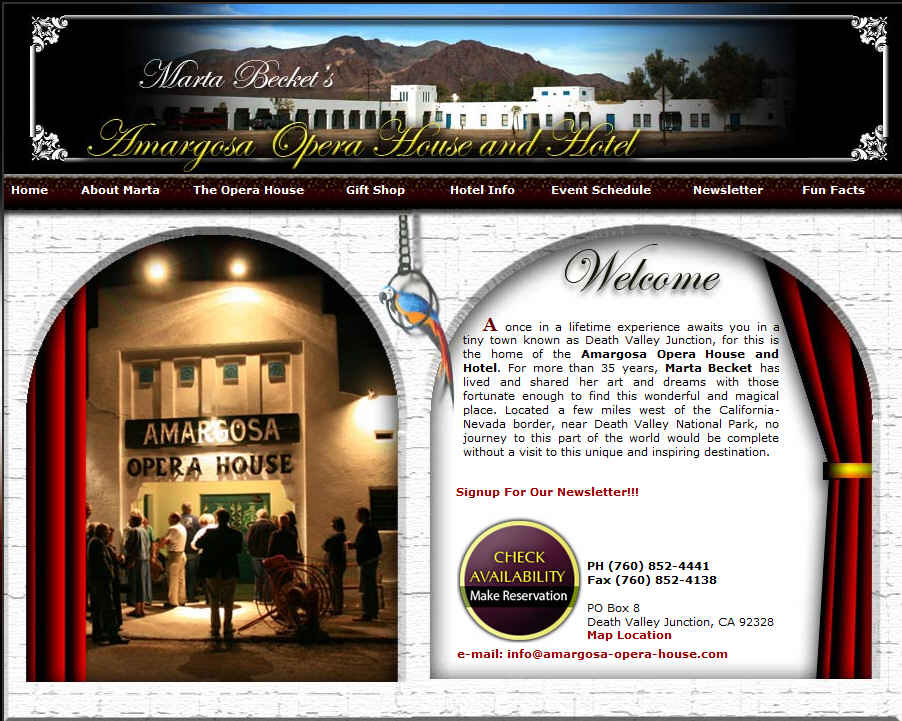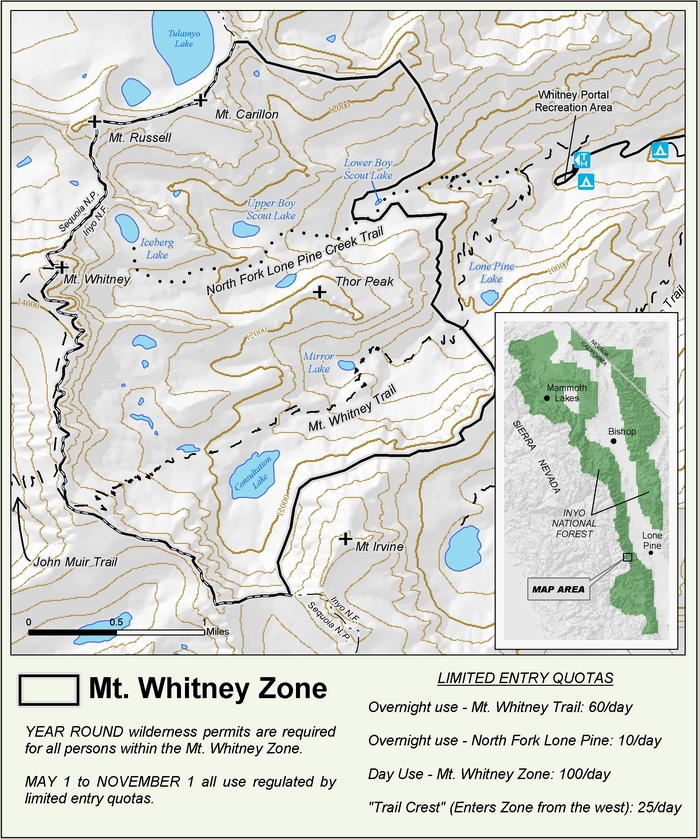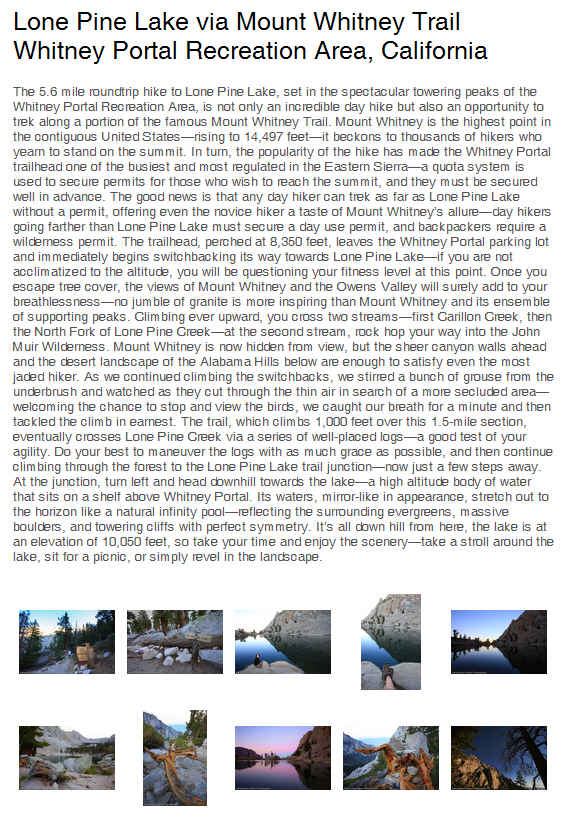 Mobius Arch - The Arch that frames Mt. Whitney

Page Type: Route
Route Type: Hiking, Bouldering
Season: Spring, Summer, Fall, Winter
Time Required: Less than two hours
Difficulty: Easy/Moderate walk

Overview
This is an easy to moderate walk to a beautiful natural stone arch that frames
Mt. Whitney (or Lone Pine Peak, depending on your angle of view). I would just
say it's an easy walk, but since it is an unmarked trail and starts by
descending somewhat steeply into a wash, I'll rate it as easy/moderate. It's
about 1/4 mile to the arch. This is perhaps the best known and easiest to reach
of the 12 or so arches of the Alabama Hills. It measures about 17 feet wide by 6
feet high.
Getting There
From the stoplight in Lone Pine drive 2.5 miles west on Whitney Portal Road.
Turn right on Movie Flat road and go approximately 2 miles to where the road
forks. Take the right fork to a small turn around parking area. Park here then
follow the use trail heading down into the wash. Head north out of the wash and
walk north along the use trail. You'll go perhaps 1/6 of a mile and all the
while keep your eye out for the arch. It is not huge and may be easy to miss!
There is a smaller arch just a few feet to the west of it. Also from the parking
area looking east you can see a heart shaped arch in the distance.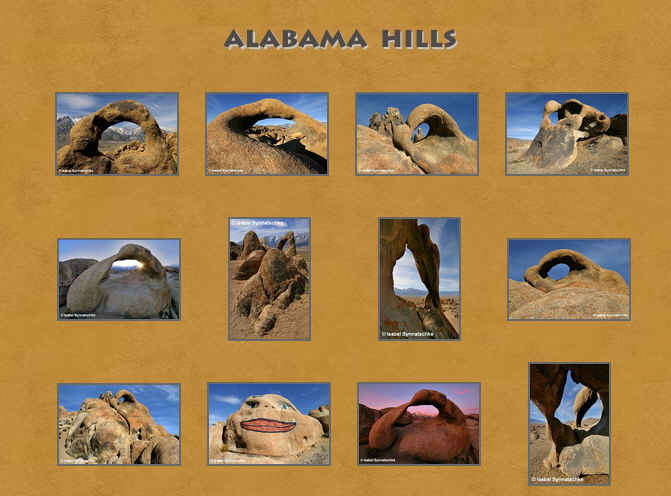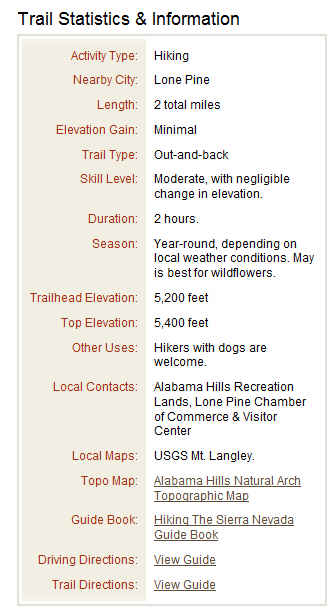 Depending on what time you begin your hike to Lone Pine Lake, be sure to fit in
an excursion either before or after your hike, to the Alabama Hills—that jumble
of golden boulders that you drove through as you made your way up the Whitney
Portal Road. Hidden within the hills are numerous arches that provide the
perfect frame for photographs of the Sierra peaks—our favorites are Mobius and
Lathe Arch. See our description for detailed info and GPS coordinates.

Alabama Hills are a rocky formation on the eastern slope of the Sierra Nevada
mountains in the Owens Valley of California, near Lone Pine, California. Though
geographically considered a range of hills, geologically they are a part of the
Sierra Nevada mountains.

Managed by the U.S. Bureau of Land Management as the Alabama Hills Recreation
Area, they are protected. The rounded contours of the Alabamas contrast with the
sharp ridges of the Sierra Nevada to the west. Though this might suggest that
they formed from a different orogeny, the Alabamas are the same age as the
nearby Sierras[citation needed]. The difference in wear can be accounted for by
different patterns of erosion.

Mount Whitney, the tallest mountain in the contiguous United States, towers
several thousand feet above this low range, which itself is 1,500 feet (460 m)
above the floor of Owens Valley. However, gravity surveys indicate that the
Owens Valley is filled with about 10,000 feet (3,000 m) of sediment and that the
Alabamas are the tip of a very steep escarpment. This feature may have been
created by many earthquakes similar to the 1872 Lone Pine earthquake which, in a
single event, caused a vertical displacement of 15–20 feet.

There are two main types of rock exposed at Alabama Hills. One is an orange,
drab weathered metamorphosed volcanic rock that is 150-200 million years old.
The other type of rock exposed here is 90 million year old granite which
weathers to potato-shaped large boulders, many of which stand on end due to
spheroidal weathering acting on many nearly vertical joints in the rock.

Dozens of natural arches are among the main attractions at the Alabama Hills.
They can be accessed by short hikes from the Whitney Portal Road, the Movie Flat
Road and the Horseshoe Meadows Road. Among the notable features of the area are:
Mobius Arch, Lathe Arch, the Eye of Alabama and Whitney Portal Arch.


Alabama Hills Natural Arch
Lone Pine California Hikes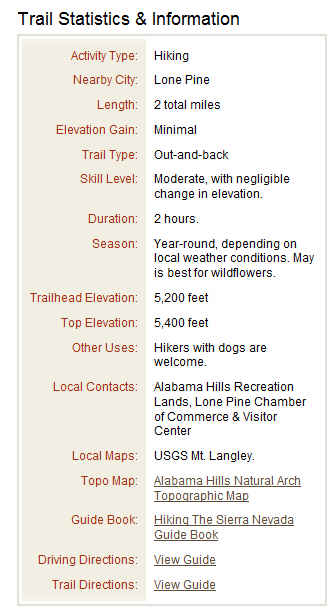 Lone Pine Town Area - 1 hour to 1/2 Day. Approx. 3 miles
Adobe Wall Remnant (In the alley behind La Florista florist shop on Main St.). The only remaining wall from the
pre-1870 town destroyed in an earthquake.

Movie Star Signatures (Inside the Indian Trading Post on Main St.).
When they were in town for location filming,
dozens of actors carved their names in the shop's front door frame.
Lone Pine Park (on Main Street) has an inviting streamside picnic area and a wonderful playground.
Old Cemeteries from early Owens Valley days are located on West Inyo Street (on the Paiute Indian Reservation),
on Depot Road and Lone Pine Cemetery on Highway 395 north of town.
Owens River (east 1/4 mile), warm water fishery all year, native flora and fauna including tule elk reserve and grazing areas.
Cruising the Lakes - 1 hour to 1/2 Day. Approx. 3 miles
The Interagency Visitor Center (1 1/2 miles south of Lone Pine at the junction of Highways 395 and 136 -- a must stop).
Provides information about Sierra Lakes and seasonal road and trail conditions and offers displays, maps and books
about the Owens Valley and the Eastern Sierra.
Mount Whitney Golf Club (south 1/4 mile). A relaxing pond lies near the first tee of this scenic 9-hole golf course.
Diaz Lake (south 1 mile). Offers fishing, boating, water sports and camping. It also has picnic and playground areas.
Owens Dry Lake (2 miles south). Called "Pacheta" by local Paiute Indians, a vast dry lakebed over which steamships
once hauled bullion bars, now one of the worlds largest deposits of sodium silicates
Owens Lake Ponds (approx. 6 miles south, turn east toward dry lake). Freshwater springs excellent for bird watching in season.
Alabama Hills Rambles - 1 hour to 1/2 Day. Approx. 17 miles.
Movie Road (Northern Loop -- 2 1/2 miles west of Lone Pine, turn north at street sign). Flanked by a spectacular, low range
or weathered, rocky hills named the Alabama Hills after a Civil War Battleship, with a striking desert flower display in the spring.
Movie Plaque (corner of Movie and Whitney Portal roads). Commemorating the many movies filmed in the nearby hills.
Roy Rogers Movie Flats (north 1/4 mile. A photogenic area where hundreds of westerns and other movies were filmed.
Lone Ranger Canyon (north 1/4 mile, turn east). Another of the area's many popular movie location sites, where scenes for
the Lone Ranger were filmed.
Moonscape Views (2 1/4 miles north - Southern Loop)
Gunga Din Canyon (turn south on Horseshoe Meadow Road, 1 mile). The classic 1939 film used locations in the first canyon
to the east for filming.
Tuttle Creek (south 3 miles). A campground and fishing spot (during season).
The Needles Formation (2 miles southeast), a sharp spine of rocks north of the housing area.
Tuttle Creek Canyon Road, a scenic paved road leading down the canyon back to Lone Pine.
Sierra High Mountain Tours - Not accessible in Winter. 2 hours to 1/2 day min., approx. 40 miles.
Whitney Route.
Lone Pine Creek Canyon and Camps (from 1/2 mile west of lone Pine to 12 miles up into the Sierra). Campgrounds, excellent
rainbow trout fishing during the season.
Whitney Portals. Panoramic views and granite cliffs at the 8360 foot high trailhead into the backcountry and John Muir Trail.
At the road end are a fishing pond and stream surrounded by pines, nearby waterfalls, campground, and during the summer, a cafe/store.
Mt. Whitney at 14.496 feet is the highest point in the contiguous U.S.
Golden Trout Route
Horseshoe Meadow (21 miles up, an hours drive to the road end). A scenic drive to 8,700 foot high summer fishing streams,
campgrounds, a pack station and trailhead to the Cottonwood Lakes source of native golden trout, also a world record launch
for hang gliders at Walt's point.
Village Visits Loop - 1 hour to 1/2 Day, approx. 52 miles
The Charcoal Kilns (about 15 miles south of Line Pine, turn east at marker toward the dry lake). The kilns were used in the 1870's
to supply charcoal to the surrounding mines.
Cartago (south 7 1/2 miles) was once the site of a steamship dock and station for teamsters hauling bullion from the Cerro Gordo
silver mines, Owens Lake.
Olancha (south 3 miles). Before the 1870's was a supply depot form Owens Valley settlers. Note the row of cottonwood trees
sprouted form early fence posts lining the highway in town.
Sand Dunes and Dirty Sox Springs (east 3 miles). Features fossil bed areas, hot springs where Cerro Gordo miners once bathed
and an old cemetery and caves from an early settlement of Chinese mineworkers.
Keeler miners and the "end of the Line"depot for the Carson and Colorado narrow gauge railroad.
Swansea Smelter Historical Marker (north 6 miles). Marks the adobe remnants of a Cerro Gordo silver smelter, once also an
overnight stage stop.
Cerro Gordo Mine. Private tours can be arranged.
Desert Rats Winter Tour - 1 Day. Approx. 140 miles round trip.
Recommended for 4 wheel drive vehicles and hearty hikers only. Carry plenty of water and take food.
Darwin (40 miles southwest of Lone Pine plus 6 miles off the main road). An old desert mining town, still populated, with mill
ruins and tailings.
China Garden Spring (12 miles east below town walk 1/8 mile east, continue along the creek from China Garden Spring, hike
or climb down the rugged canyon). The springs are the community water source, and a surprising fresh water oasis in the desert
area. The 20 foot ribbon falls may be reached from below the wash. (Note: from here you can 4-wheel down Darwin Wash for
6.5 miles to Highway 190 or backtrack to 190 via Darwin and continue east)
Panamint Springs Resort (17 miles from Darwin turnoff). A last green stop for food, lodging and fuel en route to Death Valley National Park.
Father Crowley Point Monument (7 1/2 miles west on 190). A plaque marks a beautiful deep desert canyon on the pass.
Independence / Manzanar - 2 hours to 1/2 Day. Approx. 27 miles.
Tule Elk Viewing Area (5 1/2 miles north). Certain periods during the year tule elk graze in an area near the highway.
Manzanar Gate (2 miles north) Originally an orchard and farm during W.W.II became a relocation camp for Japanese Americans.
Winnedumah Rock View (just south of Independence). The stone "Maiden" of Paiute legend is visible in a low pass in the Inyo
Mountains to the east.
Eastern California Museum (in Independence, two blocks west of Main St.). Established in 1928, displays a reconstructed ghost
town, pioneer history, Indian artifacts, ranching and mining equipment and nature and Manzanar displays.
The Inyo County Courthouse (center of Independence). Classical styling, wit h gardens highlighted by tufa rock, many imported tree specimens.
The Slim Princess Train Engine (at Dehy Park, Main St.). Rode the narrow gauge tracks through the Owens Valley and into Nevada.
Other Historical Buildings in Independence include:
The Commander's House from Fort Independence.
Pioneer Memorial Church, build in 1886
Mary Austin's House (author)
Mount Whitney Fish Hatchery (2 miles north of town, turn west for 1/2 mile). A handsome three-story building make with native stone
with a year round picnic and garden area and fish ponds, a million and a half hatchable trout were once raised here each year.
Fort Independence Ruins (opposite the fish hatchery turnoff) from the fort used during the 1800's Indian Wars
Independence Creek and Onion Valley Canyon (return to Independence, west about 12 miles up the creek road end). Offers c
ampgrounds near and 8,500 foot high meadow, creek fishing during the season, and trail hiking past pines, wild flowers and waterfalls.