Barcelona, Spain
March 29 (Thursday) - Arrive in Barcelona
May 31 (Saturday) - Leave Barcelona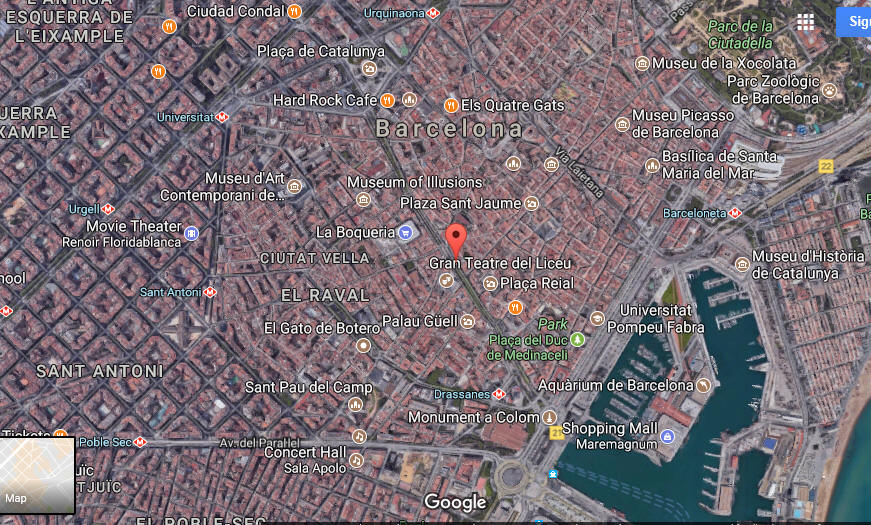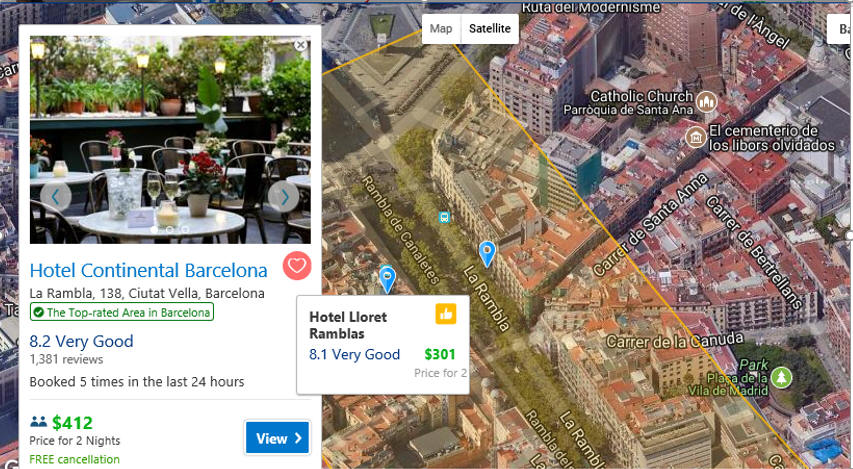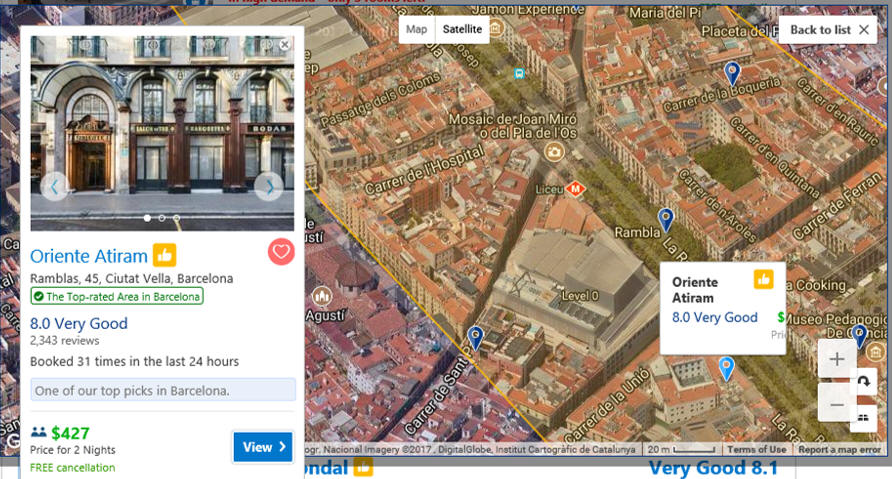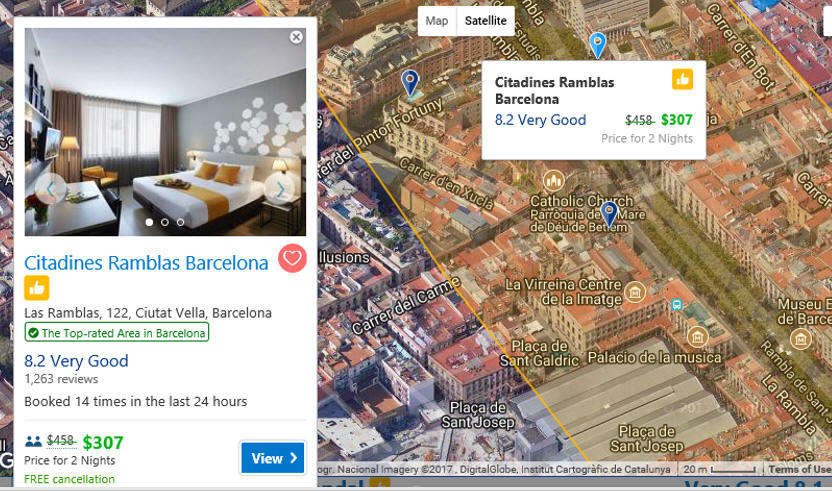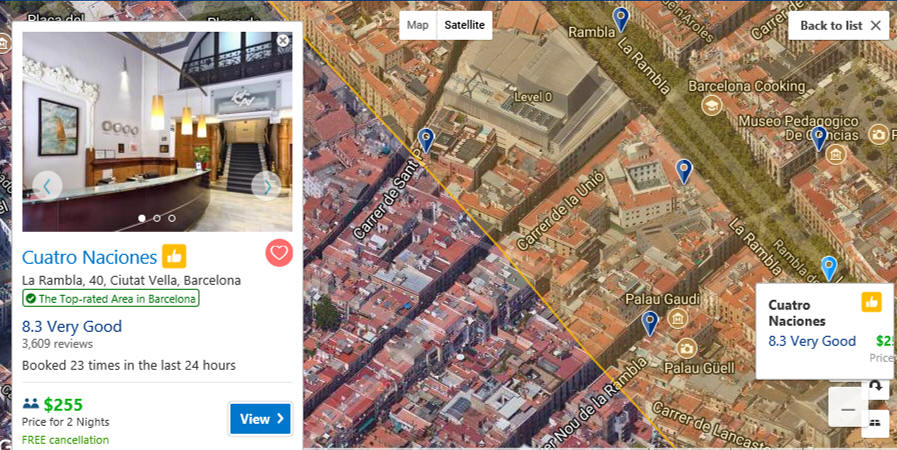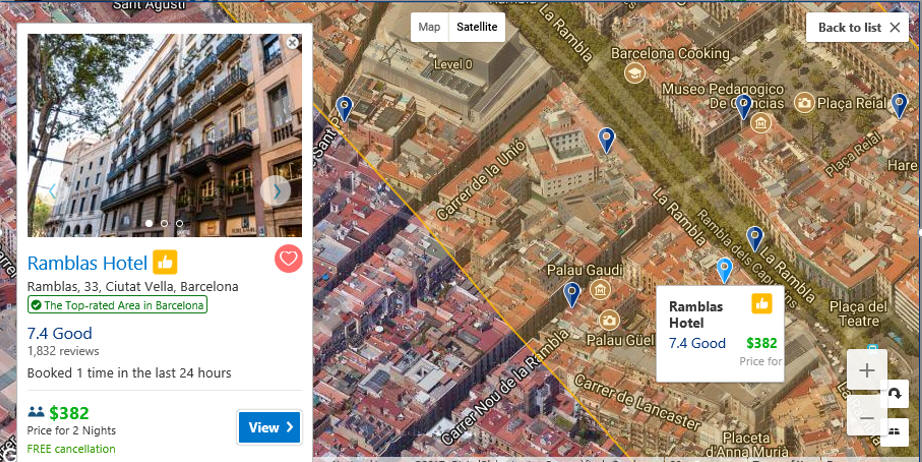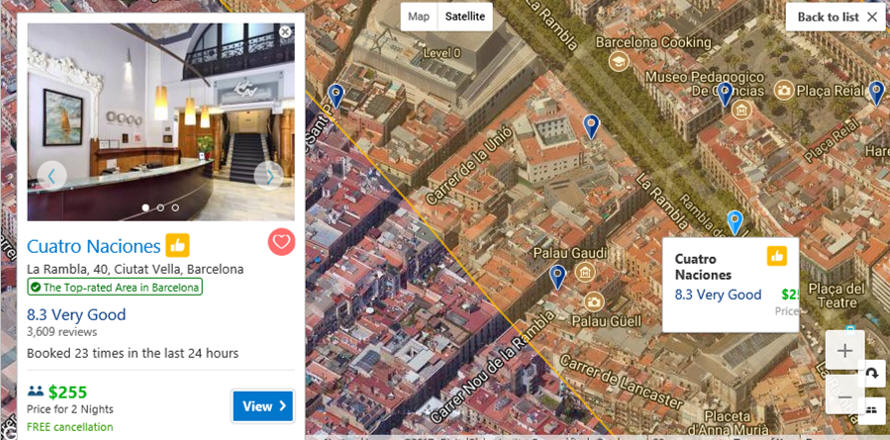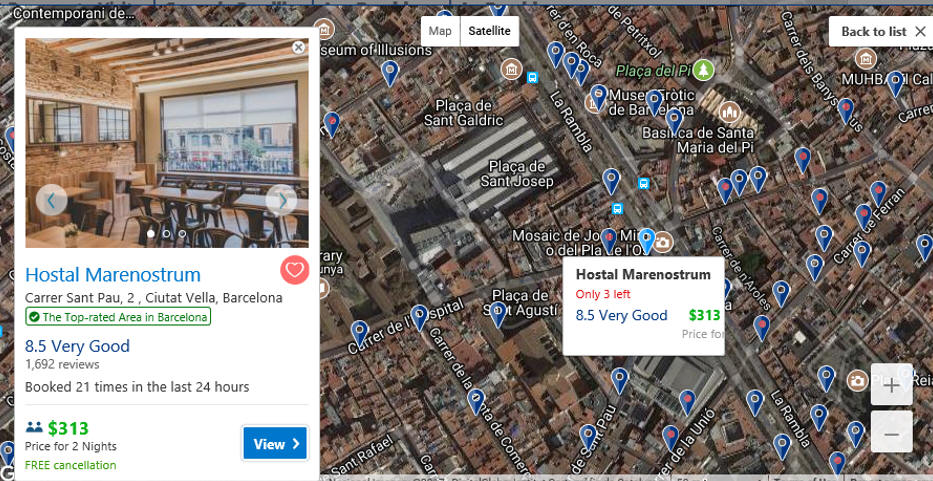 #1 Sheraton Le Meredien is on Las Ramblas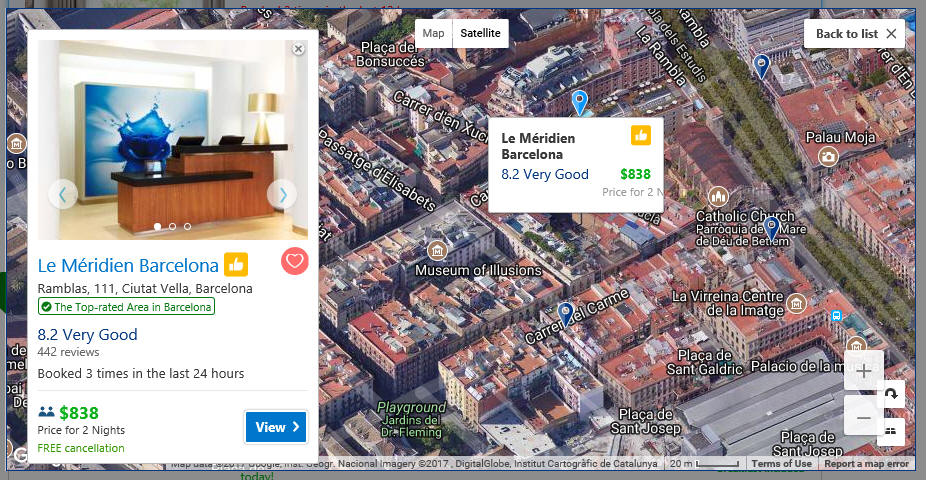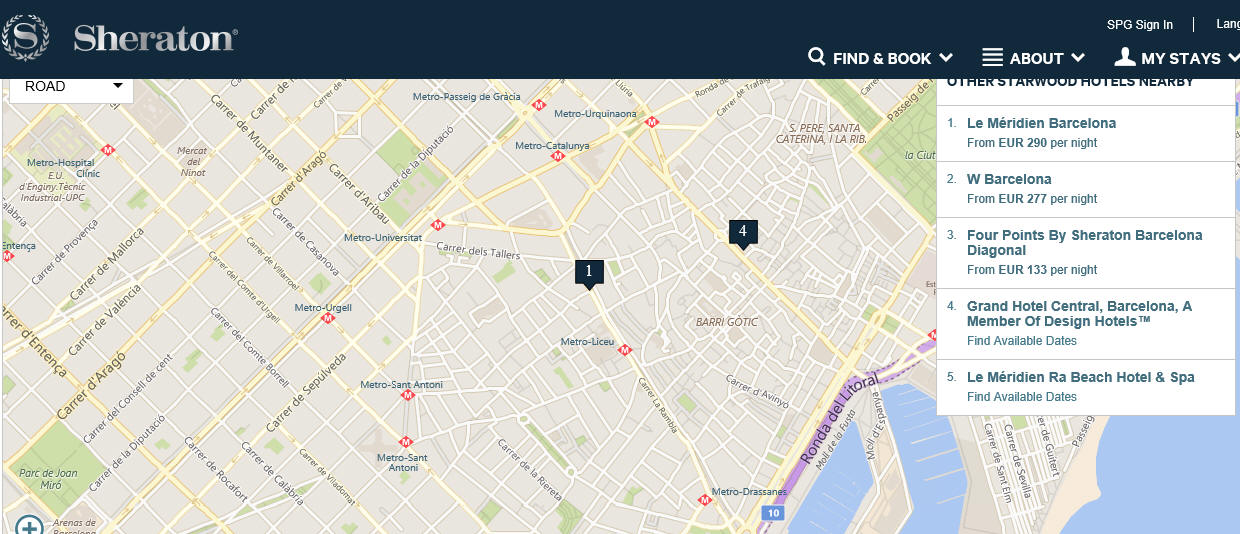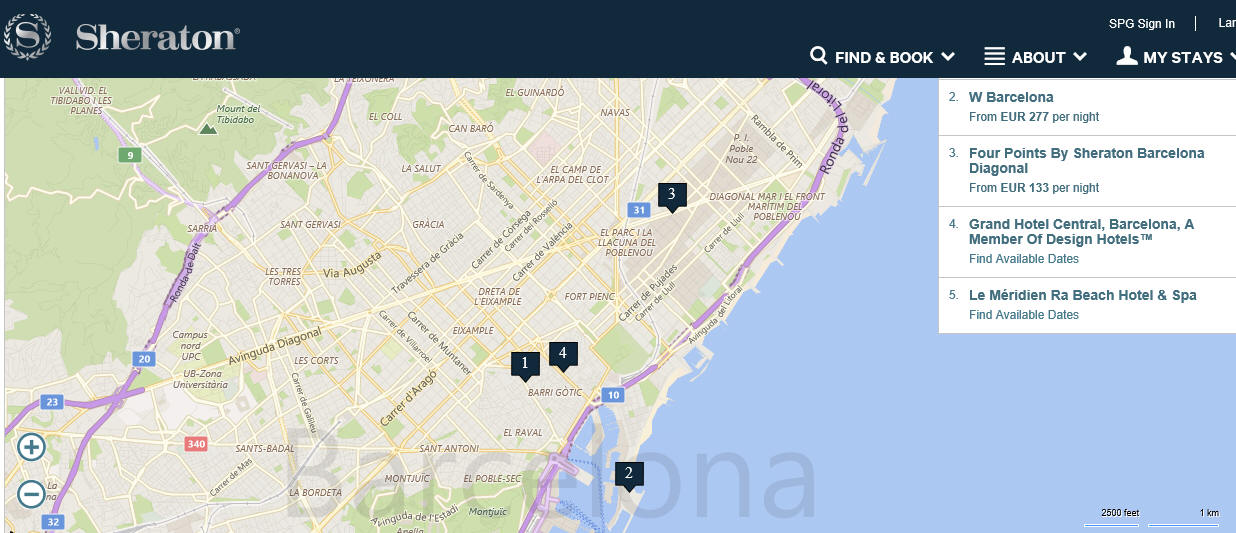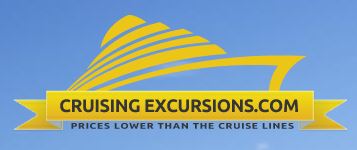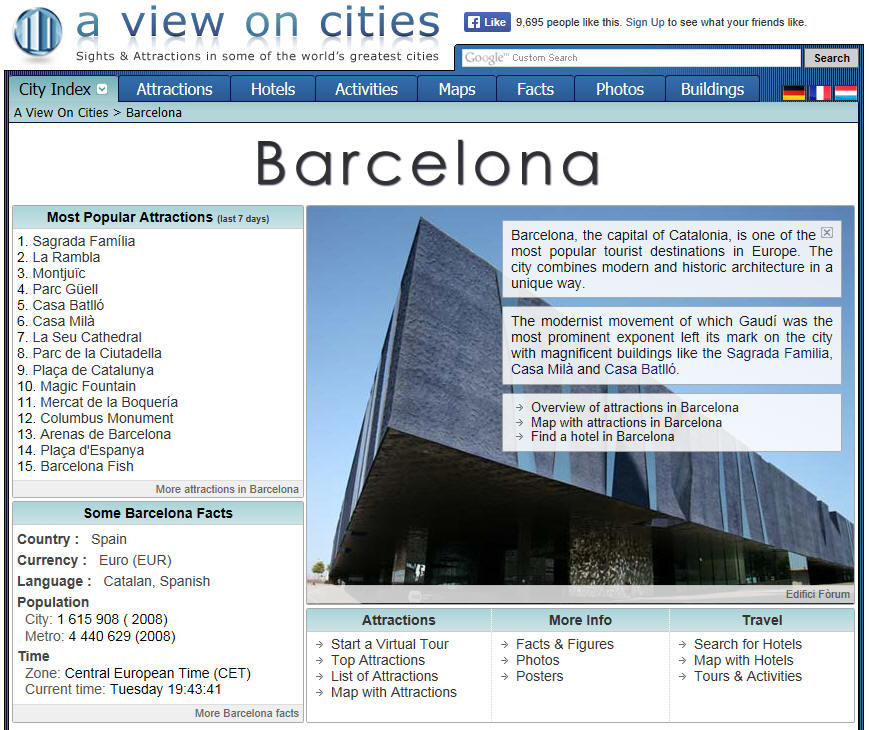 RCL Excursions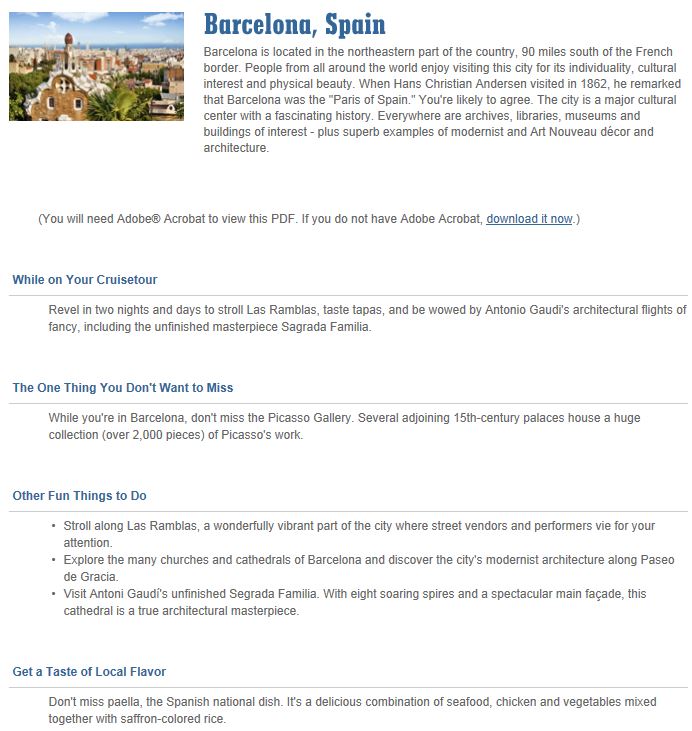 Room Booked for May 17 - Hesperia Ramblas
The Hesperia Ramblas hotel in Barcelona boasts an unsurpassable location, just a few meters from Barcelona's Ramblas and right next to the famous Boqueria market in the heart of the Old City. Its modern facilities and stylish décor make it the perfect place to relax after a hard day discovering this fascinating and seductive city.

You will find sites such as the Gothic Quarter, the Port, the Cathedral and Plaça Catalunya just a short walk away from the Hesperia Ramblas hotel, and the rest of the city within easy reach thanks to the Liceu Metro station, only a few meters from the door. All in all, we believe we have everything needed to satisfy all our guests' needs, from the convenience and functionality of our hotel to a superb location, not forgetting the attention to detail and the friendly service of our staff at the Hesperia Ramblas hotel.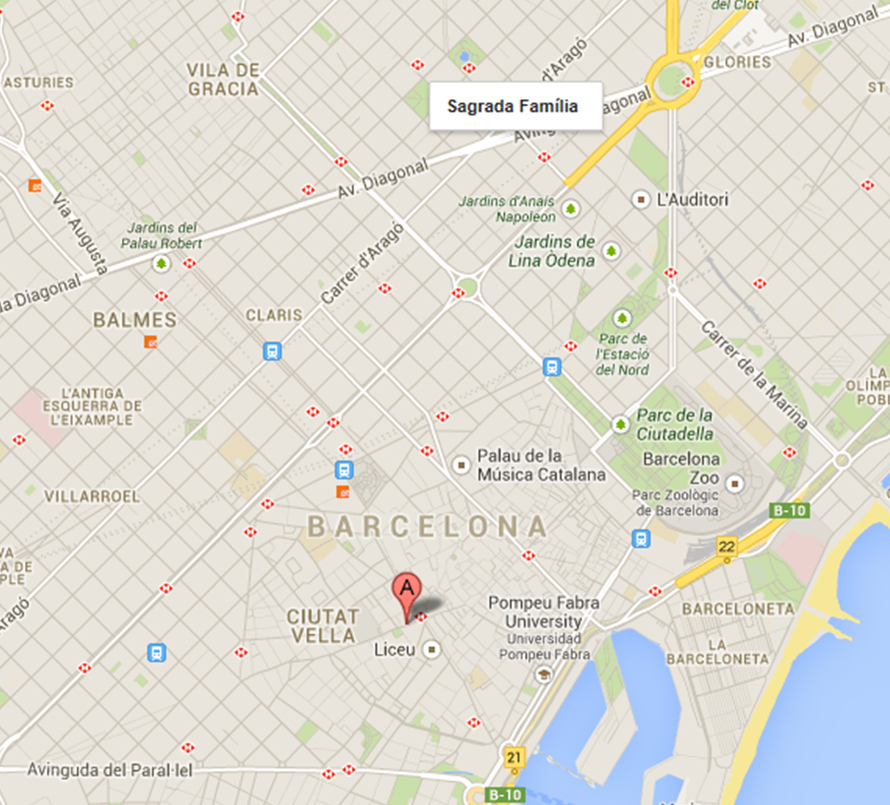 Hesperia Ramblas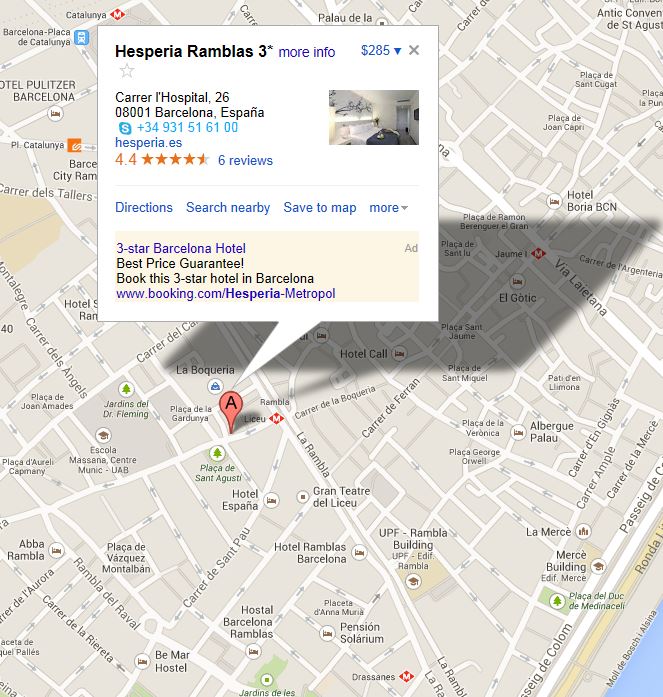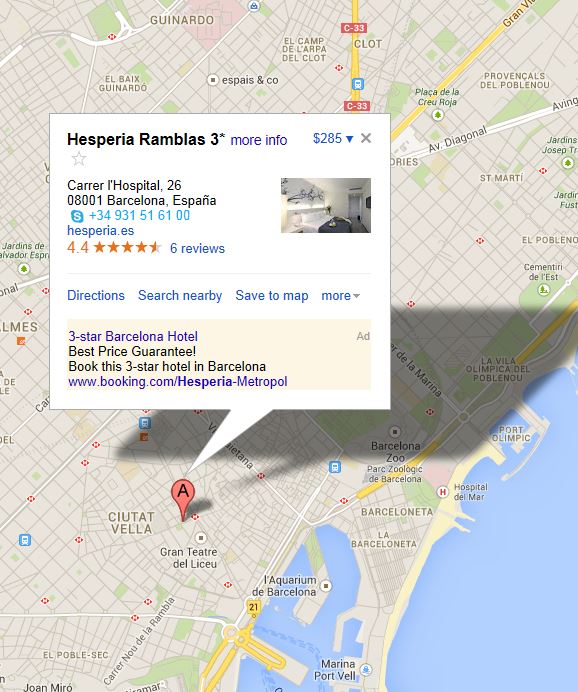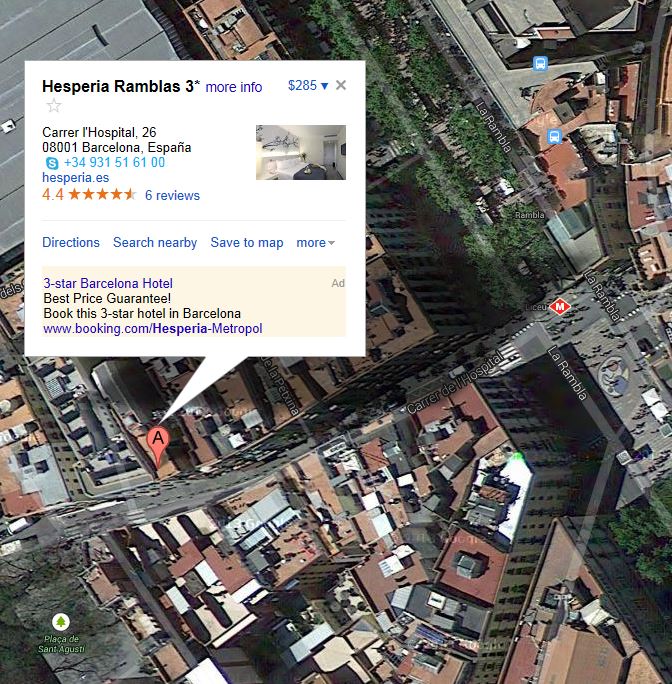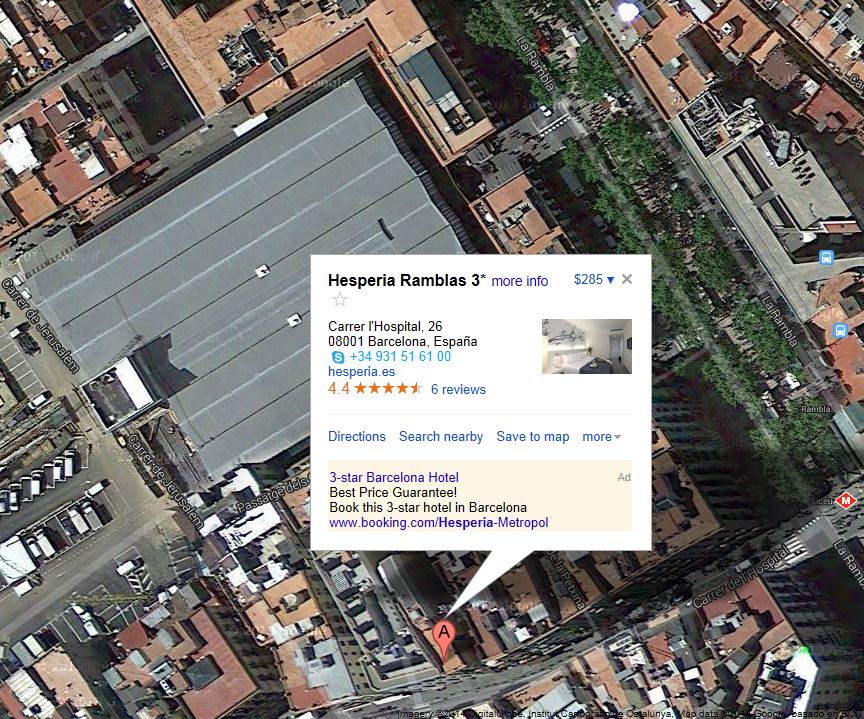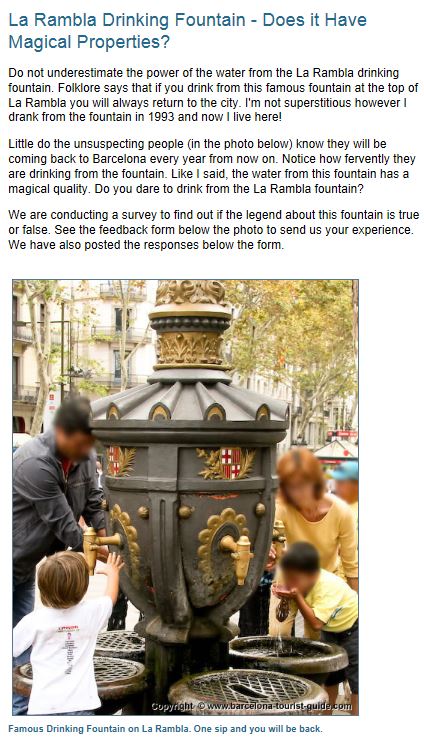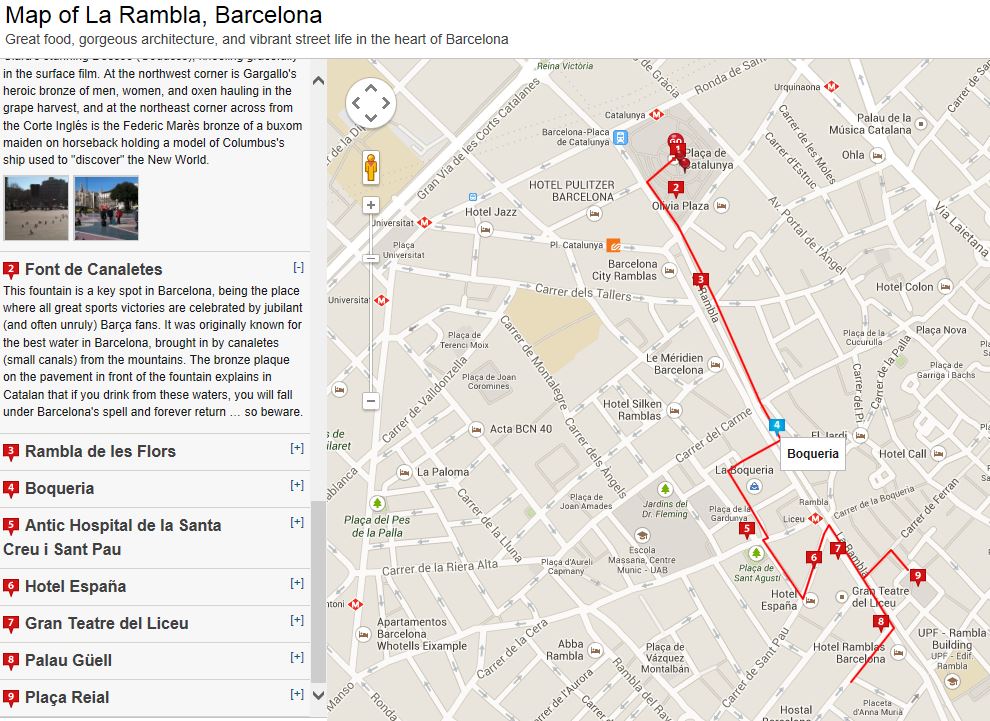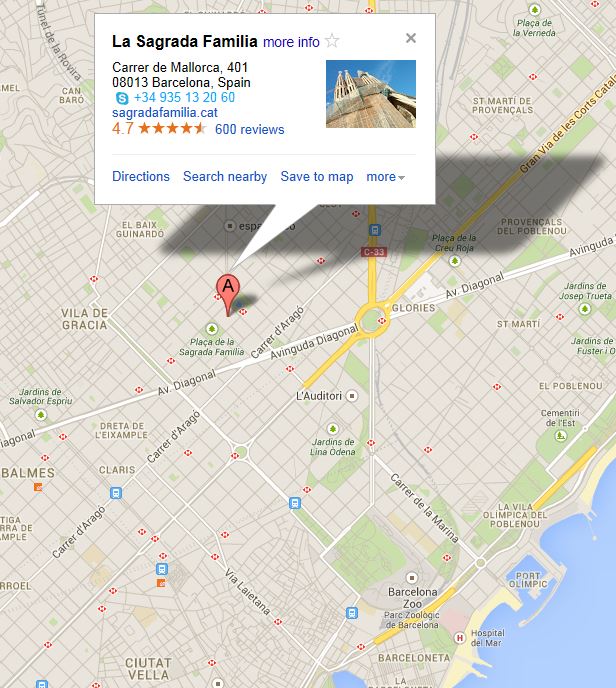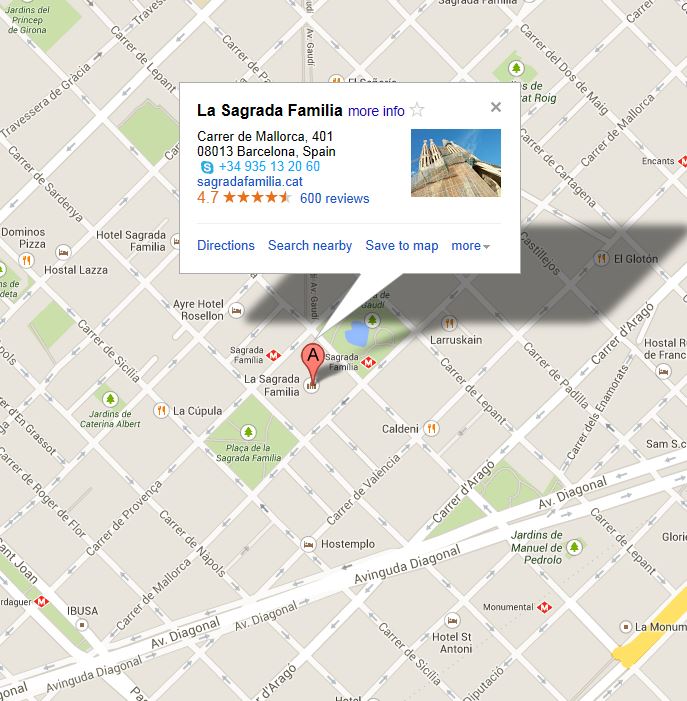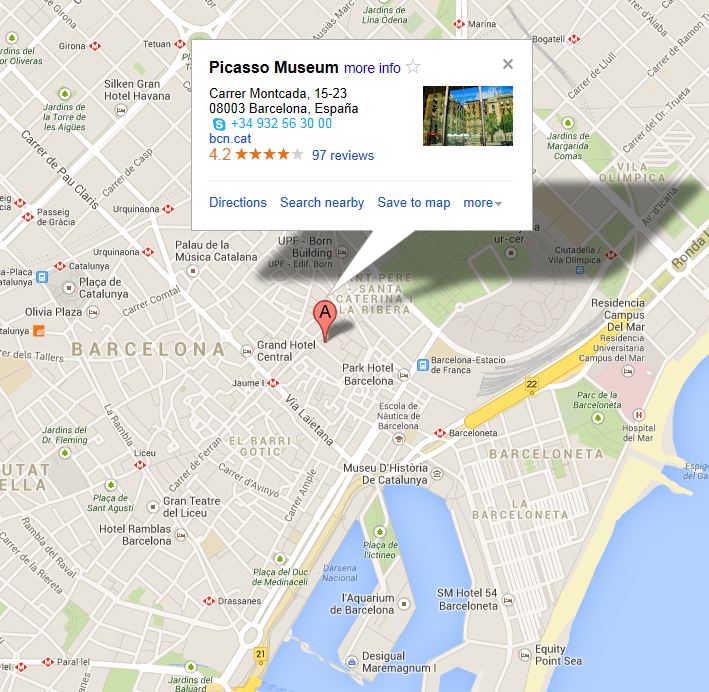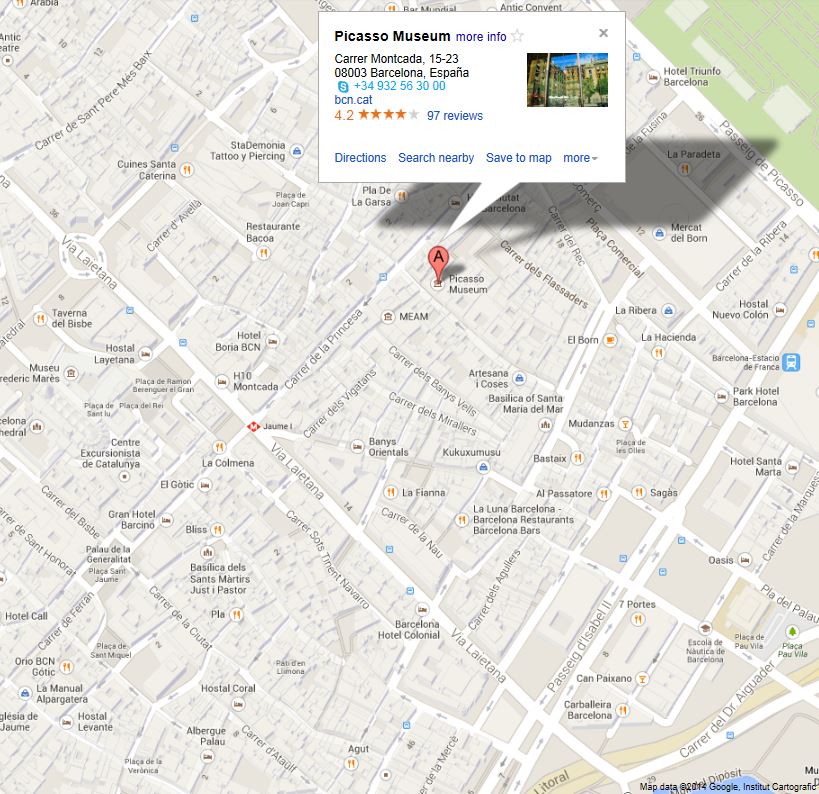 The Barcelona Hop-On, Hop-Off Tour has a choice of two great routes covering the main highlights of the city. The East Route has 15 stops and the West Route has 18 stops. Four stops appear on both routes.

You will be given a map and guide with all the stops on each of the routes, and discounts for different establishments in the city. The luxury buses are adapted for people with limited mobility and have an electric roof for use in the event of rain; they are fitted with anatomical seats and heating on both decks. They also have an English-speaking guide aboard permanently.

The frequency of buses at the stops varies with the season (between 10 and 20 minutes) and each route takes approximately 2 hours. The routes and stops are described below:

East Route:
Plaça Catalunya: A major square in the heart of the Bari Gòtic area of the city. The large, open square is lined with seating and the ornamental gardens contain statues. At one end are wonderful water features.

Catedral-Barri Gòtic (Cathedral Gothic Quarter): Barcelona Cathedral houses the tomb of Saint Eulalia along with a number of paintings and valuable metalwork. The Cathedral is the most important building in the Gothic Quarter.

Port Vell: The picturesque old harbour, a popular tourist area with many attractions, including sea-food restaurants.

Museu d'Història de Catalunya:An interesting museum showcasing the history of Catalonia from its distant roots to the present day in an interactive and innovative way.

Barceloneta:Known for its sandy beach and its many restaurants and nightclubs along the boardwalk.

Port Olimpic: This entertainment and leisure zone has become a popular area. Most people come here to enjoy the nightlife on offer in the bars, restaurants and dance clubs.

Platja del Bogatell (Bogatell Beach)*: Six hundred metres long and one of the safest of Barcelona's beaches.

Nova Mar Bella Beach*: This 500 metre beach is a favorite with women. It is one of the beaches created as a result of urban redevelopment in preparation for the 1992 Olympic Games.

Fòrum*: Designed by the Swiss architects Jaques Herzog and Pierre de Meuron (Herzog & de Meuron), the triangular Fòrum building is an architectural landmark in Barcelona and has been the subject of some controversy.

La Sagrada Familia (Holy Family Cathedral): Antoni Gaudi's magnificent unfinished masterpiece.

Hospital de la Santa Creu i Sant Pau (Hospital of the Holy Cross and Saint Paul): Built between 1901 and 1930, designed by Lluís Domènech i Montaner and part of a UNESCO World Heritage Site. Today it is still a fully functional hospital.

Park Guell: Designed by Gaudi and declared a Heritage Site by UNESCO. The park contains amazing stone structures, stunning tiling and fascinating buildings.
Tibidabo: This hill is Barcelona's highest point, so you can see the whole city from here. There is also an impressive modernist church, called Sagrat Cor (Sacred Heart), a planetarium and the oldest amusement park in Spain (complete with original rides).

La Pedrera or Casa Milà, (in Passeig de Gracia): A block of flats with a wavy stone facade and sculptures on the roof, designed by Antoni Gaudi and designated a UNESCO World Heritage site.

Casa Batlló (in Passeig de Gracia): Another Gaudi masterpiece built in his signature style in which fluid lines and organic forms replace straight lines and right angles. Passeig de Gracia is Barcelona's most elegant and architecturally interesting avenue.

*In winter (01 November to 29 March) the stops at Platja del Bogatell*, Nova Mar Bella*, and the Fòrum* are replaced by stops at:
Ciutadella-Zoo: Parc Ciutadella contains a spectacular waterfall and navigable lake plus the splendid Barcelona Zoo with more than 7,000 animals of 400 different species from around the world.

Teatre Nacional-Auditori: A working theatre and one of Barcelona's most important cultural centres

Glòries-Torre Agbar: The Torre Agbar, or Agbar Tower, is a 33-story tower at Plaça de les Glòries Catalanes. It is the third tallest building in Barcelona and includes a number of revolutionary architectural design details.

West Route:
Plaça Catalunya: The major square in the heart of the Bari Gòtic area of the city.

Catedral-Barri Gòtic (Cathedral Gothic Quarter): Barcelona Cathedral is the most important building in the Gothic Quarter and houses the tomb of Saint Eulalia along with a number of paintings and valuable metalwork.

Passeig Colomb: This street contains the Cristobal Colon – a statue of Christopher Columbus with pointing symbolically towards the New World – and the House of Cervantes, where the famous writer Miguel de Cervantes lodged during his stay in Barcelona.

World Trade Center: This impressive complex houses a Congress and Convention Centre, plus more than 125 offices and shops as well as the Eurostar's Grand Marina luxury hotel.

Jardins de Miramar: Public gardens with views over Barcelona Harbor.

Fundació Joan Miró: A collection of modern art which honors artist Joan Miro.

Anella Olimpica: One of the four major competition sites built for the 1992 Olympic Games.

MNAC Museo Nacional de Catalunya: An exceptional museum and one of the world's most important centers for Romanesque art, with works spanning a millennium. Housed in the stunning Palau Nacional.

Poble Espanyol (Spanish Town ): An outdoor open-air architectural museum located on the mountain of Montjuïc in Barcelona.

Caixa Forum: Built to house a factory in 1911 by architect Josep Puig i Cadafalch, this redbrick modernist fortress opened in 2002 as a center for art exhibits, concerts, lectures, and other cultural events.

Plaça d'Espanya: One of Barcelona's most important squares, built on the occasion of the 1929 International Exhibition, held at the foot of Montjuïc.

Estació de Sants: Barcelona's main railway station.

Camp Nou: Home of FC Barcelona and one of Europe's largest football stadiums.

Plaça Pius XII: A square close to the main shopping streets.

L'illa Diagonal: A gargantuan mall housing 170 shops and restaurants, two 4-star hotels, and a sports center. The shops include Diesel, Miss Sixty, Lacoste, Zara and the flagship store of Barcelona fashion house Custo.

Avinguda Diagonal: One of Barcelona's most important avenues. It cuts the city in two, diagonally from west to east, hence the name.

La Pedrera or Casa Milà, (in Passeig de Gracia): A block of flats with a wavy stone facade and sculptures on the roof, designed by Antoni Gaudi and designated a UNESCO World Heritage site.

Casa Batllo (in Passeig de Gracia): Another Gaudi masterpiece built in his signature style in which fluid lines and organic forms replace straight lines and right angles. Passeig de Gracia is Barcelona's most elegant and architecturally interesting avenue.

The tour ends at your convenience and you need to make your own arrangements to return to your accommodation.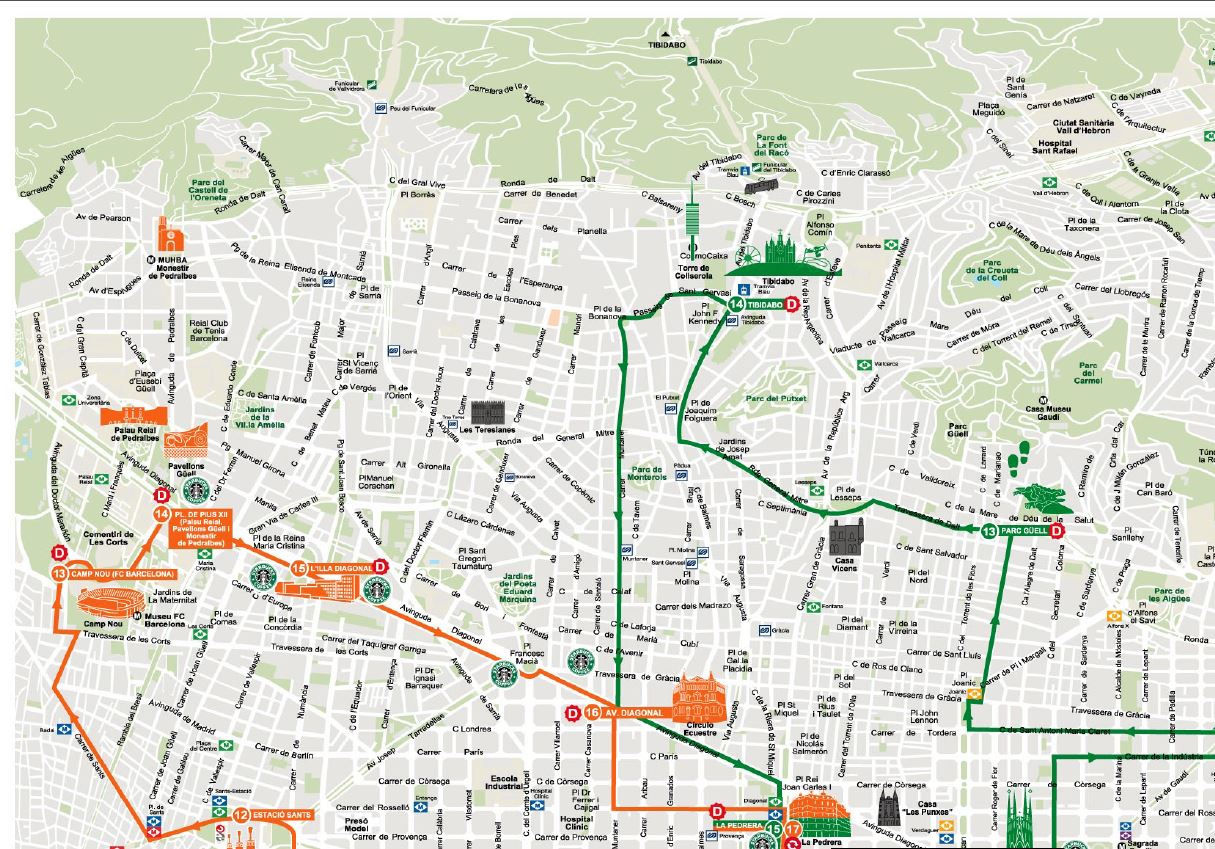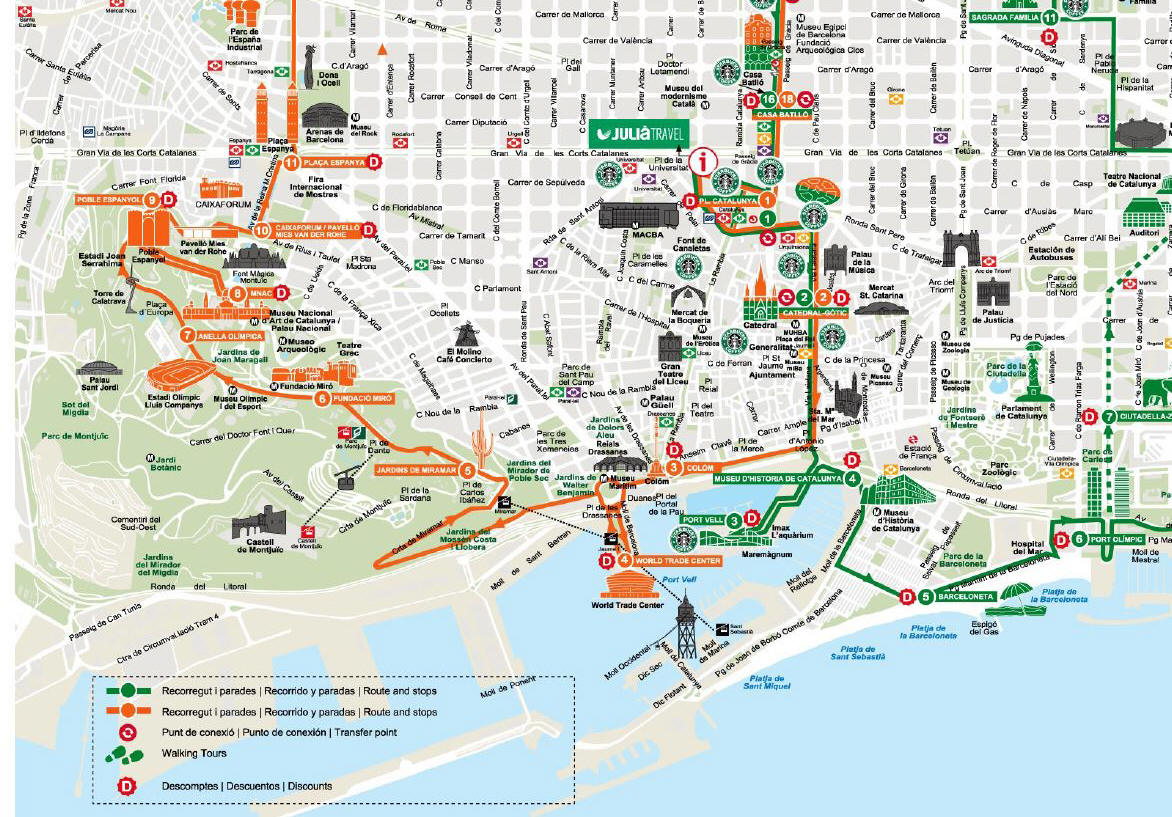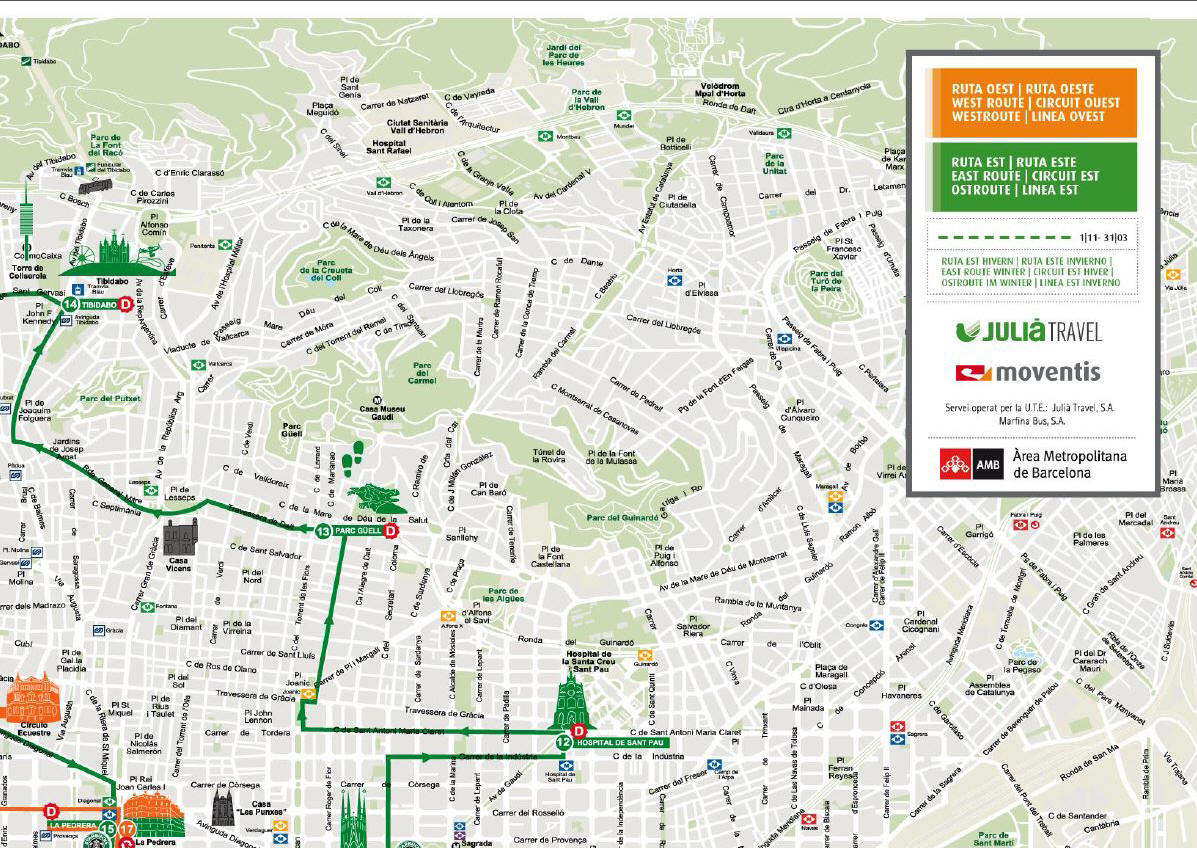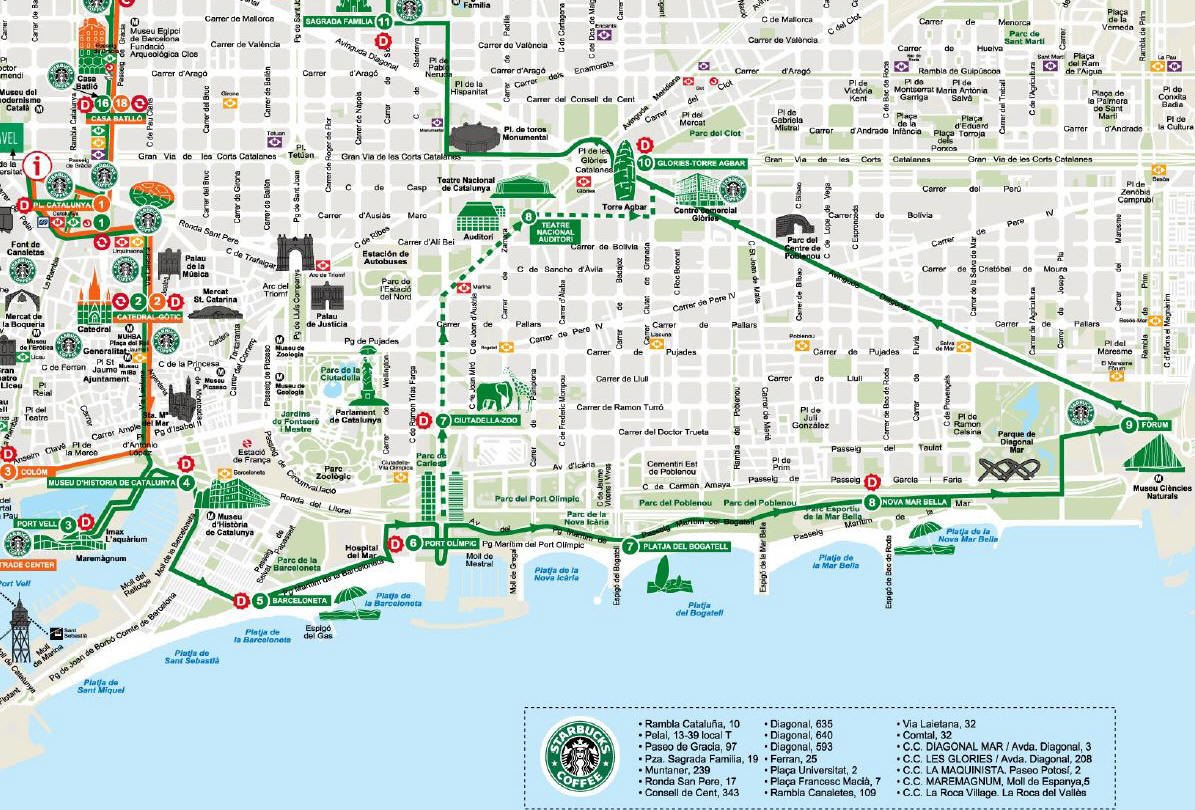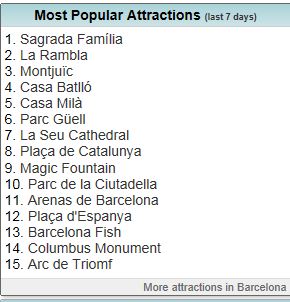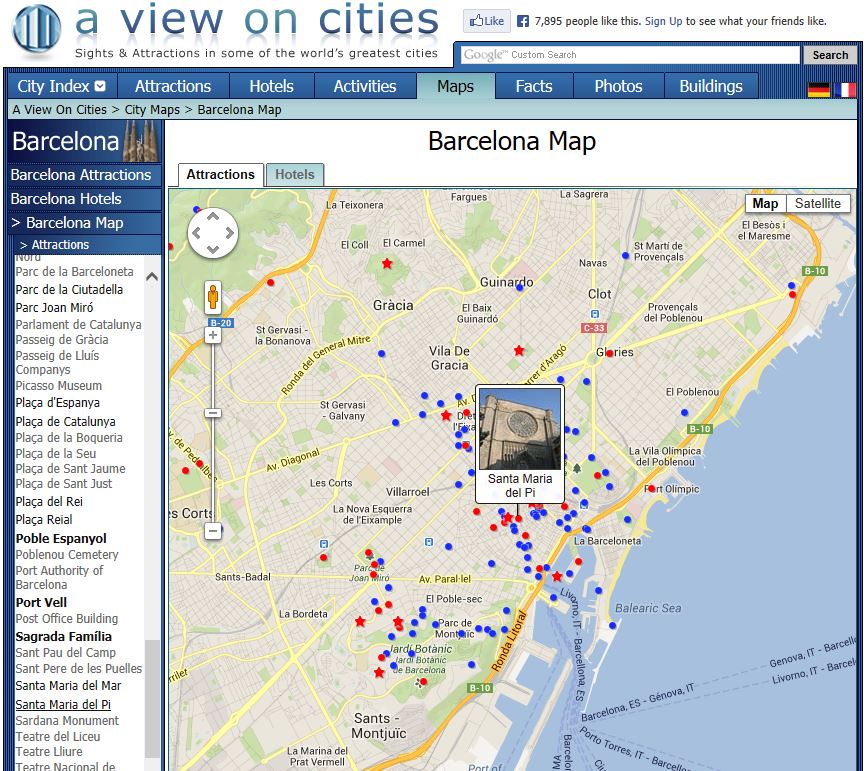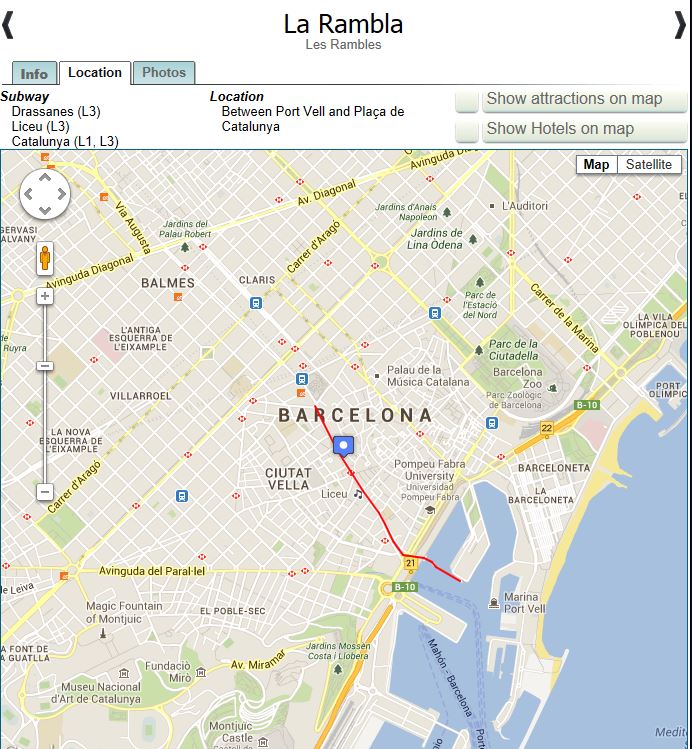 The Barcelona Colom monument (also known as Colon) is a memorial to the great explorer Christopher Columbus. You will find Barcelona Colon at the very Southern most end of the Ramblas, very close to the Eurostars Grand marina hotel the plush new hotel in Barcelona with magnificent views of Barcelona marina area and a hotel ideally placed to explore the city.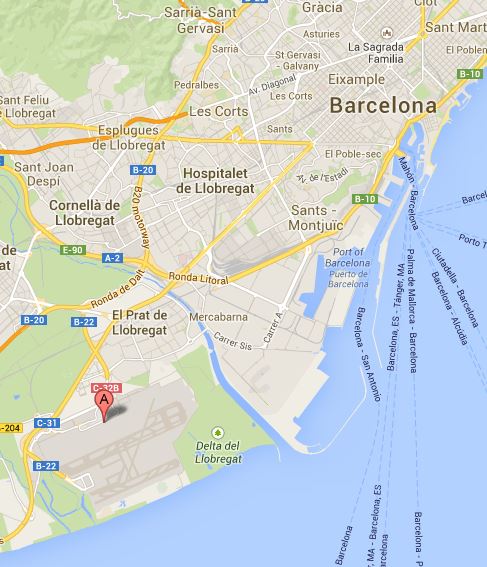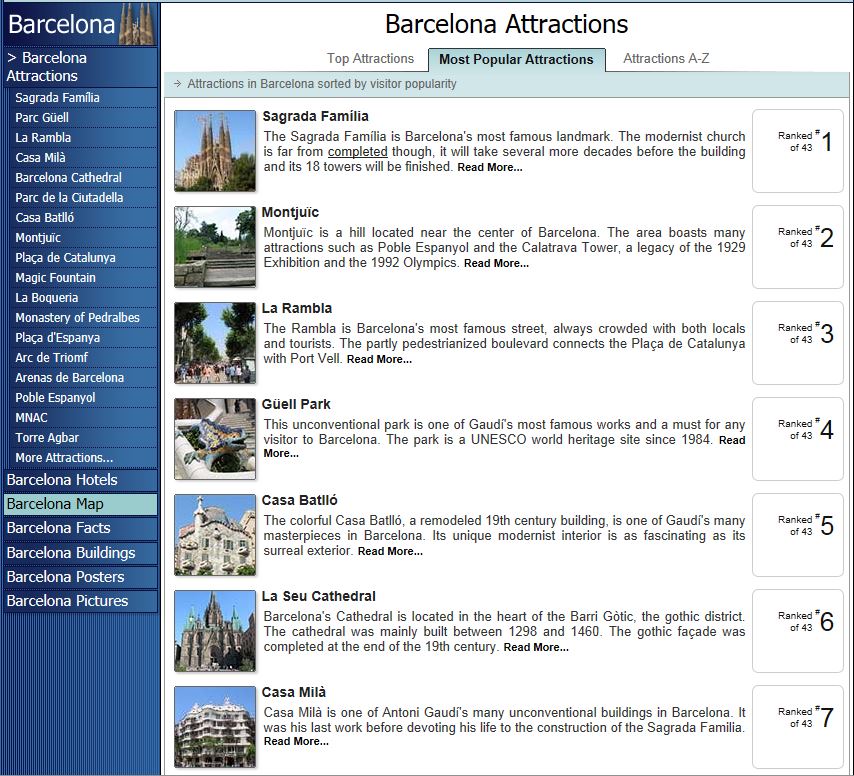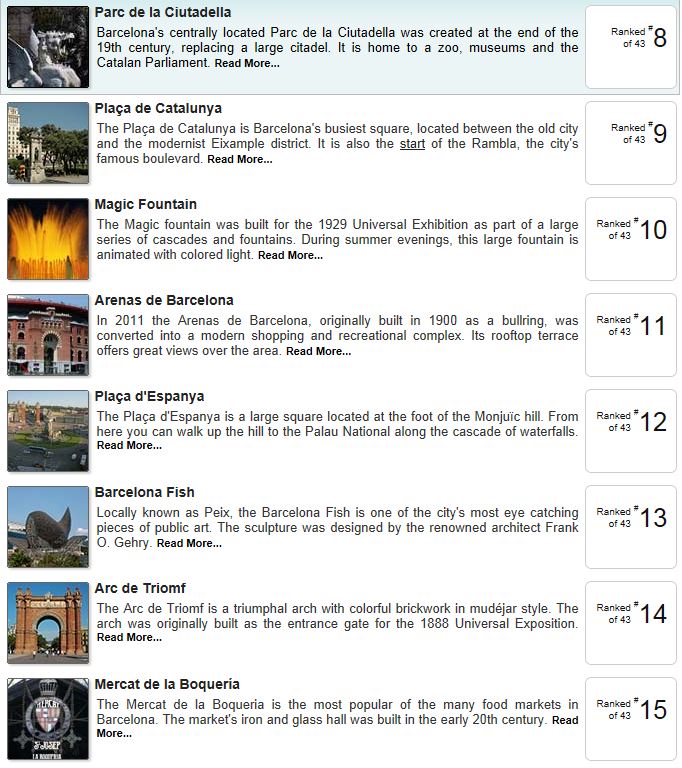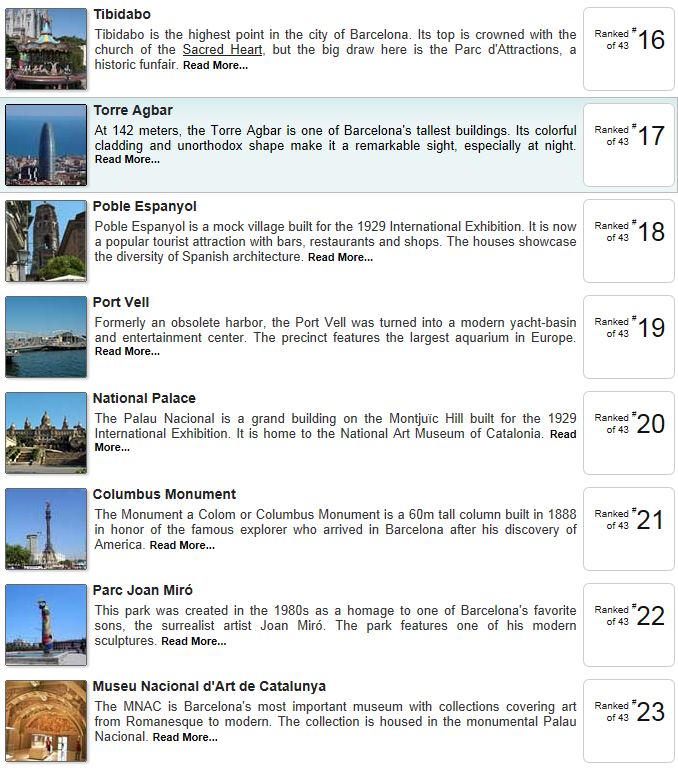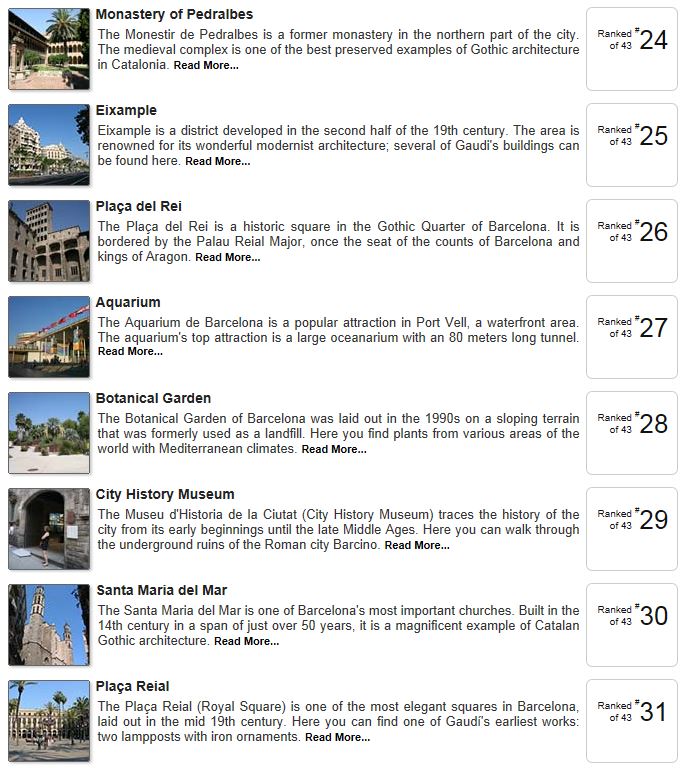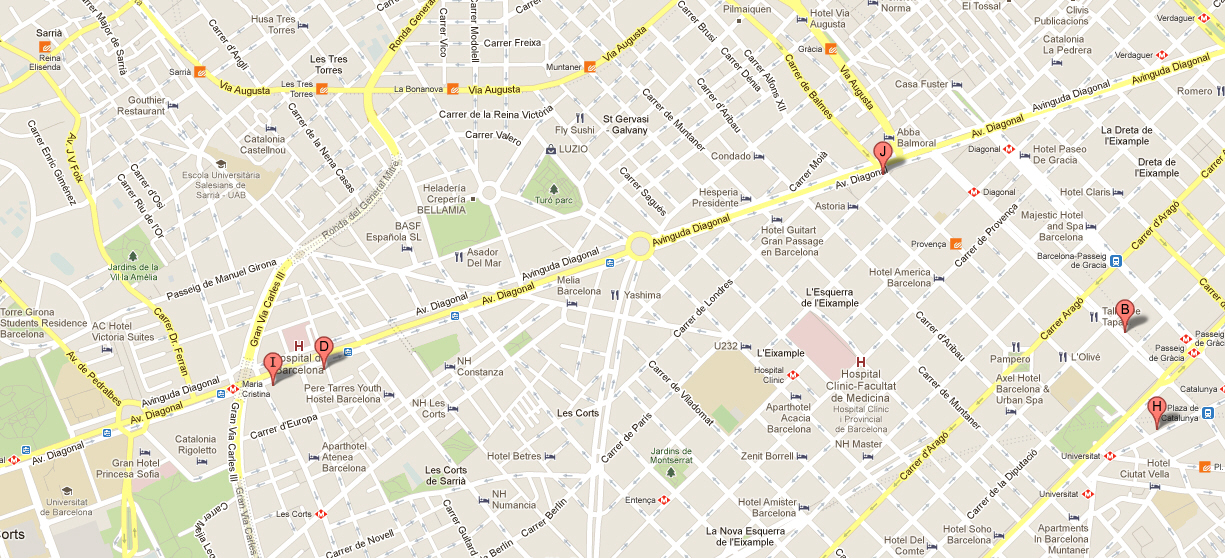 If ever there was a city that could put a smile on a city-jetter's face, Barcelona has to be it. Anyone who has seen its magnificent beach, open parklands, amazing sculptures on street corners, and spectacular Gaudi architecture would be hard pushed to imagine the city as it once was before the 1992 olympics - a wasteland with high rises and derelict blocks. You don't need to spend your time at museums in Barcelona, because the city itself, beautfully designed, very colourful and even eccentric, is the main attraction.

And then there's the shopping - Barcelona has its share of malls and chains, but it also offers a lovely mix of small speciality stores - especially in the Old City. Groovy boutiques - whether fashion or jewellry - keep on sprouting up, no doubt fuelled by the constant stream of talent from the city's fashion schools. The markets are a must as they offer a colourful flavour of local life.
If you are moving around the city a lot and are keen on visiting loads of museums, consider purchasing a Barcelona Card, which allows you free use of public transport, free entry to selected museums, and discounts for over 75 museums, cultural institutions, leisure activities, shops, pubs and restaurants.
Here are the top ten areas we suggest you visit:

1) LA RAMBLA in the BARRI GOTIC district
Bang in the centre of Barcelona is is the Barri Gòtic (Gothic quarter), Europe's largest medieval area. It dates back to Roman times and the remains of the squared Roman Wall can be seen. The labyrinthine streets often open out onto squares and they are packed with tiny eateries and interesting bars. The area is home to Barcelona's most famous street, La Rambla.
Spanish poet Federico Garcia Lorca once said that La Rambla was "the only street in the world which I wish would never end". Everyone should start their break along the tile covered La Rambla. This former riverbed cuts through the Old City, offering a tree-lined boulevard made up of a series of shorter streets (La Rambla de Canaletes, La Rambla dels Estudis, La Rambla de Sant Josep, La Rambla dels Caputxins, and La Rambla de Santa Monica) which is why you will hear it referred to as Las Ramblas.
Walking along La Rambla is a great way to get an orientation of the city and along the way pop into small shops, enjoy the cafe culture, enjoy the street performers and the various stalls selling small animals and flowers.

2) SAGRADA FAMILIA
This monumental church El Temple Expiatori de la Sagrada Família (Expiatory Temple of the Sacred Family) is Gaudi's most exemplary work and the most famous. It is as symbolic of Barcelona as the Eiffel Tower is to Paris. Gaudi started work on it in 1883 after replacing another architect, and dedicated his life to it to the point of actually taking up residence on-site. He was obsessed with this project - planning three exquisitly ornate facades devoted to the Nativitiy, Passion and Glory. Each was to be crowned by four towers. When asked why he fussed so much about the tower tops Gaudi replied "the angels will see them". Sadley he never lived to finish it. On June 7 1926 Gaudi was crossing the Fran Via and was run over by a car. He died three days later at the age of 74. The church is still being constructed and the finished part is open to visitors. Visitors can climb the towers which offer amazing panoramic views over Barcelona.
Address: Calle Mallorca, Tel: 00 34 932 07 30 31
Entry: From €13.80 for adult ticket with Barcelona Card.
Open: Daly 9am to 8pm
Metro: Sagrada Familia (Blue Line L5 and Purple Line L2)

3) PARK GUELL
Park Guell was supposed to be a suburban city but it failed. The Barcelona City Council bought the property in 1922 and converted it to a municipal park. It was Gaudi who had the responsibility of designing the park and he chose to develop it as a network of twisty roads following the contours of the rocky hill on which it was to be developed. The entire park gives off an ambience of Disneyesque proprtions with its mosaics, bird nests in the terrace walls, roadways that resemble pine trees and colonnades. At the entrance Gaudi's municipal mosaic dragaon fountain sets the scene for the fantastically shaped roofs and pinnacles that lie ahead. The main entrance is surrounded by a very long beach shaped into a sea serpent with intimate enclaves every so often. As a bonus you get great views over Barcelona from the top.
Address: Carrer D'Olot in Eixample
Open: the park is open all year round from 08:00 to 21:00.
Transport: Bus 24, 25, 31 or 74. Metro: Lesseps. From the metro follow the street signpost for the park.
Entry: At the moment, entrance is free, but the city council is currently discussing charging tourists for entry in the future. Entrance to Gaudi's house 'la Torre Rosa' which contains furniture he designed does have an entry fee.

4) BARCELONA FC MUSEUM
Footie fans must come to Barcelona FC Museum. It is wall to wall photographs, memorabilia, statues and trophies. Buy a dual ticket and you get to do the Camp Nou Tour and see the museum, Barça stadium, the changing rooms and VIP lounge as well as other behind-the-scenes areas.
Address: Avinguda Joan XXIII s/n 08028, Tel:+34 93 496 36 00
Open: Monday to Saturday (from 14 April to 12 October): 10:00 to 20:00 - Camp Nou Tour until one hour before the Museum closes. The rest of the year the Museum opening hours are from 10:00 to 18:30. Sundays and public holidays, from 10:00 to 14:30 - Camp Nou Tour until one hour before the Museum closes.
On days of League and Champions league matches in the stadium, from 10:00 to 15:00 - Camp Nou Tour not available.
Closed: January 1 and 6 and December 25
Entry: For Camp Nou Tour and Museum: Adults €23, Kids €17 euros
Metro: Collblanc (Blue Line, L5)

5) THE SEA FRONT
Barcelona's seaside comprises several beaches and an attractive palm-lined seafront promenade, all born about thanks to the 1992 Olympics and the cash it brought in. At Moll d'Espanya at Port Vell (old port) there is an Imax, the biggest Aquarium in Europe and the Maremagnum that houses a shopping centre, restaurants, terraces and night life. Further along is the former fisherman's district of Barceloneta, where quaint narrow streets harbour some lovely seafood restaurants.
Address: Moll d'Espanya, Port Vell Tel: +34 93 221 7474
Metro: Drassanes (Green Line, L3)

6) THE PICASSO MUSEUM
A young Picasso spent 5 years in Barcelona from 1901 to 1906 and if you want to understand him you must include a visit to the Picasso Museum. The building was once two 16th century palaces that have been turned into one structure. The walls display works of art that show off the genius of Picasso in his formative years. There are more than 3,500 works on display permanently and include childhood portraits, paintings and artworks from his Blue and Rose periods.
Address: Montcado Street, 15-23 Tel: 00 34 932 563 000
Transport: Metro Jaume (Yellow Line L4)
Open: Tuesday to Sunday 10am to 8pm. Closed Mondays.
Entry: €11

7) LA PEDRERA - CASA MILA
La Pedrera (a Catalan word meaning 'quarry) is a masterpiece of architecture by the master architect Antonio Gaudi, and looks fabulous with its wavy brick work that look like cliff walls. Made from limestone, the building undulates with curves and concaves with dark iron balconies contrasting beautifully on the pale stone. The roof is spectacular and its chimneys have been dubbed the "witch scarers" and the roof as goey cake.
The building was once the home of Pere Milà and his wife, Casa Milà but today it is used as a cultural centre for temporary exhibitions.
Address: Corner of Passeig de Gràcia 92/ Carrer de Provença 261-265 L'Eixample District Tel: 00 34 93 484 55 30
Open: 5 November to 28 February, Monday to Sunday:
from 9am to 6.30pm (last admission: 6pm).
1 March to 4 November. Monday to Sunday: from 9am to 8pm (last admission: 7.30pm).
Metro: Diagonal (Green Line L3 and Blune Line, L5)
Entry: €16.50

8) POBLE ESPANYOL DE MONTJUIC - Spanish Village
Spanish Village is an open air museum, located on the Montjuic mountain, showing off all the architectural styles of Spain in one place. It is in effect a quaint town with craft stores and regional restaurants.
Address: Avda Marques de Camillas Tel: 00 34 93 325 78 66
Open: Monday 9am to 8pm, Tuesday to Thursday 9am to 2pm, Friday 9am to 4pm, Saturday 9am to 5pm, Sunday 9am to midnight,
Entry: Adults €11, kids €6.25
Metro: Espanya (Green Line, L3 and Red Line, L1). 15 minute walk.

9) THE MAGIC FOUNTAIN OF MONTJUIC
This beautiful fountain was designed by Carles Buigas and created by 3000 workers for the Great Univeral Exhibition on 19 May 1929. It offers a spectacular disply of colour, light and water motion and acrobatics set to music.
Address: Pl. Carles Buígas, 1 (at the end of Avda. Maria-Cristina, next to Plaça Espanya)
Performance times (may be out of date at the time of writing. Leave a comment if you have confirmed times).
Winter (October to April) Fridays and Saturdays 7am to 9pm.
Music sessions 7pm, 7.30pm, 8pm and 8.30pm Summer (May to September). Thursday, Friday, Saturday and Sunday from 8pm to 11.30pm.
Entry: Free
Metro: Placa Espanys (Green Line, L3 and Red Line , L1)

10) LE RIBERA
This area, part of the old city of Barcelona, is regarded as Barcelona's most fashionable district. Passeig del Born, nicknamed El Born, is full of trendy bars, shops and restaurants.