57 Bay Hill Circle - Lake Ozarks, MO 65049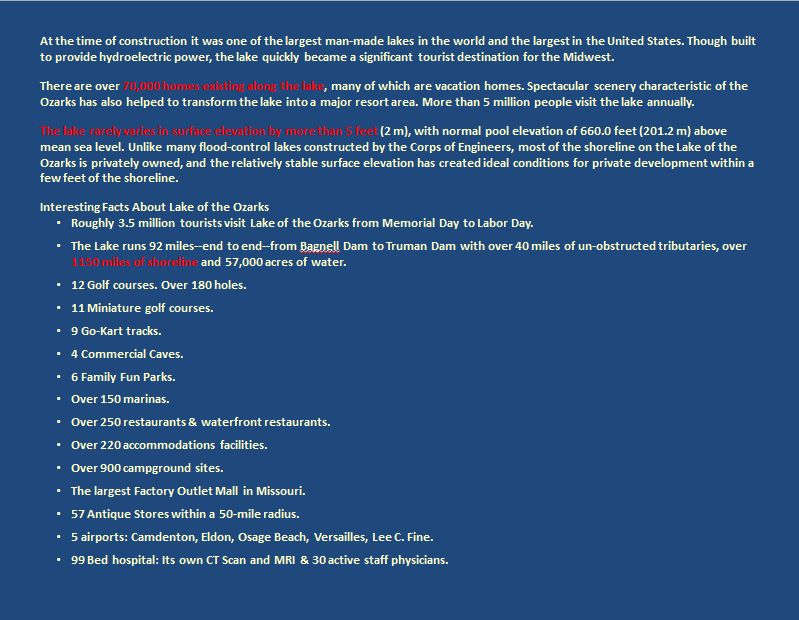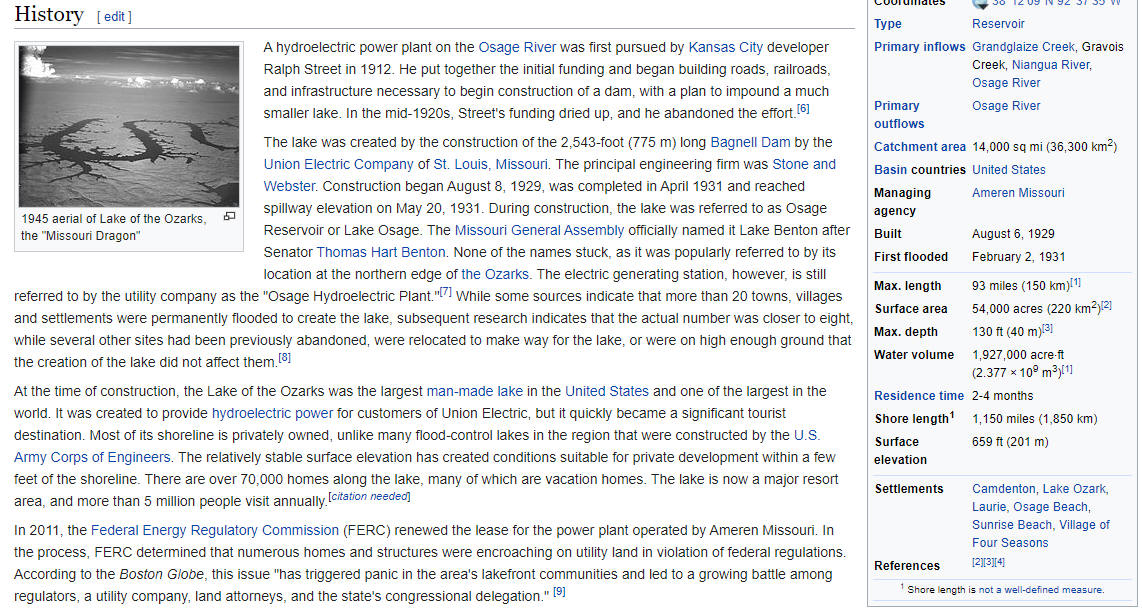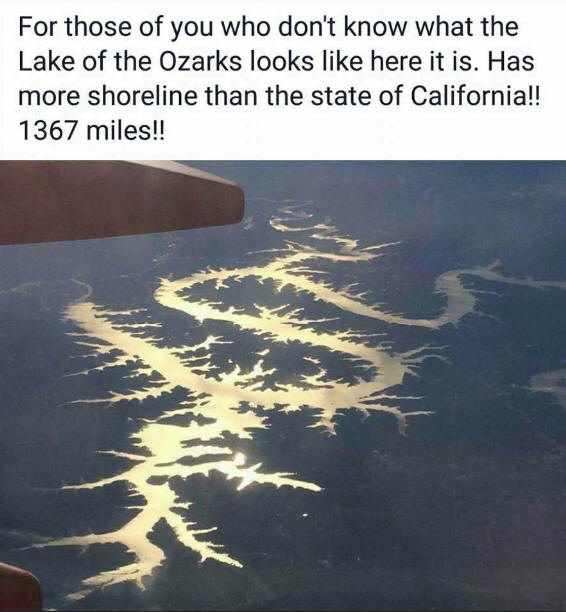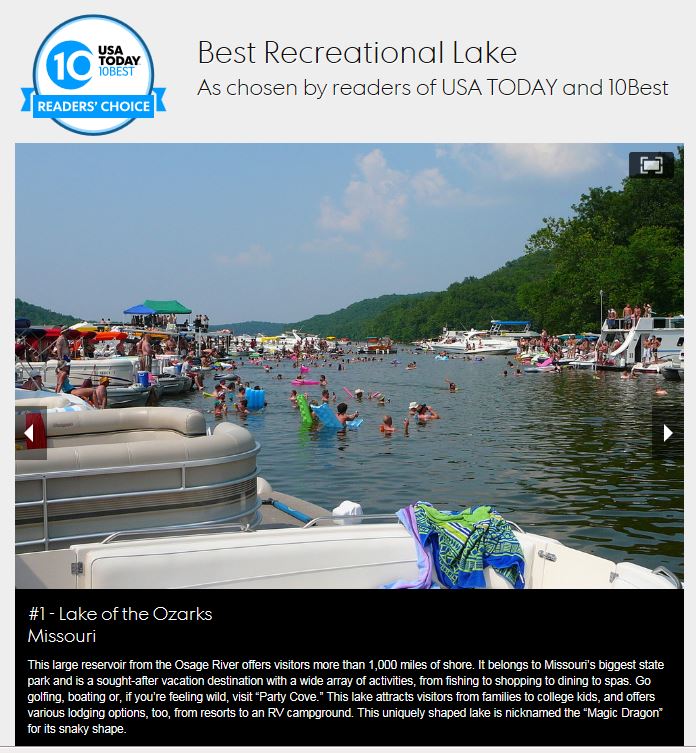 There are 23 villas at The Palms. Probably about 1/4 are full-time residents.
There are seven 2-villa units and three 3-villa units at The Palms. Our unit is the left half of this 2-unit villa.
Our unit is 3,000 square feet, four bedrooms and 3.5 baths (virtually the same as the other villas).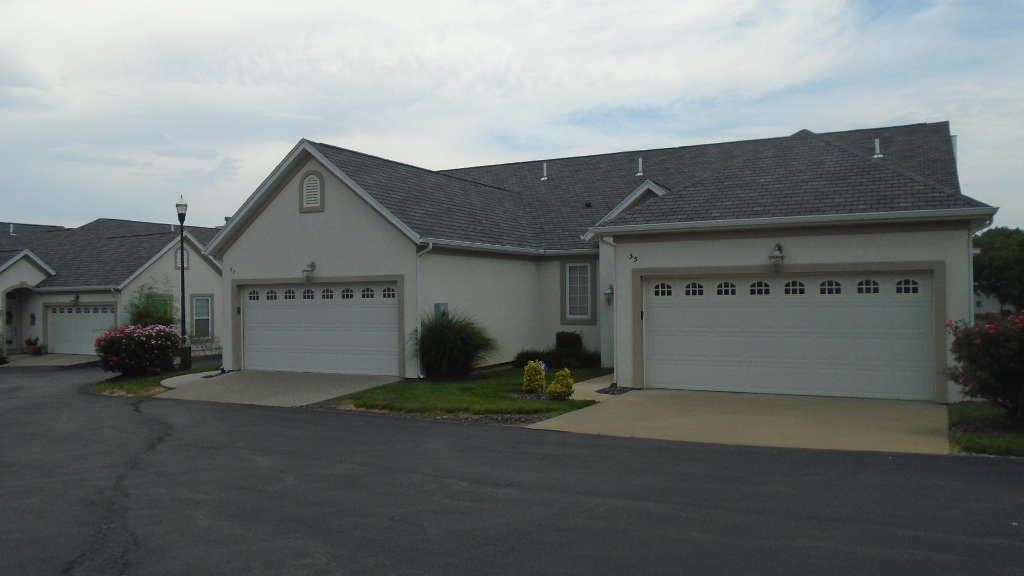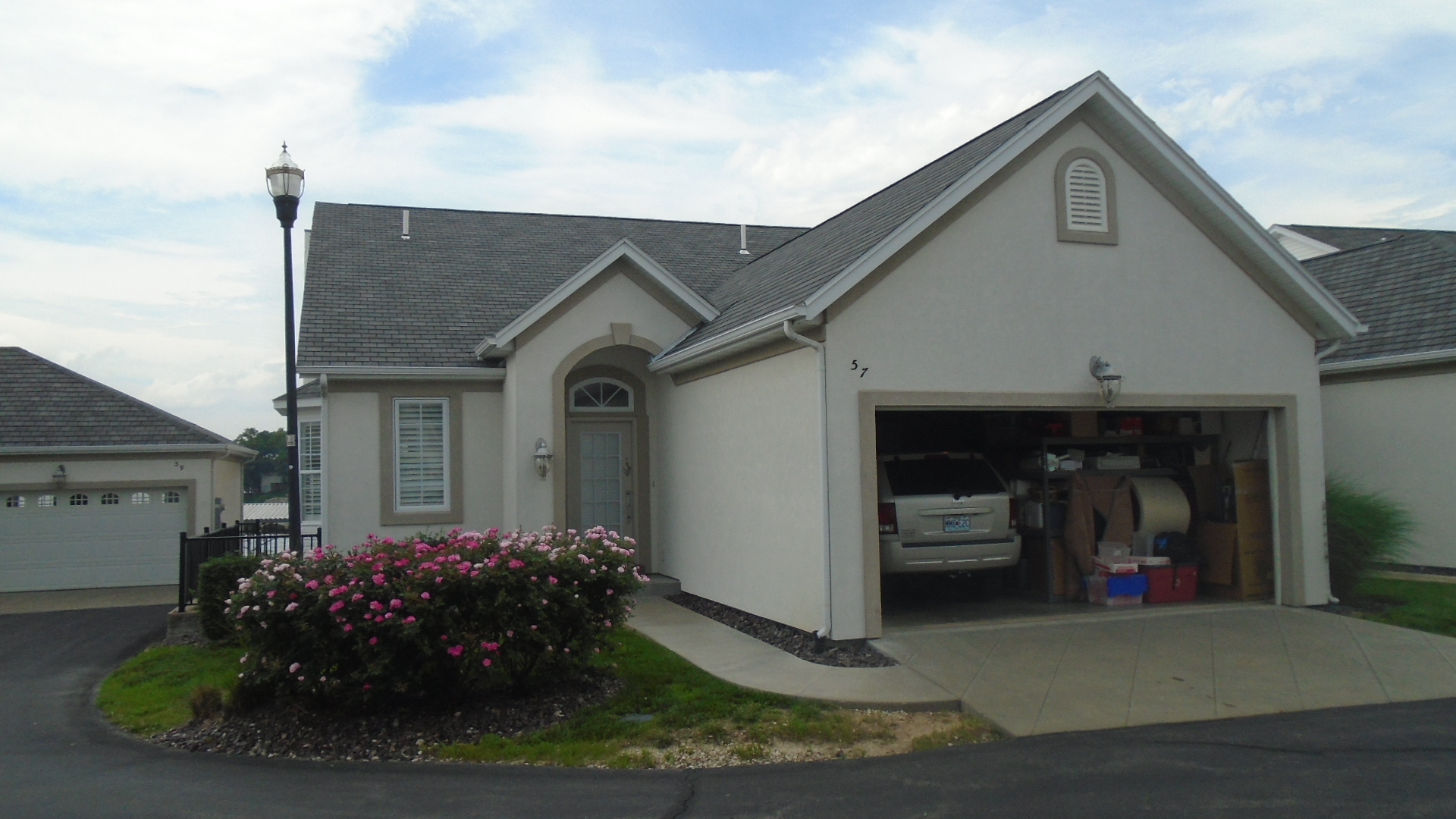 An organized two-car garage (for now)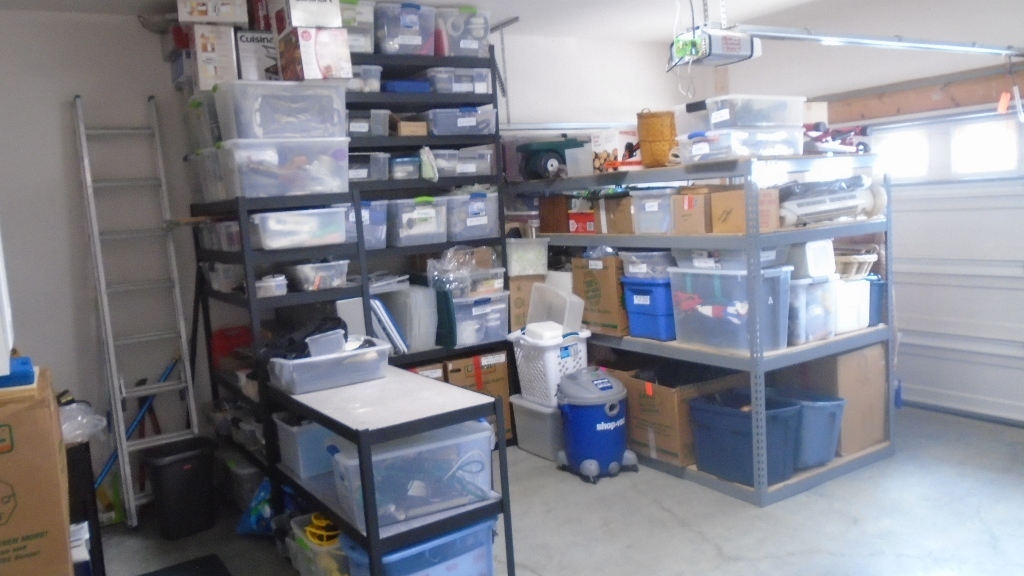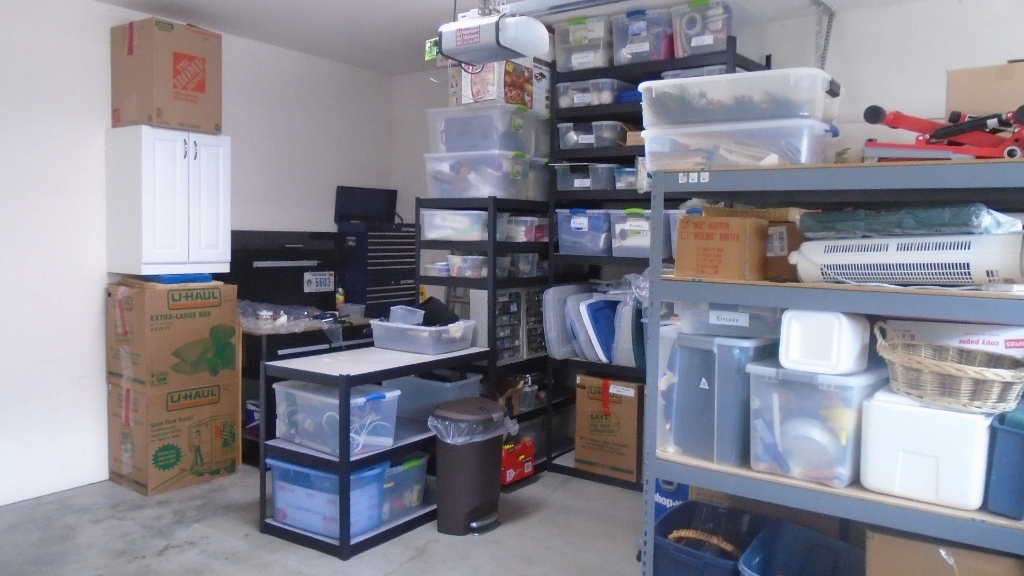 Heading inside from the garage. As you enter, a half bathroom is to the left and the laundry room is to the right (plus a clothes closet on each side).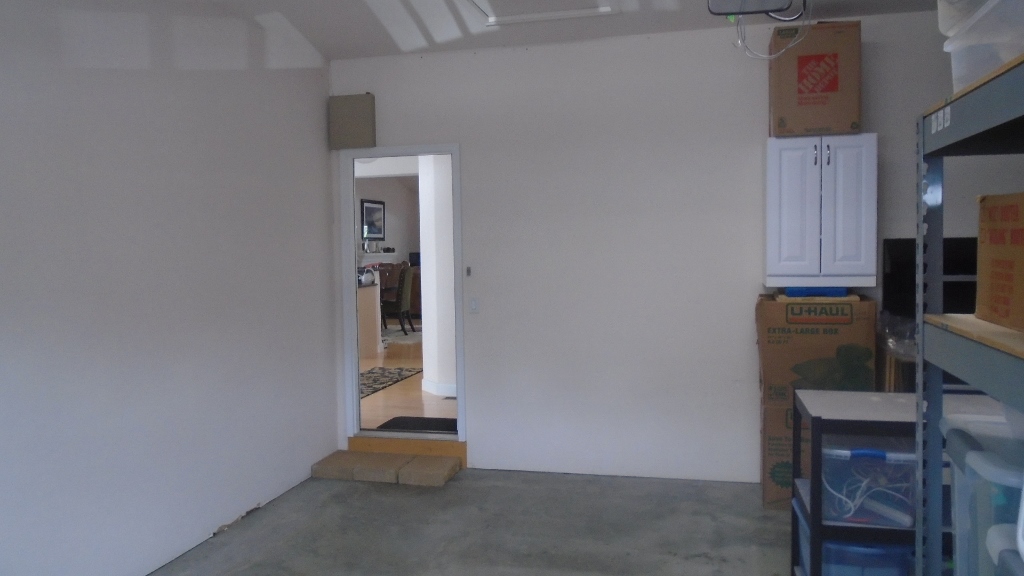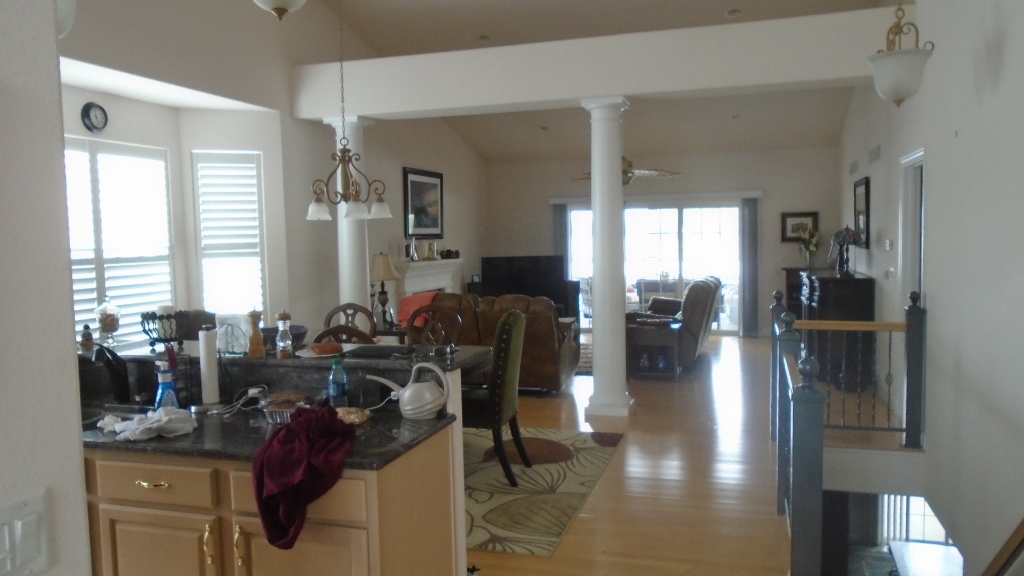 Off to the right as you enter from the garage is our laundry room and extra refrigerator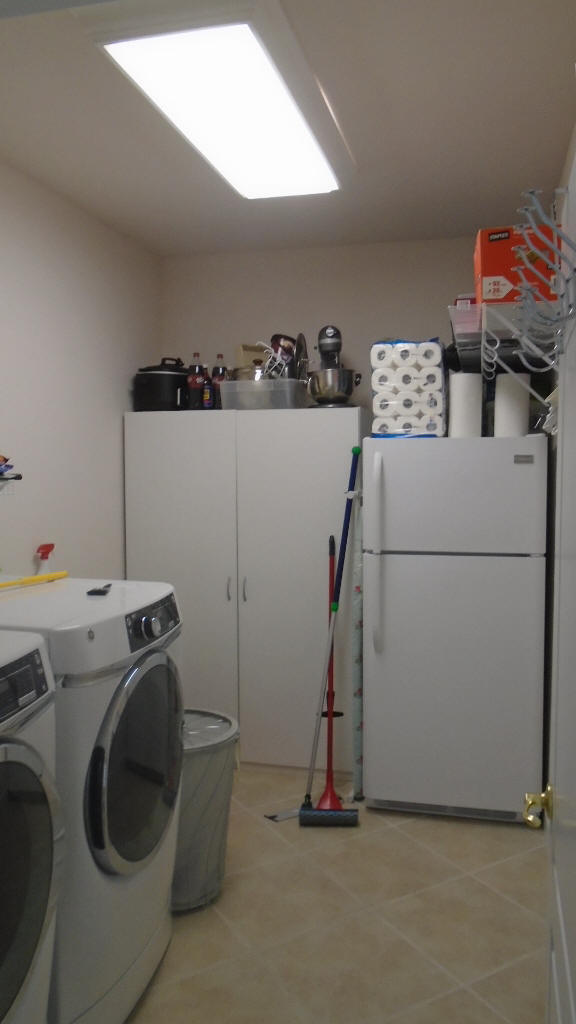 Half bath off to the left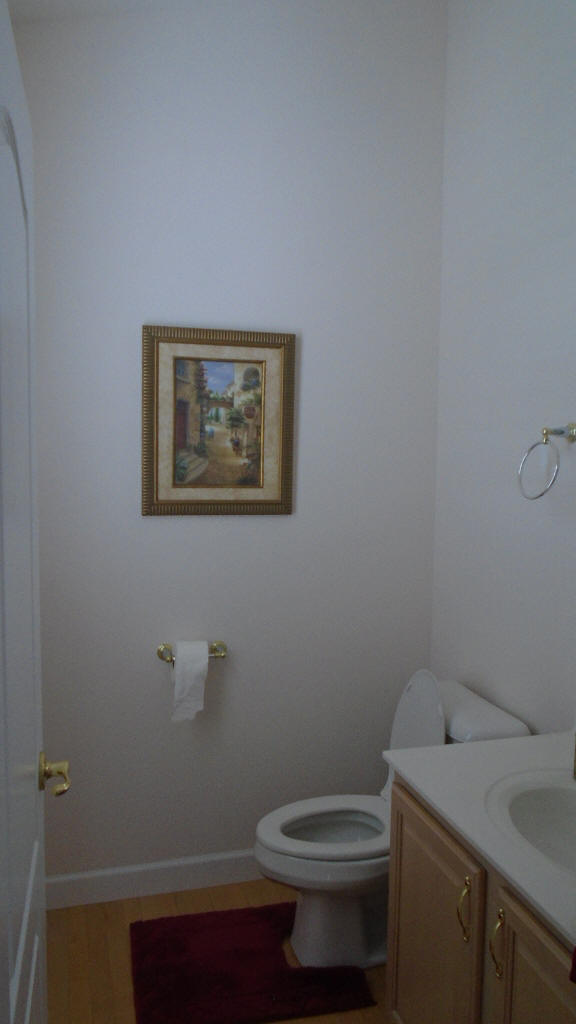 Not the biggest kitchen, but big enough for the cook (me). There is also a small pantry that you cannot see on the left.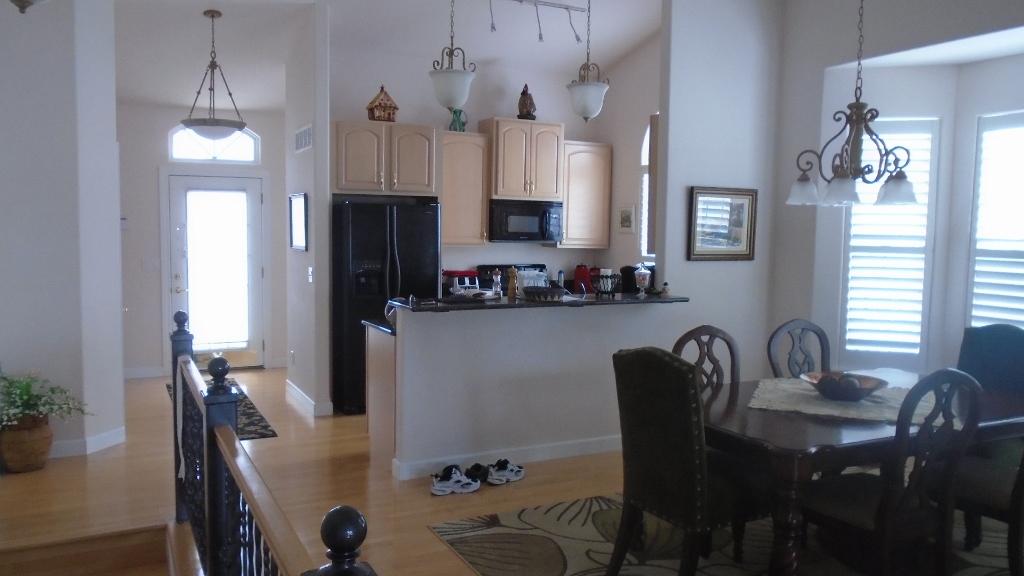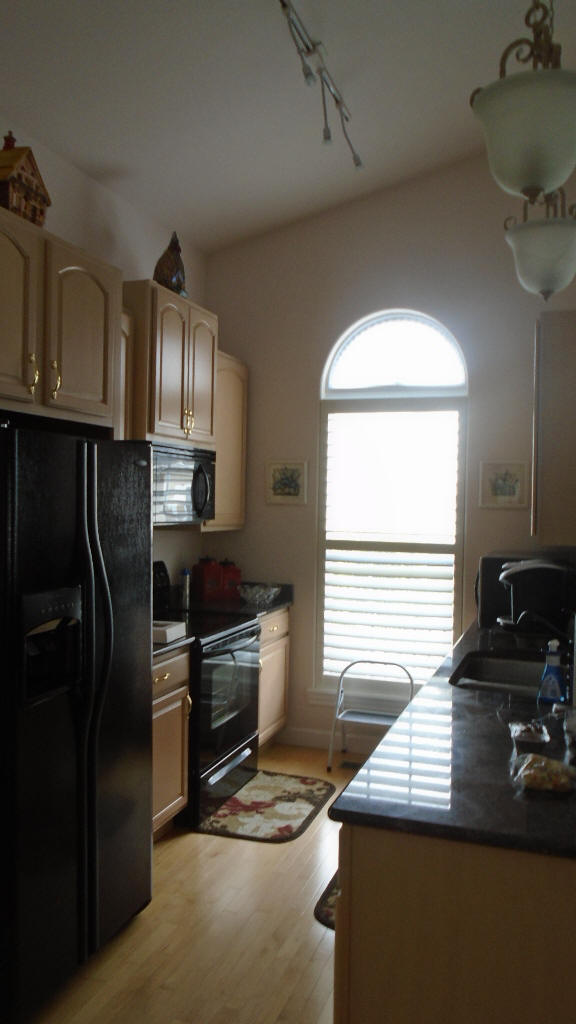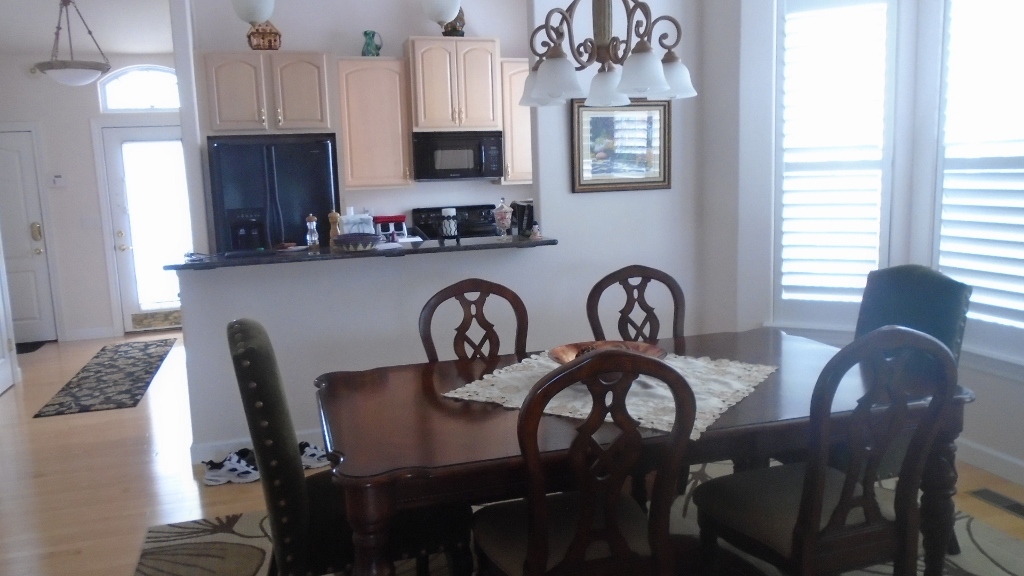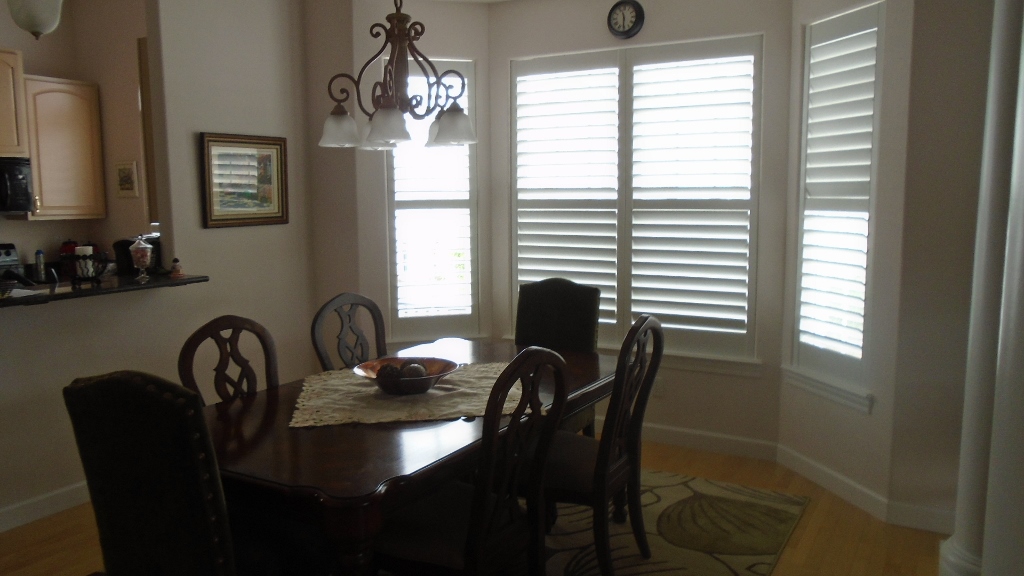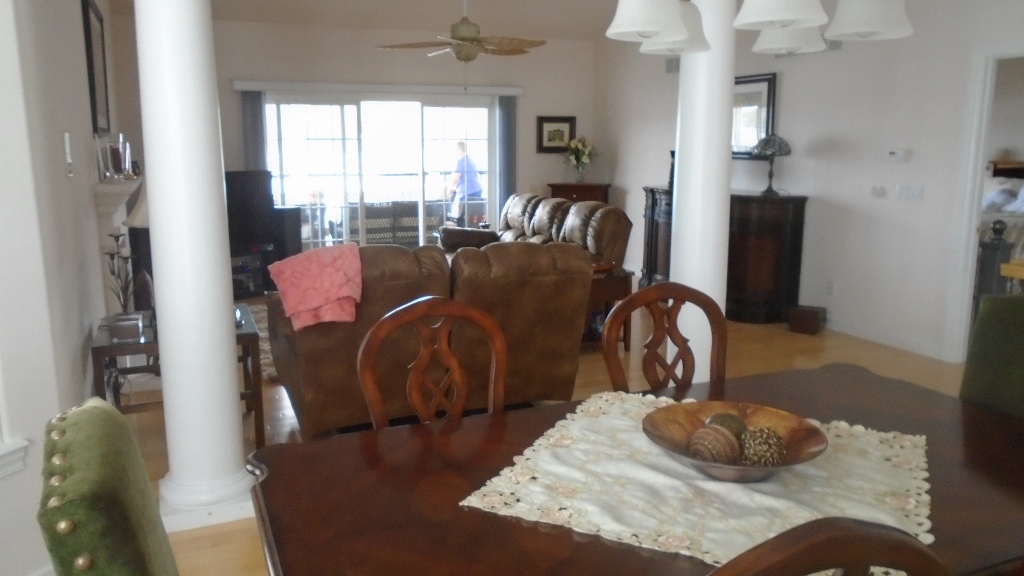 Master bedroom upstairs allows one-level living for Gloria.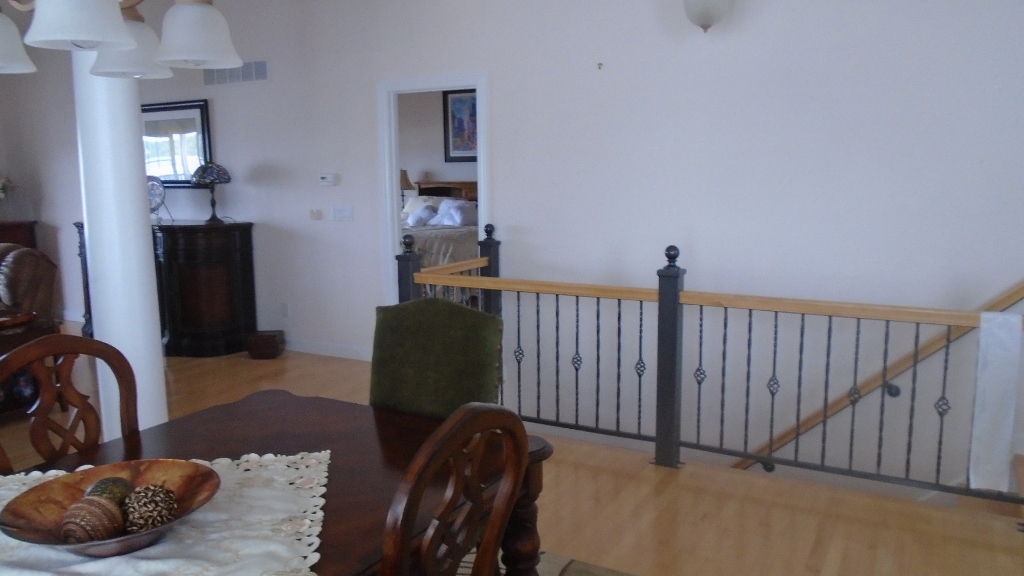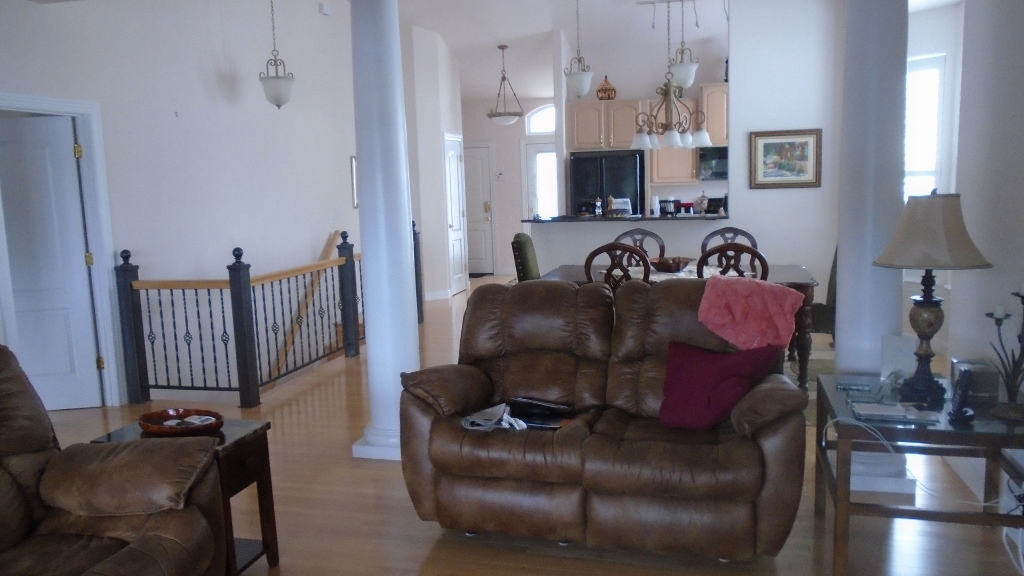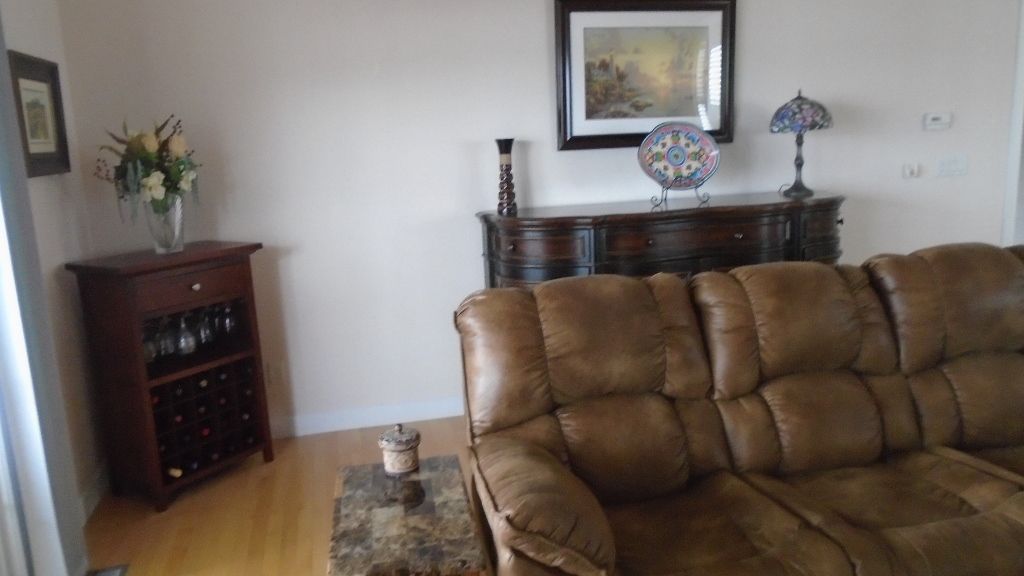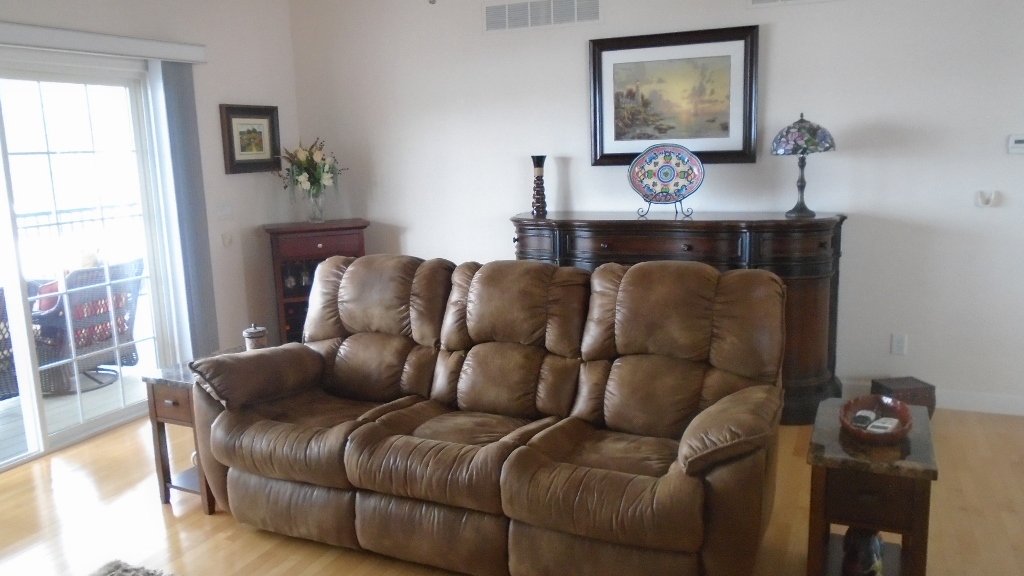 Gloria's TV area. The fireplace runs off of propane. There is no natural gas to our villa.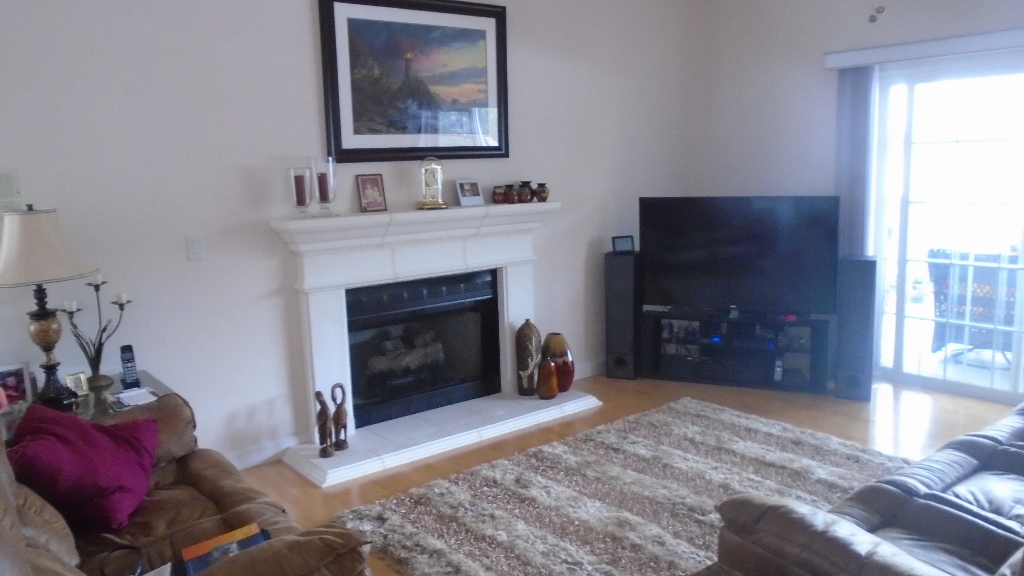 12 x 35 screened in porch allows doors to our master bedroom and living room to be left open without any bug issues.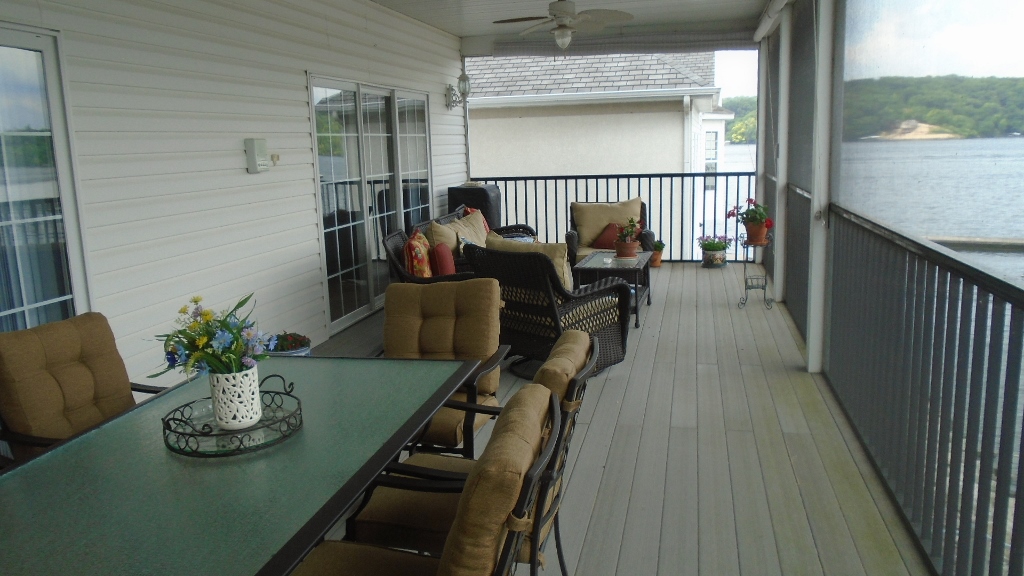 The main channel (we are on mile marker 9) is less than 150 feet from our down stairs back door.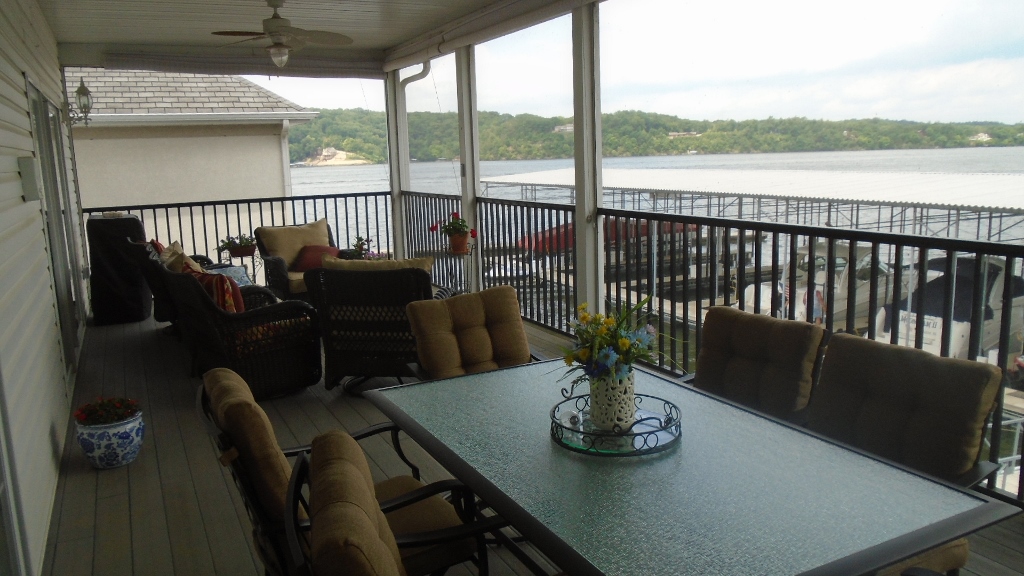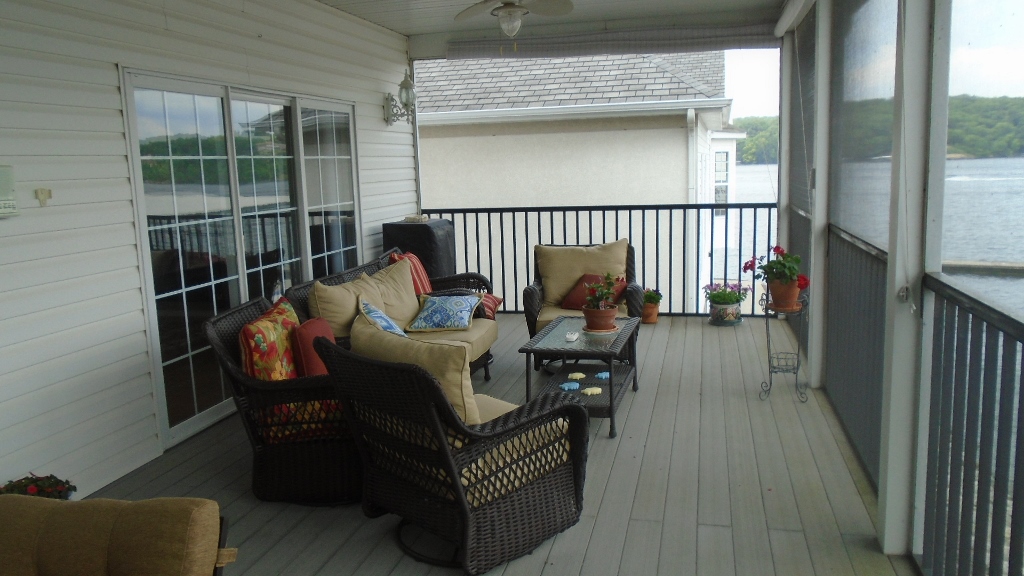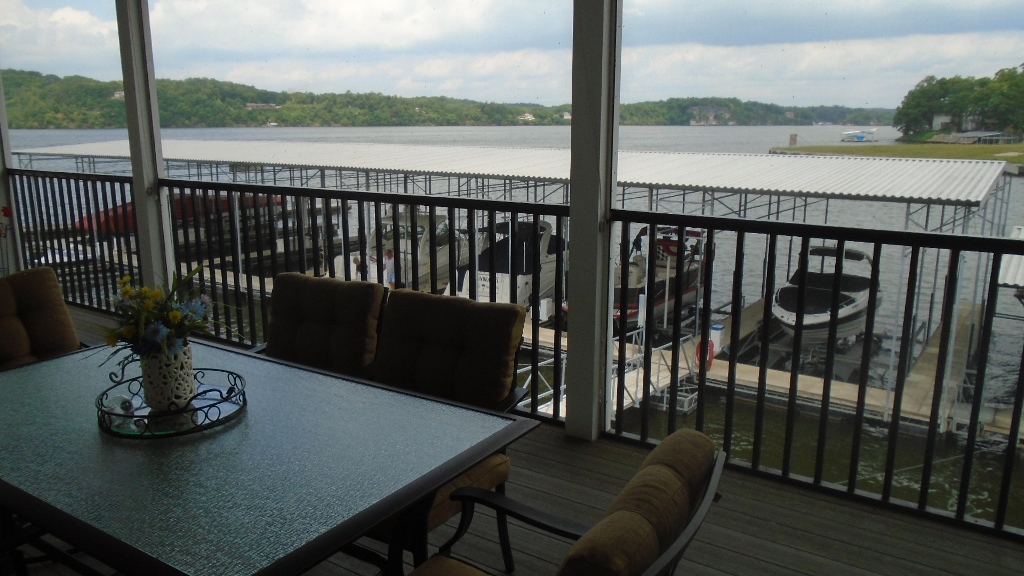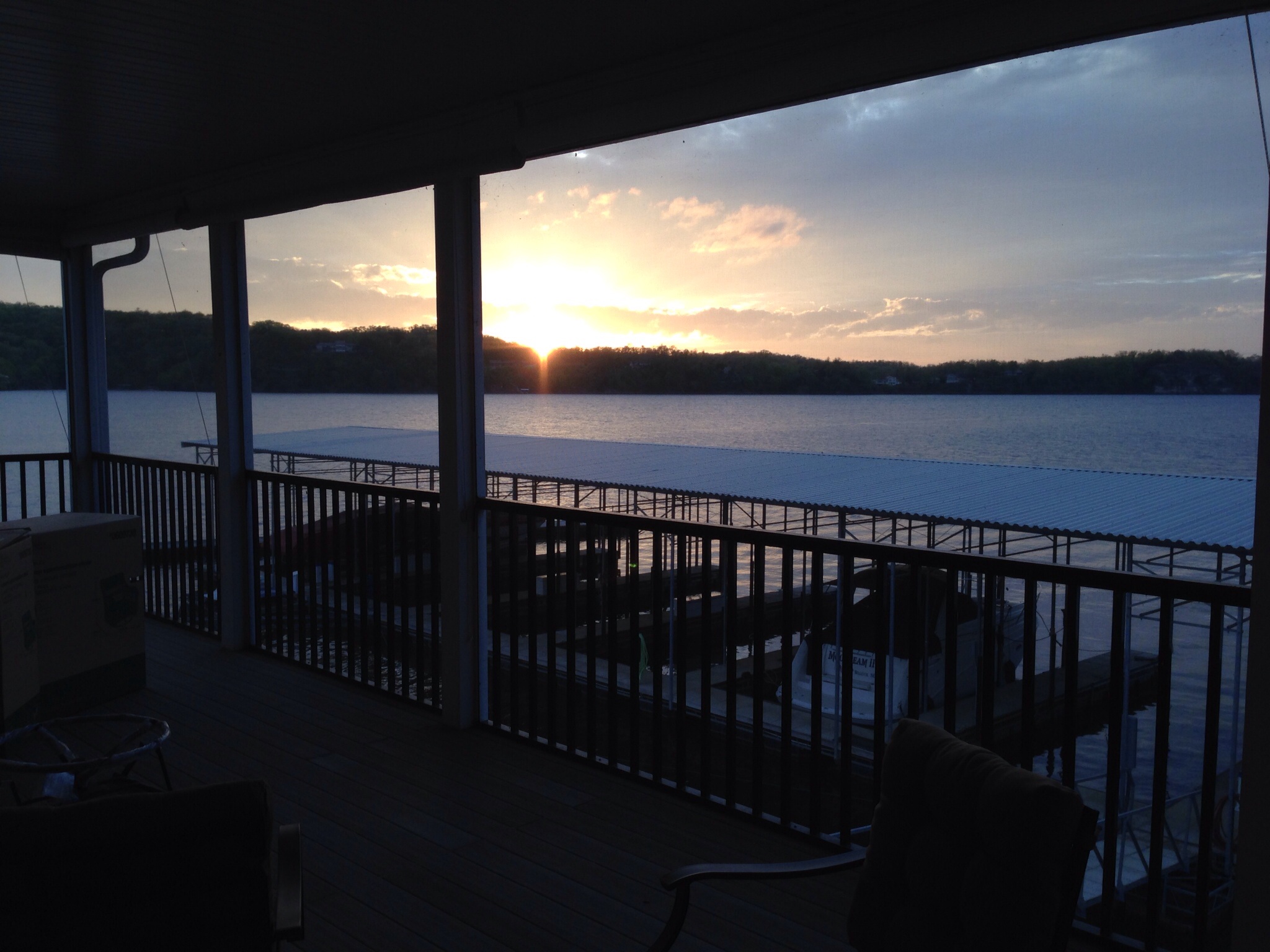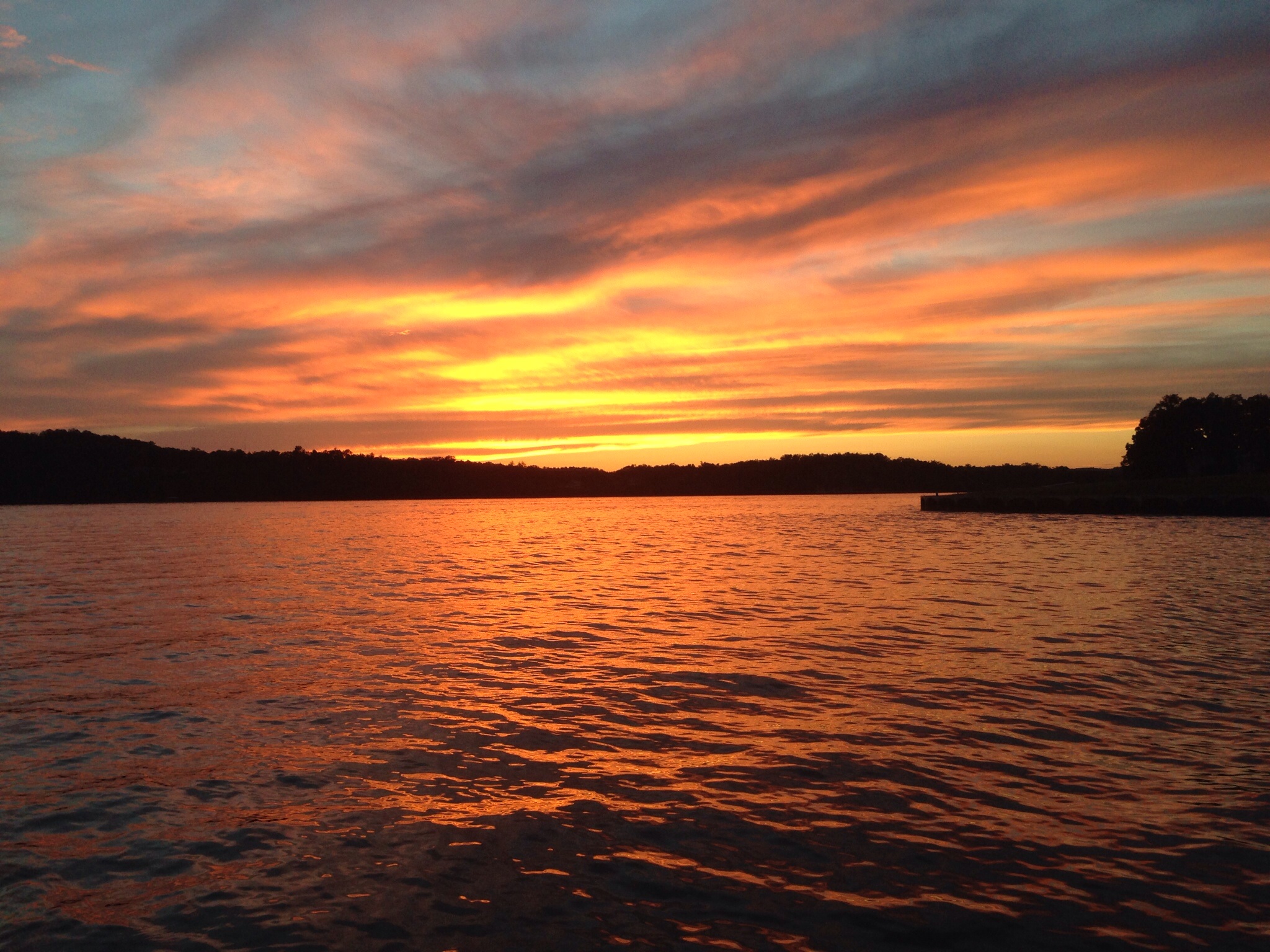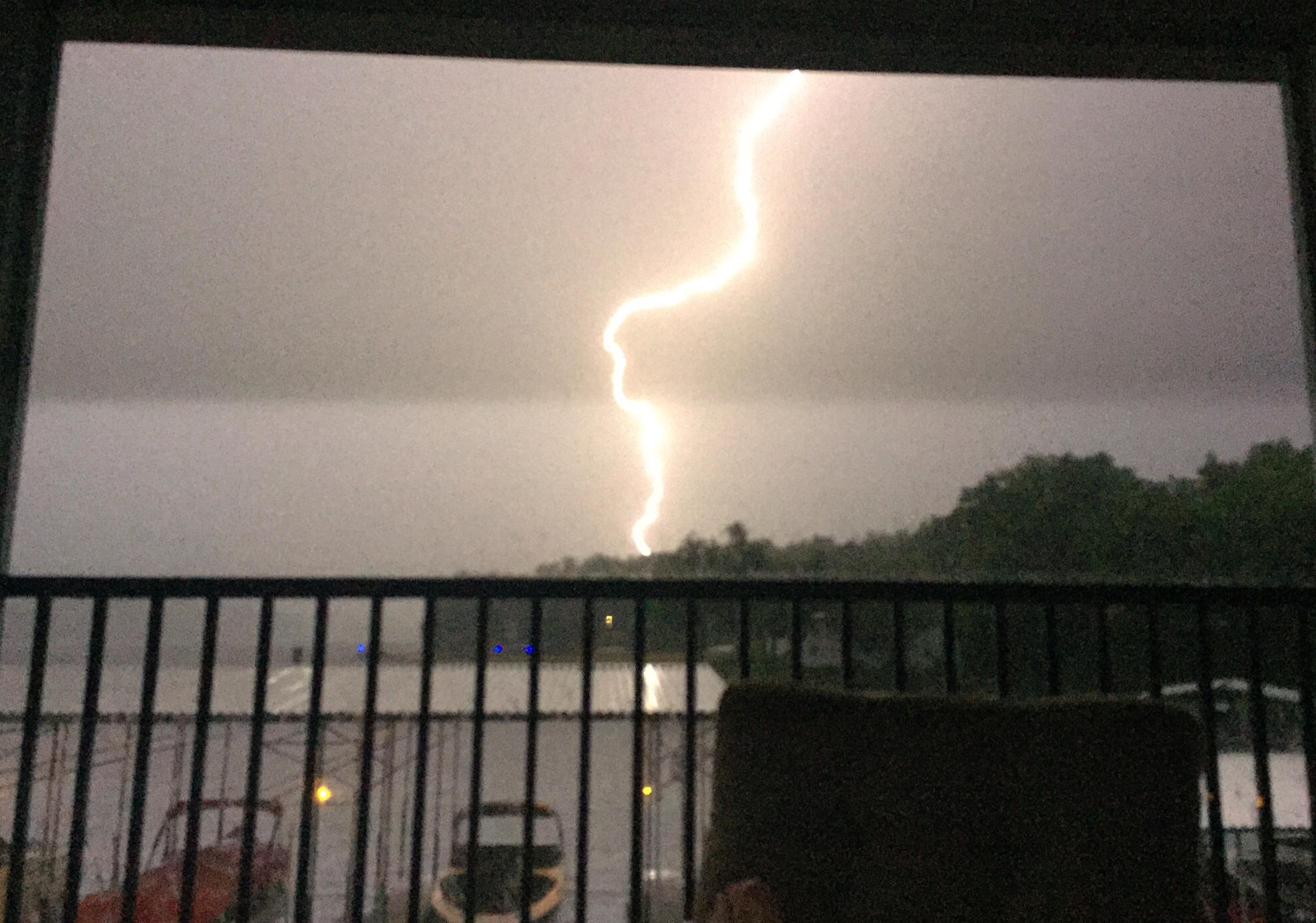 Doors to our master bedroom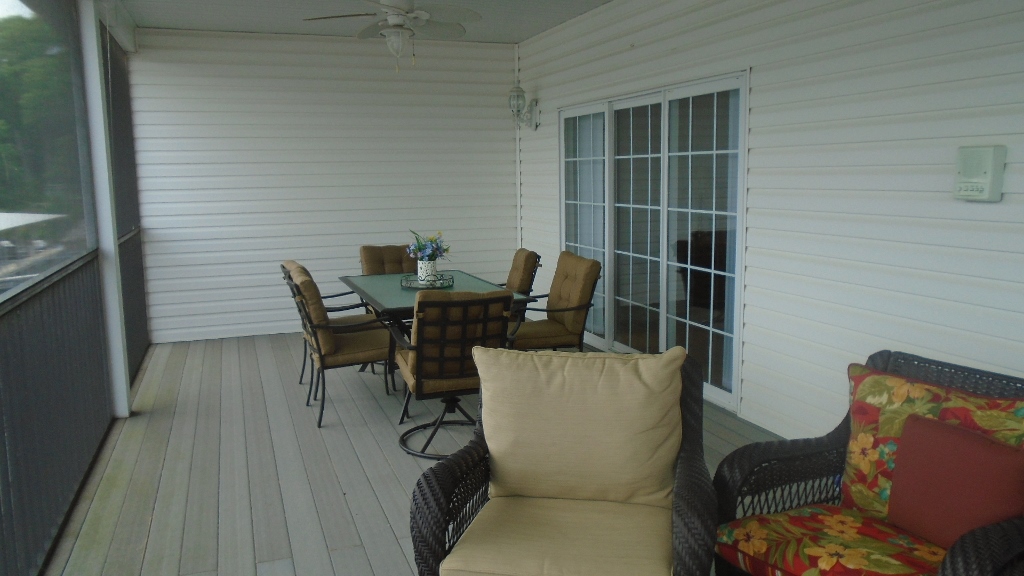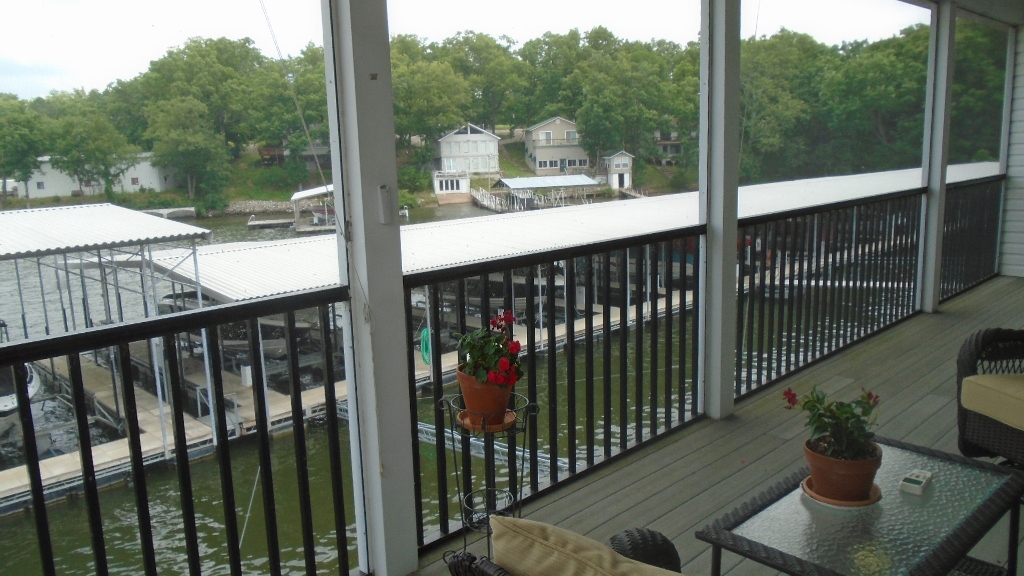 23 boat slips for 21 units at The Palms. Some owners have multiple slips. Ours is next to the red boat on the end...18' x 48'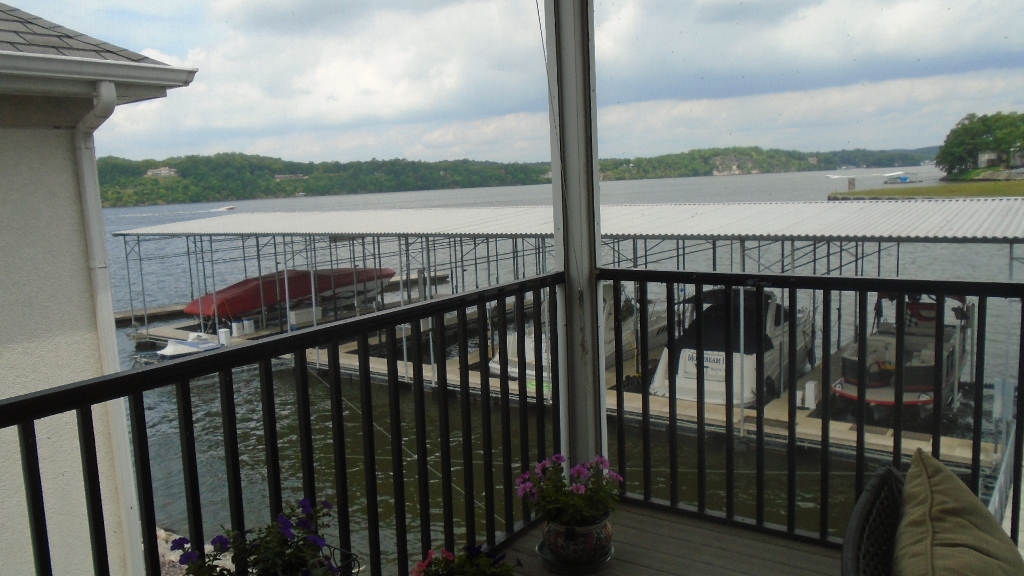 Our master bedroom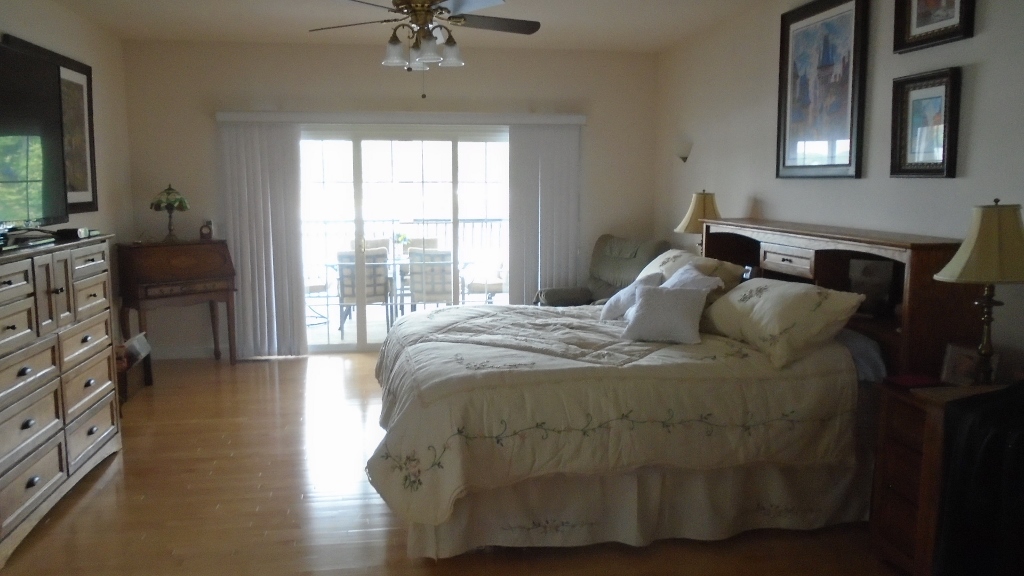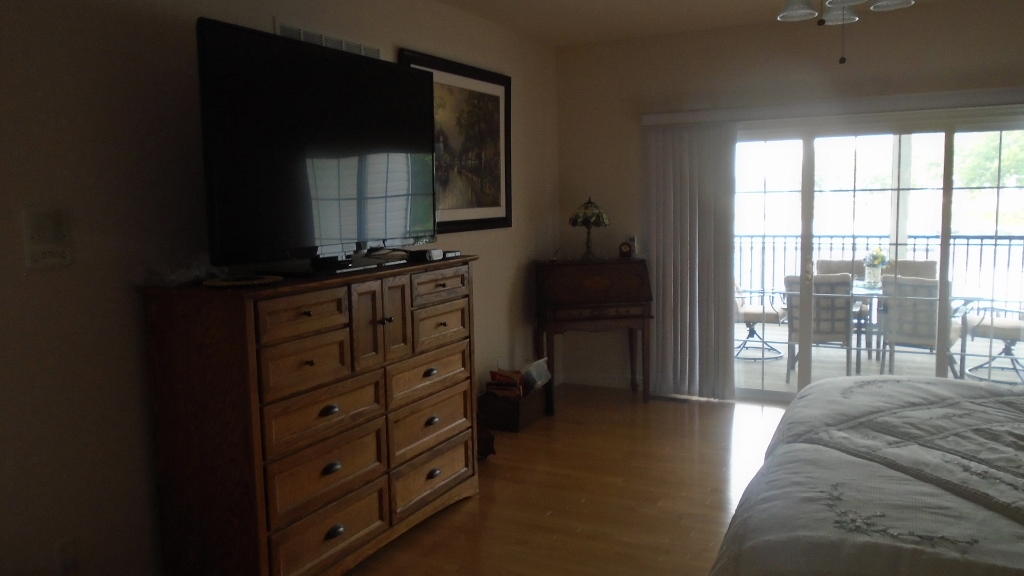 View from our bedroom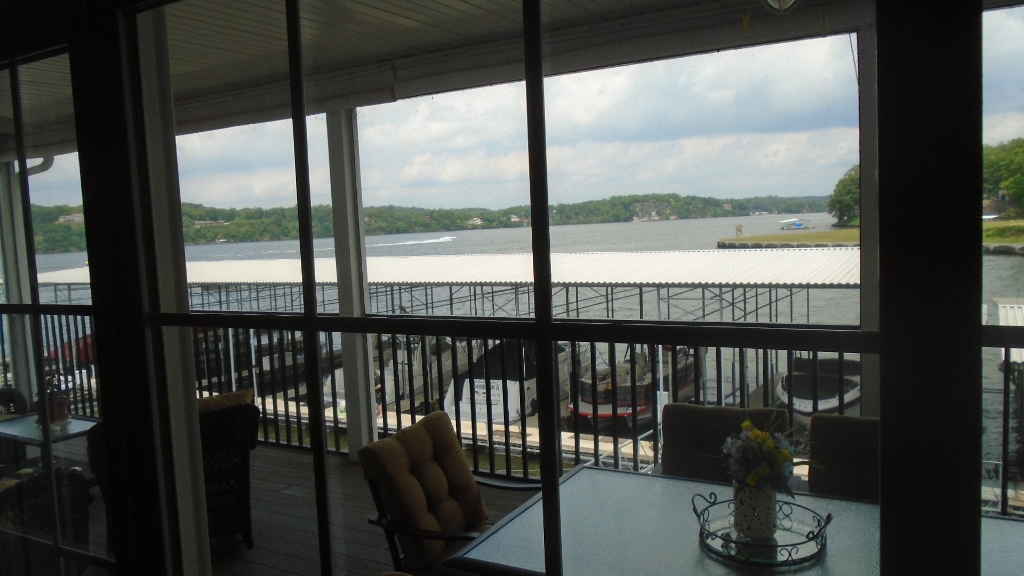 I get my own walk-in closet. Gloria has one the same size, plus a big chunk of all the closets in bedrooms 2-4 downstairs.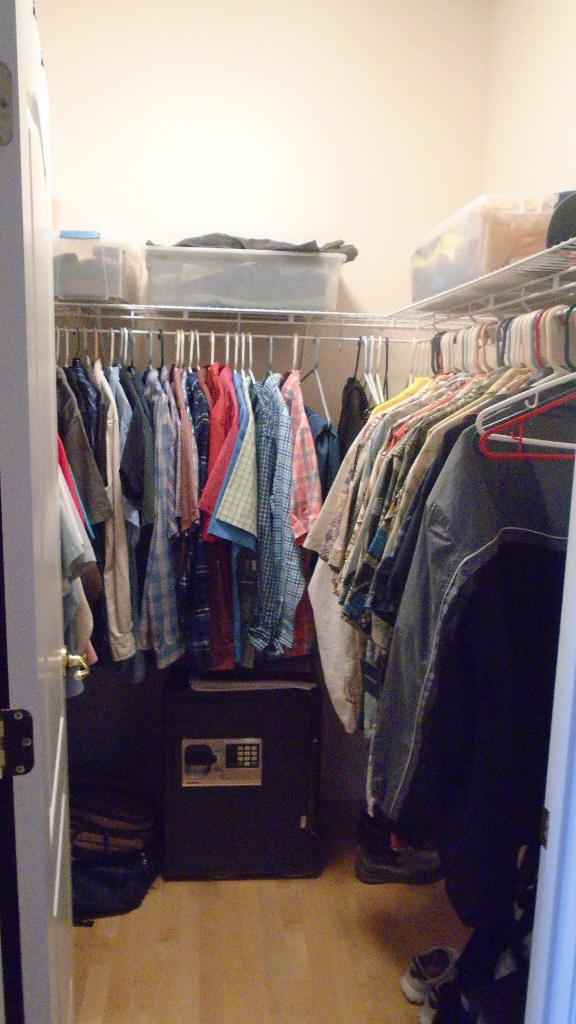 Master bathroom - my side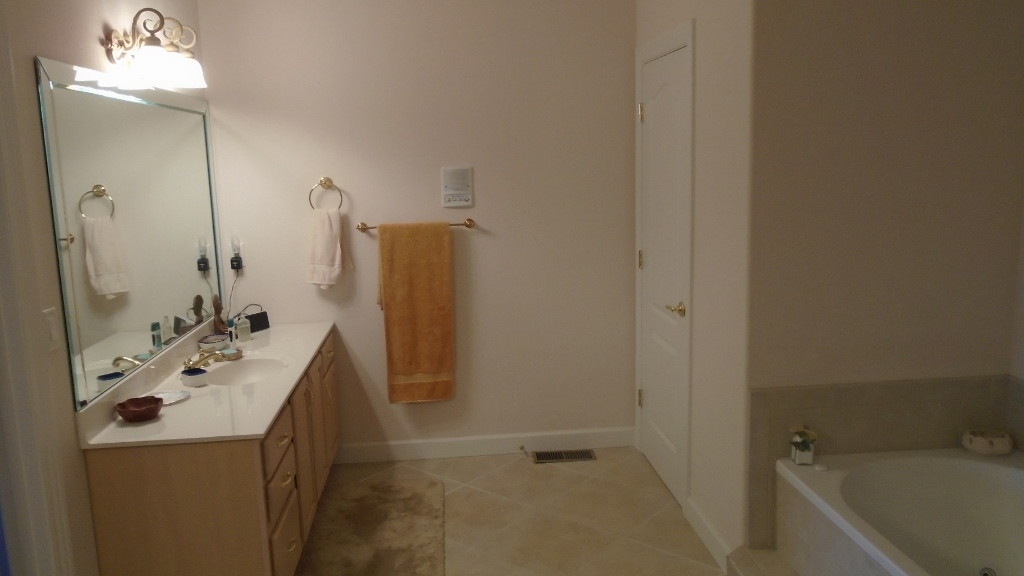 Master bathroom - Gloria's side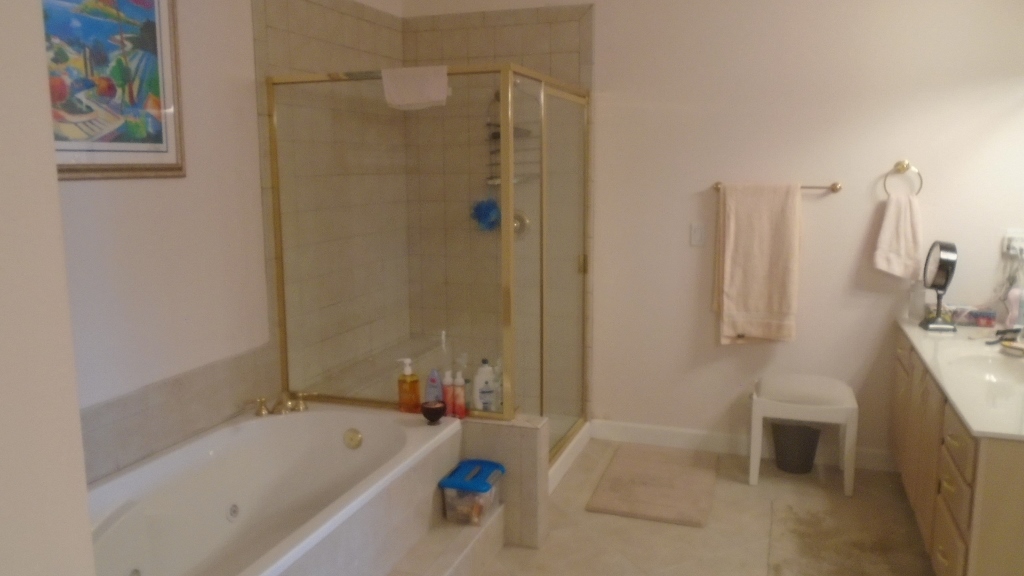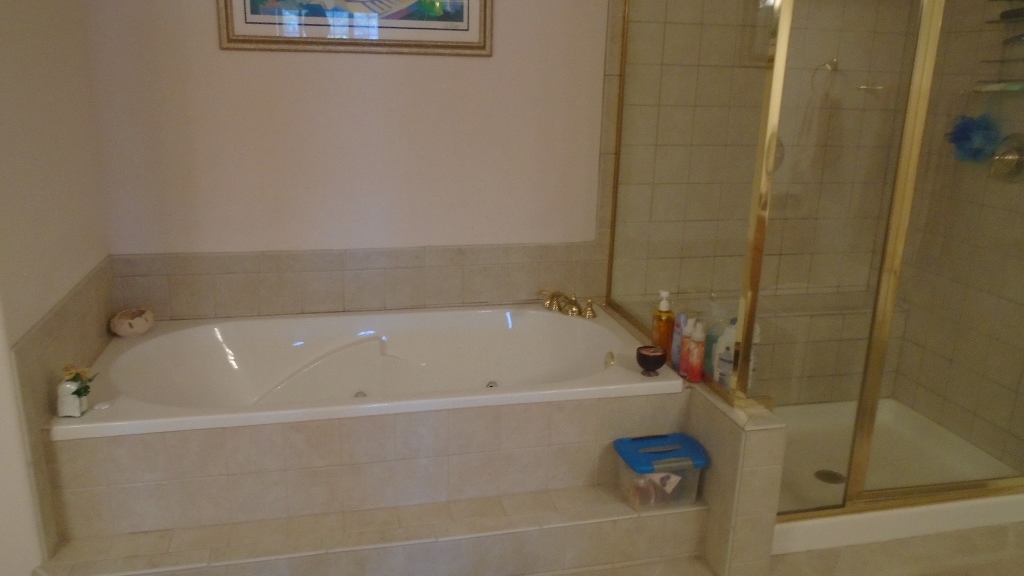 Heading downstairs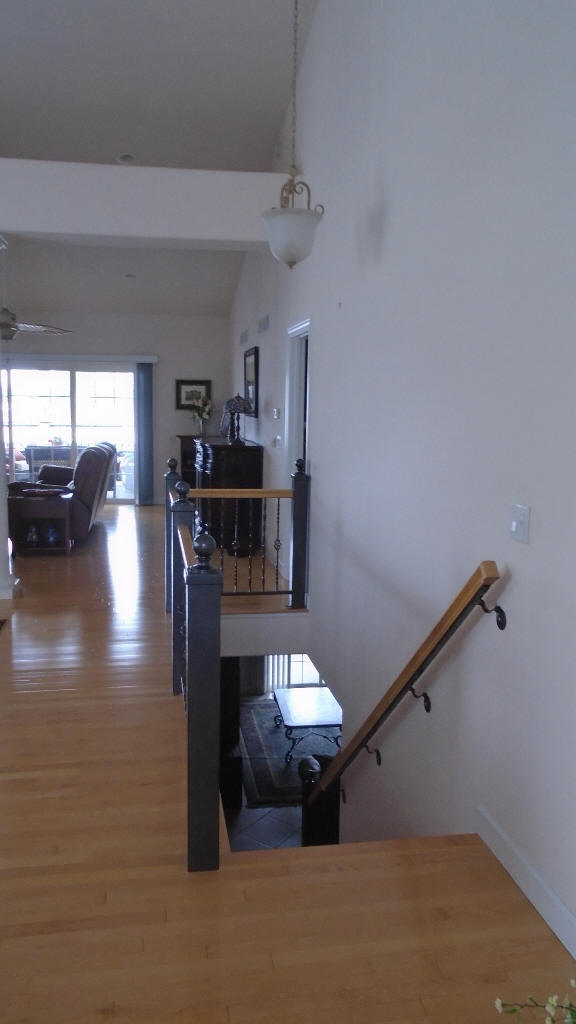 My desktop computer back by the door gives me a good view of the lake while I am surfing the Internet.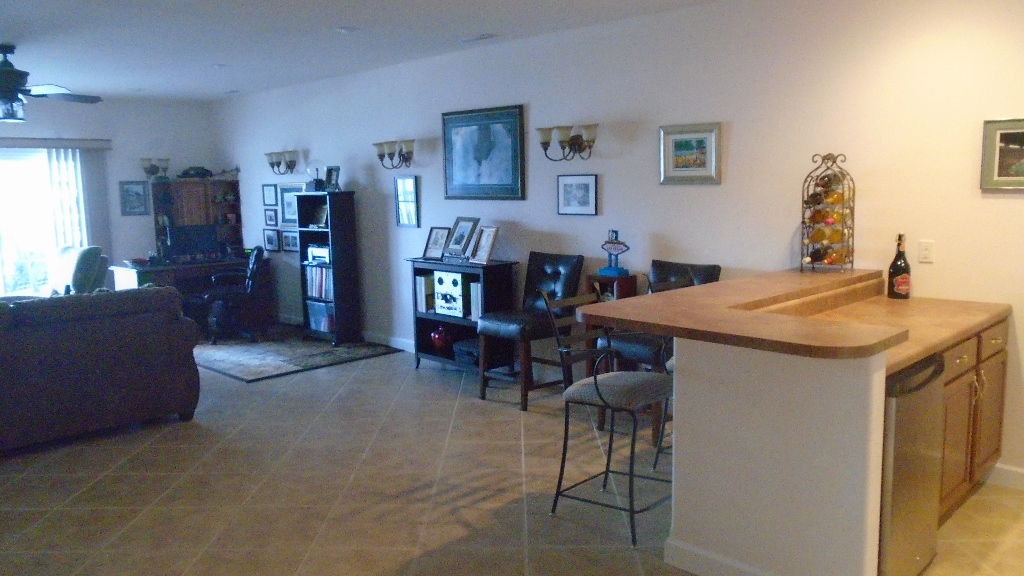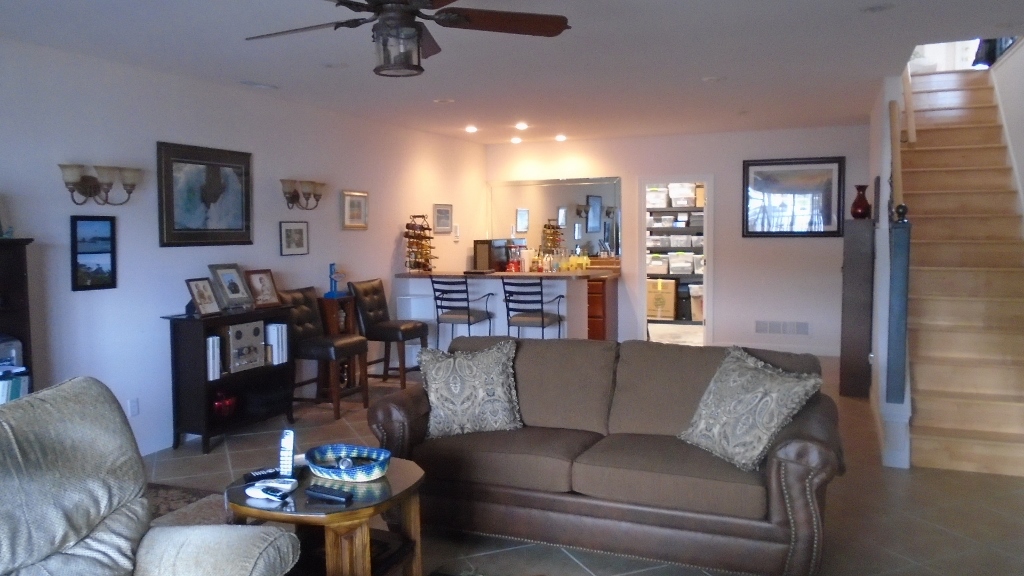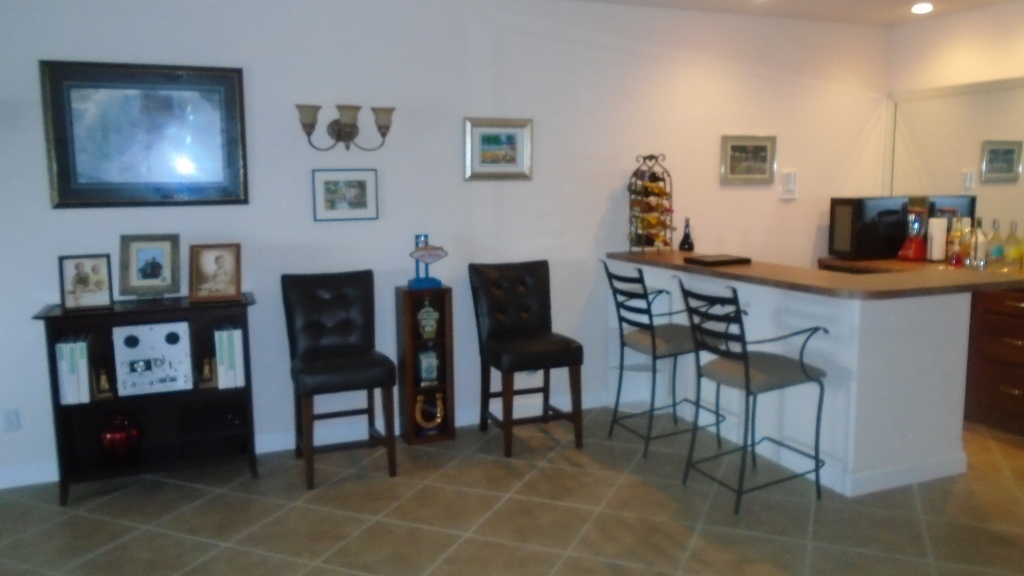 Wet bar with its own small refrigerator and a dishwasher. There is a room for storage in the back that also has our heater, water heater and water (Kinetico) system.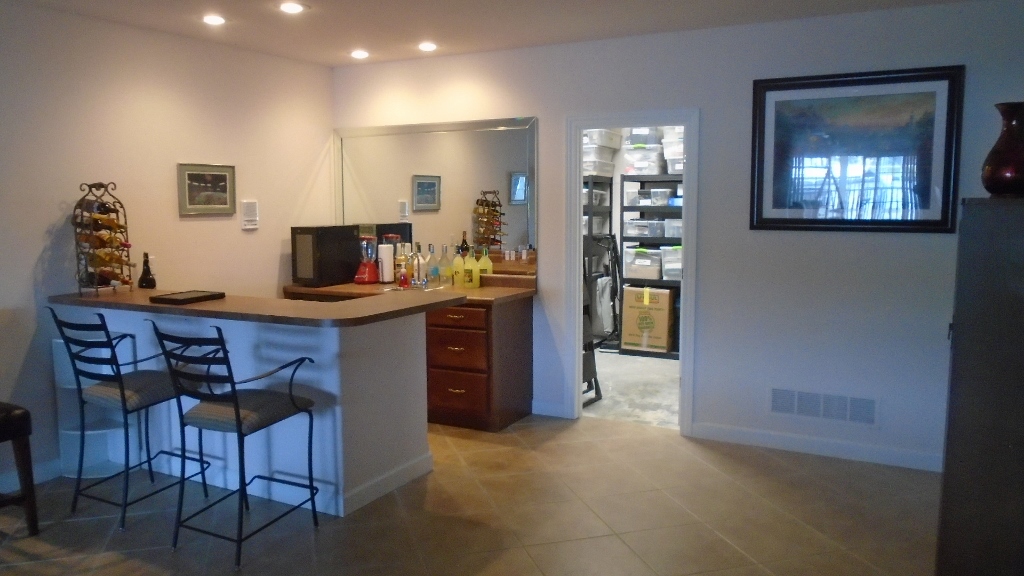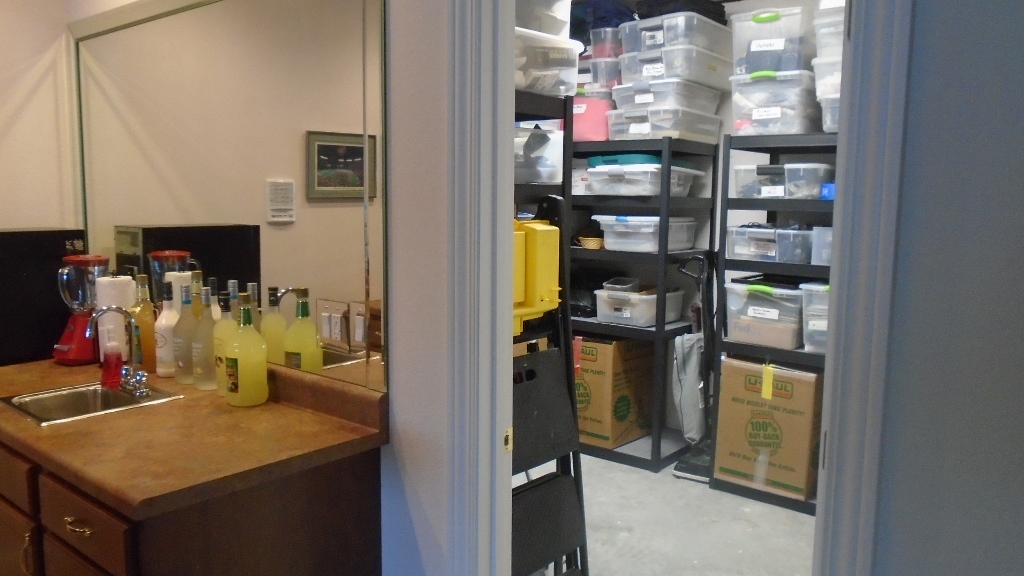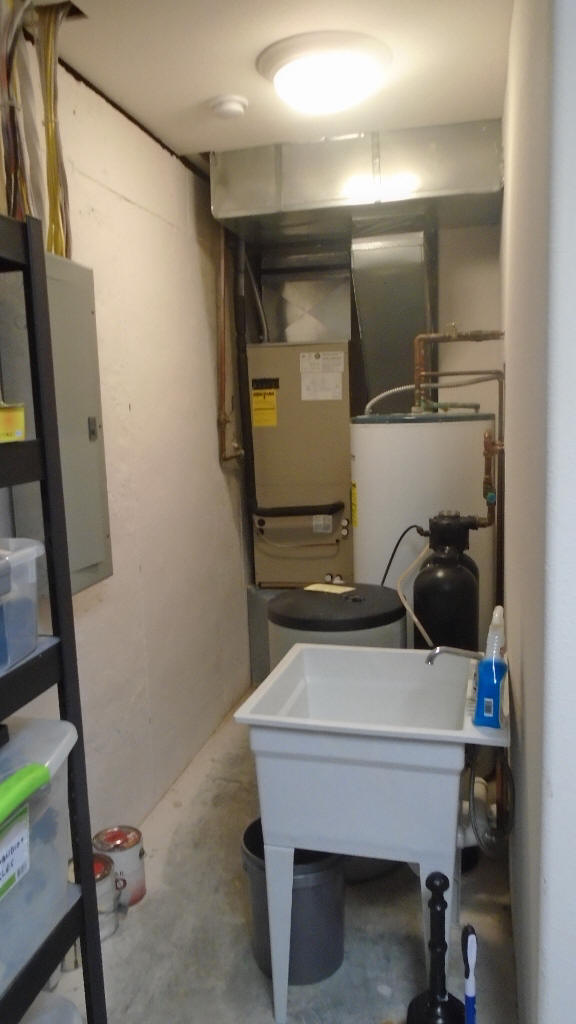 My area where I can watch TV and still have a nice lake view.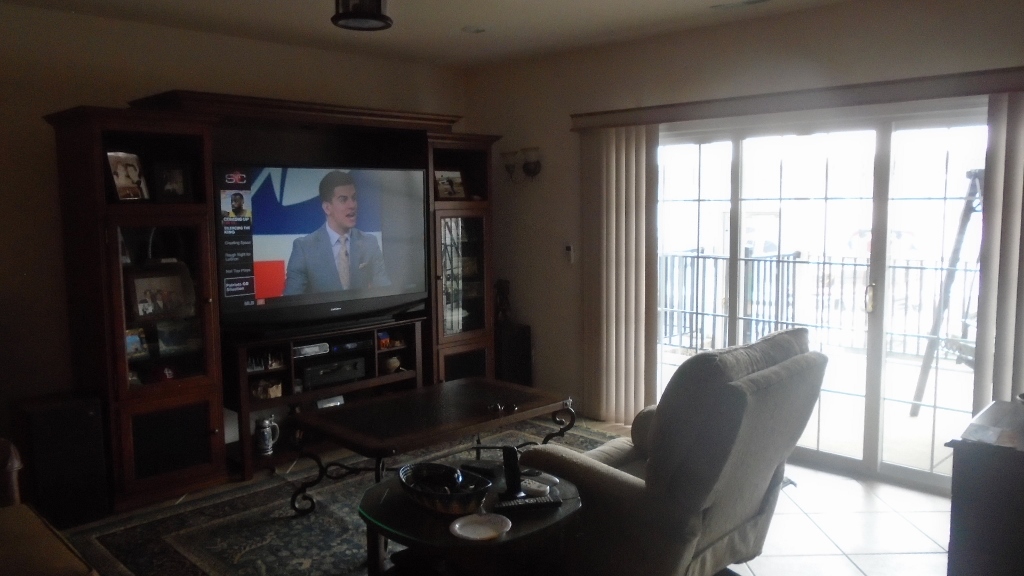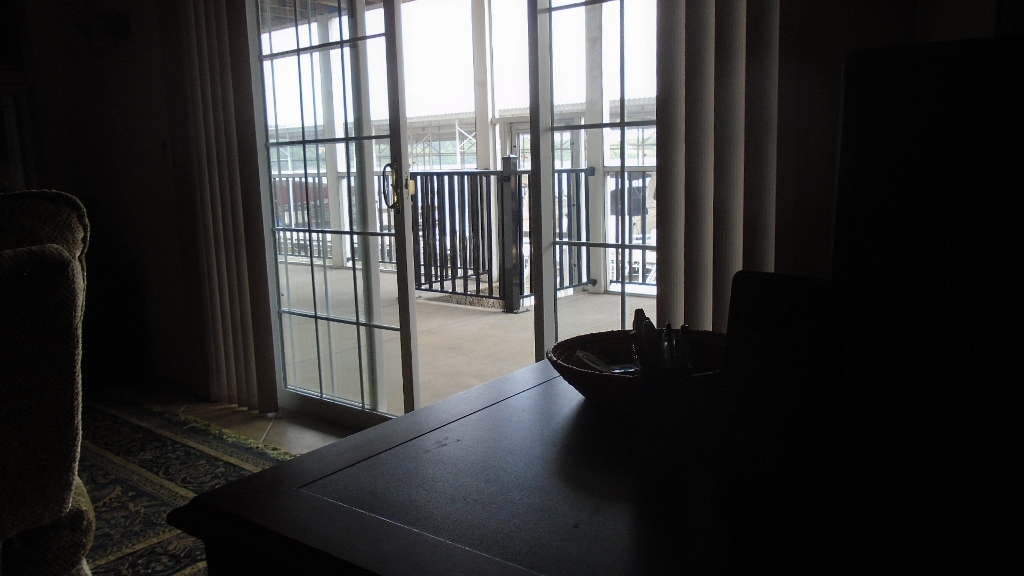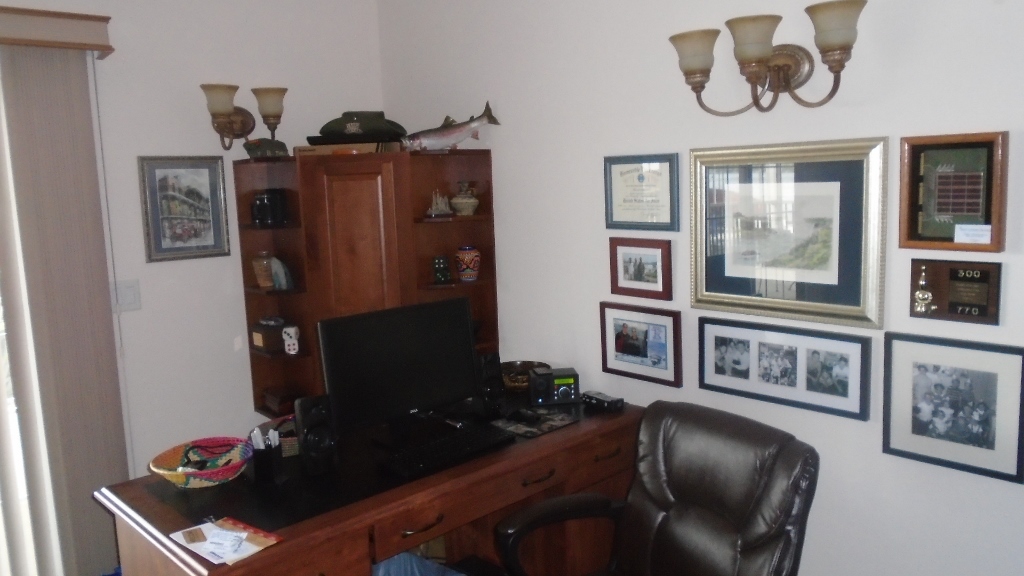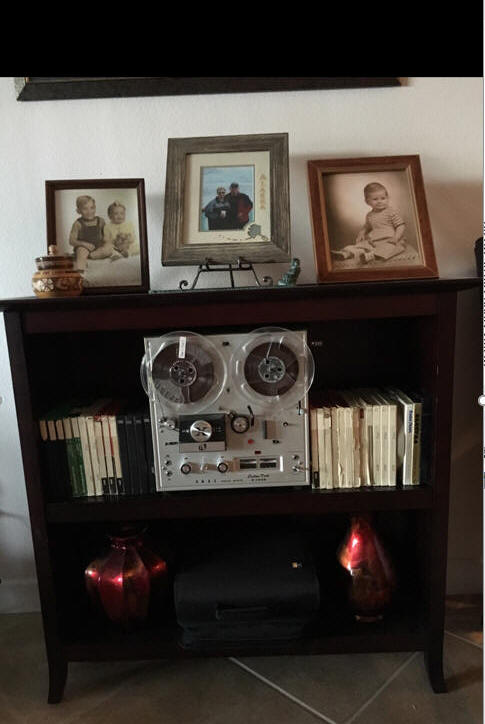 Downstairs - Guest bedroom #1 with a nice lake view and access to the bottom screened-in porch.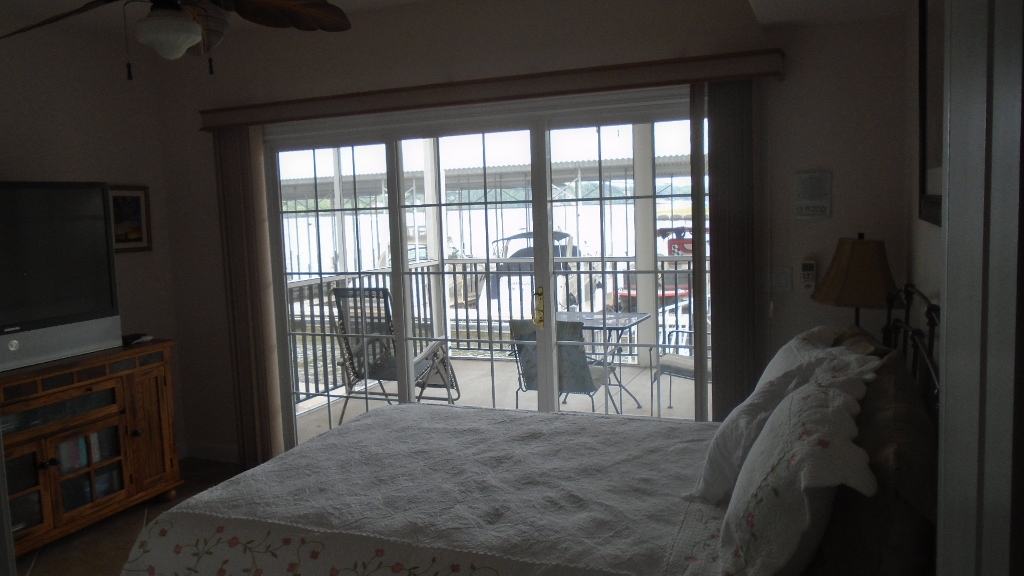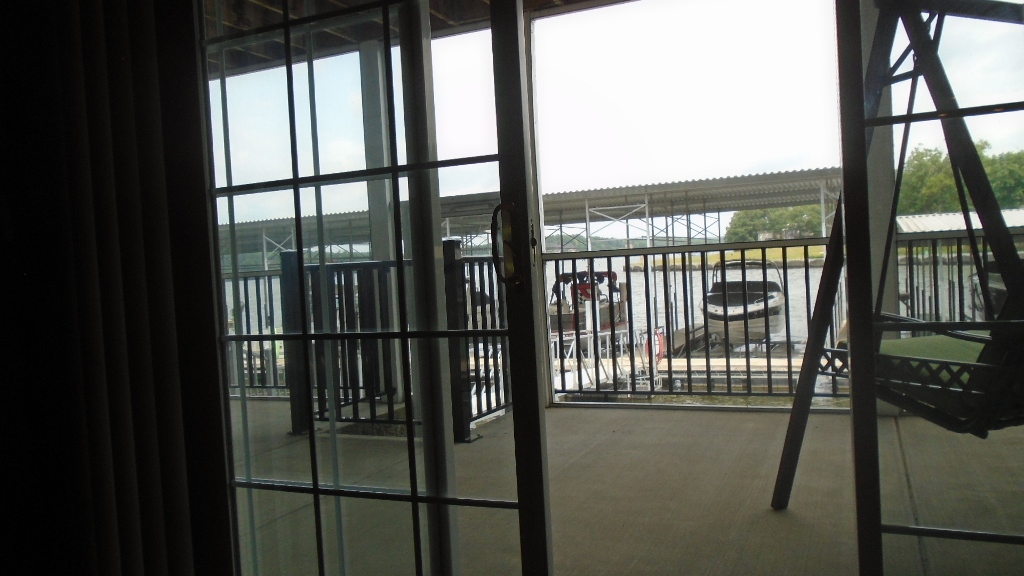 Guest bedroom #1's full bathroom, which is shared with guest bedroom #4.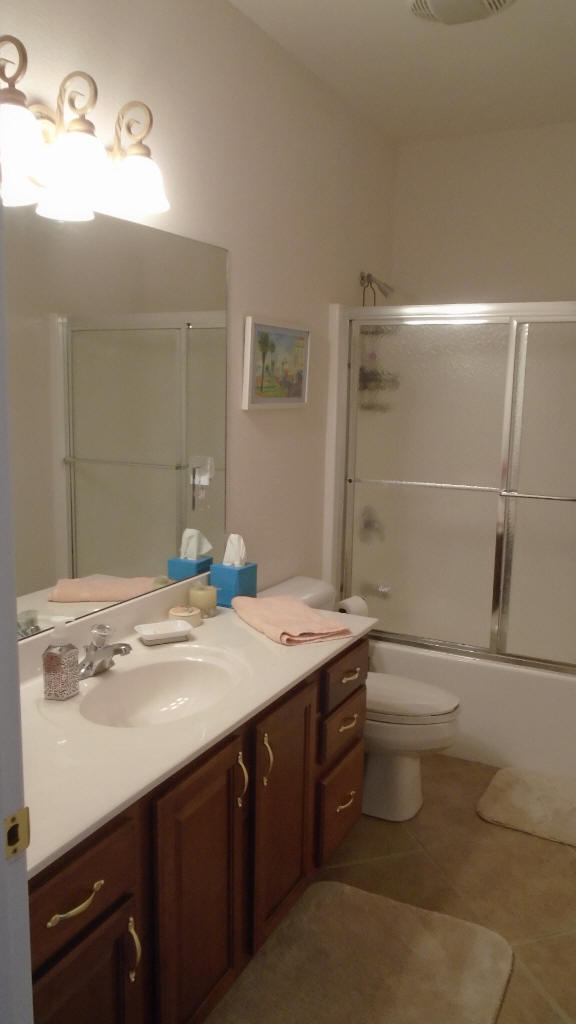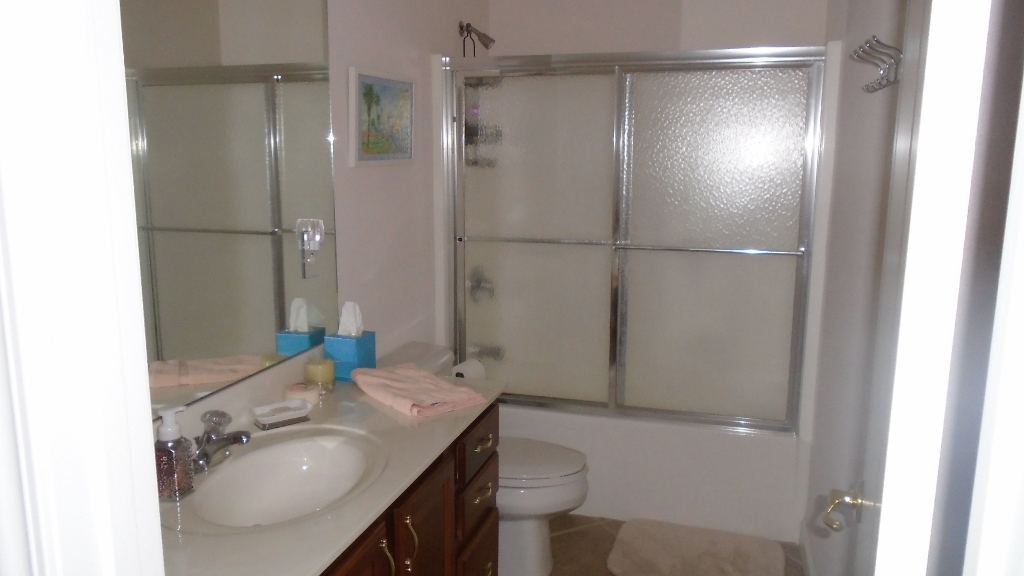 Guest bedroom #4, which also serves as Gloria's sewing/craft room.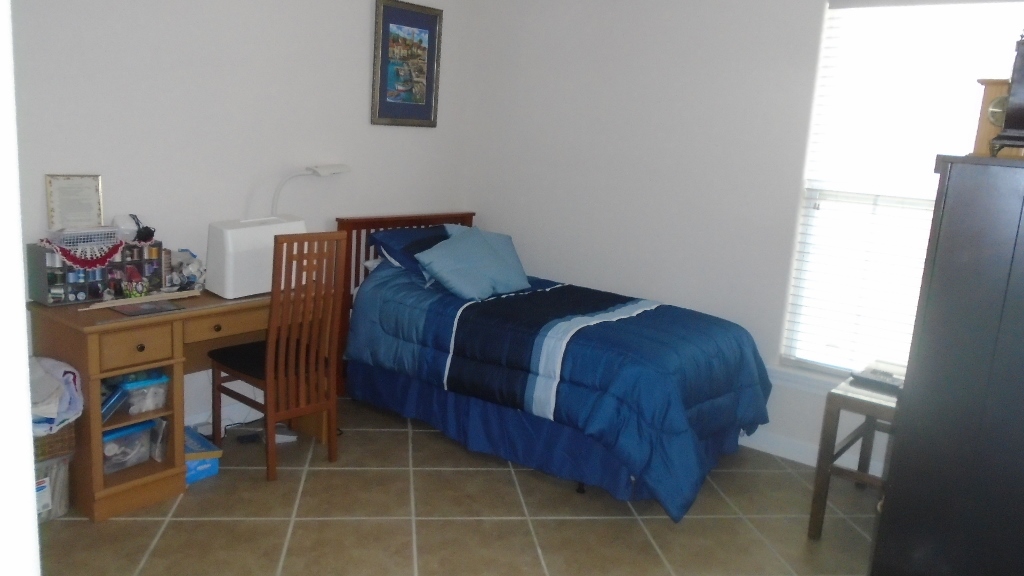 Guest bedroom #3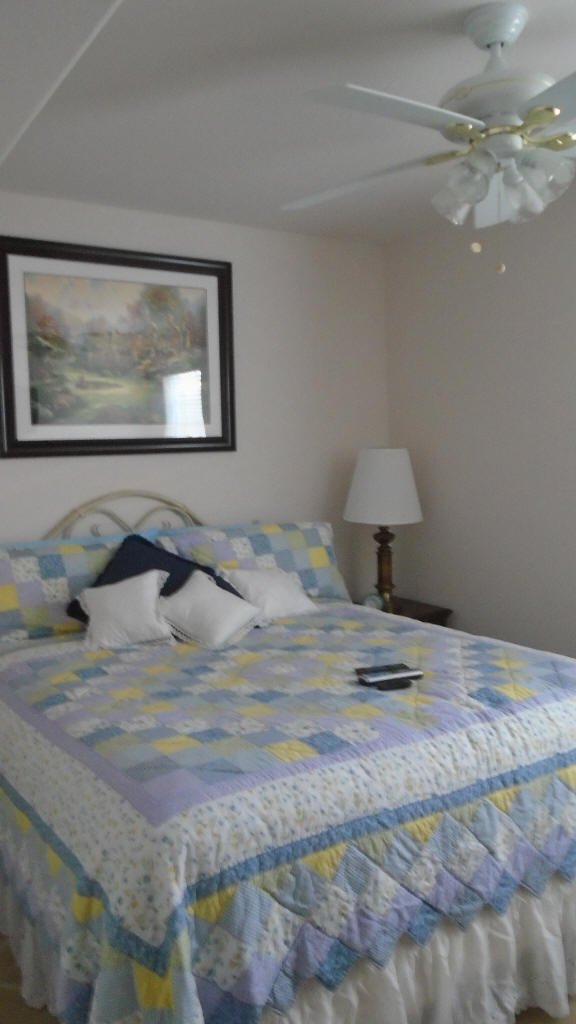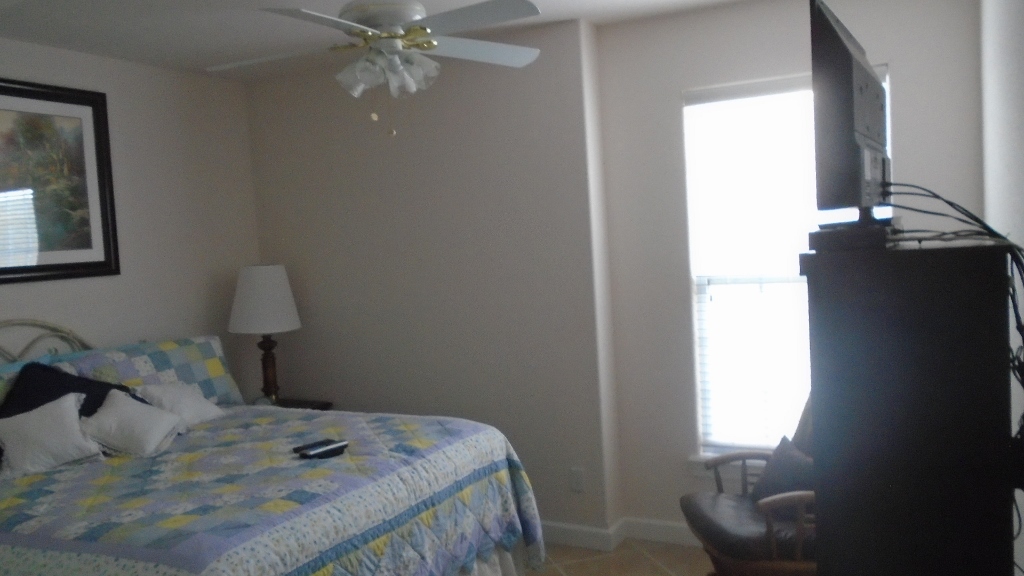 Guest bedroom #3's full bathroom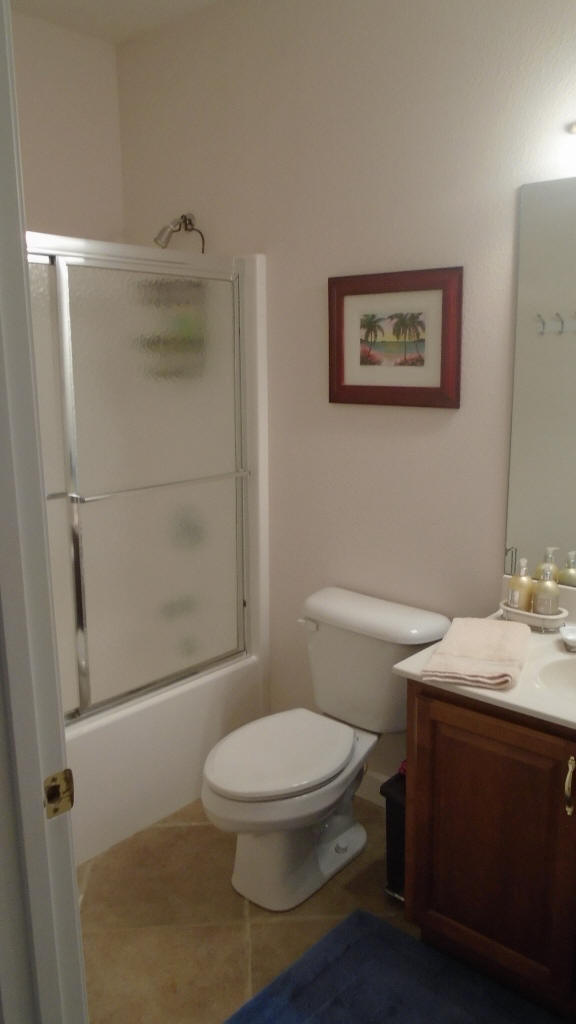 More storage under the stairwell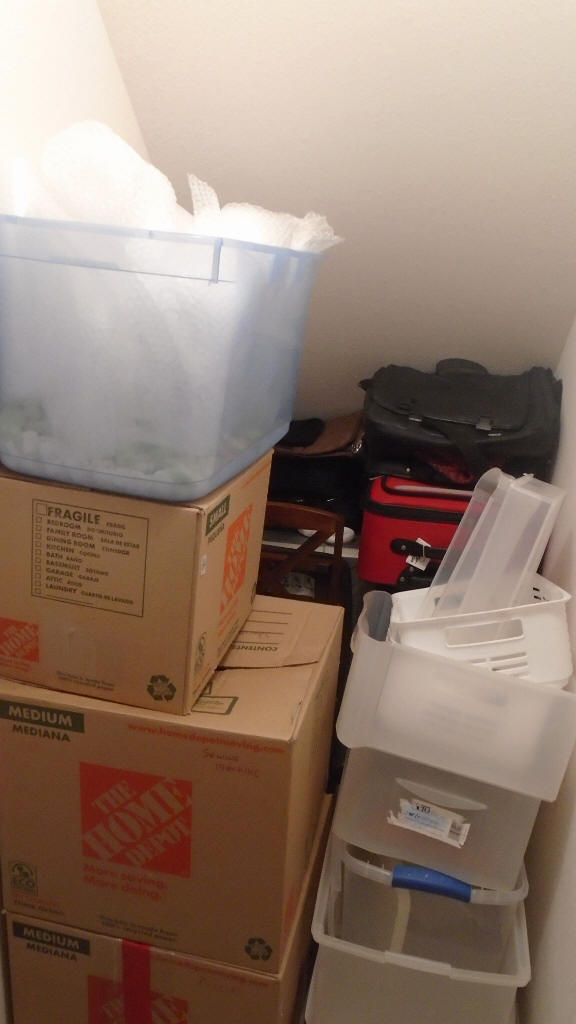 The downstairs patio is also 12' x 35' and screened in.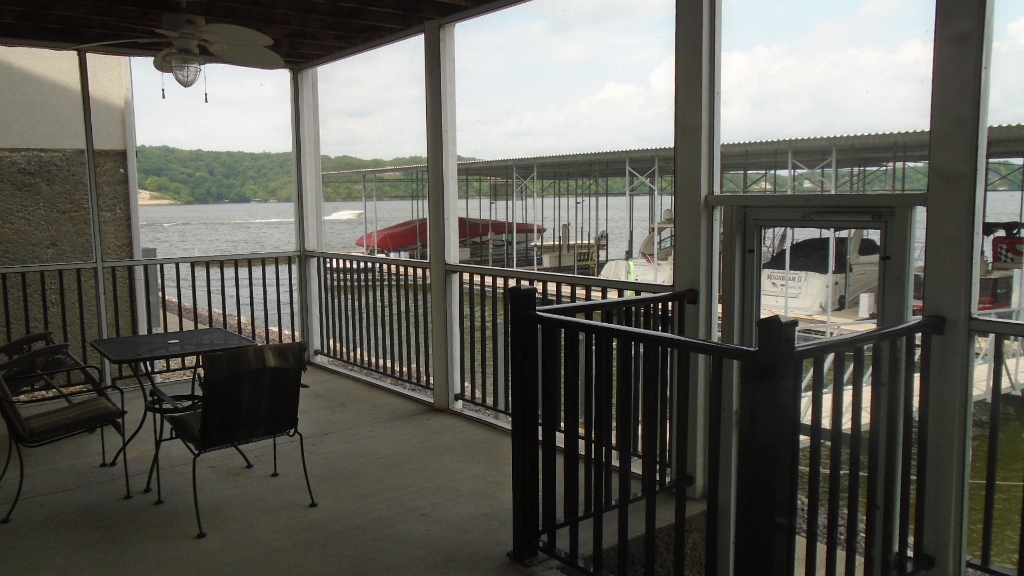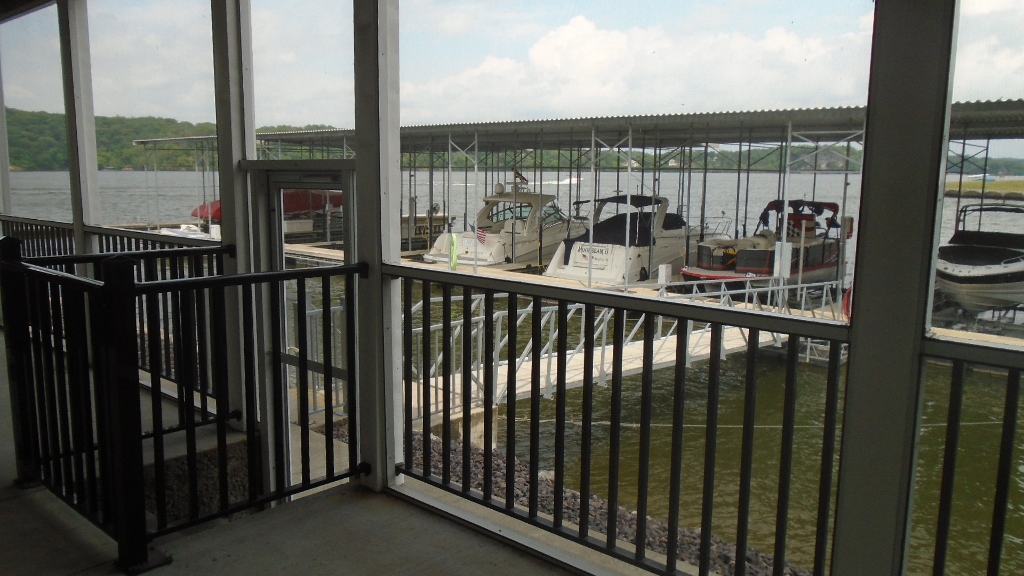 Our unit is the right half of this two villa unit.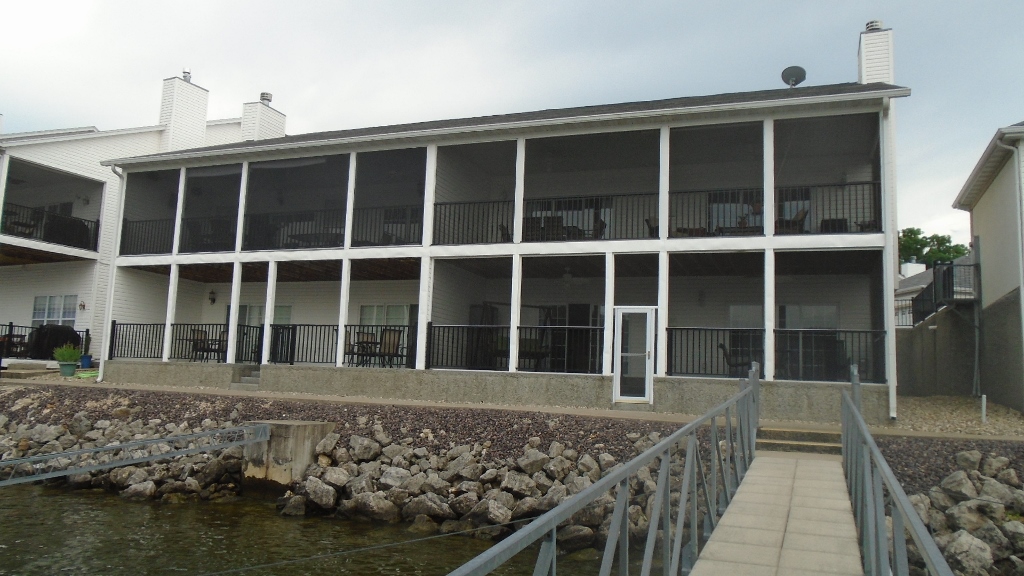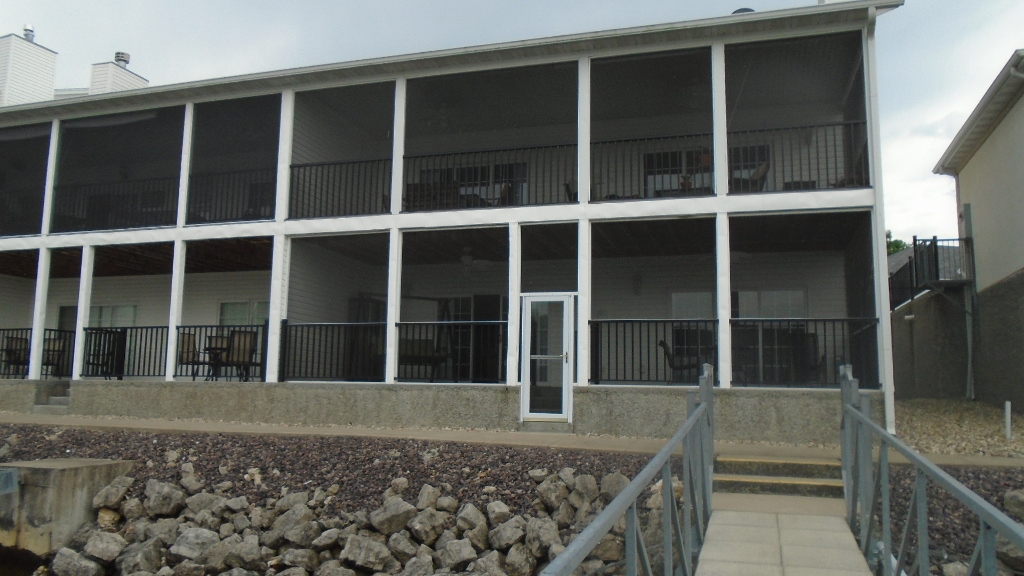 The main channel is 140 feet from our back door.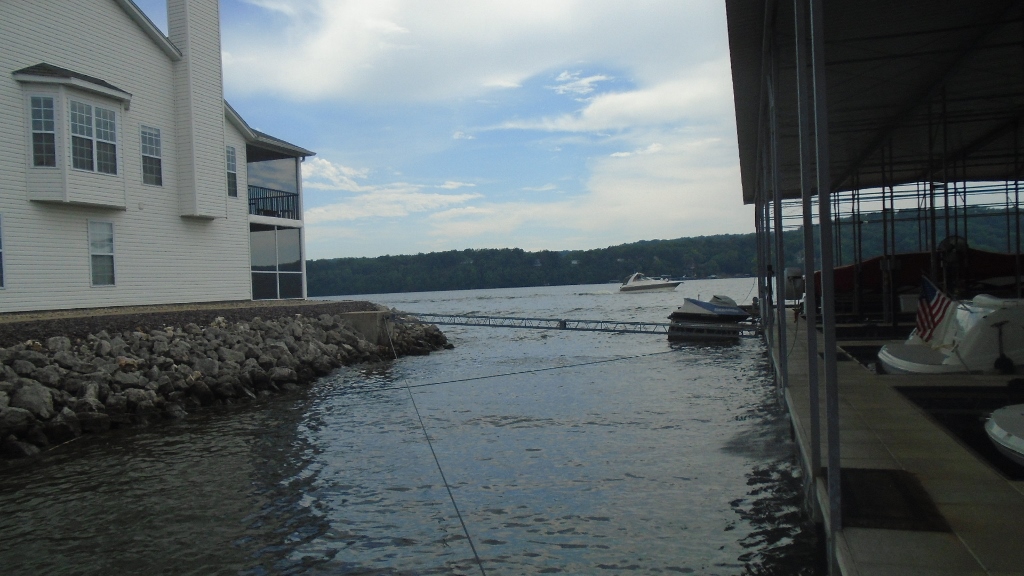 View from the end of the dock. This is the main channel looking southwest towards the Grand Glaize bridge (about 10 miles).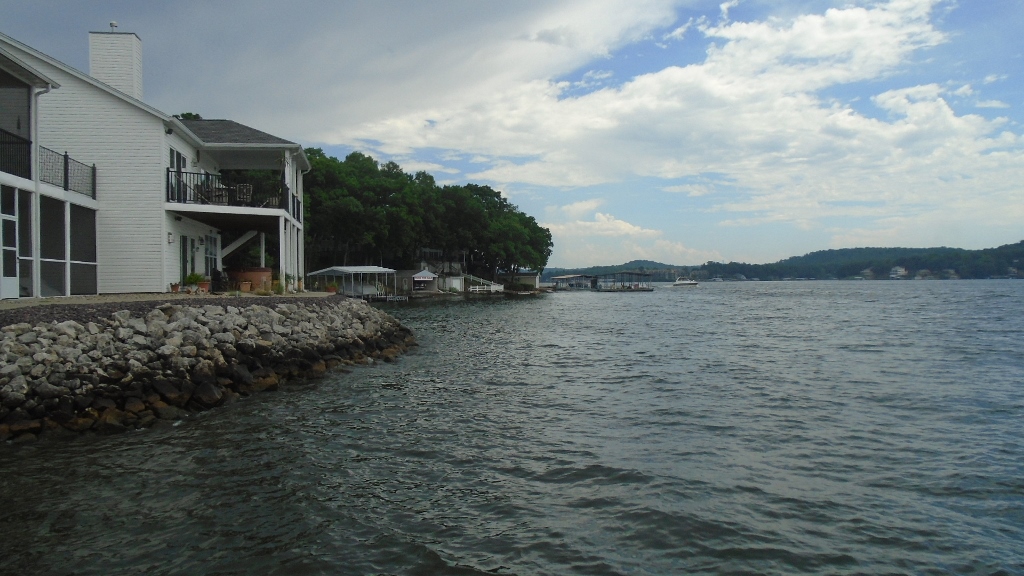 View of our villa from our boat slip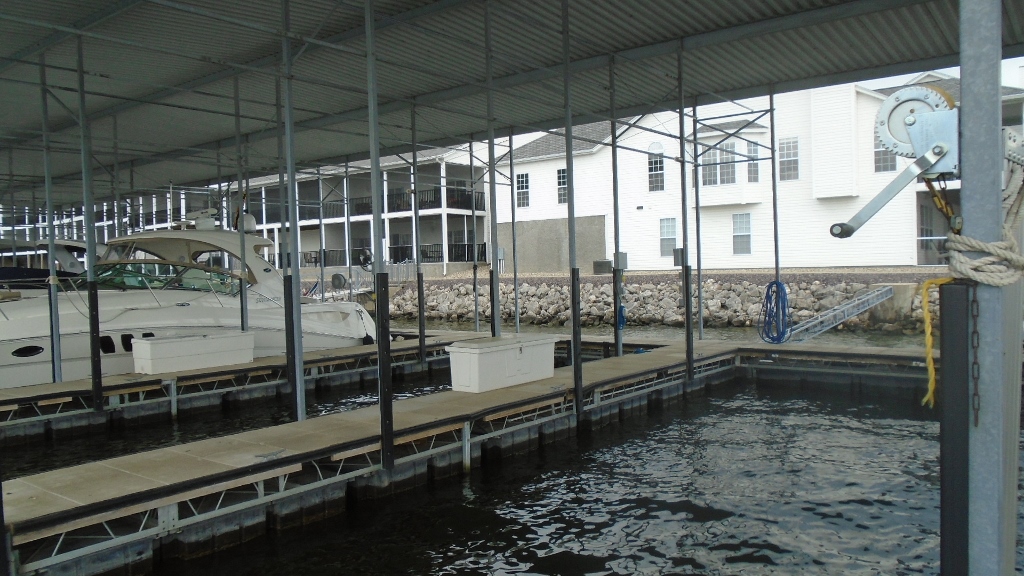 View of the main channel looking northwest from our boat slip.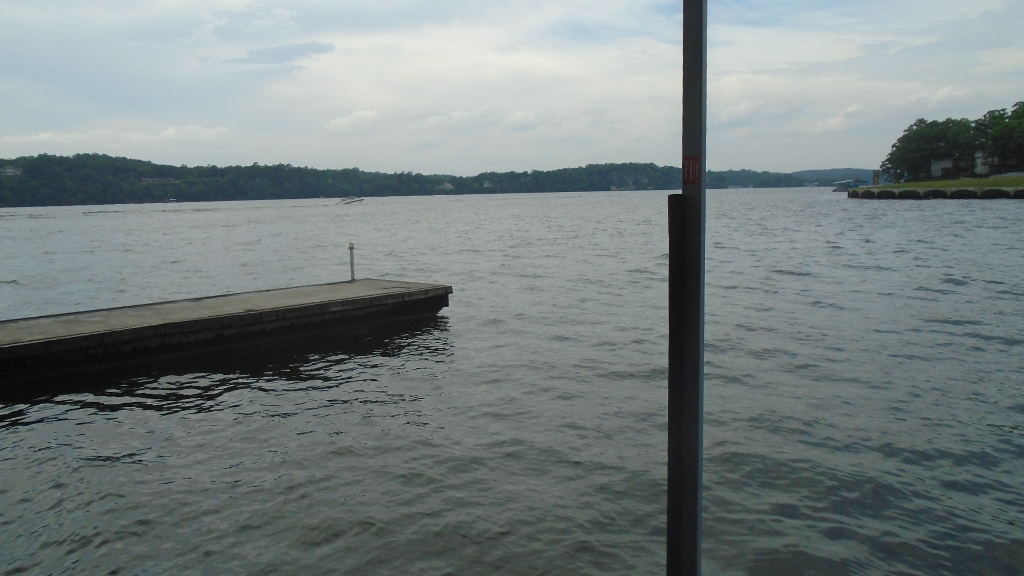 There is a walkway that goes around The Palms. There is only one set of steps for any access by non-owners.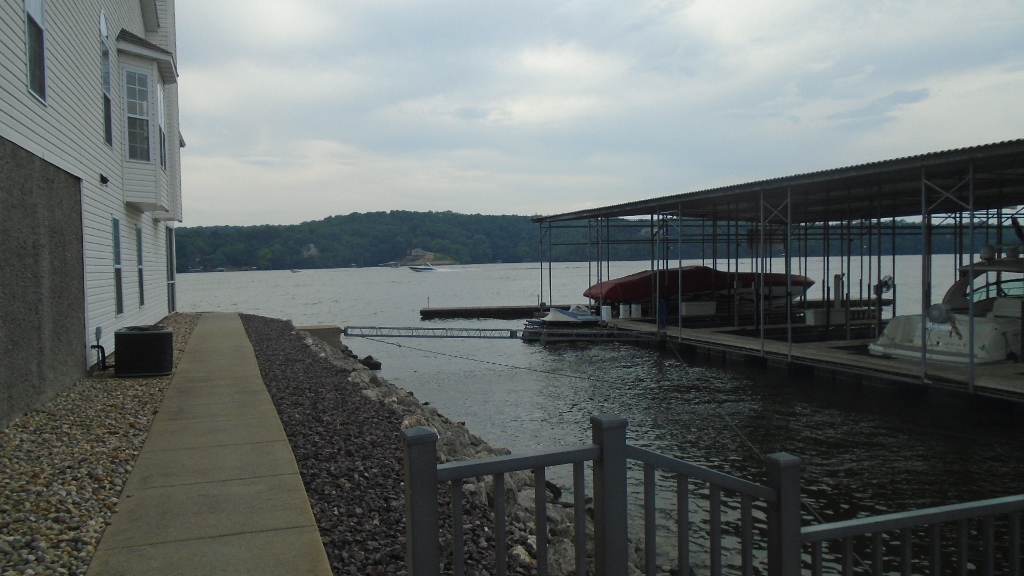 14" crappie - 12+" not uncommon, right from our boat slip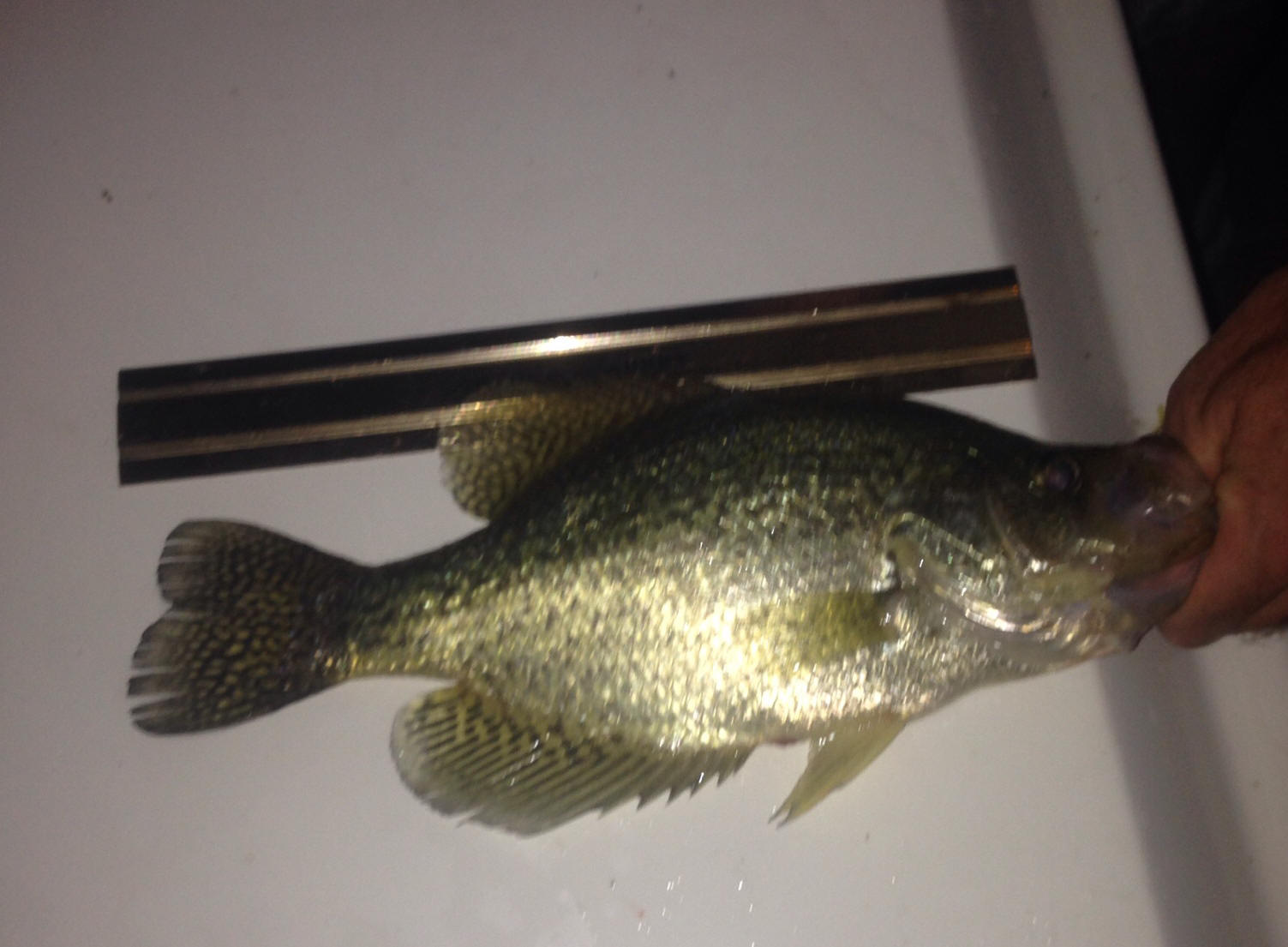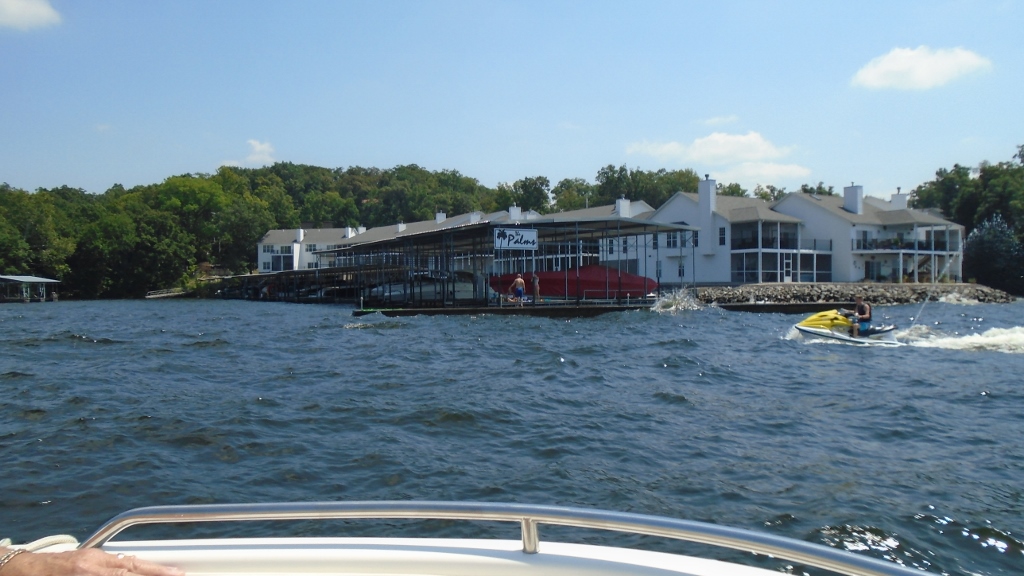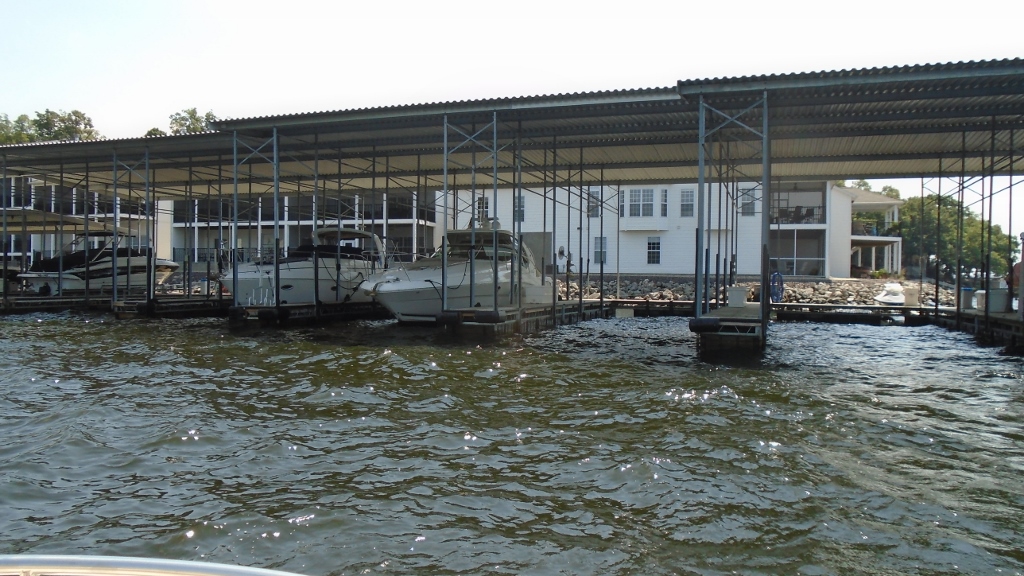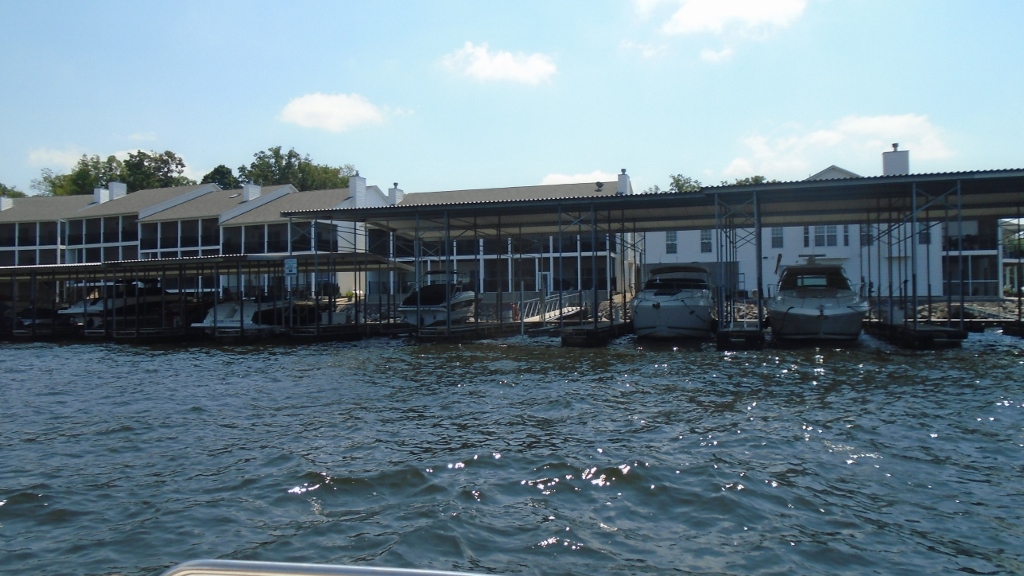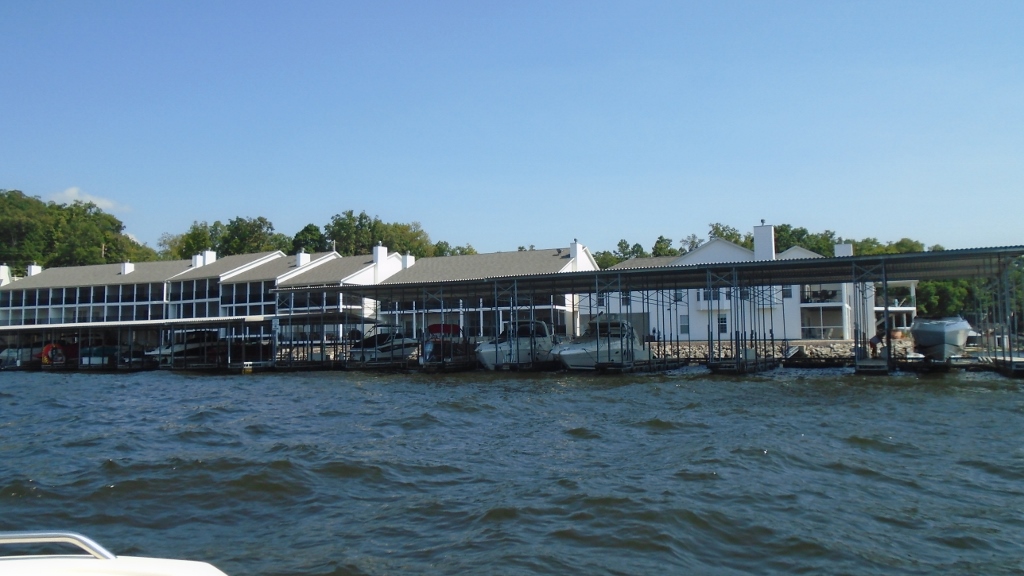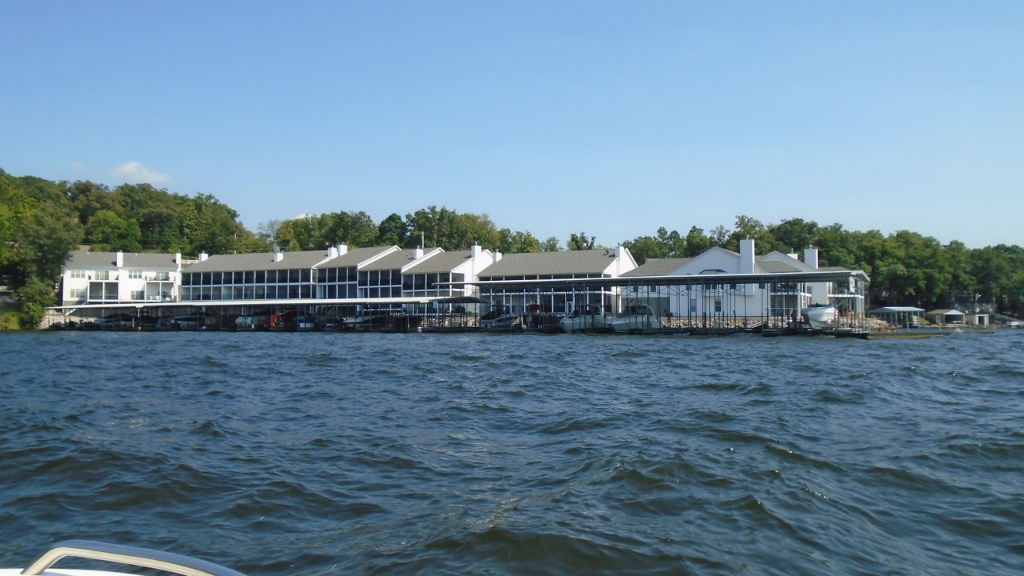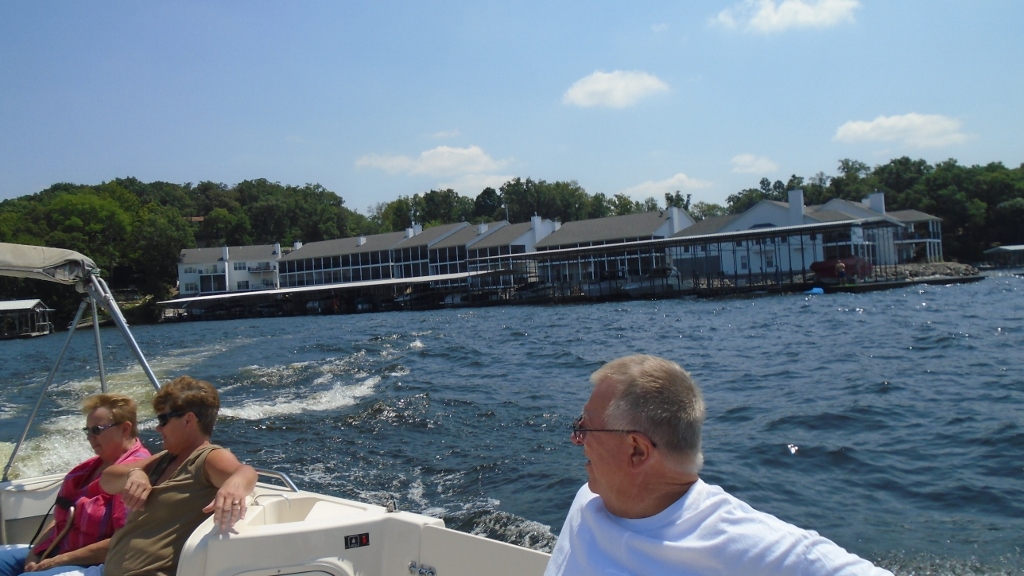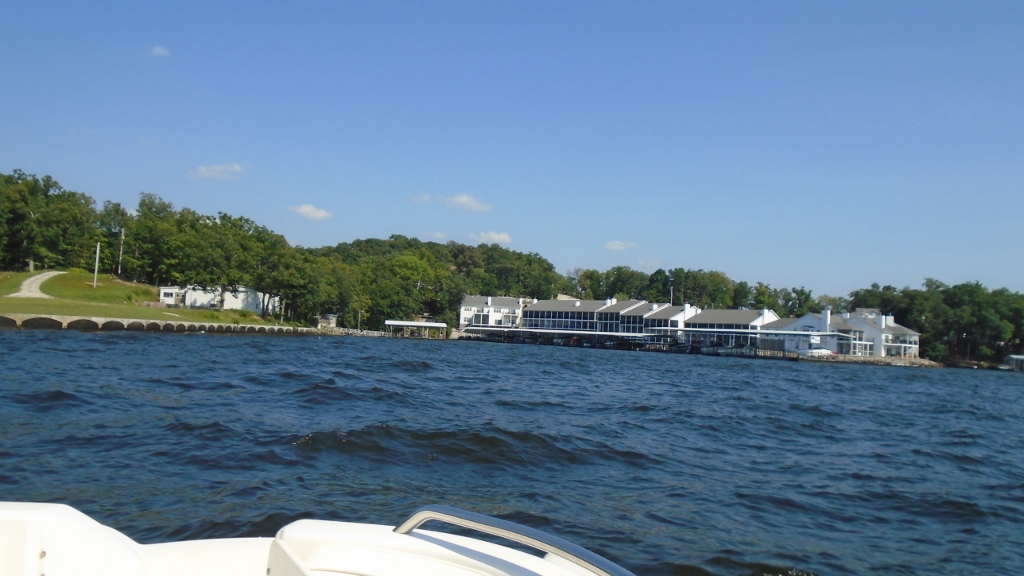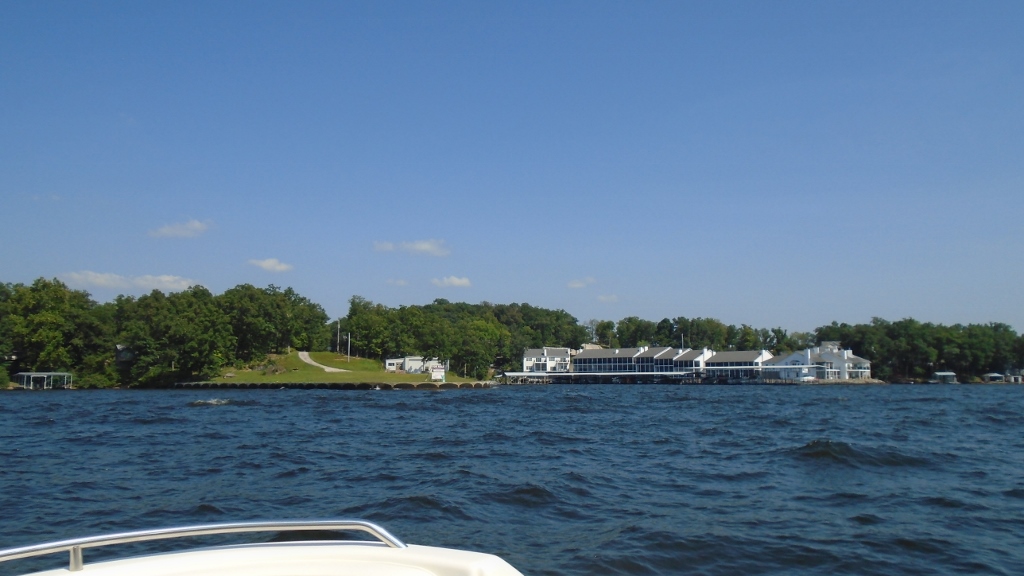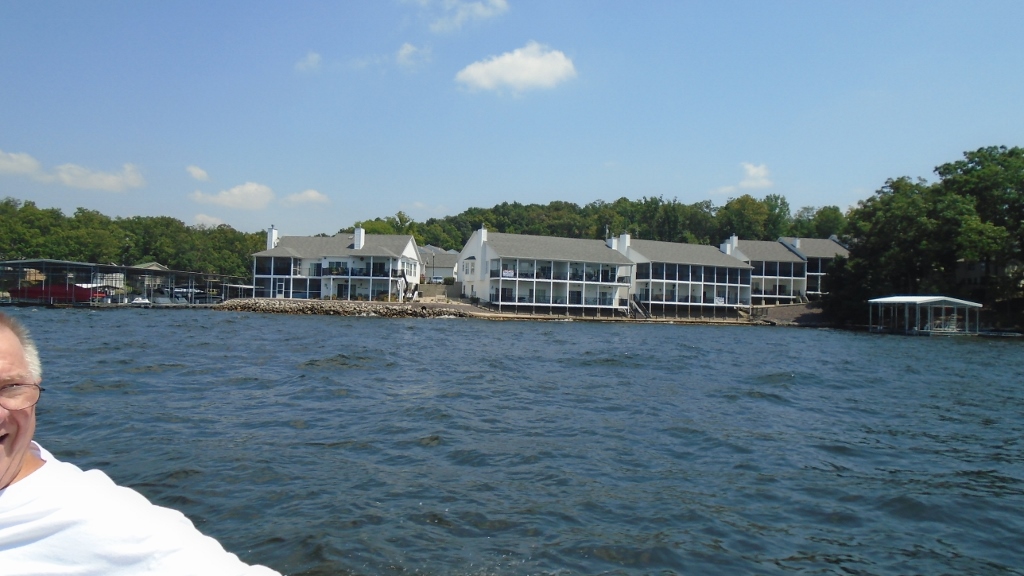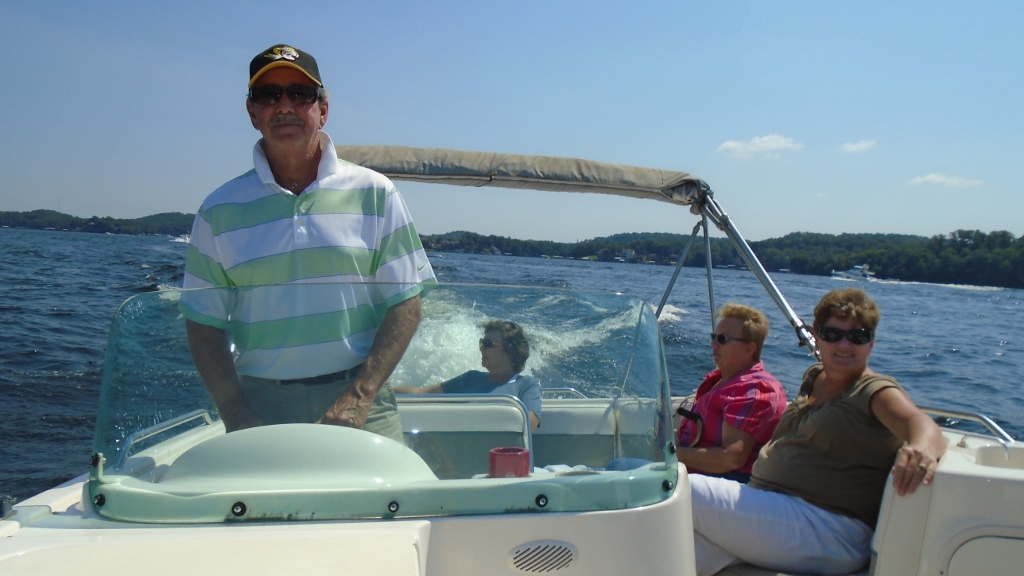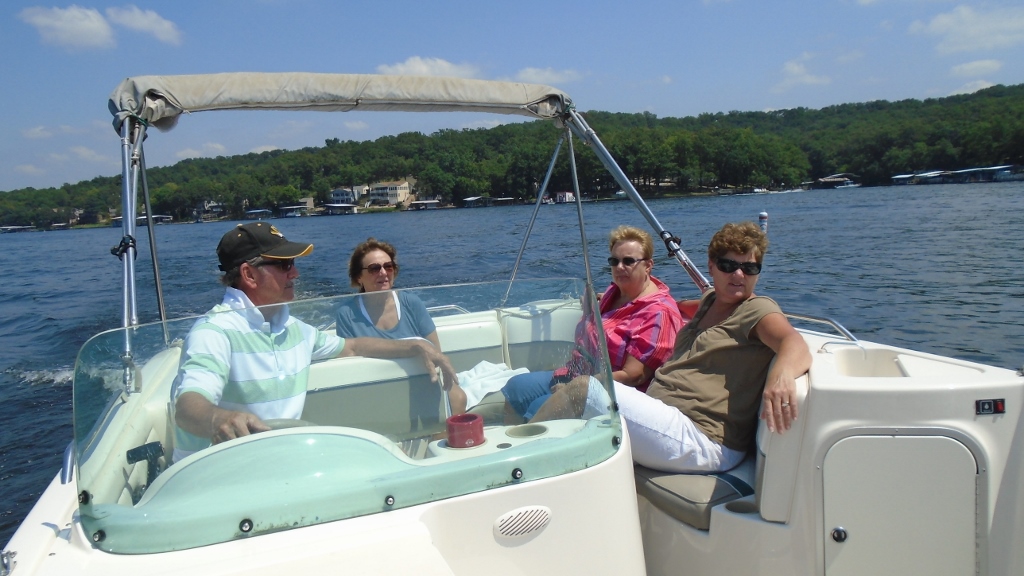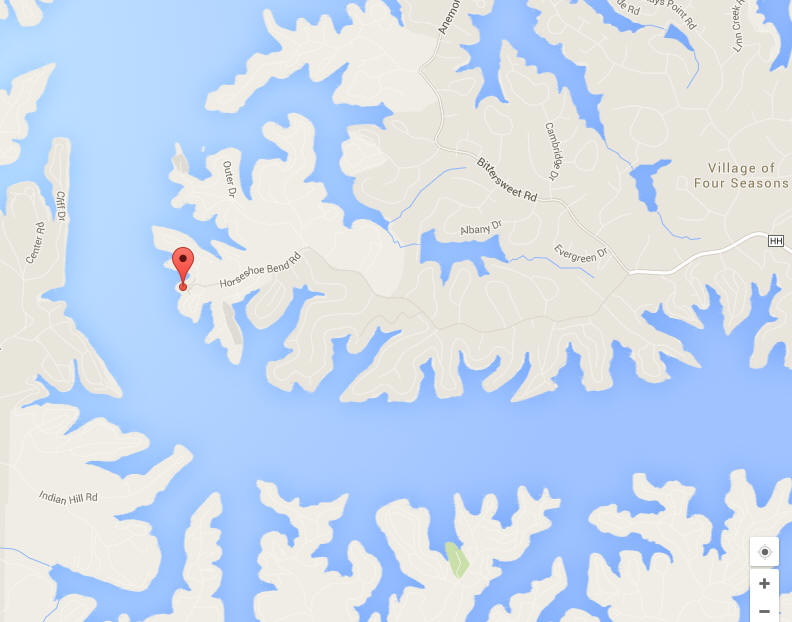 You can see a pool (which is heated) in The Palms. The "B" is our villa.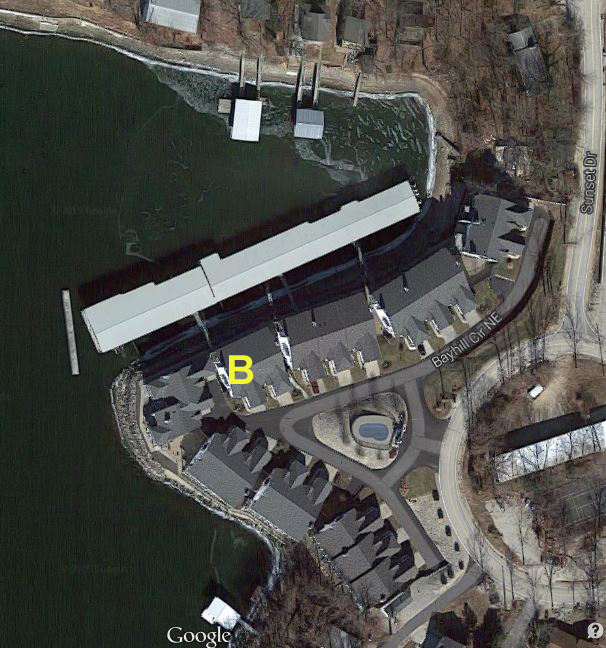 Sharon & Charlie are probably 15 miles via road or 11 miles via the lake.
Our location (and our friends, Jerry/Diane Waller's condo) is at mile marker 9, which means 9 miles via water from Bagnell Dam.
My friends, Steve and Kathy Miniex, have a home at mile marker 13. Cousin Sharon Dillow and husband Charlie are at mile marker 20.