2016 Notes
rocky flats. Use tube. jig head inside tube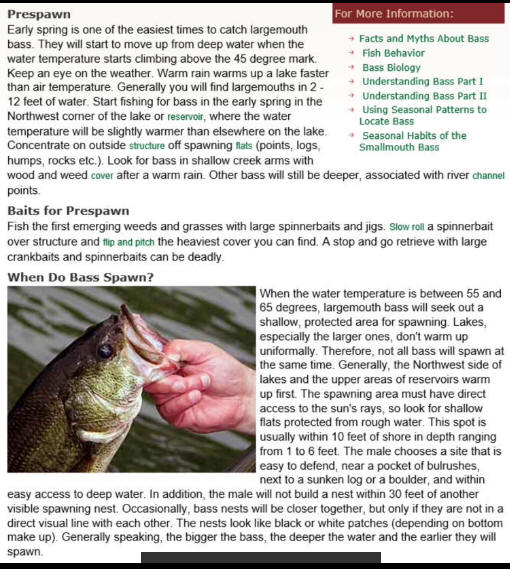 Tungsten weights

Pre spawn 55-59 large mouth move into shallows. Will posture themselves next to structures near shallow water.

Spawn 60-72 will move to spawning area and remain in shallow nursery flats.

Post spawn. Same area as pre-spawn.
6.9 ft medium heavy rod

Red monofilament disappears in water, just like fluorocarbon lines.

Red hooks are good to attract fish since they reflect light.
Spinners - Gold good in murky water. Silver good in clear water. Can use mainly early spring, late fall and also year round. You can add a trailer hook if wanted.
Spinnerbaits are often referred to as "the most versatile" lure because they can be fished in nearly any condition, year 'round. They can be fished in winter, summer, fall, spring, hot water, cold water, muddy water and even clear water; from just under the surface to as deep as you want to fish it. It also is the type of lure that can be fished in, over, through and around many forms of cover.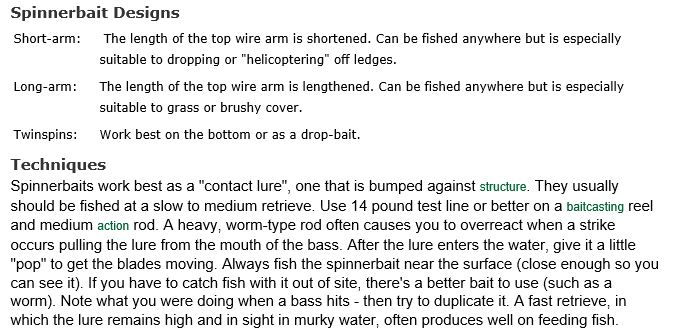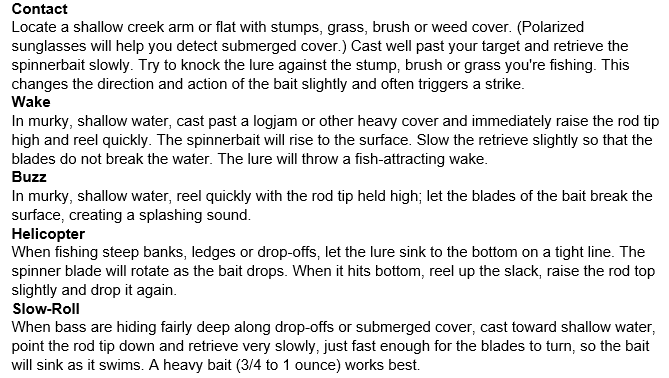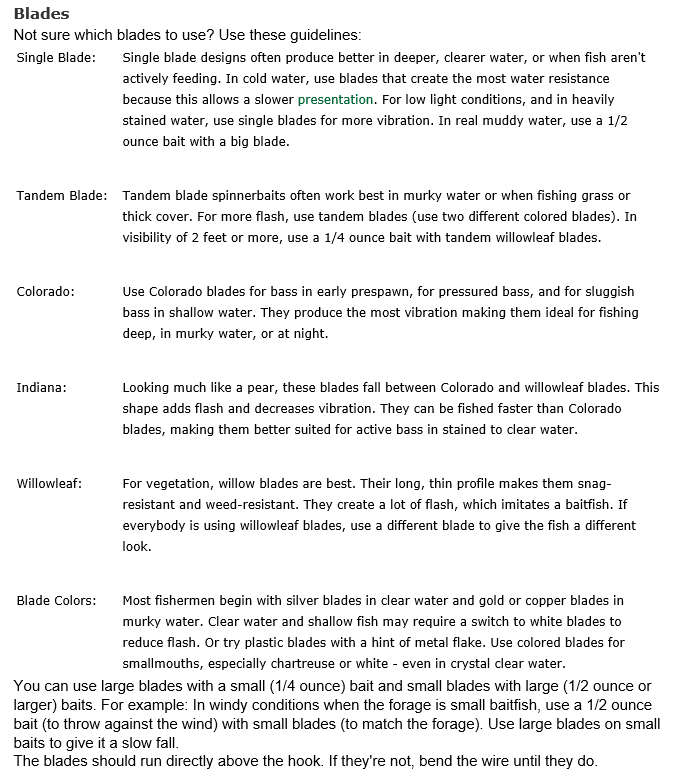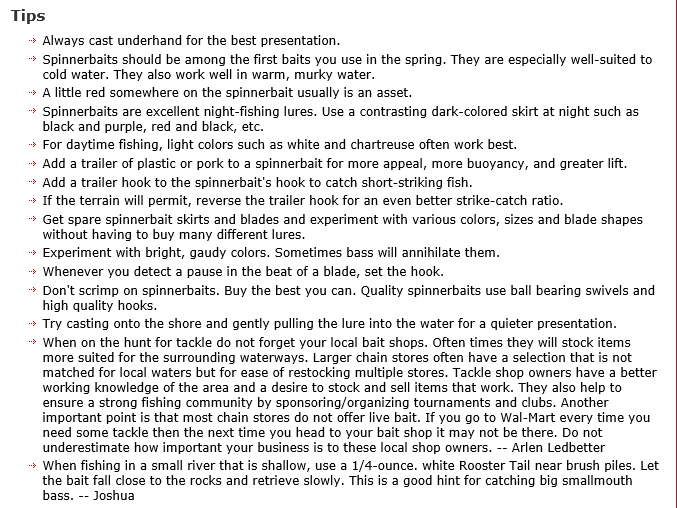 Clear Water
* Brown jig with some orange in the skirt, hooked with a brown trailer dipped in chartreuse JJ's Magic.
* Pit boss. Berkely PowerBait Floating worm. PowerBait Chigger crawl when water 65-70 and clear.
* Clear water and inactive fish: Fat Gitzit tube. Used as drop bait in less than 10 feet of water. Let it fall with total slack. Let it sit on the bottom and raise up until you feel the bait. If it has a spongy feel, set the hook. Otherwise, lift/drop once or twice, then reel in.
Stained Water
* Blue/Black jig with both colors in skirt, teamed with blue twin curly tail trailer.
* Stained/cold water, Sunny - Water 2-4 feet. Slow rolling. Bass Pro Shops Lazer Eye Spinner bait, chartreuse and white.
Lures
* Pre-spawn: Tora Tube - 7 inch. You can put a football jig (8/0) inside and possibly a treble stinger hook (8/0) about 2 inches behind the main hook. Add big bullet sinker if you want to get down in deeper water.
* Westy Worm - Has a double hook.
* Top fishing: Sexy dog. Walking the dog. Chartreuse top water walking bait
* Pan Fish - Gulp Alive*
* Ned Rig-Elastic, slow decent, and stands up on bottom
Use
ElaZtech
with mushroom head jib
* Rockport Rattlers - Chickytackke.com Bryant's Osage Outdoors - 716 N. Main St. Laurie, MO
* Clear water or fishing slow; switches to a War Eagle finesse jig with a Berkely chigger crawl
* Topwater early in morning or late afternoon. Even during the day when overcast.
"Walking the dog" is the zigzagging retrieve used for various cigar-shaped topwater lures that walk across the water while twitching your rod.
+You have to have the right rod and reel and the right line to have your Spooks walk right.
The Missouri angler favors a 5 1/2-foot pistol grip casting rod in a medium-light action. The rod has a limber tip which softens the pull as Campbell jerks the rod and helps impart
better side-to-side action from the lure. A high-speed reel is also standard equipment for Campbell when "walking the dog" because he wants to reel in line quickly after a strike
rather than jerking the rod and possibly pulling the lure away too fast from a fish.
The topwater specialist opts for monofilament line for walking the dog. He believes fluorocarbon is too stiff and tends to sink which prevents him from working the Spook correctly.
For the original size Spook and a Super Spook, Campbell selects 14-pound test line and scales down to 10-pound test for the smallest Spooks.
* Spinner blades especially good in muddy water. Two blades: Colorado and Indiana blades. Chartreuse, chartreuse/white or white.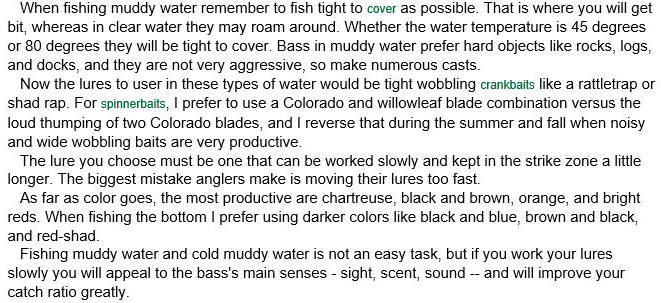 * On the water with Hank Parker.

Jerk shad
Fat sinking worm
* Pro Team Journal - Mr. Crappie TV
60 degree nights Water 58-59 you will start catching crappie.
64-65 females are nesting and makes are with them.
Mr. Crappie Strike King Joker. Pink and chartreuse in stained water - clarity about one foot.
Crappie thunder monkey shine at night on a bobber. Under light or edge of light. Slowly reel in.
* Crappie-Bobber 6 feet into the wind. Let bait drift. 1/8. 1/16. 1/32 oz jig.

* Mr. Crappie: Slabalicious
Crappie measure board
Slip cork down about 2-3 feet
Light fishing
Night fishing
Crappie thunder monkey shine
Fish the edge of the light
1/8 oz strike king jig head #2 hook
Or Hot chicken.com bright pink with a chartreuse tail.
* Lipless Crank Baits
Flat areas pre-spawn.
Try various retrieval speeds.
Good breeze good.
Fish could be grouped up, so stay in spot when you catch one and see.
Can catch in minimal water depth.
Small rocks, some mud.
Keep near bottom.
Thin makes a good vibration.

* Tim Horton. In normal lake depths.
Oversize lures, large crawfish, 11" spoon, big swim bait and worms for big fish.
18" green pumpkin. 7.0 hook, 3/4 oz weight...drop shot. Drag with a couple of pops. Fishing can be better when current is swift...not calm.
* When overcast, bass may stray a bit farther from cover.
If water clear, 18-24 inches, stay back (boat). Can get closer if water murky.
Bass look to ambush their prey.
Basically pitching into areas. One pop or twitch. Let it soak sometimes.
Rage Tail Little Menace Grubs
* Clear water - 3 inch tube with jig head inserted. Use as finesse lure in clear water.
Alke seltzer tablets.
Cotton ball soaked with fish attractant.
Styro foam if you want it to float more.
Casting spoon inserted with running a snap swivel inserted through the wall and tie the line at top of the spoon.
* Clam speed spoon. Johnson sprint. Treble hook with Gulp tail NOT hanging vertical. Or a jig with a Gulp tail.
* Hollow body Sun fish on top of clear water in fall. Dave Mercer:
http://www.tacklewarehouse.com/LIVETARGET_Sunfish_Hollow_Body/descpage-LTSUNHB.html?gclid=CNac0tfFxsoCFdgPgQodmYoFKg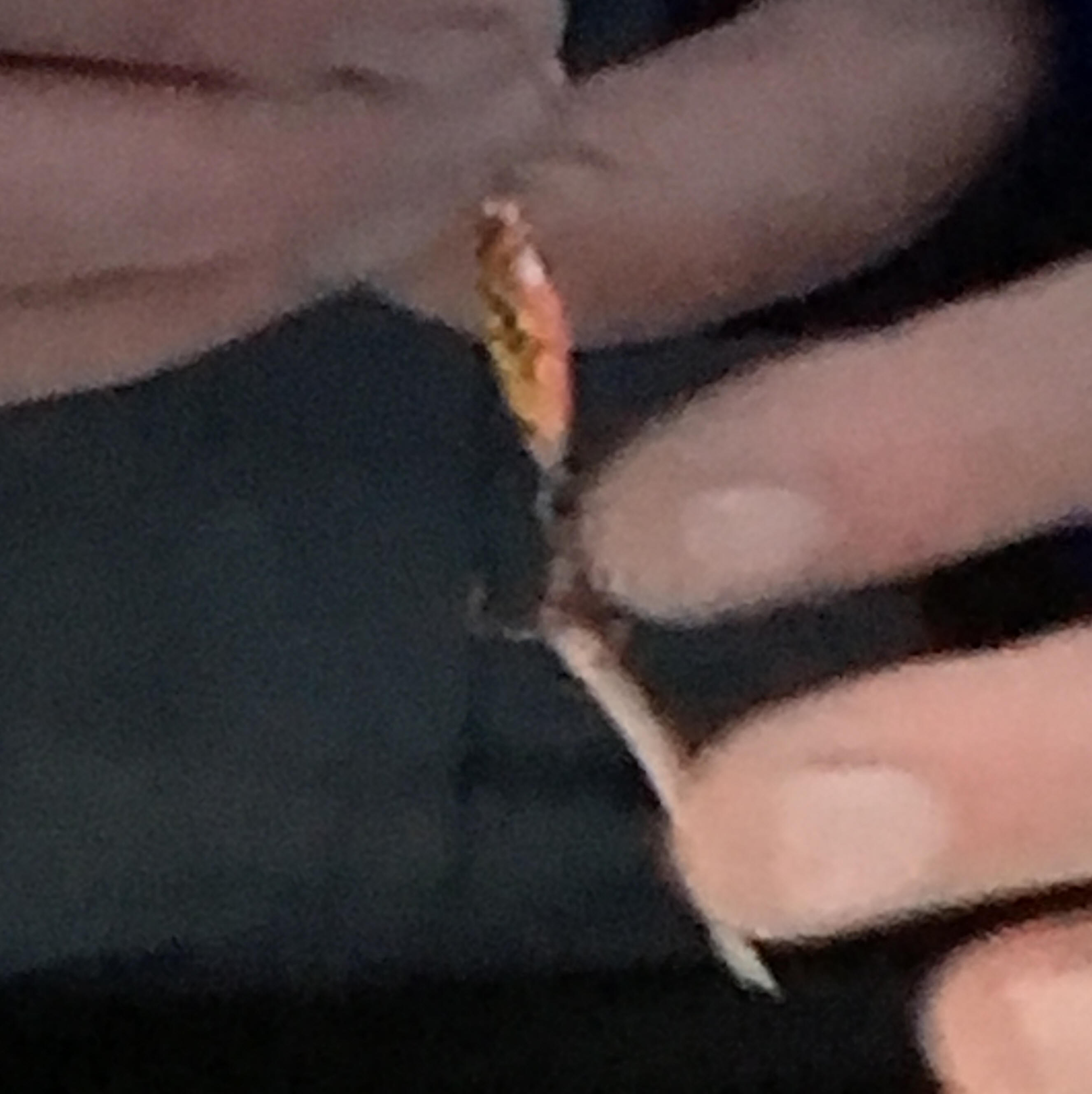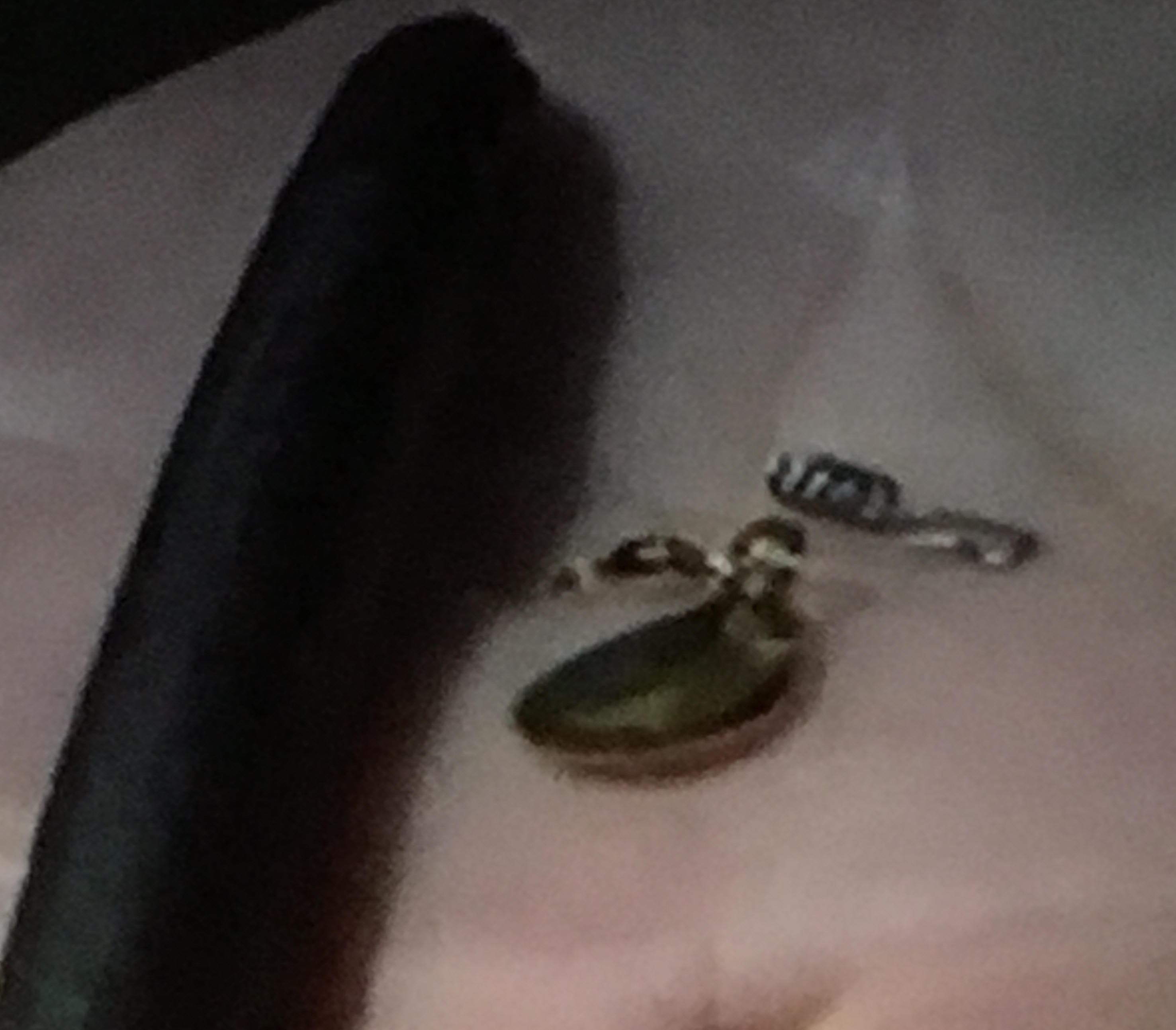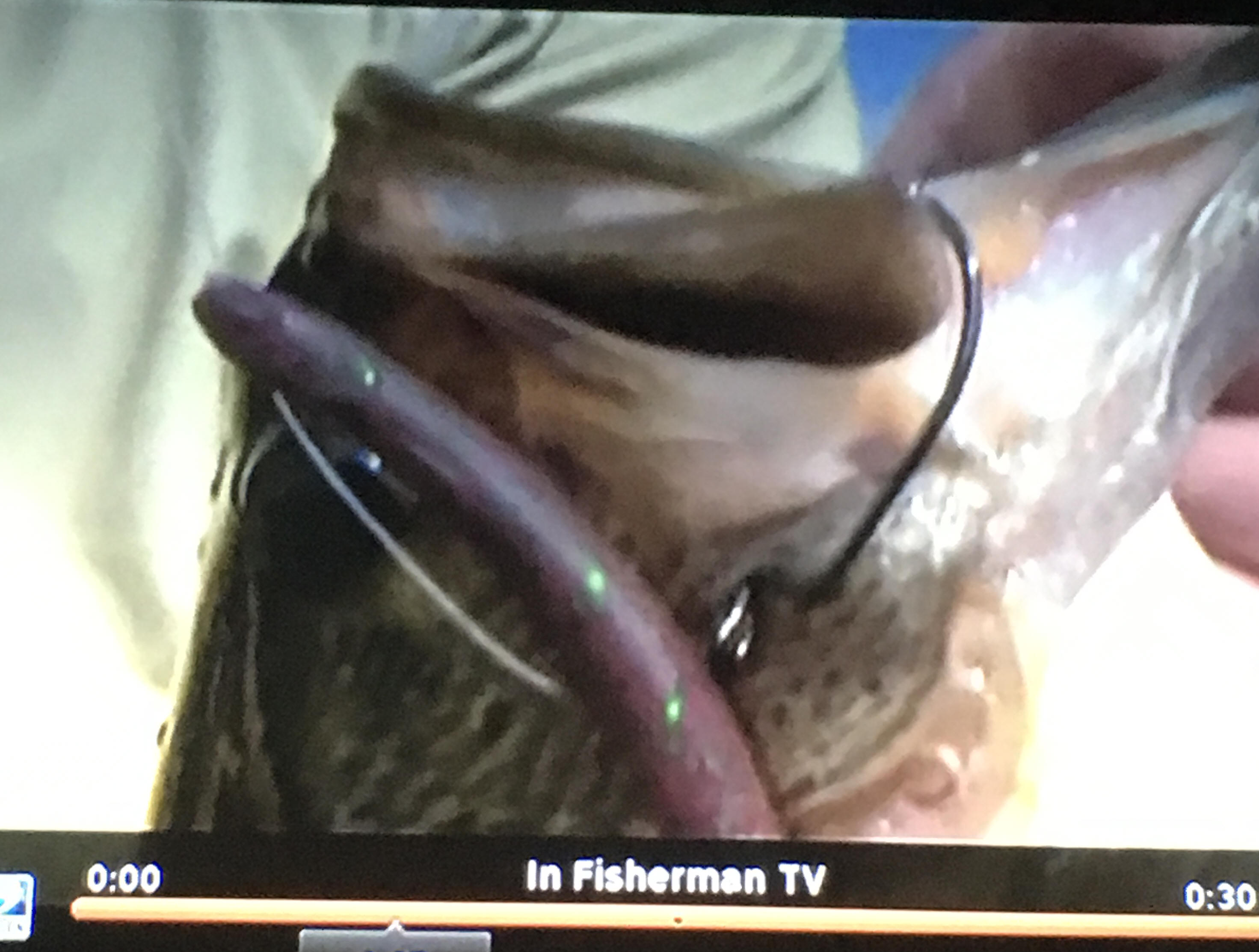 __________________________________
Berkely Gulp - Darter jig head
Spinner on end of worm
War Eagle finesse jig
Berkely chigger crawl
Crosstail shad (Jackall???)
Bass Pro Shops Lazer Eye Spinner bait, chartreuse and white.
Rockport Rattlers - Chickytackke.com Bryant's Osage Outdoors
Fat Gitzit tube
Brown jig with some orange in the skirt, hooked with a brown trailer dipped in chartreuse JJ's Magic.
Pit boss. Berkely PowerBait Floating worm.
PowerBait Chigger crawl when water 65-70 and clear.
Colorado and Indiana blades. Chartreuse, chartreuse/white or white.
Blue/Black jig with both colors in skirt, teamed with blue twin curly tail trailer
Sexy dog. Walking the dog. Spook and Super Spook cigar shaped lures. Chartreuse top water walking bait
Live target hollow body sun fish used in fall, maybe after a cold snap.
Krappie Kings. 1/8 oz. 1/16 oz.
Slabalucious jig heads.
Curly tail. Wedge tail.
Cloudy- chartreuse. Pink/black.
Cast out. Tight line. He doesn't use float.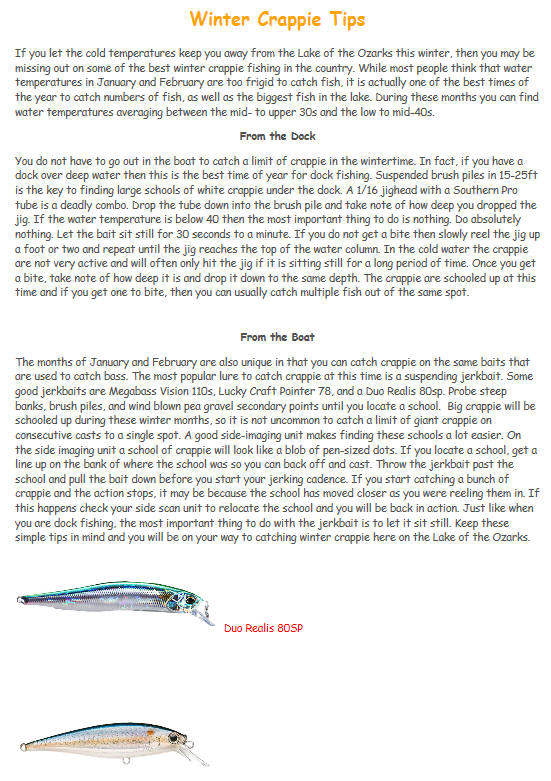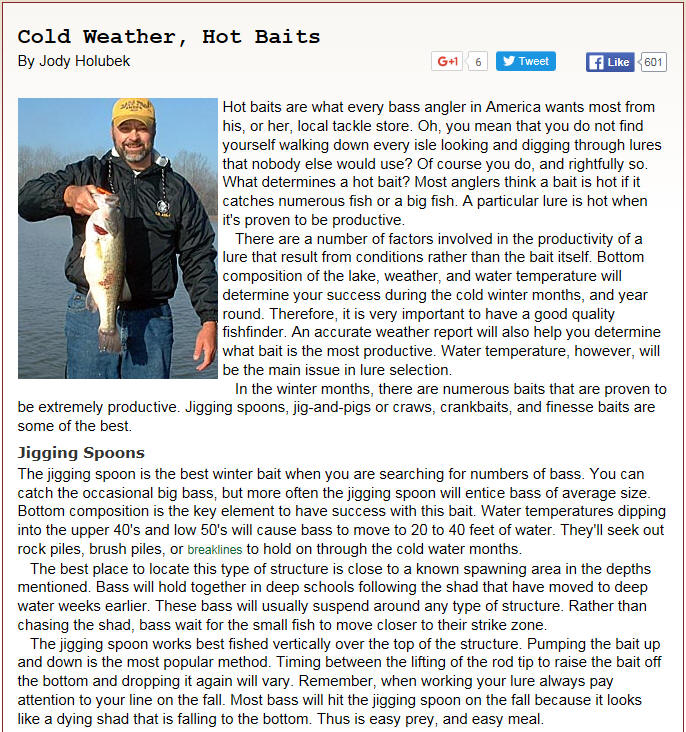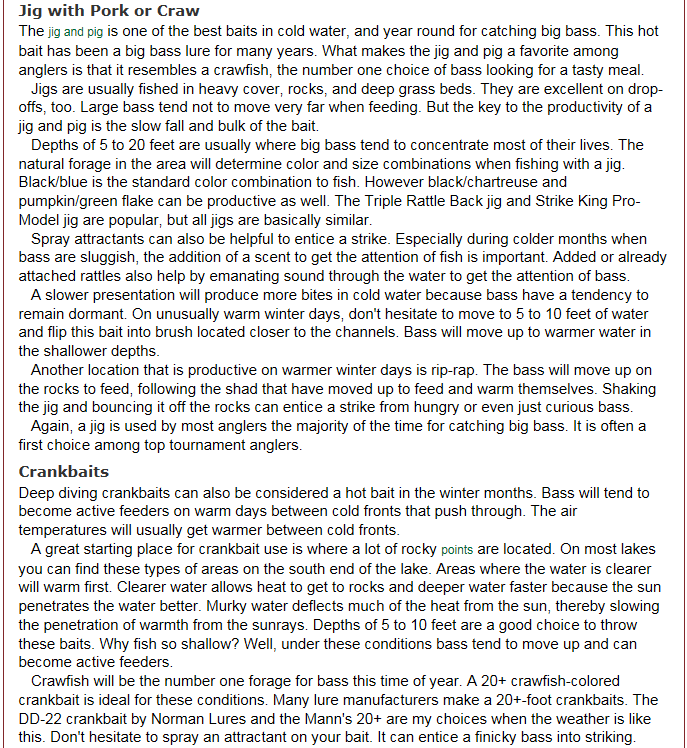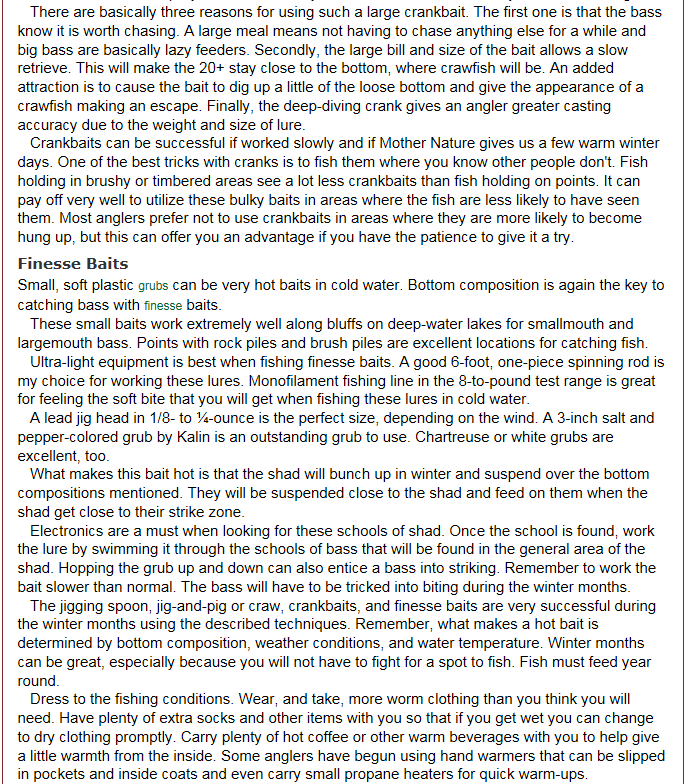 Class notes
Crappie bed – Hickory or Oak – Brush in 17-20 feet of water, top at 15-17 feet.
1/16 oz jig, 4 lb XL or XT Trilene – clear blue fluorescent
1/16 oz drops one foot every two seconds.
Blue gill…multi strike. Crappie…single strike
Wind is good: Wind-plankton-bait fish-crappie
2 inch curly tail grub – acid rain (Kalins)
Mid/late May - Hinged minnow – smoke
After spawn – Crank baits
Fish less aggressive in the sun and no wind
Fish more aggressive when windy
Fish 4-8 feet when murky/cool
Feb/March: Pre Spawn.
Water 45-50 degrees (Instructor says 47-56 degrees)
Fish in 6-12 feet water/shade/slips
Fish going to the windy side
Best eating fish
Mid April" Spawn
Water 56-65 degrees
Fish in four feet of water or less
13.2-14.6 hours of daylight
Females – Sun up and Sun down
Males – All day
Cloud cover is good
Summer: 22-25 feet, under lights
Fall: Fish get active at 65-70 degrees.
Dark water 4-8 feet
Clear water 6-12 feet
Winter: Drop down to 25-30 feet
20
When spring arrives, it's prime time for catching crappie at the Lake of the Ozarks.

By following crappie through their spawning cycle in the spring, you can consistently catch these tasty fish at the Lake of the Ozarks from March through May. One of the premier crappie anglers on the Lake of the Ozarks, Guy Winters, Camdenton, MO, knows where to find and how to catch crappie during the two main stages of the spawning cycle–the pre-spawn and the actual spawn).
The pre-spawn period begins when the surface temperature climbs to around 50 to 52 degrees and crappie move into depths of 8 to 10 feet. "How long they stay there depends on how fast the water temperature jumps up," says Winters. This pre-spawn stage usually lasts until the water temperature rises to 61 or 62 degrees. This period usually runs from March through most of April. "A lot of people think the spawn happens the first couple of weeks of April on this lake, but it doesn't," Winters advises. "I've seen it in the first week of May sometimes before they actually go to the bank to spawn. Any time anybody asks me when they should come down to get in on the best fishing for spawning crappie on the Lake of the Ozarks I tell them the first or second week of May. Of course, there is some awfully good fishing before that but you have to work a little harder."

Winters targets cover near pea gravel banks, which are the ideal spawning spots for Lake of the Ozarks crappie. "Crappie will identify with brush piles pretty heavy that time of year," Winters says. "They follow the creek channels or the tributary stream channels pretty close." If the weather has been cold in March, Winters searches for banks with shale or chunk rocks which warm up faster on sunny days.

The best time of day for Winters during the pre-spawn is from 3 p.m. until dark. "Light penetration in the water determines when is the best time to fish. Crappie stay out a little deeper when the sun is up high because there is more light penetration in the water and when the light penetration starts to diminish a little bit, the fish come shallower and you don't have to work as hard for them."

During the pre-spawn, Winters prefers Laker Paddlebugs (a cricket-shaped plastic body) and Curlybugs (a cricket-shaped plastic body with a curly tail) because these lures fall slower than the conventional plastic tube jigs.

Most of the time, Winters hooks his plastic lures on a 1/32-ounce jighead, which he casts with 6-pound test line. When fishing thicker brush that stands up in the water, Winters sometimes switches to a 1/16-ounce jighead and 8-pound test line. The only time he uses 4-pound test is when the fish are deeper than 15 feet.

A quick drop in barometric pressure causes Winters to present his lures vertically to crappie in the brush, but in most situations he pitches his lures to the cover and works them back. Stained water allows Winters to make short pitches to his targets, but clear water requires longer casts to prevent spooking fish.

During the spawn, water clarity also determines what depth crappie build their nests. The clearer the water, the deeper the fish spawn. The fish seek some type of shallow pea gravel bank, but the area still has deep-water structure nearby, such as a creek or tributary channel. Winters says the female crappie hold along this deeper structure until they are ready to move in to deposit their eggs.

When spawning in the shallows, crappie hang around any cover they can find. "A lot of times I've seen just one little stick sticking up and that's all that was there," Winters recalls. "I would cast there and not feel anything else but I would still catch 10 or 12 fish around it."

On a cloudy day, Winters can catch crappie all day long during the spawn. But on bright sunny days he tries to avoid fishing from 11 a.m. to 2 p.m. when the light penetration in the water is the greatest.

Lure selection is less critical during the spawn. "You can almost throw the kitchen sink at them and catch them then if you move it at the right speed," says Winters. "Lure presentation becomes more important than anything else during the spawn. A male fish guarding the nest is not an active feeding fish. He's defending a territory and if anything gets too close at too slow of a speed, he considers it to be a threat and he'll attack. If it's moving too fast he'll ignore it." Winters recommends keeping your lure 4 to 6 inches off the bottom to keep the jig in the crappie's strike zone. A jig-and-bobber rig becomes more effective during the spawn because the bobber allows you to work your jig slower through the nest and prevents the lure from falling to the bottom. In dingy water, you can set the jig 4 to 6 inches below the bobber since the fish will move as shallow as 1 1/2 feet.

Besides the Curlybugs and Paddlebugs, other effective lures during the spawn at Lake of the Ozarks include plastic tube jigs, curly tail plastic grubs and Roadrunners. Winters' lure color selection is based on water clarity. In clear water he favors the following combinations: red and pearl, blue and pearl or yellow and pearl. For darker water, he prefers black and chartreuse, red and chartreuse or chartreuse and silver glitter.

The spawn usually ends when the water temperature climbs to 70 degrees. The latest Winters recalls catching any crappie spawning along the bank is the beginning of the third week in May.

Missouri Department of Conservation LakeExpo.com

Fall is a great time to fish on the Lake of the Ozarks, and the Missouri Department of Conservation offers a few tips for anglers hoping to bring in a mess of crappie.

Fall—try the docks
Crappie are generally very predictable and aggressive in October and November. Docks are a prime location for fall crappie, where they can be caught in the upper 10 feet of the water column.
Cast into the back of a boat slip or along the edges, letting the jig sink for 2 or 3 seconds, and then retrieve slowly. Crappie will also move into shallow water on warm days in the fall, where you can catch them in the same brush piles they inhabit during the spawn.

Winter—enjoy some of the best fishing of the year
Unfortunately, many anglers stow away the boat and fishing tackle before the first snow flies. Those who don't can experience some of the best fishing of the year and have their favorite lake all to themselves.

You can find crappie in deep water (20 to 40 feet) in the winter, but they will move into shallower water during a string of warm days. The key to catching crappie in the winter is to use a very slow retrieve. In cold water, crappie will not chase a fast-moving lure like they will during the warmer months.

In addition, winter crappie tend to congregate in large, dense schools near structure instead of scattering in loose schools over a large area. Casts to one side of a brush pile may yield nothing while the other side may produce a fish on nearly every cast.

Tackle and technique
If you talk to a dozen crappie anglers, you will likely get a dozen different opinions regarding the best way to catch them, the best jig color, the best line to use, and so on. In reality, two anglers in the same boat can be using two completely different techniques and baits, and they will both be catching fish. The key is to not get stuck on any one approach. Experiment until you find a technique that works for you.

Crappie are attracted to woody cover regardless of the time of year. A good rule of thumb is to fish shallow during spring and fall, then fish deep during summer and winter. However, a string of warm days in January can send fish into water less than 5 feet deep, while a strong cold front in April can send them to the depths for a few days. When trying to locate crappie, target brush piles or other cover at a variety of depths, and let the fish tell you what depth they prefer on a given day.

When crappie are active, they will hit a bait presented in close proximity to cover. When they are not so active, you may need to get your bait down into the brush to be successful. The two most effective ways to do this are vertical jigging and casting. A weedless jig works best for these types of presentation.

Vertical jigging
To fish a bait vertically, simply drop it straight down into the brush until it hits bottom. Then slowly reel up until you get a bite. Note the depth at which you get a bite and concentrate on fishing at that depth. Another productive method is to use a very small jigging spoon. Fish vertically over deep brush and raise and lower your jigging spoon 1-2 feet. Crappie will often hit the spoon on the fall while it is fluttering. This is a good technique to use when you run out of minnows or simply get tired of re-baiting your hook.

Casting
When fishing shallow brush or in very clear water, you may need to back away from the brush and cast. Toss your bait past the brush and let it sink to the bottom on a tight line. Slowly retrieve until you contact the brush. When you feel your bait come over a limb, let it sink again. Keep doing this until you clear the brush. By doing this, your lure is actually penetrating down into brush instead of just skimming along the outer edges.

Bobbers
These are not just for young or inexperienced anglers. There are days when crappie will only pick up a jig or minnow that is hovering nearly motionless. Again, you may need to experiment with the depth of your bait to find the fish.
_____________________________________________________________________________________________________
The outlook for spotted (Kentucky) bass over the 12-inch size limit is average. Although bass can be caught year-round, the best times are spring and fall, especially around points, brush piles, and docks.
The best producing lures are topwater baits (low light periods), plastic worms, jigs, crankbaits, and spinnerbaits. Winter is also an excellent time to fish for bass by slowly fishing jerkbaits off points or pea gravel banks.
Concentrate on brush piles, especially those located on or near points. The ability to locate good structure is the key to successful crappie fishing on Lake of the Ozarks. Visit: http://mdc.mo.gov/node/10182 for information about brush piles that have been placed in the lake by MDC staff. Small jigs (1/32 to 1/8 ounce) and minnows are the best baits.
White bass fishing should be average. Fish windy points, submerged islands and long, sloping points using either artificial lures or shad. Opportunities for catching hybrid striped bass are good in the Truman Dam tailwater and, during the summer and winter months, in spring-fed areas of the lake. Walleye have been consistently stocked in Lake of the Ozarks since the mid-1990's.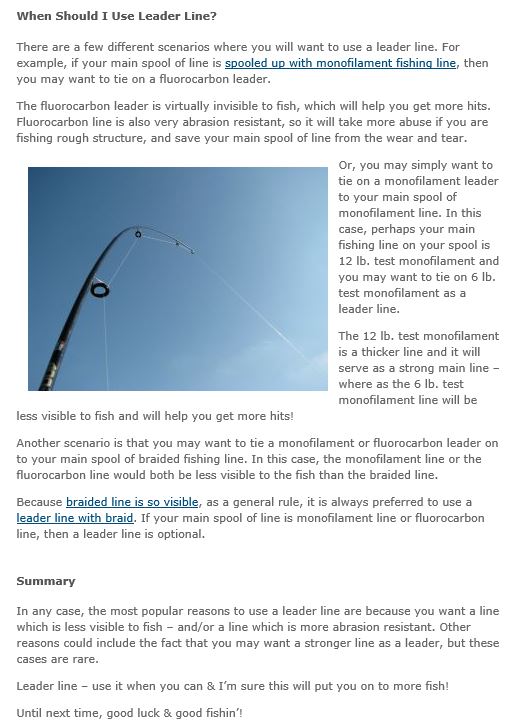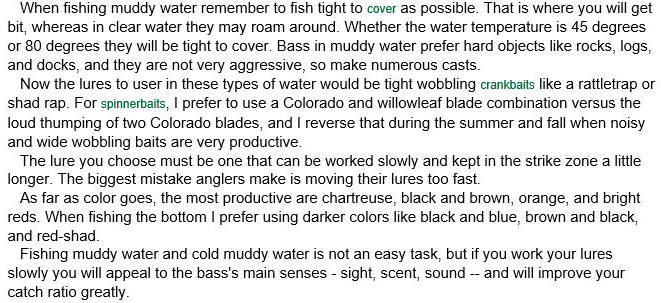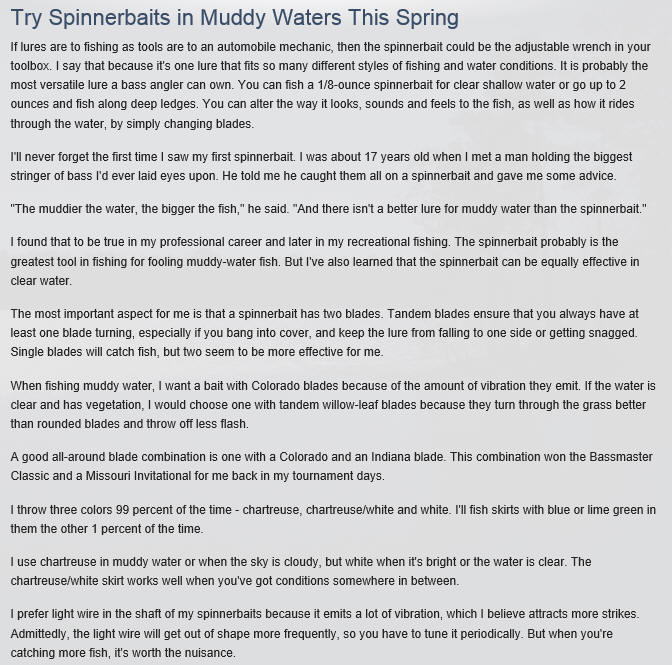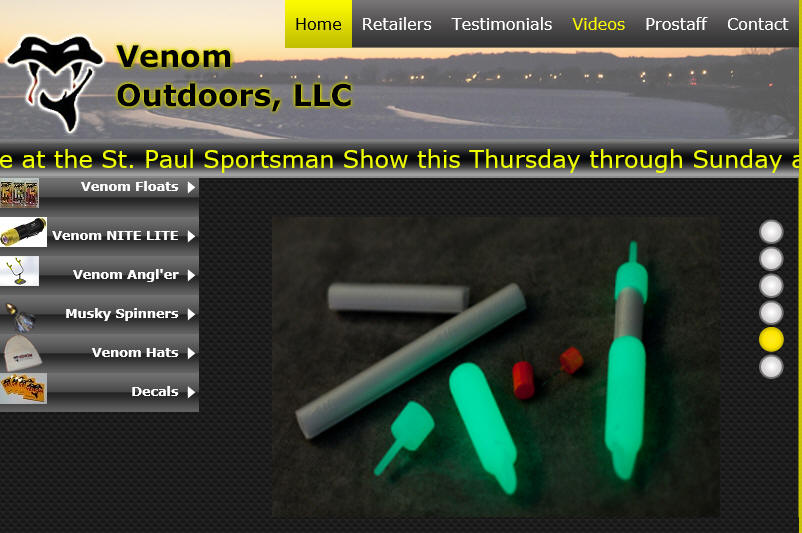 __________________________________________
Mighty Bite nano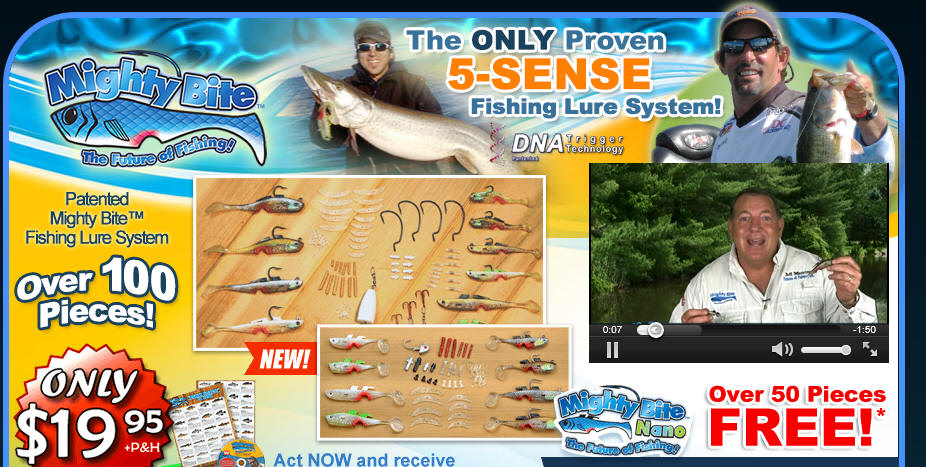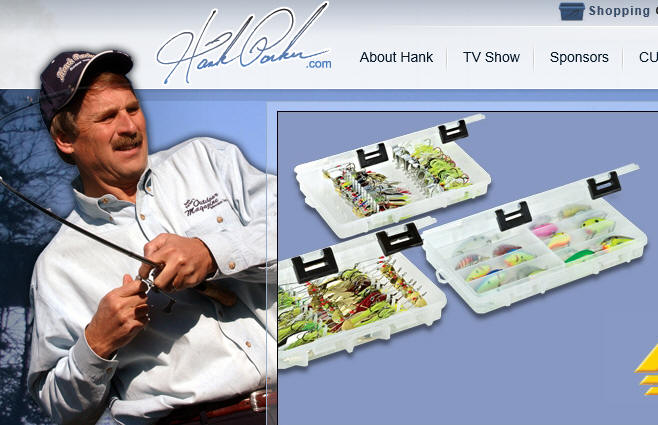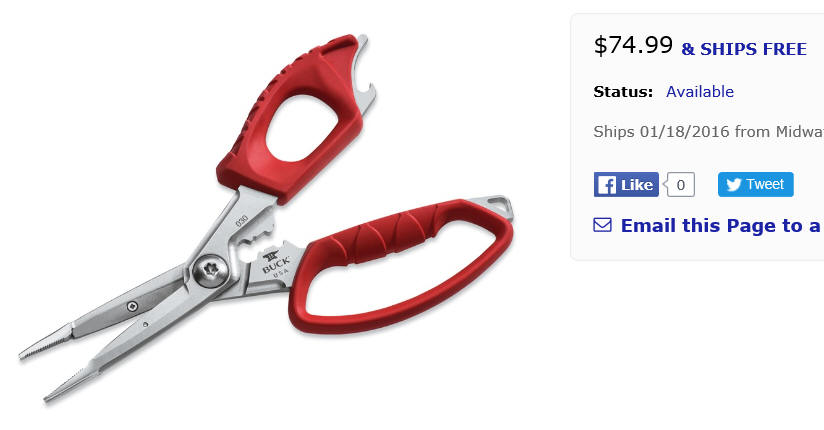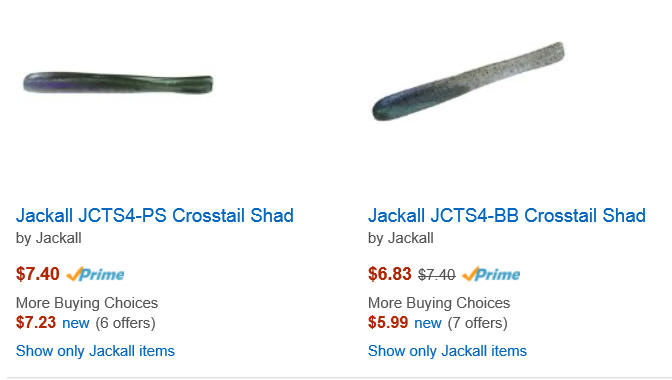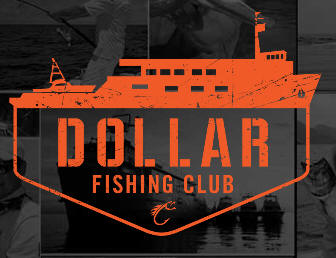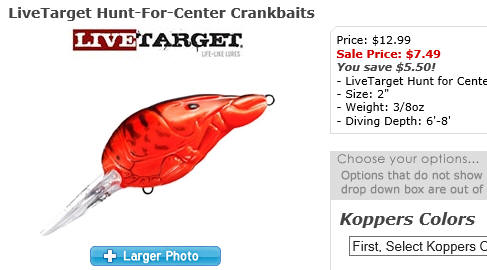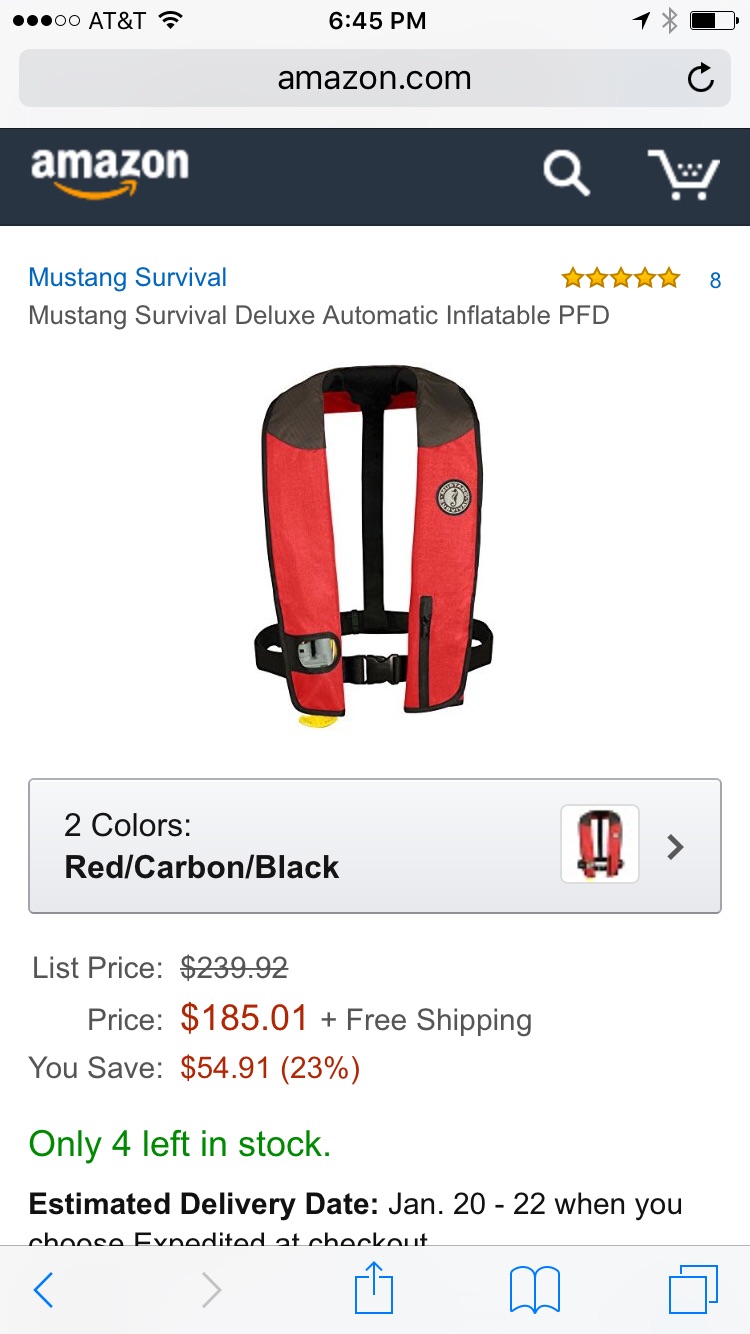 _________________________________________
From "Britt Myers breaks down jig fishing" video
Wiggle 1/2 oz flipping jig with a Berkely chigger crawl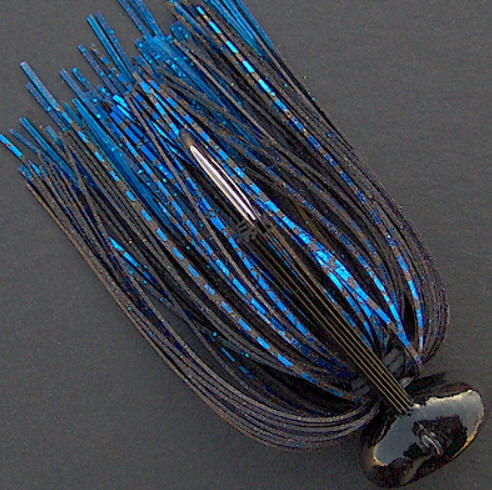 Clear water or fishing slow; switches to a War Eagle finesse jig with a Berkely chigger crawl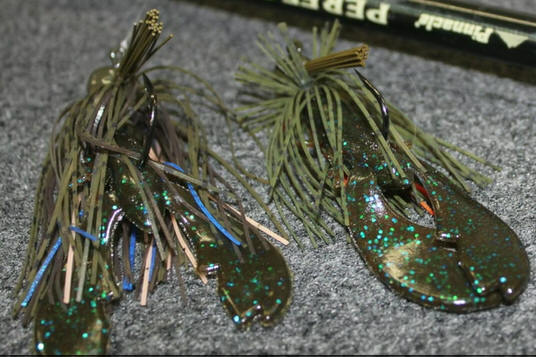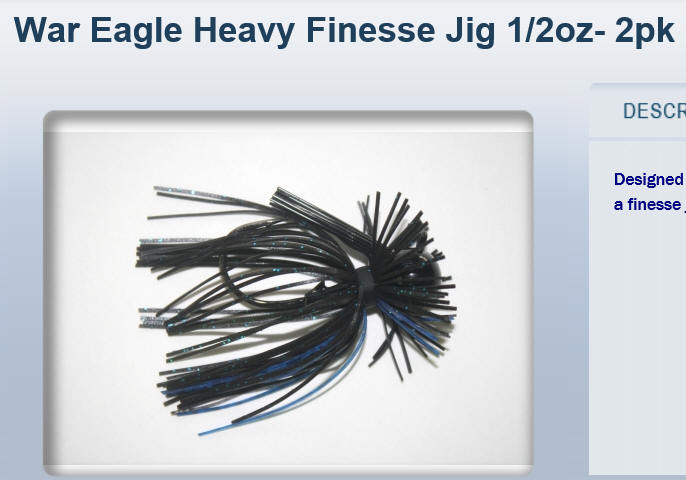 _________________________